Around here, we're huge proponents of anything that promises better sleep. So when we got a chance to test out the new U2 Pillow, a customizable modular pillow that promises to help reduce tossing and turning during the night by up to 30 percent -- we jumped on it (and then promptly jumped into bed).
We're still working on our full-review (we like to test pillows for a few months before coming to a complete verdict), but we can say this pillow gets a thumbs up from multiple staffers and their family members. And for what it's worth, basketball star Dwight Howard is also a fan.
If you want to try it out for yourself, you can currently get your hands (head?) on the U2 Pillow for just $49 (the original price is $100). The promotion is in honor of the brand's launch on Kickstarter, which happens today, June 18, at 10AM PDT.
Check out more details on the pillow and the promotion, below. And if you're looking for some help choosing the best pillow, be sure to browse our guide.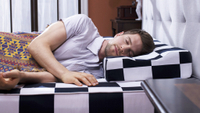 (opens in new tab)
Get the U2 Pillow for $49 (opens in new tab)
Eager to sleep soundly ASAP? Be one of the first to purchase the U2 Pillow from the brand's Kickstarter campaign (launching June 18), and take advantage of the Super Early Bird discount, a savings of $51 on the pillow. A few reasons you might be inclined to try it? It features three removable layers so you can get the perfect height, it's got 360 degree air vents so you stay cool, and the U-shape provides optimal spinal alignment.
For more ways to build your best night's sleep, check out: