Calling all Marie Kondo fans! Well, that's all of us, right? Who can resist the supreme organizing that is the KonMari method. A home that's clutter-free, calm and that sparks joy gets a big thumbs-up from us.
Back when Marie first hit our screens with her Netflix series there was plenty of overreaction to her decluttering and tidying. The gist of the screaming headlines? That it was all too drastic. Fans know better, it's a vastly sensible and achievable way to deal with all the stuff we have in our homes.
Fellow Marie Kondo followers will also know that there's plenty of room for creativity and gorgeousness in her world, and the book storage idea Marie shared on Insta was the perfect example with shelves suspended from rope alongside a staircase. As the organizing expert says, "Be sure to keep them upright, but get creative!"
You can take inspiration from this Marie Kondo-approved shelving idea, just below, to help build out some more book storage ideas in your home.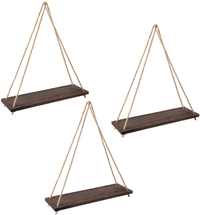 Mkouo Wood Wall Floating Shelf | £21.99
You'll get three shelves in this set. They're made from wood, and hung from jute rope to create beautiful natural texture. OK, they won't suit a bookworm's entire collection, but they're ideal for showing off favourite volumes.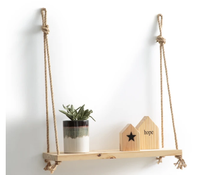 La Redoute MAREO Pine & Rope Hanging Shelf | £28
Ideal for kids' treasured reads or your own, this shelf is made from pine with sisal rope cords to hang it from. Running vertically from either end of the shelf rather than gathering in the centre, they'll create a cleaner finish.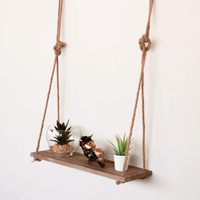 HomeZone Hanging Rope Swing Shelf | £10.99
Prefer a darker wood finish? Opt for this rustic choice. We know Marie said books should be upright, but in our humble opinion, a small vertical display would look great here.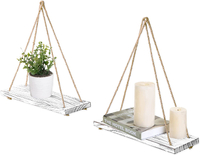 MyGift 17-inch Whitewashed Wood Hanging Rope Swing Shelves | £21.50 for two
Keep the look light and bright with these whitewash-finish shelves. As well as a place for your books, they're ideal for displaying houseplants, pictures and other decorative accessories.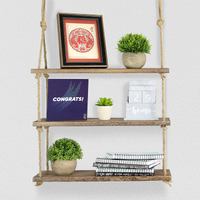 Maison & White Wooden Hanging Shelf | £17.49
If you don't have a long expanse of wall like the one alongside the stairs, you can opt for this design and make use of the vertical instead. We think this three-tier design would look great in a home office.
More top storage ideas: