Your culinary endeavors will get pinkified with the new Paris Hilton kitchen set from Walmart — a "hot" way to prepare even hotter dishes.
The reality star dabbled with meal prep in Netflix's Cooking with Paris, and she has since remodeled her modern kitchen to include a ballet-slipper-toned palette, one that gives Barbie a run for her money. Given her track record, her latest venture comes as no surprise.
If you are in search of small kitchen ideas that add a little bit of fun, Paris is here to prove that the best types of cookware come in bubblegum pink.
Check out the Paris Hilton kitchen set at Walmart
The Be an Icon by Paris Hilton home collection has something all foodies will appreciate: a non-stick ceramic cookware set—which includes an 8-inch fry pan, a 2-quart saucepan, a 4.3-quart Dutch oven, and four pan protectors—a heart-shaped knife block collection, and microwave popcorn popper, to name just a few items. You can consider these goodies small kitchen must-haves with a large helping of luxe.
"For me, I really wanted to make cooking in the kitchen more fun because all the cookware on the market is just so boring and so basic," Hilton told The Hollywood Reporter. "I thought it would be amazing to partner with Walmart to create a really beautiful, pink, girly, glamorous line."
It might be a good time to figure out how to organize kitchen drawers so you can stock up on the non-toxic cookware line. The set is cute, but it's also something you can feel good about: the dual-layer clean ceramic nonstick coating is made without PFAS, PFOA, PFOS & PTFE.
What to shop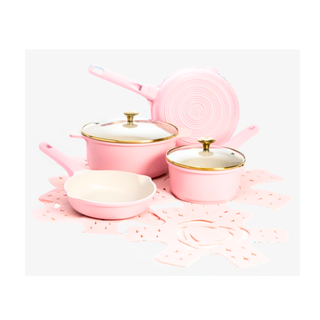 10-piece set
Paris Hilton Clean Ceramic™ Nonstick Cast Aluminum Cookware Set
Price: $79
Fulfill all of your culinary duties thanks to this clean, ceramic, nonstick, and hot cookware set. It includes an 8-inch fry pan, a 10-inch frypan, a 2-quart saucepan with a glass lid, a 4.3-quart Dutch oven with a glass lid, and four pan protectors.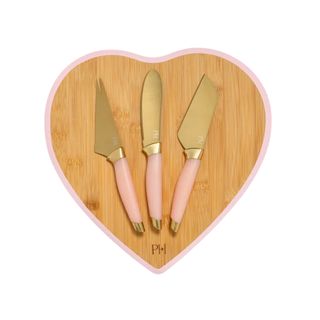 Reversible
Paris Hilton 4-Piece Cheese Board Set
Price: $19.97
Dimensions (in.): 13 x 12.6
With the holidays coming up, you'll no doubt need a place for your brie and gouda, and this reversible bamboo cutting board is it. Sure, it gives off Valentine's Day vibes, but it's so cute and we're here for it.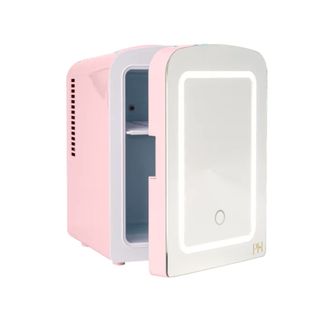 Two shelves
Paris Hilton Mini Refrigerator and Personal Beauty Fridge
Price: Was $59, now $48.47
Dimensions (in.): L11.60 x W8.35 x H11.50
Staying true to her fashion roots, Paris Hilton designed a small thermoelectric mini fridge ideal for the makeup and skincare collection you house by your vanity. It includes a 120V AC cord for home use and 12V DC cord for car or mobile use.
What's included
Paris' second drop for her homeware line has gotten shoppers' attention. Here's what the collection consists of:
FAQs
Are Paris Hilton pans dishwasher safe?
Paris Hilton pans, which are part of the Paris Hilton Clean Ceramic™ Nonstick Cast Aluminum Cookware Set, are dishwasher safe. However, we recommend you take a look at each product description within her Walmart line individually, as different items will likely have different needs.
---
Can't get enough of Paris Hilton's signature color? This furniture designer's pink loft apartment will give you some creative inspo.