Hands up if you spend an unreasonable amount of time hunting down charging cables for your devices. Or untangling them from a mass of other wires? Or trying to recall which of your home's plug sockets you left them dangling from?
If this sounds horribly familiar, the queen of organizing, Marie Kondo, is here to help. Marie, fans of her Netflix series and Insta followers will not be surprised to hear, is not a fan of dangling electrical cords. In fact, she says, it can make the air feel like it has an electrical charge. We're not as sensitive, but snaking cables on show aren't a desirable feature of anyone's decor, and playing hunt the cable is a big waste of time.
Hurrah, then, for the neat idea from Marie we've shared below with cables tidied away into the empty cardboard tubes from toilet rolls, and labelled for speedy location. Check out the other brilliant cable tidying ideas we've found if you don't fancy creating your own, and we have plenty of other home office storage ideas in our feature.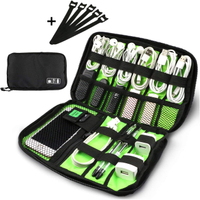 Buluri Cable Organizer Bag | £7.88
Take your charging cables and more with you when you travel, or tuck them away neatly at home with this sleek bag. There are 12 elastic loops plus mesh pockets to accommodate all the essentials that go with your devices.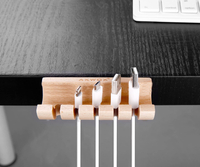 Akwox Wooden Cable Organizer | £9.53
You can peel then stick this organizer on to a desk or inside a drawer or cupboard to keep cables corralled and prevent them from tangling. Made from wood, it looks good, too.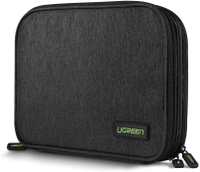 UGREEN Travel Cable Organiser | £13.99
This zip-up bag is another top choice for on-the-move or home use. As well as room for all your charging cables, there's a spot for your mobile and a small tablet, too. Semi-rigid sides protect what's inside when you're on your travels.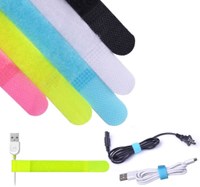 Avantree Fastening Cable Ties | £6.99
Want to colour code your way to cable order? Try these nifty re-usable ties, which will let you wrap them up so they don't get tangled. You'll get 20 ties in the pack in three sizes and five colours.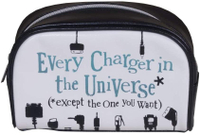 The Bright Side Charger Bag | £8.93
If you don't have trouble identifying which charger is which when you get to them, but do need somewhere to tuck them away, this could be the solution for you. We think it would make a great gift, too.
More ideas: