Looking for a way to spruce up your balcony and maximise your space? Whether small and perfectly sized for two, or large enough to seat six, a balcony table would be a smart buy. This foldable invention makes enjoying a few drinks, your morning coffee or even dinner, all on your balcony, a simple and spacious task. You could even use this to work from home on your balcony, as one reviewer pointed out. In fact, it's ridiculously easy to use – hang it on your balcony railings and you're all set. You'll also want to buy a few foldable chairs to use along with it, that can be stored with ease for when you want to make use of your floor space.
So, the Tice Wall Hung Dining Table from Made is only £49 and at the moment, you'll benefit from free delivery. Why buy this balcony table now? With the UK set for a heatwave soon, it's the only way you'll be enjoying some Pimms in the sun in the comfort of your own home if you have a balcony. Otherwise, you'll be balancing your drinks on plant pots or you'll be dealing with a lot of spillages. You can thank us later.
Head to our small garden ideas page for all of the inspiration you need.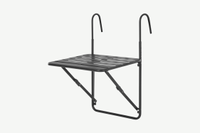 Tice Wall Hung Dining Table | £49 at Made
This teeny yet very handy balcony table is easy to assemble while it folds down after use to save valuable space. Simply hang it over your balcony and pop it up when you want to use it. How to keep it looking lovely and new? Just wipe it down with a damp cloth. It's made from powder-coated steel but you'll need to bring it inside in the bad weather – it should slot behind a sofa or inside a cupboard with ease.
What do reviewers think? 61 happy reviewers have rated the Tice range from Made highly, with some even saying "Every small balcony should have one" about this balcony table. Others say "Good space saving idea" and "It's be so expertly designed and without even trying - it's a perfect colour match for my balcony!". Impressive, to say the least.