First time cooking Christmas dinner? Take note of these kitchen essentials – or just buy them online now – to make your life easier on the 25th December. Whether you are cooking for two people or 12 guests, these top buys will make this task slightly easier, and your food should be tastier. From an electric masher for smooth potatoes, a lovely new gravy boat complete with a plate to protect your table, or, a turkey baster for succulent slices. It's all here – keep scrolling for 10 kitchen essentials you need for Christmas Day dinner. Because there's a first time for everything this year, apparently!
Head to our dedicated Christmas page for more things festive from gift ideas to decor inspo and even a few recipes.
Christmas kitchen essentials
1. An electric masher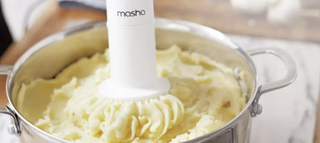 Masha Electric Masher and Hand Blender | £39.99 at Argos
While not all of us have mash with our Christmas dinner, an electric masher is a handy buy year-round. No more lumpy mash, and no sore arm afterwards! More time spend sipping your Prosecco.
2. A turkey baster

OXO Good Grips Angled Baster | £11.92 £10 (save £1.92) at Amazon
The key to succulent turkey is basting it over and over again to prevent it from drying out. Buy a baster to help do so! Specifically, this one as it comes with a cleaning brush. It also features measurements on the side, and it's made from high-heat safe materials so it won't warp or crack.
3. A cute (and Christmassy) gravy boat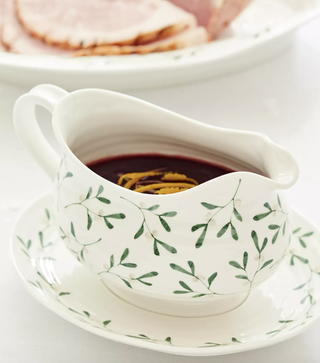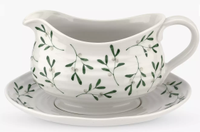 Sophie Conran for Portmeirion Mistletoe Gravy Boat & Stand | £55 at John Lewis & Partners
This lovely gravy boat is decorated with mistletoe, and it comes with a stand to prevent table mess. It's dishwasher, freezer, oven and microwave safe, too. Not just pretty but also practical!
4. A three-tier steamer for your veg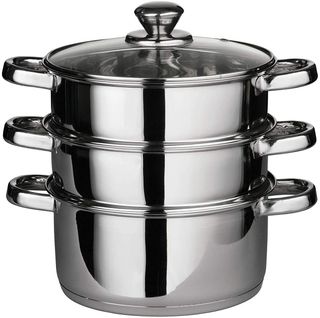 Denny International 3 Tier Steamer | £13.77 at Amazon
It's a well-known fact that steaming your vegetables conceals more nutrients, and we think it gives them more flavour, too. So, don't you go boiling them this year! This three tier steamer is made from stainless steel, and it's suitable for gas, electric, halogen, ceramic and induction hobs. Plenty of space for your carrots, broccoli, sprouts, peas and more.
5. A decanter for your vino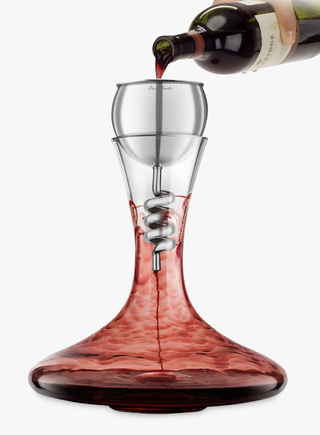 Final Touch Stainless Steel Twister Aerator and Decanter | £80 at John Lewis & Partners
This clever decanter aerates your wine so that you can drink it ASAP. And it's nicer than putting a bottle on your table! It's also packed in a gift box should you want to buy it as a present...
6. A food cover to save your leftovers for bubble and squeak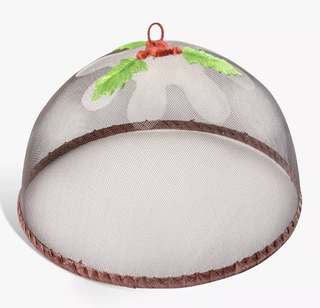 Eddingtons Christmas Pudding Food Cover | £9.95 at John Lewis & Partners
Okay, this food cover is SO cute! Use it to cover anything from desserts to vegetables if you don't have any more space in your fridge. That and it'll keep flies away! Great for cakes and cookies, too.
7. A muffin tray for your homemade Yorkshire puddings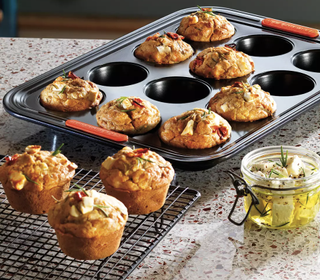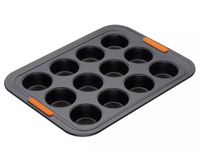 Le Creuset Non-Stick 12 Cup Muffin Tray | £26.99 at John Lewis & Partners
This Le Creuset muffin tray is non-stick and it has enough space for 12 muffins (or Yorkshire puddings).
8. A whisk for making sauces and desserts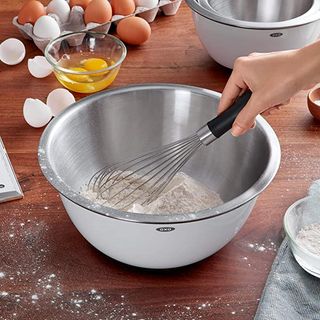 OXO Good Grips Balloon Whisk | £10.50 £6.79 (save £3.71) at Amazon
Should you not own a hand mixer or stand mixer, you'll need a good whisk for when it comes to making desserts, sauces and Yorkshire puddings. This OXO one is comfortable to hold and it's dishwasher safe – hand washing one of these is not fun!
9. A meat carving fork and knife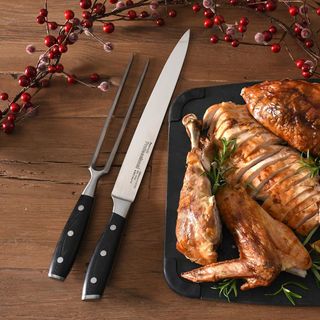 Professional X50 Carving Set | £69 £39 (save £30) at ProCook
This will definitely come in handy for when it comes to carving your turkey, this set includes a knife and fork, both of which have comfortable handles for easy gripping. Made from German stainless steel and both super sharp, too. Cut your turkey at the table this year...
10. A fondue set for dessert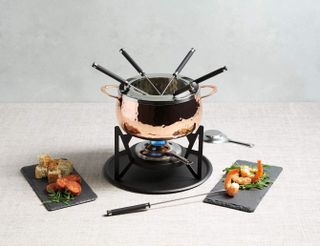 Artesa Fondue Set with Hammered Copper Finish in Gift Box | £49.99 at Amazon
Well, this is pretty! This Artesa set can serve six and it has a hammered copper finish so it will look lovely on your dining table. In the box comes a fondue pot, burner, metal rack, diffuser and six forks. Oh, and it comes in a gift box to make an ideal gift.
More Christmas...