The plant gifts in this guide cover everyone from your plant-obsessed friend to your mum who just likes receiving a pretty flowering plant. The beauty of gifting plants is that they're equally suitable for complete beginners or for plant enthusiasts. Whether it's the first plant, of their one-hundredth, they'll definitely appreciate our top plant picks. And if they already have a massive plant collection? We have gorgeous accessories and a very useful plant book for you to consider.
Find more great Christmas gift ideas in our guide.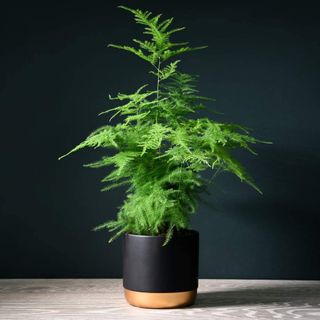 It's very difficult to choose just one house plant as 'the best' Christmas gift – there are so many, all of them beautiful to give and receive. The asparagus fern, however, is a slightly more unusual choice than, say, a peace lily – it looks like a perfectly formed little tree; very exotic and looks gorgeous on coffee tables, window sills, and is also very happy living in humid bathrooms, which is a bonus. It's also very low-maintenance, so much so that it doesn't really like being touched or moved. They'll just need to occasionally water it from a dish and mist if it's in drier spot. That's it.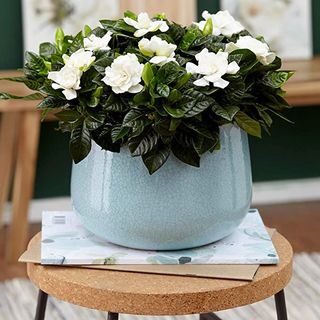 What, not a poinsettia, you're wondering? We'll be honest and say that gifting your mum a poinsettia every year does get a bit boring, and she'd probably love something a little different this year. Also, the majority of poinsettias bought for Christmas die in a matter of weeks and are thrown away, because they don't acclimatise well.
We can't think of any plant lover who won't be delighted to receive a gardenia. This plant has everything: gorgeous, glossy foliage and the most beautiful creamy white flowers with a beguiling, tropical scent. It may or may not survive past the festive season, depending on how good they are with plants, but it does make for an impactful gift.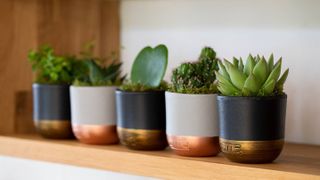 This super-cute set of succulents from John Lewis comes ready planted in very stylish grey and copper mini pots and includes all the most popular succulent plants: a cactus, a Haworthia, an Echeveria, a Hoya Heart, and a Peperomia Rotundifolia. Succulents are super low-maintenance and just need a bright spot to thrive. Perfect for lining up on a window-facing shelf or on a window sill.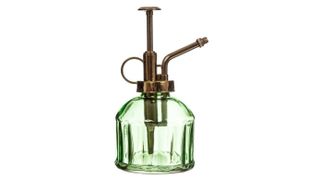 This glass plant mister is a stylish yet functional replacement for a basic plastic mister. Not all glass misters are created equal: some have very flimsy plastic nozzles that break almost straight away; not this one – it works beautifully, producing a fine mist, and lasts a good while. And the green glass is just so pretty.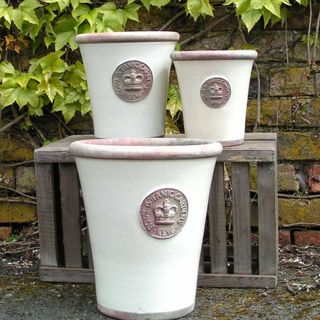 Kew make the prettiest plant pots, and that's a fact. While there are many similar designs from other brands available, Kew pots are thinner and more delicate, making them suitable for indoors. They also come in an amazing variety of pastel colours – lovely for creating a conservatory display. We do wish they cam with drainage holes as standard, but many plant centres (and Kew Gardens themselves, if you're buying directly from them) will usually agree to drill a hole for you.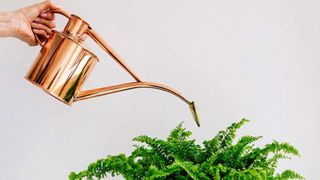 Haws watering cans are legendary, and the copper ones have a slender design and shiny finish that looks nicer than any other indoor watering can we've seen. They come in two sizes, one or two-pint, and you can also get them as part of a set together with a matching plant mister. An Instagram-ready watering can? This one certainly is.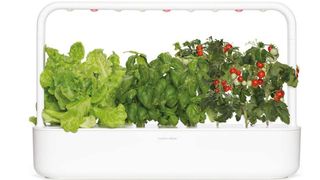 Hydroponics are all the rage these days, and there are lots of different indoor plant growing kits to choose from. Essentially, they all offer a similar thing: a base that includes a container with a solution of water and plant nutrients and an LED grow lamp that allows you to grow plants indoors even in winter when there's little sunlight.
We've picked the Click and Grow kit above others because it includes plug plants rather than seeds, and there's a subscription service option where there'll send you new plants ever two months.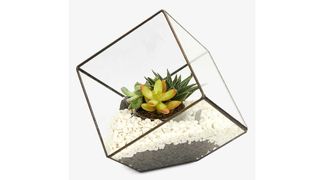 Assembling a terrarium is such a satisfying activity, and it's suitable even for a complete plant novice. Terrarium plants (usually succulents) need very little maintenance – just position them somewhere where they'll get plenty of bright light. What we really like about this terrarium kit is that it includes three plants (many terrarium kits do not) – all your gift recipient will need to do is follow the easy instructions to put it all together.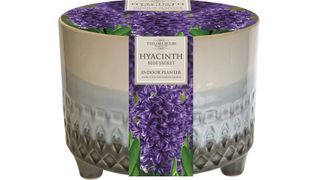 Another super-easy plant gift, this kit comes with everything you need for gorgeous, classic blue hyacinths in late winter/early spring. Gift them for Christmas, and your recipient will enjoy indoor hyacinths in about 10 weeks' time from when they plant them. We really like the ceramic planter, too. You do need to be sure that whoever you're gifting them to doesn't get headaches from strong floral smells, as hyacinths are very strongly scented.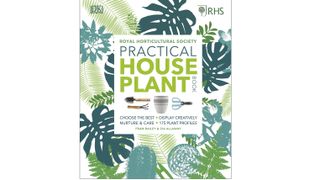 The only book an indoor plant enthusiast needs, really. Sumptuously illustrated and endlessly informative on everything from planting and propagation to common house plant problems, this useful guide also includes tips on displaying your house plants.