Blink and you might've missed Homecourt, Courteney Cox's new domestic venture. In true Monica Gellar fashion, the Friends star created a line of home fragrances — candles, room deodorants, soaps, sprays, etc. — to keep abodes feeling serene and clean. (Emphasis on "clean.")
Now that the collection has segued into holiday territory, we're immediately ready to make like Saint Nick and stock up on one or 10 things. With lovely bundles of goodies on the table, we can't seem to find an excuse not to.
We take home fragrances very seriously, and Cox has embraced one of our favorite seasonal scents. If you need us, we'll be getting our cozy on. Someone pass our fluffy throw blanket, please, and thank you.
Homecourt, Courteney Cox's line, debuts Balsam Fireplace
One of the clever things people with nice-smelling homes always do is bring a little bit of the outside inside, and that's exactly what Homecourt has successfully achieved. The brand's new Balsam Fireplace is a feast for the senses: a mixture of evergreens, juniper spice, and salted amber. Nothing quite makes us fancy an evening on the couch with a warm cup of tea and a book quite like this stellar combination. (Cozy night in, anyone?)
Shoppers can snag this fragrance as dish soap, hand wash, hand cream, a candle, room deodorant, and spray. Fortunately for those who plan to tackle their Christmas lists early, there are great holiday gift sets to peruse as well.
What to shop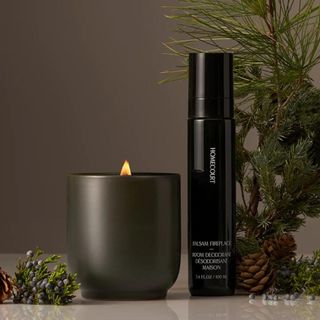 Five stars
1. Balsam Fireplace Aircare Duo
Price: $98
Not only will this premium candle and room deodorant give your nose something to cheer about, but they also work hard to purify the air and revitalize the feel of the room.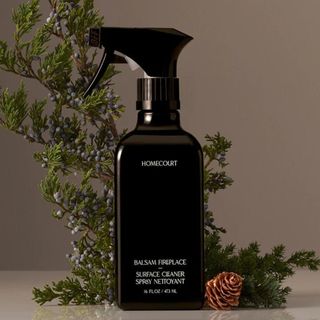 16 oz
2. Balsam Fireplace Surface Cleaner
Price: $22
Enjoy your favorite winter scent while getting your home in tip-top shape. The cleaning supply includes a coconut-derived degreaser to dissolve grease and loosen debris, and Mediterranean cypress oil to purify.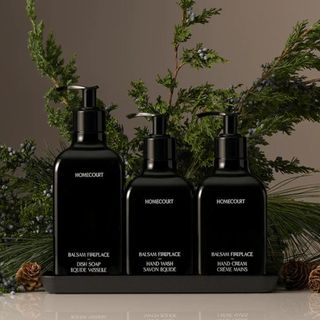 powder coated steel tray
3. Balsam Fireplace Tray Set
Price: $100
A trio that you can't miss — hand cream, hand wash, and dish wash — in the brand's delightful new winter scent. And a black tray is included to keep it all organized.
You might also like
Feeling inspired by Balsam Fireplace? Here are a few of our favorite finds that you might want to consider for your shopping cart.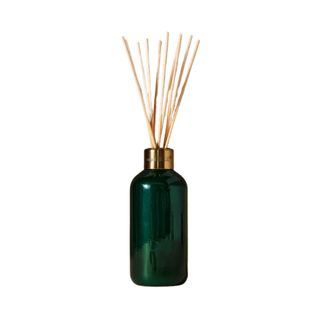 fan-favorite
1. Capri Blue Fir & Firewood Reed Diffuser
Price: $44
Dimensions: 8oz
A combination of green apple, clove, fir, and pine needles with undertones of white birch, cedar, vetiver, and musk, Anthropologie's signature reed diffuser scent is a must during the cold weather months.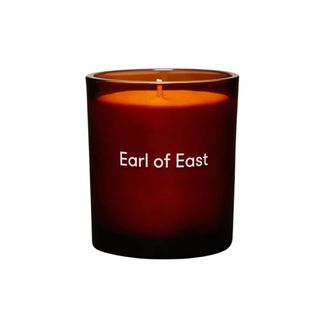 60 hour burn time
2. Earl of East in "Smoke and Must"
Price: Was $78, now $46.80
Dimensions: 260ml
For a woody, musky aroma that practically beckons you to curl up on the sofa, East of Earl's mixture of green balsam, wood smoke, and musky patchouli is nothing short of delightful.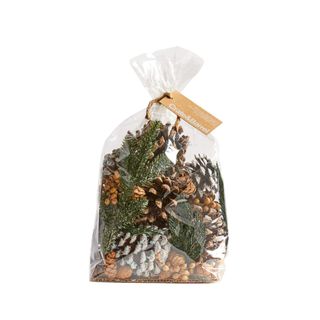 Great gift
3. Bag of Balsam & Pine Potpourri
Price: $14.95
Dimensions (in.): D4 x W6 x H8
The fusion of pine cones, cypress stems, and cinnamon sticks will make you feel so warm and cozy this winter that you'll be wishing for cold weather. It's a great air freshener, without the aerosol.
---
Looking for more ways to celebrate the scents of the season? Our favorite Christmas reed diffusers will make your home smell like the holidays — spruce, cinnamon, vanilla, and everything in between that screams (and smells) "December."