They say if you can't stand the heat, get out of the kitchen. But with heatwave temperatures hitting the high 20s and over 30 this week, there isn't much choice when your stomach is growling but the house is hotter than ever. You still need to eat of course – and we don't want you living off crisps and choc ices in an effort to avoid switching on the cooker.
Oven-cooked food is obviously a big no and even switching the hob on for too long will kick out a fair bit of heat. We also don't want to be making anything too involved when we feel like standing and peeling veg is about the limit of any exertion we can handle right now. So after you have taken the first steps of cooling the home – perhaps with one of the best fans on offer – just how do you cook and feed the family without overheating? Well, we have put together a handy list of tips to help you cook in a heatwave. Don't worry – it's not all about salad...
1. Take your cooking outside
Dining al fresco is one of the joys of summer and a heatwave is a great excuse to have barbecued food for dinner every night. Firing up a charcoal barbecue does take a little time, but when it is too hot to do much and too sunny to be indoors, spending your evening in the garden with the family while your food cooks is time well spent. A gas barbecue will cut the time it takes for dinner to be ready, but if you only have coal make it the job of whoever gets home first to start the barbie.
Prawns, halloumi and chicken skewers will all be ready in less than 15 minutes (halloumi is more like five), so send someone inside to throw together a salad while you handle the grilling. You can find our favourite barbecue recipes in our guide.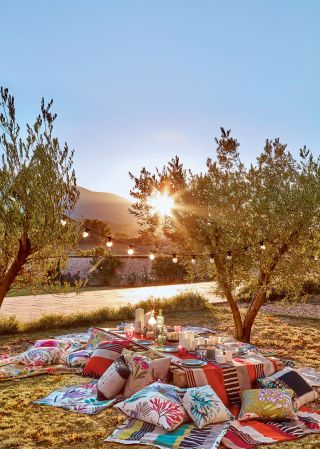 2. Posh picnics
It isn't all about barbecued food when eating outside. Sandwiches, an antipasti platter and other picnic food are perfect no-cook nibbles. Make it feel less like a packed lunch by upping your sandwich game (filling ideas below) and making an occasion of it by jazzing up your outdoor living area with some cushions and a few strings of fairy lights.
A lot of us associate dining outside with a few too many glasses of chilled vino, so if you have work in the morning, throw together some mocktails to enjoy on the side (when we say mocktail we mean some lemonade with a splash of elderflower cordial, mint and a few slices of cucumber... but you can see some actual mocktail recipes in our list of the best).
Our favourite no-cook sandwich fillings:
Upgrade your sliced white to a lovely sourdough bloomer (or artisanal bread of choice) and make sandwiches for dinner a treat.
Mozzarella, pesto and sundried tomato
Prawn and avocado
Hummus, grated carrot & beetroot relish and salad
New York Deli (pastrami, mayo, Emmental cheese, sauerkraut and mustard on rye bread)
Smoked salmon, cream cheese and rocket
3. Dust off the slow cooker
When we say slow cooker, you would be forgiven for thinking hearty stews and winter casseroles, but there are loads of summer favourites you can make in one, too. A slow cooker does not fill your kitchen with heat and steam so whack it on before you go to work and come home to something tasty – effortless dinner in no time at all.
Pulled pork, one-pot pasta dishes or perhaps a refreshing pea and mint soup are great slow cooker meals for summer. Not got a slow cooker? Find one in our list of the best slow cookers.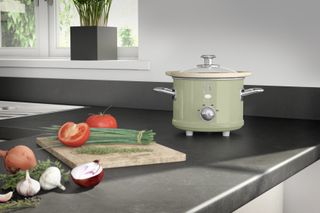 4. Or invest in an multicooker or Instant Pot
Remember grandma's pressure cooker (and the explosion horror stories)? Well the Instant Pot is the safer and more advanced pressure cooker for the 21st century. It adjusts the heat as required, won't terrify you by hissing every few minutes and – of course – it cooks everything from stews to 'roast' chicken in no time. Like a slow cooker, it can will cook dinner while you are busy, without emitting too much heat. Unlike a slow cooker, multicookers like the Instant Pot and Ninja Foodi are a little bit more versatile and can give you oven roasted-style food without the heat.
It can also be used to cook rice (bye bye hob heat) and some models can be used to make yoghurt. We have baked bread in ours so it is a great shout for homemade sourdough sarnies.
4. Relive your student days and turn to the microwave
There is a bit of snobbery about microwave food, but when it is too hot to make everything from scratch, we certainly aren't judging you. Our top recommendation would be to enjoy all the leftover lasagne, chilli and other batch-cooked wonders you have in your freezer – but if you haven't got such joys to hand (or a time machine to go back to pre-heatwave days to make them), there are other things you can make in a microwave.
Pretty much any egg dish can be microwaved. Poached and scrambled are the obvious candidates, or what about a microwavable omelette? Put a few veggies in a microwavable dish or mug, top with cheese and cook for two minutes. And if you want something sweet turn to the ever popular mug cakes like our mug brownie.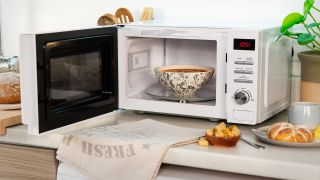 5. Try a roasting shortcut
If you absolutely must have something roasted in the oven, do what you can to cut the cooking time so that that hot oven is not on for too long.
Chop veg for roasting really small so that it cooks quicker.
Start baked potatoes or wedges off in the microwave. Cook until soft, coat with oil, season and blast on a high heat to brown.
Spatchcock your chicken to halve the roasting time.
Cook cubed meats on a metal skewer to heat them faster.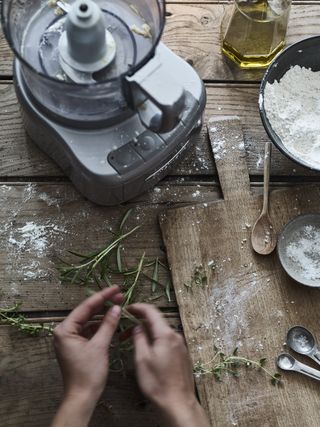 6. Whizz up a treat with a food processor
The best food processors and blenders make all manner of cooking tasks much quicker and easier. Use one to speed up any chopping or grating you have to do, or make the most of the blending tool and have a go at homemade spreads and dips.
Great with tortilla chips, on bread or to go with crudités, any of the following can make a fine meal and are a little lighter on the stomach when the heat is making you lose your appetite. Add a side salad for more roughage.
Classic guacamole: blend garlic, avocados, red onion, chilli and a couple of cherry tomatoes with olive oil and lime juice for this Mexican favourite. Best served with tortilla chips or on toast with an egg.
Smoked mackerel spread: whizz together smoked mackerel (the cooked type you can buy chilled or tinned), crème fraîche and a drop of lemon juice. Season with salt, pepper and finely chopped spring onions. Spread on toasted sourdough.
Hummus: tinned chickpeas, tahini, lemon juice, olive oil, garlic and seasoning make this Middle Eastern staple. Customise with jarred roast peppers, hot sauce, or any combination of herbs and spices and serve with carrot sticks, cucumber and toasted pita bread.
Whipped feta: tangy feta and greek yoghurt or crème fraîche make this creamy spread. Serve on bread with seasoned tomatoes.
Beetroot and horseradish dip: blend cooked beetroot (the vacuum packed kind is perfect) with horseradish and crème fraîche. This is a nice dip for falafel or fresh bread.
Broadbean and mint: blitz broadbeans (blanched from frozen or fresh) with crème fraîche and fresh mint or mint sauce. Spread on toasted sourdough or use as a dip.
7. Cerviche, cure or carpaccio for no-cook meat and fish dishes
You can still enjoy meat and fish without cooking it with heat. Cerviche is a Peruvian dish, that uses acid such as lemon or lime juice to 'cook' raw fish. Alternatively (and this will take longer) you can cure fish yourself using salt and sugar for homemade gravlax flavoured with dill.
Or, don't cook it at all. Carpaccio is very finely sliced raw beef, and tartare can be made with steak or tuna. Of course, you need to buy the best quality meat or fish available (ask for sushi grade tuna) and do it on the day you buy so it is as fresh as possible. Pregnant women should avoid uncooked meat or fish.
8. And don't forget good ventilation is key
Great ventilation is key whatever you are doing. Crack open the door or windows so what little heat your are creating in the kitchen can escape. Obviously you are at the peril of summer creepy crawlies, so invest in a fly screen (Amazon has loads of door fly screens on offer) to keep them out but allow in the breeze.
Put on your extractor fan or cooker hood to remove hot (smelly) air from the kitchen too. This will help keep the humidity down that only adds to the problem. Finally, if you really need to cool your kitchen down fast, check out the best portable air conditioners – with summers like this becoming the norm, they are a great investment.
Looking for more recipe ideas: