Oui! Emily in Paris is back with a third season full of fun, color, and of course, drama. Whether you want to call it over-the-top or avant-garde, there's no doubt the show has made its mark with an eye-popping aesthetic. And I don't just mean the fashion.
From Emily's Parisian apartment to the chic Savoir office, the show hits all the right interior notes. I'm talking paneled walls, wicker furniture, and plenty of bold prints. The look can only be described as cool French girl chic and it's quickly becoming one of this year's biggest design trends. I know I certainly can't get enough of it.
If you'd like to channel your inner Emily and give your home the chic style upgrade it deserves, then grab your croissant and put on your red lipstick because I've found pieces that have a certain je ne sais quoi.
1. Curve appeal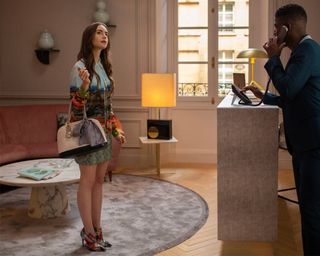 No matter which set you find yourself immersed in when watching Emily in Paris, you'll notice lots of modern furniture shapes with major curve appeal. Signature to timeless French design, there are couches with fluting, round modern coffee tables, and chairs with rounded backs.
2. Keeping things neutral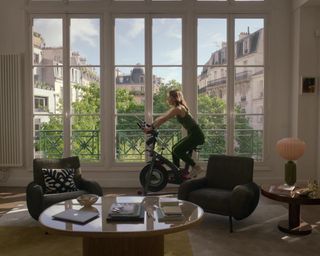 Yes, Emily's fashion choices may be bold and brilliant, but when it comes to Parisian decor, the color palettes are less so. Neutral tones, like whites, beiges, and pinks, are combined with subtle prints and patterns to create the effortlessly put-together look the French do so well. The easiest way to keep things au naturel in my opinion? With a cream area rug, of course.
3. Brass accents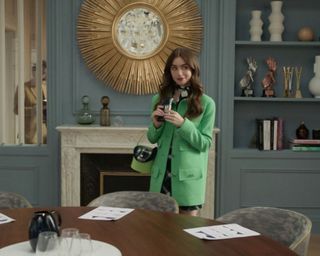 Now's your time to go big and bold with brass. The more of it, the better. French interiors feature brass accents like no other. Change up your door knobs, switch out your light switches, or add a beautiful brass bar cart. Either way, metal accents will make your home look expensive AF, and the good news is: This upgrade doesn't have to be spendy.
4. Plenty of paneling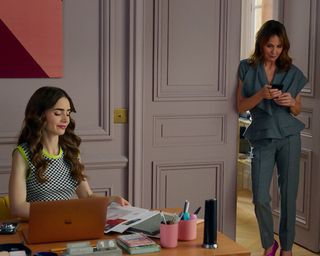 It's rare to find anywhere in Paris without paneled walls. If you've been, you'll know what I'm talking about. If you haven't, then you'll certainly have seen it on Netflix. But not everyone can adorn their walls with paneling — renters, I'm talking to you. From peel-and-stick wallpaper to corbel shelves, there are other ways you can make your space look quintessentially French.
5. Add a statement lamp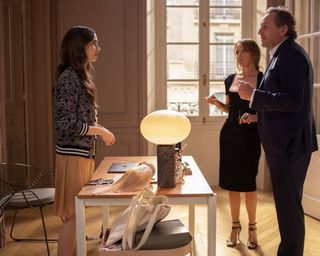 Iconic design lovers would've noticed the large globe lamp featured on Emily's desk for much of season two. Or how about the mushroom one in Sylvie's apartment and the cute bistro lights in Gabriel's restaurant? One thing is for sure, there's definitely no lack of great table lamps in this show, or any lighting for that matter. Add one to your work-from-home desk, beside your bed, or even on the floor for an instant ambient mood.