Whether nursing a hangover or teetotal from the night before, a McDonald's breakfast is my guilty pleasure. Pancakes + sausage + egg + syrup = breaking that fast in the best way possible. But, why can't it be on the all-day menu? Today, I found an appliance that can dupe this brunch dish without me having to get out of my PJs or having to wake up before 11 am. We know there are some awesome waffle makers out there, and now that I've found a pick that doubles as a pancake maker, I am obsessed.
The Cuisinart 2-in-1 waffle & pancake maker is one of those useful kitchen gadgets that can do more than what it says on the tin. As well as making fluffy waffles and pancake-shaped carbs, I can also add several forms of protein into the mix. Plus, if you've got some English muffins, it'd be criminal not to attempt the signature sausage and egg sandwich.
Of course, if you get hold of this appliance early enough it can be a great (budget) breakfast in bed for bae this Valentine's Day, or a super-easy, non-flip, and fuss-free way to make pancakes for Shrove Tuesday.
Here's why this appliance will be staying put in my kitchen, and how I got on with using it.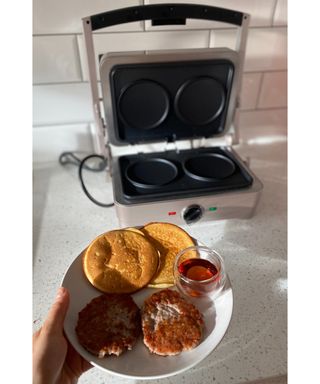 I am literally obsessed with the hotcake-sausage duo at Maccy D's, so I was stoked to see if I could emulate these eats. The good news is that it takes just minutes to recreate. Yes, you read that right.
For best results, you'll need to preheat this appliance — just like you would a sandwich toaster, or air fryer. I set it to medium-high heat and waited for the green light to illuminate.
To make the pancakes, I followed the simple recipe I found in the Cuisinart instruction manual, spritzing the plates with a little neutral spray oil. I then poured half a ladle's worth (approx 1.5 cups) onto the skillet, leveled it out with a heatproof spatula, locked the device, and waited less than three minutes for the batter to cook.
It does take a bit of practice to get the right amount in the ring, but that's nothing that trimming with a pair of kitchen scissors won't sort if you want picture-perfect results for the 'gram.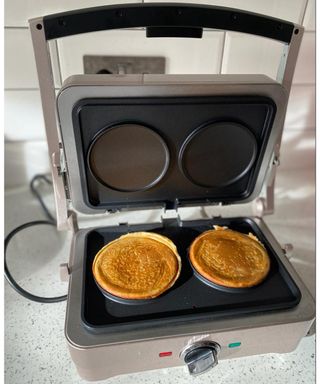 The pork patties on the other hand were a little bit more of an, ehem, rustic affair shall we say. I'd been eyeing up some pre-shaped patties for a little while in the supermarket, but typically, they weren't in stock... Nor was a pack of sausagemeat. So, just for you guys, I de-skinned a pack of sausage links, rolled them out, and used a metal cookie cutter (similar to this one on Amazon), to press them into rounds. Again, the instruction manual did say that I should oil the tray, but I figured that because the pork was a little fatty, I didn't need to on this occasion.
The most important thing is to make sure the juices run clear. If you do have a meat thermometer, you could always use that (ensuring an internal temperature of 160°F), but in fairness, these formed shapes are so slim they cook through pretty quickly. I let mine become a little 'caramelized' to be on the safe side.
Of course, the best part is drizzling syrup all over it. I personally find the stuff they give you at McDonald's cloyingly sweet, so I switched it out for maple syrup, for some Candian-inspired, yummy eats. Yes — I am squeezing a little "Belieber" fangirl reference into this! In true social media style, I had to pour it in super slow motion. Sorry, not sorry if you're watching this at 11 am and getting hangry.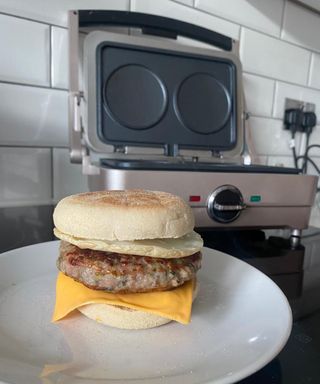 For legal reasons, we can't name the infamous item that is made up of a breakfast muffin, egg, and sausage patty... IYKYK. We've already shown you how to cook the burger, but it's good to know that you can also cook 'fried' eggs with this appliance too. I usually like mine a little runny, but on this occasion, I went for a set yolk. Once you've cooked the sausage and egg, all you need to do is brown your bread in or on top of your toaster), then assemble your masterpiece.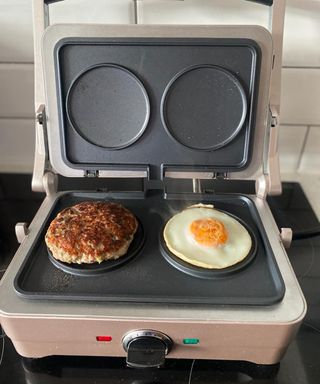 What else can you use this waffle and pancake maker to cook?
Other than your classic pancakes and waffles, here's what else you can use this appliance to cook:
Streaky bacon
Homemade hash browns (they'll be like rostis, but we love a rustic eat!)
Savory spinach waffles (great with smoked salmon and poached eggs)
Sweet cinnamon waffles (gimme some caramelized bananas and nuts with that)
And when it comes to cleaning...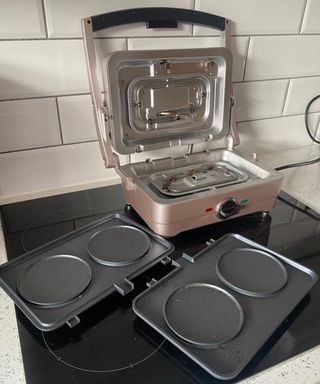 The removable plates can just go in your dishwasher (after you've let the appliance cool for at least half an hour, and you've unplugged it from the mains socket).
If you'd prefer to handwash them, I'd go for a good eco-friendly washing-up liquid (Method's Yuzu dish soap is my fave cleaning supply on Amazon — it's got a gorgeous lemon-mandarin citrusy smell) which will cut through any pork fat and crispy batter that remains.
There's also a waste tray that any food scraps can fall into.
Should you buy the Cuisinart 2-in1 waffle and pancake maker?
This small kitchen appliance certainly saves on washing up as you don't need multiple non-stick frying pans to fry bacon and cook pancakes simultaneously. If the $99.95 / £120 price tag is a little too expensive, it's worth keeping an eye on the Cuisinart Certified Refurbished Products page on Amazon to see if a reconditioned appliance pops up on sale. But of course, you could always grab a bargain on eBay as well (do check if the warranty still applies on used goods).
Storage-wise, it doesn't need to stay on your countertop. Cuisinart handily advises that you stand the unit on its back end with the control panel facing up if you're short on space or have a small kitchen.
The techy stuff
Model number: WAF-300P1 (US) / WAF2U (UK)
Weight: 8.2lbs
Dimensions (in): H6.3 x W9.65 x D6.3
Max temperature: 410°F / 210°C
Dishwasher safe? Plates only
Guarantee: 3 years (US) / 5 years (UK)
Accessories included: 1x set of waffle plates, 1x set of pancake plates, recipe book and tongs
Bon appétit!