Call me the anti-hero, but I think making bae breakfast with the best waffle maker trumps any expensive Valentine's Day restaurant reservations on 14 Feb.
What other food can you cover with butter and syrup and call it breakfast, or add a piece of fried chicken to the top and call it dinner? Whether you're going for something sweet, like a waffle covered in whipped cream and fruit, or something savory there's nothing quite like a waffle. Batter costs cents to make too if you're trying to keep the costs down.
With my girlfriends acting as a tasting panel, I gathered together a dozen of the best-selling waffle makers out there to see if I could determine what the best waffle maker out there is. I tried everything from Hamilton Beach's Belgian Waffle Maker which makes waffles similar to what you might find at your favorite hotel breakfast to some options by Dash that make bite-sized waffles for their perfect snack.
Without "waffling on", I'll show you which appliances deserve a coveted spot on your counter. Because yes, you can make a deliciously buttery piece of browned bread with the best toaster. But waffles? They're my love language.
The 3 best waffle makers to buy for your kitchen cabinets
Why you can trust Real Homes Our expert reviewers spend hours testing and comparing products and services so you can choose the best for you. Find out more about how we test.
$67.99
1. Hamilton Beach Belgian Waffle Maker
Our favorite waffle maker
Temperature settings: Min to max dial
Dishwasher-safe parts? Yes
+ Consistent cooking
+ Most affordable on our list
- Takes up counter space
- Makes one waffle at a time
Looks-wise, the Hamilton Beach Belgian Waffle Maker is similar to what you might find in your favorite hotel lobby. To use it you fill up the waffle maker, flip it over, and wait until a light on top lets you know breakfast is ready. Out of all of the waffle makers I reviewed, this one was definitely the one that wowed me the most. Time and time again it gave consistent results, plus the waffles it made had deep squares perfect for filling with syrup and other toppings. One waffle from this machine felt big enough to be its own meal. Our favorite part of the waffle maker, however, came at cleanup as it has dishwasher-safe parts.
Real Homes rating: 4.5 stars out of 5
$149.95
2. Breville No-Mess Waffle Maker
For thin, crispy waffles
Temperature settings: Browning dial with 7 color settings
Dishwasher-safe parts? No
+ Uniform "Waffle House-style" waffles
+ Doesn't waste "overflow" batter
- Much more expensive than other models
- Harder to clean waffle pockets as plates don't detach
Though pricier, the customizable heat settings on the Breville No-Mess, make it an excellent fit for households with picky eaters or those who was the ultimate level of control over how toasty and crispy their waffle gets. The "no-mess" aspect of the waffle maker is essentially a moat around the waffle shape where excess batter goes. Breville pitches it as a way to "make waffle bites for your family" but in practice, I, for the most part, ended up with waffles with a bonus circle around them that would need to be cut off in order to make those bites.
Real Homes rating: 4 out of 5 stars

$99.95
3. Cuisinart Belgian Waffle Maker with Pancake Plates
For several portions
Temperature settings: Six-setting temperature control
Dishwasher-safe parts? Yes
+ Makes 4 square Belgian-style waffles at once
+ Removable plates
+ Square waffles make for easy side dishes for a larger meal
- Can be awkward if you don't want all four waffles
- Pancake plates are an odd concept, but can cook bacon
- Lid doesn't latch making upright storage a challenge
Cuisinart suggests that this machine is for making one really big square waffle, but for me, it seemed more like it was making four Eggo-sized waffles simultaneously. Sure, you could also break up a round waffle into quarters, but this felt like less work. While each waffle pocket wasn't quite as deep as what we got from the Hamilton Beach, the model they were plenty big to hold butter, syrup, and other toppings. I was a bit disappointed in the pancake plates and struggled to get the right amount of batter in each section. Ultimately, I'd have preferred to cook them in a traditional skillet. Even when used correctly, you're making small pancakes that hardly seem worth the effort.
Real Homes rating: 4 out of 5 stars
Other waffle makers we tested
Not all of the waffle makers we tested have made it to our best waffle makers list, so here's what else our reviewer tried out: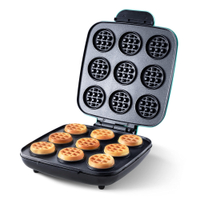 Dash Waffle Bite Maker | $49.99 at Amazon
If you have little ones at home, Dash's mini waffle maker might be the perfect breakfast companion. The version I tested made seven tiny waffles at a time, all two inches, making them perfect for younger kids or snacking. Admittedly, I had a few challenges figuring out what the right amount of batter for each waffle was, and most attempts ended in us making essentially one big waffle with overflow from each.
Real Homes rating: 3.5 stars out of 5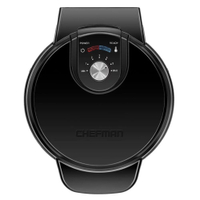 Chefman Anti-Overflow waffle maker | $24 at Amazon
In all of my tests, the Chefman Anti-Overflow managed to overflow and get batter on our kitchen counter. Lesson learned: use less batter than you think, and be patient as it might take a few goes to get on with this one. It has 7 different temperature settings for customizing your cooking experience; however, the light on the unit seemed hit or miss in terms of whether the waffle was in fact done when it indicated it was. It also doesn't make any sort of sound to let you know it's ready. And, steam escapes from the same place where you might open it, making it easy to burn your hands.
Though it sounds like the bad outweighs the good, bear in mind that this compact waffle maker is only $24.
Real Homes rating: 3.5 stars out of 5
Otherwise, I also tried a few Delish by Dash waffle makers including the brand's $10 Snowman waffle maker and its waffle stick maker. All three have no temperature settings, you're just working with either on or off, and the light on top isn't the best gauge of whether or not the waffle is done. This experience produced everything from raw, underdone waffles to some that were a little too on the toasty side. Despite the flaws, the unique designs were huge crowd-pleasers and the price point can't be beaten.
Things to consider when buying a waffle maker
When you're looking into buying a waffle maker there's (surprisingly) a lot to consider, and it's not just a case of working to your budget.
1. Cooking power
The higher the wattage, the more powerful the machine. The average range is from 1000W to 1500W. Bear in mind, the more watts needed to power the machine, the more electricity is used (if you're a waffle-aholic).
2. Is it non-stick?
The majority of waffle makers are non-stick, which is a handy feature to have even if you do want to add your own oil anyway. It's always better to spray or drizzle oil before you add batter to ensure waffles don't get stuck to the machine, as some can be very tedious to clean.
3. How many waffles can it cook?
There's no point in spending a lot of money on a machine that ultimately only cooks one waffle, so it's useful to bear in mind the number of waffles a machine makes when deciding which one to choose.
4. Can you control its temperature?
An important feature to say the least, as some like their waffles well-done, and some not so much. It's also handy if you're doing something else while making them, and want to put them on low heat to ensure they don't burn.
5. How often are you going to use it?
This is a big one. The waffles makers that made our list range from just $10 to over $100. In the end, they all make waffles and those waffles for the most part all ended up tasting relatively similar. If you're going to make waffles only a few times a year then a less-expensive model might be just what you're after. If you're like me, and waffles are a part of most weekends, then a more expensive model with multiple temperature settings that's easy to clean might be a better fit.
6. What are you using it for?
Obviously, you're probably going to use your waffle maker to make waffles, but for who and when? If you're making waffles for kids then something, where you can make smaller waffles or multiple waffles at a time, is likely a better pick. If you're cooking alone, then a larger Belgian might be more what you're after. The Hamilton Beach Belgian Waffle Maker we suggested is perfect if you're cooking for one, but for a family of four then something like the Cuisinart Belgian Waffle Maker with Pancake Plates where you're making four at a time or Dash's mini waffle maker that pops out seven waffles at a time might be a better fit.
Real Homes review process — How we tested these waffle makers
I tested each of these waffle makers on their own over the course of several weeks as well as all at once side-by-side using waffle mix from the same vessel, in order to avoid any discrepancies due to batter consistency.
I then selected my favorites from the lineup to highlight here based on ease of use, quality of the finished product, and our ability to clean up afterward. Find out more about me below:
Emily Price is a breakfast enthusiast located in Durham, NC. She makes waffles for breakfast every Saturday morning and can't resist a good Belgian whenever she stays at a hotel with a continental breakfast. Her personal preference is a Belgian waffle with a lightly crispy exterior and soft interior with plenty of room in each square to hold butter, syrup, and fruit. Many of these waffles were tested with strawberries, whipped cream, and chocolate sauce which she feels is the ultimate waffle experience.