We've found the best eco-friendly washing-up liquids available to buy right now, to ensure you're doing the best for our planet as well as your plates.The best washing-up liquid usually means looking for something that cuts through grease and grime. But what about its eco credentials? Whether you're shopping for a citrus smelling ultra-concentrated solution or something that comes in a super-large size so you can really stock up, we've got the best products you can buy today without a cost to the planet!
See our pick of the best eco-friendly washing-up liquid below, from naturally grapefruit scented products to those that are kind on sensitive skin. You can check out all the rest of our buying guides in one place, for everything from appliances to tools.
What is the best eco-friendly washing-up liquid you can buy?
Why you can trust Real Homes Our expert reviewers spend hours testing and comparing products and services so you can choose the best for you. Find out more about how we test.
We think the best eco-friendly washing-up liquid you can buy is the Ecover Lemon and Aloe Washing Up Liquid, as this plant-based formula is kind on sensitive skin, isn't tested on animals and it comes in a 100% recycled and recyclable bottle.

We also love Wilton London Eco Washing-Up Liquid, as it's naturally scented with grapefruit essential oils and looks pretty on the worktop.
Read more on both below, or see our best list below to save time:
The best eco-friendly washing-up liquid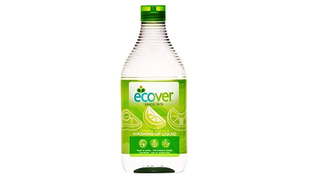 Best for…
Cleaning your dishes brilliantly while also being kind on your hands at the same time as it's suitable for sensitive skin.
Made from
Biodegradable plant-based ingredients that clean without leaving a greasy residue. Also has a nice smell, too.
Cruelty-free
This Ecover washing-up liquid is never tested on animals, so you're helping the animal kingdom as well as our planet.
Results
Users say it's only lightly perfumed so not overpowering, has a nice consistency and lasts a long time while cleaning dishes really well.
Good to know
The bottle is completely recycled and is easily recyclable after use.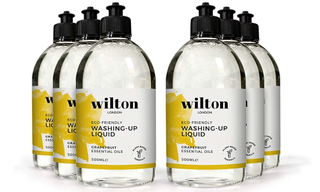 Best for…
This British-made washing-up liquid not only comes in a really attractive bottle but it's also cruelty-free and eco-friendly.
Vegan friendly
The plant-based formula is 100% vegan friendly and Vegan Society Approved, so there are no animal derived ingredients, no GMO and they don't test on animals.
Natural scent
Wilton London washing-up liquid is packed with gorgeous smelling essential oils and this grapefruit version has a lovely aroma, which is fresh and zesty.
Results
Its naturally derived ingredients mean that there are no phosphates, artificial colours, parabens or any animal derived ingredients included.
Good to know
The 500ml bottles go a long way and are said to last around 80 sinks' worth of dishes.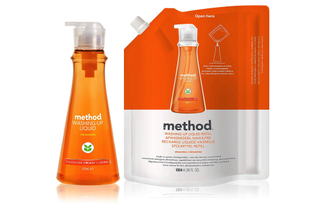 Best for…
Dealing with tough stains such as baked-on or burnt-on food residue from the night before. This biodegradable washing-up liquid cuts through grime with little effort.
Attractive design
As well as it's wonderful clementine fragrance, this product has a new pump design so you can squeeze it directly into the sink or on to a scourer or sponge without any mess.
Refill
Refill pouch The small pouch saves 80% in plastic, water and energy, so you're choosing a product that is eco-friendly inside and out.
Eco credentials
Never tested on animals, this eco-friendly washing-up liquid is vegan-friendly and biodegradable, too.
Results
Excellent cleaning power, especially on grease and baked-on food.
Good to know
All its ingredients are assessed by a leading research firm to ensure their safety for both people and the planet.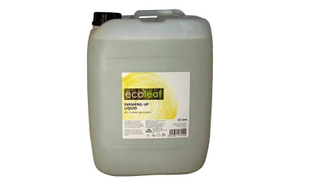 Best for…
When you want to stock up on a bulk buy, this 20L bottle will last and last.
Sustainably sourced
Gentle yet extremely effective when it comes to cleaning power, this Ecoleaf washing-up liquid is made from plant extracts from sustainable sources and is fully biodegradable.
Kind on skin
Users say that this formula is really kind on their hands and doesn't dry them out like some washing-up liquids can.
Results
Great value for money and some buyers say this one lasts almost a year!
Good to know
Safe for use with septic tanks, this eco-friendly formula ticks all the boxes.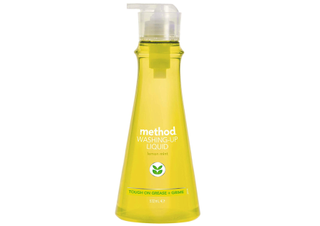 Best for…
Its Smartclean technology deals with baked-on stains and food residue with ease, meaning less effort for you.
Cruelty-free
Method products are never tested on animals.
Results
This naturally derived washing-up liquid is concentrated and tough on grease, giving excellent cleaning results on cookware, crockery and cutlery.
Good to know
As well as being kind on hands, it smells divine too.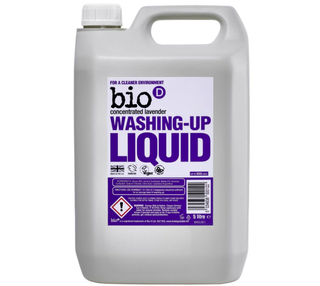 Best for…
Domestic households as well as commercial kitchens. This large 5L bottle will last and last so makes a good investment and is well worth the price.
Professional formula
A concentrated washing-up liquid, Bio-D smells wonderful with its lavender essential oils.
Cleaning power
It may be eco-friendly but that doesn't mean it's not powerful too. Bio-D tackles stubborn stains on pots, pans, crockery, cutlery and cookware as well as glasses yet is kind on your skin.
Results
An Ethical Consumer Best Buy, the cleaning results are excellent as well as being packaged in a 100% recycled bottle.
Good to know
This one's pet friendly as well as being vegan and cruelty-free.
How to buy the best eco-friendly washing-up liquid
As well as making sure your liquid will do the job when it comes to cleaning brilliantly, you also want to ensure it comes with the right eco credentials before you part with your money. A concentrated formula will go further, meaning you need to add less liquid to the washing-up bowl every time you do the dishes. A large 5L bottle on the other hand is a good investment as it can last for months and months, up to a year in fact according to some buyers. See if you have the space to store it though, especially if it's going in the cupboard under the sink.
Eco ingredients
As well as being chemical and toxin free, check that the packaging is recycled and/or recyclable and if its readily biodegradable. All eco liquids should be septic tank and cesspit suitable due to the fact they don't contain enzymes, but most products list this fact as one of their benefits so you can always check the packaging if you're not sure.
Added features
If it's important to you, check if the liquid is vegan-friendly and cruelty-free so it's not tested on animals and contains no ingredients that are.
Soft on skin
You may also need a product that is hypoallergenic and kind on skin, so it doesn't dry out hands and is good for those with allergies. If it is fragranced, check it has essential oils and not artificial perfumes.