Making Christmas biscuits or cookies? You need to buy a biscuit decorating kit, then! Specifically, one of these easy to use options below. Get the kids involved or leave it to the perfectionists – your choice! We suggest letting them help so that should the biscuits come out a mess, you've got someone else to blame...
Keep scrolling for eight easy to use biscuit decorating kids, whether you like to go full out, you want to personalise your cookies, or perhaps you want to gift a cookie decorating kit to someone you can't bake along with this year?
Head to our dedicated Christmas page for more top buys – from gifts to decor and more. Oh, and Christmas recipes.
8 lovely biscuit decorating kits
1. See this personalised biscuit decorating kit for heartfelt designs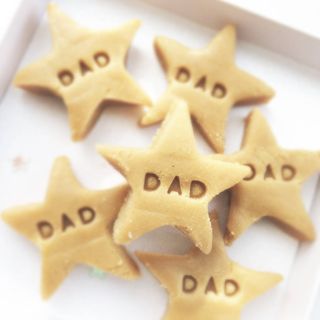 Stomp Stamps Make Your Own Personalised Cookie Kit | £17.50 at Not on the High Street
An easy way to make your own personalised cookies or biscuits, this stamp kit can be reused every year, and for all occasions, too. You could even make and write on a few cookies instead of sending Christmas cards this year – less waste and super tasty. How to use it? Select the letters you want to use, pop them into the holder and stamp on to your food. It comes with a tin for easy storing, too.
2. A Christmas jumper biscuit decorating kit that the kids will love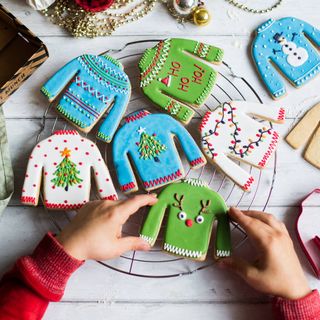 Craft & Crumb Personalised Christmas Jumper Biscuit Baking Kit | £19.99 at Not on the High Street
The kids will love decorating these cookies for family members, and you might even enjoy it, too. For just under £20, this cookie decorating kit comes with everything you need. From gingerbread mix to icing sugar, an icing pen, colouring and sprinkles. Oh, and a jumper-shaped cutter and piping bags. Use this kit to make and decorate 10-12 biscuits.
3. Buy this Christmas stencil set – for super easy decorating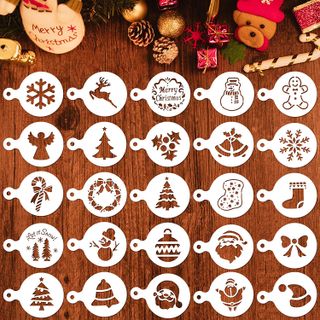 Qpout 25pcs Christmas Cookie Stencil Set | £7.99 at Amazon
This huge set comes with 25 Christmas-themed stencils, all of which will make your life ten times easier when it comes to decorating your cookies. No more freehand! Use these stencils while piping icing, or just to give your cookies a dust with cocoa powder or icing sugar. So easy!
4. A Christmas biscuit decorating kit you can gift to the kids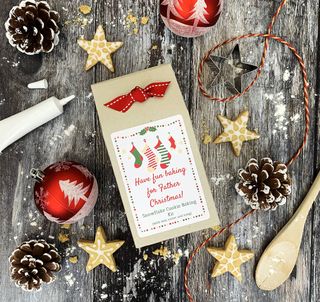 Katie Bakes Christmas Snowflake Cookie Mix Baking Kit | £9.50 at Not on the High Street
This lovely cookie kit includes shortbread baking mix, a star-shaped cookie cutter and a tube of white icing. It comes inside a party bag which can be personalised, too. A great gift to little ones you can't make Christmas cookies with this year so that they've got all of the things to make them at home.
5. Use these cutters for fancy fondant icing creations, too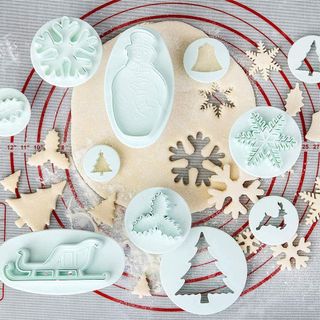 Olywee Christmas Cookie Cutter Set | £12.99 £11.99 (save £1) at Amazon
Usee these Christmas cookie cutters for cutting out your cookies, or, if you like to use fondant icing, then you could use them to make fancy icing shapes. Easy to use and they come in a pack of 25!
6. This biscuit decorating kit is for your Christmas tree!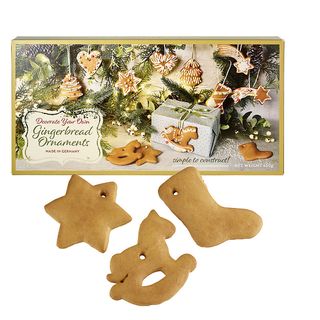 Decorate Your Own Gingerbread Ornaments | £11.99 £7.99 (save £4) at Lakeland
Gingerbread tree ornaments? Yes, please. And this kit requires no baking – all you need to do is decorate (AKA the most fun part). It includes 12 ready-made biscuits, icing, an icing bag, string and sprinkles.
7. Check out this cute small kit – great for gifting!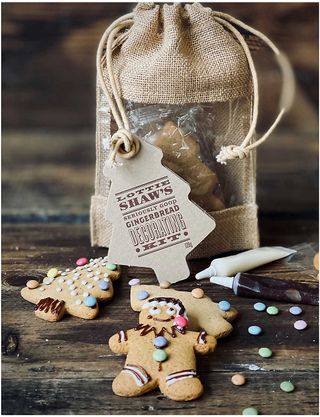 LOTTIE SHAW'S Gingerbread decoration kit | £9.79 at Selfridges
This slightly posh biscuit decorating kit includes four tree-shaped gingerbread biscuits that are ready to decorate, as well as icing pens to do so. It doesn't really get any easier than this...
8. Pop a gingerbread house making kit in your basket for a real treat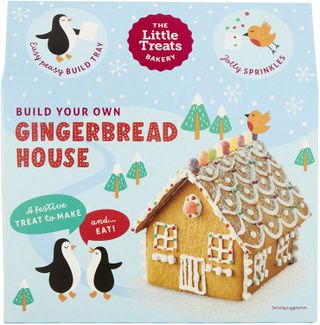 The Little Treats Bakery Gingerbread House Kit | £12.99 at Amazon
Buy a gingerbread house kit to keep yourself busy until Christmas – the kids will love it! This one is pre-baked and it comes with everything you need to decorate – you'll need to bring along the patience, though!
Also see: