We love a good budget bedroom makeover. Bedrooms can be such easy rooms to update, switch out a cushion here, paint a wall there – you can have a totally different feeling room by the end of a weekend. But how do you give your bedroom a really luxury refresh on a budget? Well, we asked Alex Whitecroft, Head of Design from I Want Wallpaper, for all his top tips on how to give your bedroom that hotel vibe...
If you are after more bedroom ideas, make sure you head to our beautiful gallery that is sure to inspire you to redecorate your space.
1. Invest in more luxurious bedding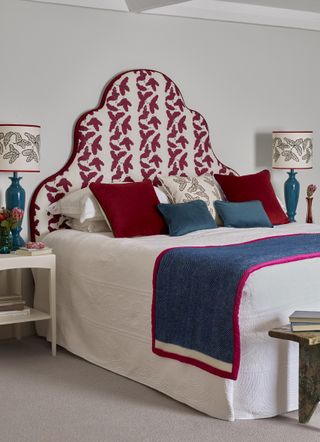 'Who doesn't love that moment when you first sink into the bedsheets at a boutique hotel?' says Alex. 'One of the reasons for this is their high thread count linens - generally 250 or 300 in high-end properties - which are designed to make the sheets breathable and guarantee you a good night's sleep. High quality linens are an essential part of your brand new luxury bedroom, so invest in an affordable yet luxurious cotton set priced.'
Check out Dunelm – they have some gorgeous bedding that's super luxurious but really reasonably priced.
2. Rethink your colour pallet (and then get painting)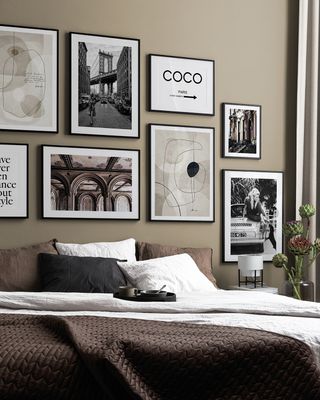 'One of the reasons it's so easy to switch off in a luxury hotel room is thanks to its carefully curated colour palette. Transform your bedroom into a hub of relaxation and understated elegance by redecorating your walls. Neutral hues, whether chalky whites, stone, green-greys or soft champagne can both make your room feel larger and lighter - a must as we approach winter - and provide a blank canvas for bolder accessories.'
For us this calls for paint! You can pick up paint for well under £50 and totally change the look of your room in just a weekend. Check out our guide to how to paint a room if you need any tips.
3. Add in a seating area for a hotel feel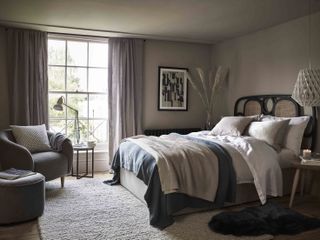 'Nothing says roomy, luxurious hotel suite like a cosy seating area, primed and ready for you to relax with a good book and a comfortable dressing gown and slipper combo. While it's unlikely that many of us have the space for a three piece suite and coffee table in our humble bedrooms, with a little bit of furniture moving, you can introduce an on-trend wingback armchair.' explains Alex.
Shop your own home for chairs you can repurpose in your bedroom – or hunt around in charity shops and on Ebay for a really unique (and budget friendly) piece.
4. Declutter!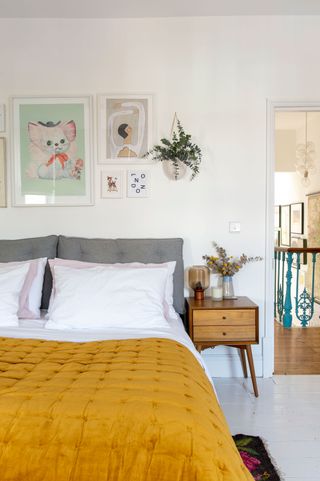 'You may not be able to escape everything that's happening in your home, but decluttering surfaces of ornaments, books and other distracting items can help you switch off and sink into a restful snooze.'
Tidying is free! So no excuse not to do this one, sometimes all a budget bedroom makeover take is to clear away your floordrobe and have an organise...
5. Switch up your bedroom lighting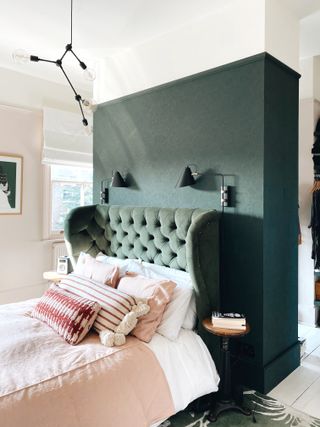 'Hotels spend thousands of pounds carefully curating lighting in their bedrooms and this one feature can radically change how a room looks and feels. For your own home, comfort-inducing lighting is all about choosing options that provide enough visibility that you can still read from bed, while still setting a restful mood.'
Our go to for lighting when starting a budget bedroom makeover is of course Ikea. They have some gorgeous lighting starting for under a tenner! If you do need some bedroom lighting ideas to inspire you, head to our full feature.