Jennifer Lopez's Keurig coffee maker wasn't what I expected to be lusting over when scrolling through her Instagram feed, but here I am. Usually, it's her incredible outfits or dancing skills that fill me with envy — but I know I'll never be that well-dressed or that well-coordinated. Luckily, her coffee maker is much more attainable, and is at an incredible price right now.
For the uninitiated, J.Lo is… well, J.Lo! She's a singer known for hits such as On the Floor, Let's Get Loud, and Jenny From the Block. She's also an actress, having starred in Hustlers, Shotgun Wedding, and The Mother. Basically, she's a queen at everything — so I'm not surprised she knows what she's doing when it comes to choosing coffee makers, too.
In one of her recent Instagram posts, she showed us how to make Bella Berry Punch in her gorgeous modern kitchen. While drooling over the delicious cocktail recipe, I was also mesmerized by the Keurig coffee maker in the background. I chatted with our team's coffee expert to track it down, and let me tell you: she delivered. Not only that, but it's on sale right now for Cyber Monday, so you can sip on the same coffee as J.Lo without splashing out the cash.
Jennifer Lopez's Keurig coffee maker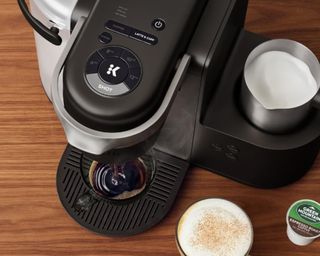 Drum roll please: Jennifer Lopez' coffee maker is the Keurig K-Café Single Serve Coffee Latte & Cappuccino Maker. Keurig coffee makers are popular as they are known for being easy to use — no barista experience required. This model is one of the best pod coffee makers that can transform milky drinks with its frother. On the Keurig site it's on sale for Black Friday, where you can save a huge $57 on it right now.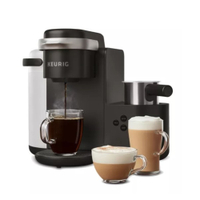 Keurig K-Café Single Serve Coffee Latte & Cappuccino Maker | Was $189.99 Now $132.99 (save $57) at Keurig
For those who love a latte and cappuccino but don't have the barista skills to make it happen by themselves, this Keurig is an absolute winner. With latte and cappuccino settings plus a dishwasher-safe frother, it couldn't be easier to make a coffee shop style brew. Jennifer Lopez has one in her home and we can see why she loves it.
While we haven't tested this exact model ourselves, we have tested numerous Keurig coffee makers in the past, so we know what makes them so brilliant.
"She might be a famous singer and actress, but by owning this Keurig small coffee maker, the singer/actress has shown she's relatable," says our head ecommerce editor and coffee expert Christina Chrysostomou. "This is because they're easy to use, and aren't too pricey."
Christina Chrysostomou is our head of ecommerce and our resident coffee expert and customer advisor at Real Homes. While she hasn't tried this specific model, she is a fan of the Keurig brand, having tested other coffee makers that it makes in the past.
Chrysostomou says that there's a lot to love about Keurig coffee makers in general.
"They're affordable, easy to use, plus you've got access to over 400 varieties and over 60 brands of coffee with new partnership opportunities popping up all the time," she explains. "This particular model can make coffees, lattes, and cappuccinos, and what I love most is that it's got a dishwasher-safe milk frother."
Basically, this makes cleaning it a total breeze.
Whether you have a busy schedule like J. Lo or just want a delicious coffee shop style, the Keurig K-Café Single Serve Coffee Latte & Cappuccino Maker is the perfect choice for those who love a frothy coffee and the ease of using a single-serve coffee maker.
3 alternatives to Jennifer Lopez's coffee machine
J.Lo's coffee maker is a great price, but you might be looking for a different brand, type of coffee machine, and even a different size. Here are three alternatives that may tick your boxes instead.
The prices below were correct at the time of publishing this article.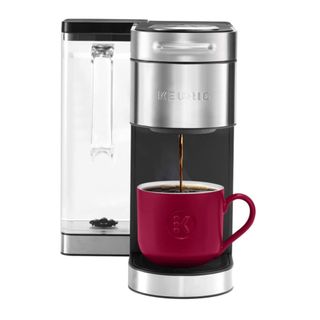 Top-rated
1. Keurig's K-Supreme Plus Coffee Maker
Size (in.): H12.2 x W8.3 x D13.3
Type: Pod
Price: Was $229.99 Now $174.99 (save $55) at Amazon
This is our favorite Keurig that we've tested, thanks to its coffee strength and temperature customizations. The difference in flavor alone is a huge game changer. Our reviewer Jaclyn also loved its sleek design and compact body, which makes it ideal for kitchen countertops in small kitchens. It is pricier than J.Lo's coffee maker is right now, but we can promise that its capabilities make it worth the price.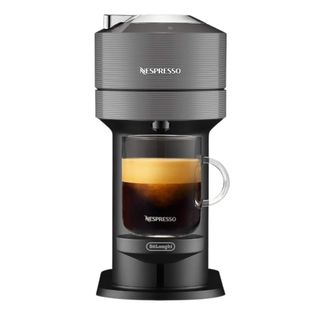 For strong coffee lovers
2. Nespresso's Vertuo Next
Size (in.): H12.79 x W16.88 x D5.59
Type: Pod
Price: Was $179 Now $123 (save $56) at Amazon
If, unlike Jennifer, you prefer a long black Americano instead of a milky coffee, this Nespresso will give you all the caffeine strength and size that you need. Using the Vertuo can deliver you up to 414 ml of coffee in one go, and there's no programming or holding down buttons to get the amount of coffee you like. This is our best Nespresso coffee maker overall.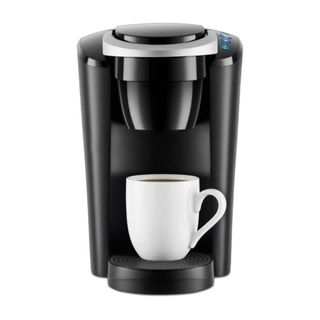 Budget friendly
3. Keurig's K-Compact Single-Serve K-Cup Pod Coffee Maker
Size (in.): H12.5 x W8.2 x D13.2
Type: Pod
Price: Was $99.99 Now $84.99 (save $15) at Amazon
Looking for a coffee maker even more uncomplicated than J.Lo's? With this Keurig, you simply just place in your coffee pod and press the button. It's also energy-efficient, automatically turning off two hours after your last brew. At Amazon, you can grab 15% off it right now, which is a seriously great deal. For those who love a colorful coffee maker, it also comes in turquoise for $5 cheaper.
---
Jennifer Lopez's Keurig coffee maker is a brilliant choice for anyone looking for a machine that's affordable and makes cups that will rival your fave coffee shop. She's not the only celeb with good taste in coffee machines, though — Vanessa Hudgens' De'Longhi is barista-approved and one of the best you can get.