Victorian houses account for around one in every six homes in Britain, so it is no wonder that they are such a monolith of British architecture. From their stunning high ceilings to their elegant charm, they're packed with wonderful original features – and we've complied a list of our favourite characteristics of these classic properties.
Find out how to renovate a Victorian house in our guide – and don't miss our list of the best Victorian homes that we've featured over the years – there are some real stunners!
1. Elegant stained glass in hallways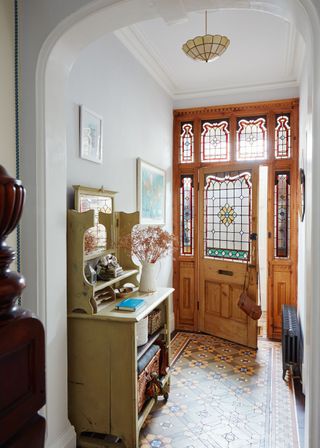 Much like today, first impressions mattered in the Victorian era so it is understandable that the Victorians regarded the entrance hall as a very important part of their home. The space was used to demonstrate not only their wealth but their exquisite taste. Stained-glass windows and doors were one way to achieve this affluent look and when cared well cared for, or lovingly restored, they still look as impressive today.
2. Stunning Victorian hallway tiles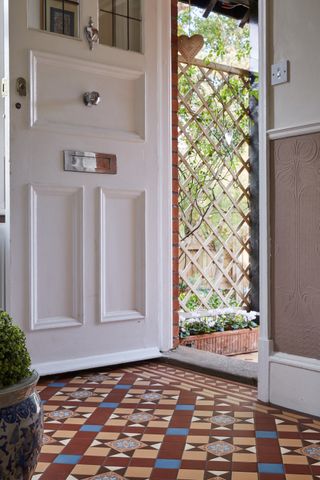 Another key featured of the hallway were the deep toned, patterned tiles. Whether original ones that have been carefully brought back to their former glory or replaced with newer replica tiles from companies such as Original Style, these tiles are a true icon of Victorian homes.
The classic patterned tiles work really well with traditional design schemes – and, in combination with stained glass, will provide enough colour and texture to keep the rest of the design neutral and low-maintenance.
3. Their bright and airy sash windows let in lots of light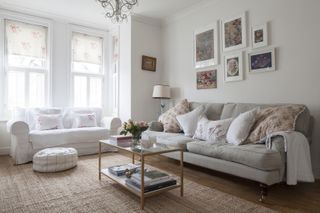 It was during the Victorian era that key moment in architectural history took place. In 1851, window tax (where a property tax based on the number of windows a house had) was abolished making windows an affordable design feature.
Both bay and sash windows became a huge trend when it came to the designs of Victorian homes with homes now boasting large multiple windows per room. The result was light and airy rooms, one of the things that makes late Victorian homes so appealing.
Love this room? For more calming schemes filled with vintage finds take a tour of this elegant Victorian villa.
4. Statement fireplaces with detailed tiling make a stunning focal point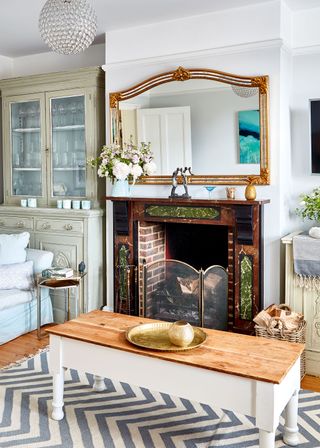 There wasn't many alternatives in the way of heating throughout the Victorian period, so fireplaces were essential, particularly throughout the freezing winters.
Ornate surrounds showcased wealth as well as the incredible skill of craftsmen who produced them. Fireplaces surrounds were usually made from cast iron or limestone, while more affluent homes had marble and intricately carved wood. Tiling also played a huge part, with tiled panels adding colour and pattern to designs.
5. Victorian homes have excellent potential for extension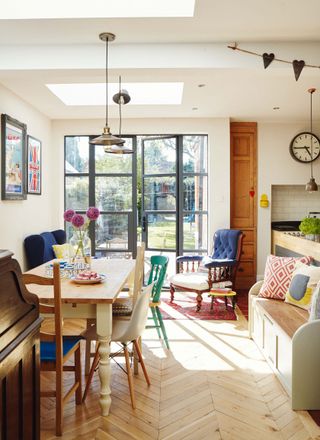 One of the main challenges with Victorian homes are the rooms towers the house's rear. While the front boasts large sitting rooms, the rear is often home to a small galley kitchen that is not hugely practical, particularly now that the kitchen, rather than the sitting room is the hub of family life. However, in Victorian homes these challenges can be overcome by extending and thankfully Victorian homes really lend themselves to new additions.
Whether you want to add on a glazed conservatory or orangery that feeds out of the kitchen, want to create a large open plan space by extending and merging rooms, there are a whole host of design options available to you. Learn more about how to extend a Victorian house with our essential guide.
6. Victorian homes look great with dark coloured walls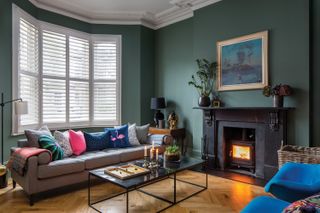 The moody, dark hues so on trend today really come alive when combined with Victorian features. Enchanting greys and dark sage greens really pop against white ceilings with ornate corning and white framed sash windows.
When it comes to choosing the right shades for your period home, stick to English heritage shades to ensure an authentic match, Little Greene have a brilliant selection, particularly from their National Trust collection which is inspired by historic homes from across the UK.
See our gallery of dark and dramatic room schemes for design inspiration.
7. High ceilings make the rooms look spacious and elegant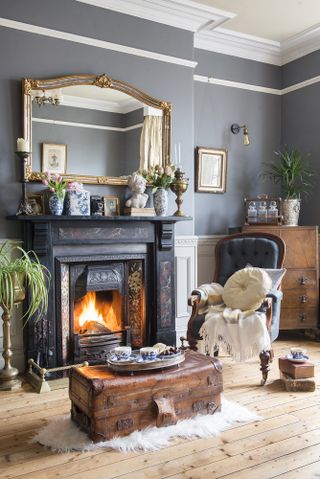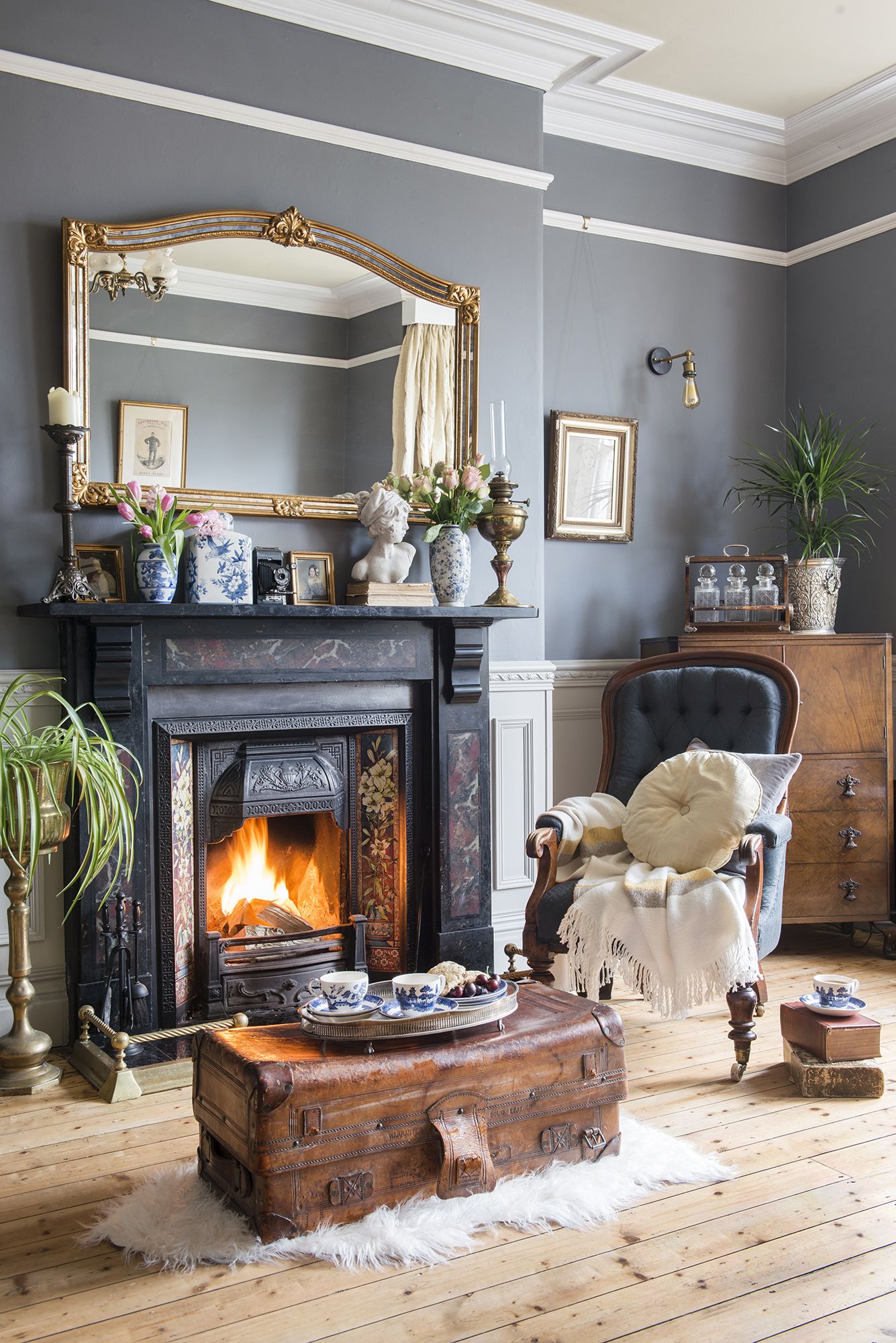 The high ceilings of Victorian properties, like most design features, were another way to display wealth to visitors. Creating a spacious environment, high ceilings provided a stark contrast to the low-ceiling cottages and houses that were associated with the more modest abodes.
Often combined with large windows, they create a light, airy atmosphere, perfect for ladies to relax in while sewing or readers and still today, we love them for much the same reason.
Thinking of renovating a Victorian home? Check out Carla Isolano's inspiring Victorian townhouse.
8. Elegant cornerpieces and plasterwork create unique statements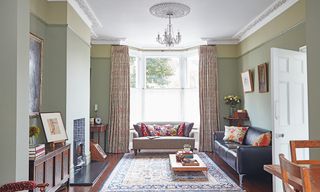 As well as their aesthetic value, ornate corner-pieces, plasterwork and roses, also help to define period styles and the status of homes. In the Victorian period dornice was very ornate, featuring flowers, fruit and vines. Ceiling roses were also at their height.
From the 1850s 'fibrous plaster' (strengthened with hessian fibres) was introduced and allowed for large, complex cornices to be cast in one piece prior to fitting. On the other end of the scale, lightweight papier mâché ornamental mouldings were also used in slightly more modest homes.
If you're Victorian home has original coving that needs some TLC discover how to restore it to its former glory with our step-by-step guide and video.
Take a tour of these stunning Victorian homes: