Essential kit
Before you start, make sure you have the right tools. You'll need:
A paint stripping product like Peelaway, if required
Ladder or platform to safely stand on
Clean water
Light disinfectant
Cloths
Non-abrasive sponges
Soft filler
Chisel
Clean brush
Sandpaper
Paint, if using
Related articles: How to prepare and paint a wall | How to cut in when painting a wall or ceiling | How to paint a door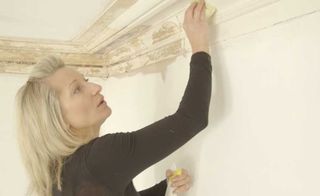 3. Repair cracks
Original cornice may have become damaged over the years, or you may find cracks that have been covered with paint once you've stripped it back.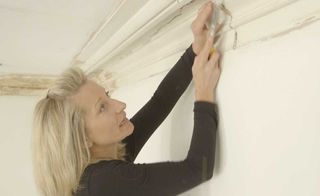 First, use a small chisel to carefully chip away the edges of the crack, resulting in a more even surface, and then sand away any lumps so that the area is smooth.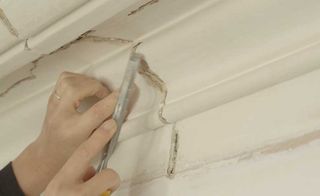 Using a spatula or wide chisel, apply a pre-prepared soft filler to the area, filling the crack and smoothing over, so that when paint is applied, the finish is seamless. Make sure to not overload the filler – it's best to use a little bit at a time and top up with more if required.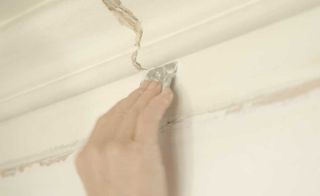 4. Refine edges
To make the most of the decorative cornice, restoring defined, crisp edges is key. Using a small chisel or blade, carefully skim along the edge or the front-facing groove first to highlight the corners and right angles, chipping away any excess paint to get a smooth finish. Do the same along the other lines of your cornice, working down to the bottom, but being careful not to chop away too much and compromise the original shape.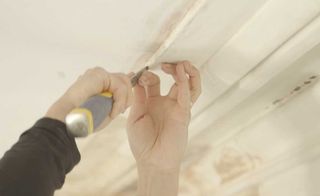 5. Clean the cornice again
After refining the edges and applying filler (and waiting for this to dry), clean the cornice with a cloth and clean water to remove dust.
6. Paint
You may like to leave your cornice stripped for a distressed look, but if you're planning to paint it, use a basic matt emulsion. Apply the first coat, leave to dry and then paint over with a second coat.