The Period Living magazine team loves Victorian homes – from their envious high ceilings to their elegant charm, they are a real iconic of British architecture. Generously proportioned and sturdily built, Victorian homes are popular options for home renovation projects.
If you're lucky enough to live in a Victorian home and are looking for ideas, or simply want to nose around some beautiful homes, take inspiration and enjoyment from this selection of stunning Victorian properties. Then learn how to renovate or extend a Victorian house with our expert guides.
1. A renovated Victorian villa in the Scottish Highlands
Renovating this handsome Victorian villa was a labour of love for Tina Fewster. 'We were living in another house in the village but had always coveted this one, which was empty for a couple of years before it finally came on the market,' she says. 'It was in a sad state, poorly maintained, cold and very damp, but we'd wanted the house for so long, and could see it would make a wonderful home in the village we loved.'
Located in the pretty village of Strathpeffer, just north of Inverness. The village flourished during the latter part of the 19th century, when wealthy Victorians flocked from London believing its natural springs would cure their ills. Each house in the village's Conservation Area has its own Victorian grandeur and eccentricity, take a look at how the Fewster family transformed it into their dream home.
2. A restored Victorian villa filled with floral textiles and upcycled vintage furniture
Moving to this Victorian villa by the sea was the start of a long love affair with vintage furniture and fabrics for Donna Clitheroe, but it was an interest that very nearly didn't get off the ground at all. Donna wasn't keen on the house at the start, however, with a little imagine, Donna and husband Dan took on the Victorian property and started renovations to return it to its former glory. During the renovations, the couple uncovered the original Victorian pine doors, which they had dipped to strip off the paint. They opened up chimney breasts, put period fireplaces back in and had cornices and ceiling roses reinstated.
Be inspired by their renovation and creativity and take a tour of their finished home.
3. Bake Off's Helena's Victorian villa with its sumptuous French boudoir-style décor
Great British Bake Off star Helena Garcia is characterised by her friends as single-minded, optimistic and determined, and it's a description that certainly fits the way she went about securing this charming Victorian home for herself and husband William.
Helena wanted to keep the décor true to the building's Victorian origins and was intrigued to learn that the property had started life as a Sunday school for a nearby convent. 'To look at it now, it's quite difficult to imagine the house ever being used for that purpose,' says Helena. 'But in the cellar there are still the original lines of hooks for the children's coats.'
Discover the fascinating history of Helena's stunning Victorian villa here.
4. A carefully renovated Victorian watermill
Searching for a characterful old property to restore, German-born Tina and her American husband Simon knew they need look no further when they saw the old millhouse – an idyllic setting to bring up their three youngest children. The Grade II-listed former flour mill is set in two acres of grounds, with the millpond a bonus for the fishermen in the family.
The mill was built in 1862 but had fallen into disuse by the 1920s, becoming completely derelict before being restored into two weekend homes in the 1960s. By the time Tina and her family took it on, there were decades of additions to unpick.
Take a look at how they managed to transform the old Victorian mill into a characterful home.
5. A renovated Victorian townhouse becomes a modern family home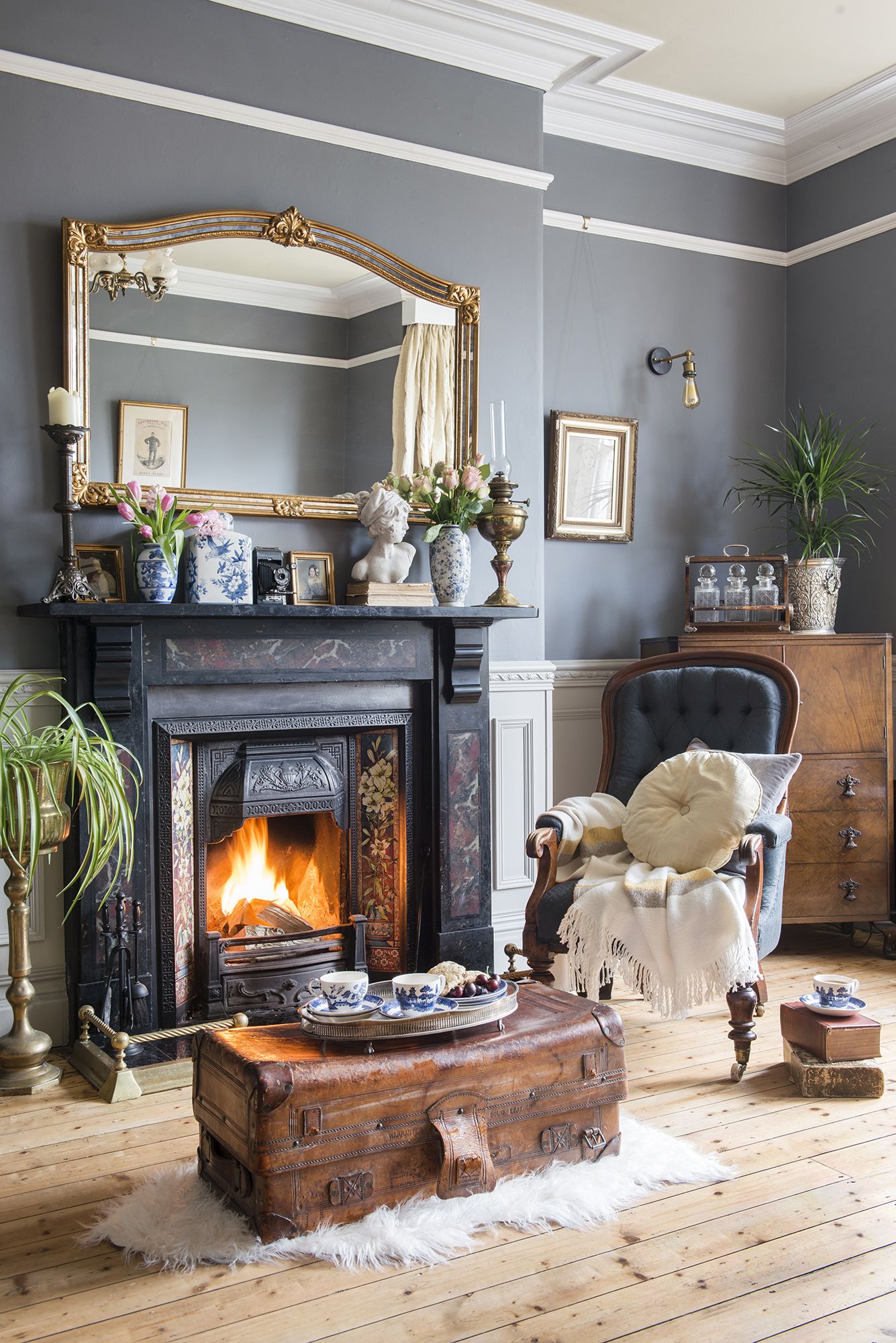 Carla Isolano and Ben Lillywhite took on a tired and tatty turn-of-the-century townhouse, transforming it into a modern family home while preserving its period charm. They managed to strike the perfect balance between period character and modern comforts when they renovated this Victorian townhouse. While the couple updated the property with an open-plan kitchen dining area, new bathrooms and an ensuite, they took care to preserve original tiled floors, fireplaces and windows. Find out how they created their stunning Victorian home here.
6. Art dealer Henry Miller's semi-detached Victorian home
Henry Miller's Victorian home is more than just a comfortable place for him and partner Jin to live. For art dealer Henry, it's his office and his gallery. 'I had a large collection of pictures when I bought the house in 2012, and I thought it was a fantastic place to hang them, with a lot of wall space,' says Henry. 'As the house developed, I suddenly realised that I could use it as a gallery.'
This handsome home full of authentic period details is now the perfect backdrop for Henry's collections, although visitors would never guess that it had once been on the brink of dereliction. One of the outside walls was crumbling away, the leaking roof had caused the floors to rot, and there was a foot and a half of water in the cellar.
You won't want to miss this characterful home, take a peek here.
7. Modern Victorian home with a traditional twist
More from Period Living
Do childhood dreams really come true? Ask Danielle Hughes and the answer would be a resounding 'yes!' As a youngster, she daydreamed about living on the street around the corner from her home.
'It had such a nice feel to it and I loved the individual character of each house,' she says. Little did she know that years later she'd get the opportunity to turn that dream into reality.
When a house on Danielle's favourite street came on the market, the couple couldn't believe their luck and immediately snapped it up. 'I knew instantly that it was the right one for our family,' says Danielle.
'The house had been given a makeover for a quick sell so all the walls were painted in magnolia and white, but it had high ceilings, big rooms, and original fireplaces and cornicing. We could see the potential to create an unusual family home.' Find out how they did it, here.
8. A rustic contemporary extension to a Victorian cottage
This pretty Victorian two-up two-down cottage was full of polystyrene ceiling tiles and grim 1970s colours when Louise Jones first saw it. However, she was won over by its location and walled garden, and could see it had plenty of potential.
Louise started by painting all the walls white and laying new carpet and lived in the house for a year before going ahead with her plans to extend it.
A three-storey side extension, single-storey garden room, and knocking through the old Victorian parlour and kitchen increased the downstairs space, creating a double living room and larger kitchen. Upstairs in the side extension, she created a new bathroom, an ensuite, and a small bedroom in the loft.
9. A Victorian Arts & Crafts house fit for modern life
After three years abroad, Lucy Rees was determined to make her mark on this Victorian Arts and Crafts house, where she can surround herself with family and friends. Before embarking on major renovations, most people take their time and live with the place, to get a feel for what will work. That had been Lucy Rees's plan as she carefully masterminded her family's return to the UK from Germany. However, the finished product is stunning, an elegant home brimming with character, take a look around here.
10. Victorian cowman's cottage in the Cotswolds
The simplicity of white, in many layers and tones, forms the backdrop to Bethan Lewis-Powell's delightful Victorian Cotswold cottage, complemented by her collection of antique and vintage furniture. She bought the four-bedroom property more than 30 years ago. 'I was living in London with my daughter Cari, who was then four years old,' she recalls. 'I wanted to find a better work/life balance, so made the decision to divide my time between London and the Cotswolds.'
The house was originally a cowman's cottage and was once part of the country estate of Ditchley. Positioned in a row of several small properties, the Victorian cottage was in need of an update. Take a look around the finished project here, you'll definitely be inspired to undertake to your own renovations.
11. Stylish transformation of a late-Victorian terrace
This late-Victorian terraced house with four bedrooms, in Battersea, south-west London. The couple made some substainal changes, removing a wall between the living room and dining room to create one large open-plan space. They levelled the floors to remove a step and added a small kitchen extension. Extending just two metres into the garden, and removing a cupboard and some boxed-in pipework, has improved the flow of the kitchen. Rococo designed the simple painted units topped with marble, preferring to add colour with furnishings and accessories.
'I love our house. All the things I've collected over the years have found a space here and have come together to create a familiar, happy home for us,' says homeowner Rococo. 'I know I'll keep adding to it and making changes, but it's fulfilled the potential we saw from the moment we first walked in.' You'll love the colour and character of this Victorian terrace, take a tour here.
12. Renovated Victorian semi for modern family life
Awash with original features yet equipped with the latest home comforts; light and spacious but with cosy areas; sophisticated yet playful; bursting with colour and pattern yet calm and homely. These might sound like contradictory descriptions, but Paul and Laura Clark have managed to strike the perfect balance between old and new in their stylish Victorian semi. Be inspired by their renovation and take a tour of their home here.
13. Former Victorian laundry is reinvented into the perfect country hideaway
'On my family's farm in Perthshire there are a number of tumbledown outbuildings, which are a lot of work for my parents to keep up,' recalls Molly. 'So I ended up buying Laundry Cottage from them. It had been a laundry business, washing for the farm and the wider area until the 1960s. As children we had used it as a Wendy house and I used to daydream about having it as my home. Now it is exactly as I had envisaged it.'
Turning it into Molly's dream home, however, was quite an undertaking. The building was a wreck. Its riverside setting and its former life as a laundry made it wet and dank - the two huge vats that had been used for boiling up hot water from the river were still there. The wooden joists were completely rotten, and the house had to be practically rebuilt, but not even that would deter Molly from owning her pretty chalet-style home, and she felt it was well worth the effort.
Take a tour of this home and see how it has been dressed up for the festive season.
14. A pretty Victorian cottage
When June Willison, her partner Barry and their two children moved into their new cottage in Kent, the property had been converted from three tiny cottages, but was in good shape structurally. However, the house lacked character.
At first it was a fairly characterless cottage and it was important for June to put her personal stamp on it. Previous owners had removed fireplaces and other period features, but the couple restored them sympathetically, asking a local builder to leave a rough, uneven finish to recreate some rustic charm. Take a look around the finished project here, you'll absolutely love the quintessentially British interior style.
15. An open plan remodel of a Victorian villa
With its open-plan kitchen, practical layout and a studio in the garden, this Victorian villa is the ideal place for ceramicist Gemma Wightman to combine work and family life. From the outside with its picket fence, slate roof, bay windows on either side of the front door, and a row of sash windows above, Gemma Wightman's pretty Victorian home is as symmetrical as a child's drawing of a house.
Fitting, since it's the home Gemma shares with her young daughters Matilda and Lola. It's also the backdrop to the beautiful luminescent porcelain tableware, which Gemma makes by hand in her garden studio and displays in her home.
Take a tour of this stunning home, you'll love it's stylish layout.
16. Victorian cottage decorated with vintage finds
House-hunting is never simple, and when Louise Lingwood was looking for a period home in the countryside, her property search seemed destined to end in disappointment. However, the place she now calls home is a former Victorian worker's cottage in Bushey, Hertfordshire, which Louise, who owns a vintage and antiques shop, has filled with curiosities and beautiful finds gathered on her travels around the world.
'I've called it "Lilac Cottage" after a lilac tree in the garden that didn't flower until the third spring that I was here,' she explains. 'When it's in bloom, the scent is so heady and amazing that people stop to admire it as they're passing. Inside, though, these cottages are tiny, and you have to use your imagination to make the most of them.'
Discover how beautiful Lilac Cottage is with our house tour.
More inspiration for period living: