The Dunelm sale is here! A haven for picking up cookware, cushions and other household essentials, we've spotted a whole host of goodies guaranteed to help you inject a fresh burst of interest and energy into your home. And the best news is that all of our finds are currently under £100 – with some even retailing for under £50.
We love a bargain here at Real Homes. And we particularly love a bargain that channels our love for interior design ideas and trends. Our top picks do just that. Check them out below and for more living room ideas specifically, be sure to visit our feature page.
Dunelm sale
1. Switch up your living room with this a gorgeous new rug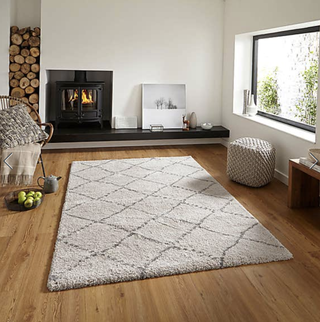 Royal Nomadic 5413 Rug | Was £99, Now £79.20
We've seen similar boho rugs all over Instagram in recent years. And it's easy to see why. Not only does it add plenty of texture to a space, but it's also super comfortable underfoot and promises to add a stylish, contemporary feel to your space. We have it in mind as an easy living room idea, but it could work just as well in the bedroom.
2. Add interest with this super stylish floor lamp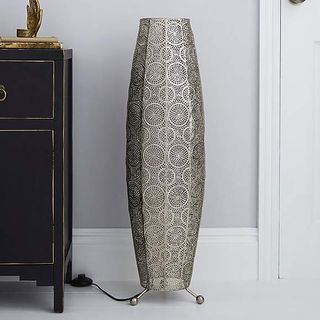 Manila Moroccan 85cm Chrome Floor Lamp | Was £75, Now £60
Illuminate your space with this stunning Moroccan-inspired floor lamp. We love watching it cast shadows across the surrounding walls.
3. Pick up some pretty summer bedding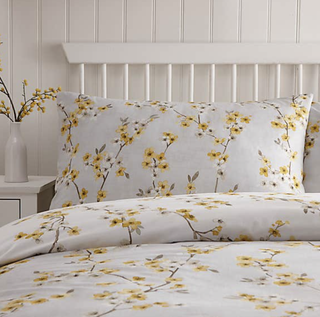 Alisha Floral Yellow Reversible Duvet Cover and Pillowcase Set | Was £12 - £28, Now £9.60 - £24.40
If you're looking for bedroom design ideas for an easy update, one of our favourite options is picking out fresh bedding. Not only does it transform the look of the room, but it can also make it feel fresher and more energised. Which is what we all want during there summer months. We love this floral option from Dunelm, which screams summer and just so happens to be super affordable.
4. Make your hallway feel larger and lighter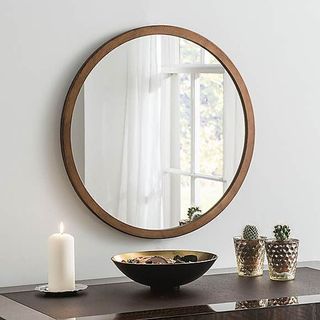 Yearn Classic Circle Bronze Mirror | Was £59 – £125, Now £47.20 - £100
One of our favourite hallway ideas makes the most of an age-old interiors trick: hang a mirror to bounce light around the room and make the space feel larger. This stunning mirror will do just that, all while adding to the welcoming feel of your space.
5. Choose a new table cloth to breathe new life into your dining room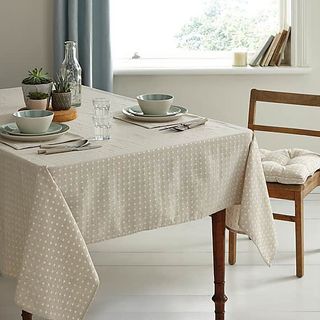 Linen Spot Tablecloth | Now £15 - £20.80
A tablecloth may not feel like the most exciting purchase in the world, but it has the power to completely transform your dining space, whether you have a designated dining room or are looking for easy kitchen ideas that will refresh your space without costing the Earth.
6. Spruce up your home office with some new soft furnishings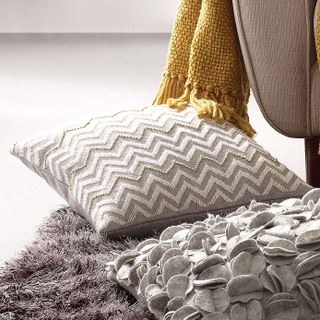 Berber Zigzag Cushion | Was £20, Now £10
Many of us are in search of home office ideas at the moment, particularly as it looks as though we'll be continuing to work from home for the foreseeable future. If, until this stage, your work space has looked a little barren, something as simple as choosing a few soft furnishings can transform it into a space that you actually enjoy (?!) spending time in.
7. Keep your space free of clutter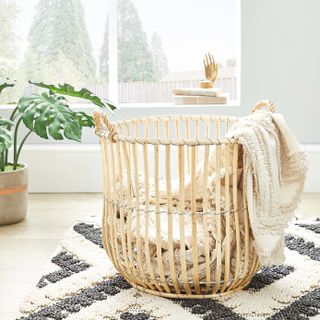 Wicker Natural Storage Basket | Was £22, Now £17.60
If you've been using this period of lockdown as an opportunity to rid your home of unwanted clutter, investing in some quality (but also super stylish) storage is just what you need to keep the ball rolling as the world starts to open up again. We love this rattan solution as a spot to store throws and blankets, or even kids toys.
Make even more savings