Vowed to save the planet in 2020? Yep, us too and we are starting by cutting down on our single-use plastics. Yeah, we all have a reusable water bottle and 10 million reusable coffee cups, but we want to be doing even more to be cutting down on plastics in our home. So we've looked into some really simple swaps we could all be making in our kitchens to cut down on what ends up in landfill.
Keep scrolling for five changes you could make this weekend and for loads more advice and info, head to our eco hub page.
1. Replace your bottle of soap with an eco friendly bar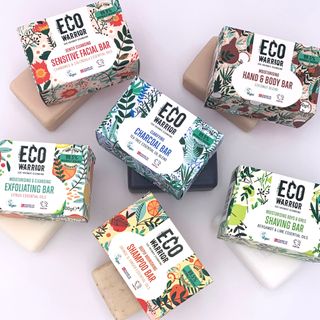 If you have a pump bottle of liquid soap sitting next to your kitchen sink, a really easy way to reduce your single-use plastic is to replace it with a bar. Get yourself a nice soap dish and invest in a really good quality block of soap. You can find some lovely bars that are in fact going to be way better for your skin as well as the planet. Our favourite soaps come from The Little Soap Company who specialise in organic, plastic-free soap that are packed full of gorgeous natural ingredients.
2. Scrap the cling film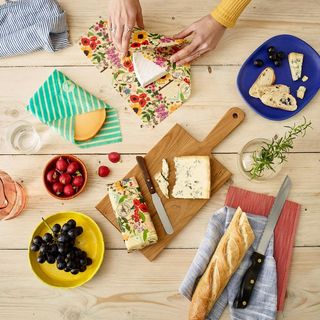 If you haven't heard of beeswax wraps yet, they basically work as reusable cling film. You can use them to cover bowls of leftover food or wrap cheese and then just give them a wash with some warm soapy water to clean. Easy peasy. You can also get elasticated food covers which are made from cotton, again washable and reusable.
3. Switch to metal straws
Such an easy switch, ditch the plastic straws and get some metal ones. They make some really lovely ones now too that would look fab displayed in a glass in your kitchen. Eco friendly and stylish. We love these metallic ones from Amazon, and they are just £2.99, no excuses really.
4. Get some reusable produce bags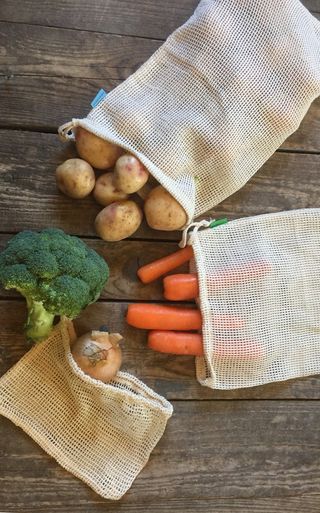 Buying loose fruit and veg is a great way to cut down on plastic, but so often they still try and give you plastic bags to put your stuff in, so put a stop to that by bringing your own reusable ones. They are also great for storing your produce in when you get home, just pop them straight in the fridge or the cupboard.
We really like these cotton mesh ones from Etsy.
5. Avoid plastic packaging
Sounds obvious we know, but look under your sink and we bet you can find so many plastic bottles and boxes – dishwasher detergent, fabric conditioner, washing powder, a spray for every different kind of surface you could possibly have in your home. Next time you are shopping just be a bit more mindful of the packaging you are buying. You can get washing powder and dishwasher tablets in cardboard boxes and avoid anything that comes individually wrapped in plastic.
When it comes to cleaning products, maybe just don't buy as many. We get that the likes of Mrs Hinch (no shade btw, we love you) has drawn us to all these life changing products, but really all you need is an anti-bac spray and a cloth. There are loads of eco-friendly cleaning tips in our guide that you could follow instead. They use ingredients like bicarb and lemons that you have in your cupboards anyway.
Read more: