Did you know there are actually lots of secret uses for everyday things in and around your home that most of us don't even know about?
The items we use in everyday life have become such intrinsic parts of our lives, that we've stopped wondering why they are the way that they are a long time ago.
From clothes pegs and spaghetti servers to toasters and tape measures, there are little details in these designs that may at first seem purely for looks or that aren't widely publicized but that actually serve unique purposes or that make them even more useful.
So, we decided to take a closer look at some of the most common everyday items to show just how much thought was put into designing them so you can use them to their full.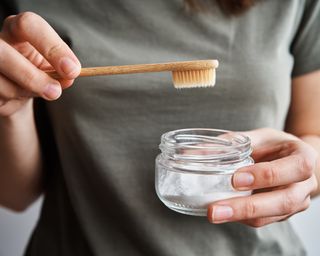 1. Toothpaste cleans more than your teeth
Using toothpaste is a winning bathroom and kitchen cleaning hack you might not have heard of. Gabby Martin, a supervisor with Bio Recovery explains:
'One household item you wouldn't think has many practical purposes is toothpaste! Think of how toothpaste reduces staining on your teeth. It actually operates similarly on most surfaces, including wood and ceramic countertops. Next time you have a stain on your table, hit it with toothpaste.'
And if you're looking for a hack for how to remove scratches from glass, then look no further than toothpaste.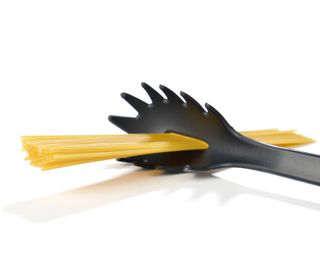 2. Your spaghetti server has in-built portion control
Have you ever looked at your pasta spoon and wondered what that big hole in the middle is all about? Is it for draining water more efficiently or maybe it's just to make it look pretty?
Turns out, it's actually made so you can measure portions of pasta accurately with no need for scales of any kind. The hole measures out one portion of dry spaghetti, solving the issue of having a heap of leftovers to munch... which obviously depends on how much you love gorging on pasta, of course.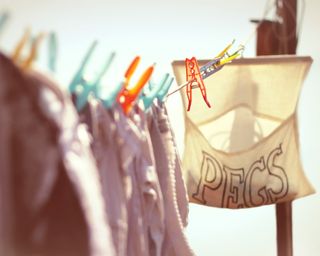 3. Pegs make line-drying way easier
If the extra notch in a clothes peg or clothespin keeps you up at night, we've got the lowdown on what it's for.
Apparently, instead of folding our clothes over the line and pegging them to keep them on, we should be placing the peg over the line and hanging our clothes below.
The extra nifty little notch allows the clothespins to comfortably sit on the line so the grip part can hold the items below. Genius.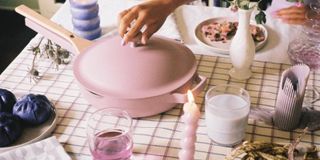 4. Pan handle holes have many purposes
Jessica Randhawa, the head chef, recipe creator, photographer, and writer behind The Forked Spoon says, 'Have you ever wondered why there's a hole on the handle of most pots and pans? The obvious answer is so that you can hang them up on a hook when you're not using them. But there's another reason. Instead of setting your stirring utensil on a dirty stove or counter, you can slide the utensil through the whole to have it stand upright, angled toward the pot or pan.'
Newer innovations in pots and pans have made this feature even more practical like Our Place's Always pan which features a built-in spatula and spoon rest.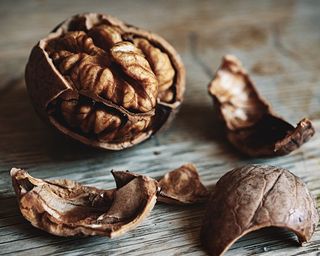 5. Walnuts are great for more than just baking
If you're looking to restore damage to an old piece of wood furniture or flooring as part of your DIY home repairs, Todd Saunders, CEO of FlooringStores has a great secret weapon for you to try out.
'Walnuts are a great tool for fixing scratches in your wooden floors and furniture. The key here is walnut oil, which is rich, dark, and often used in woodworking to give wood a beautiful dark tone and help to preserve it.'
'By rubbing a walnut over a scratch in your woodwork, you're essentially working this high-quality oil right into the scratch, often obscuring it completely. Finish by rubbing the scratch with your finger and then buffing with a soft cloth.'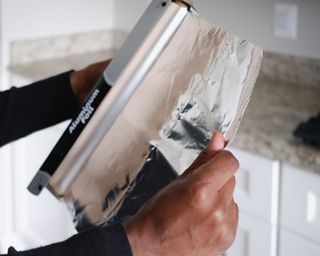 6. You've been tearing off aluminum foil all wrong
Shane Paarman, founder and CEO of awesomestuff365.com explains, 'you can push in a tab on either side of most foil boxes, and this is so that you can hold the roll of foil in place, to avoid it from moving when you pull out a piece.'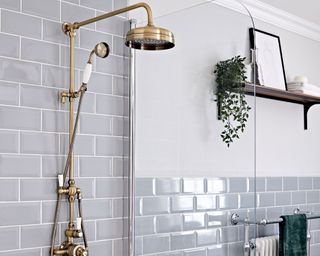 7. Plastic zipper bags can be used to clean showerheads
When figuring out how to clean a shower head, you'll find tons of great tips and tricks but have you heard of this one: plastic zipper bags can be used to clean showerheads?
By putting vinegar in a ziplock bag and immersing the showerhead inside of it with a rubber band, you can get a clean showerhead within an hour or so.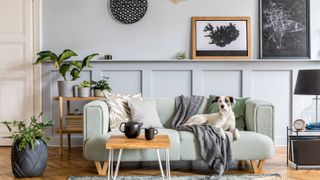 8. Cornstarch can be used to detangle
Cornstarch is an epic detangler. Pour it over tangled shoelaces, necklaces, tassels, or strings to help detangle them quickly and effectively. You can even use it on matted pet fur. According to Ashleigh Gibbs of PetsRadar, you can use cornstarch in combination with baking soda to create a DIY dog grooming powder that's gentle on their skin:
'1 cup (230 g) of baking soda and 1 cup (128 g) of cornstarch (which you can grab at Amazon) combined in a bowl can be useful. Comb it through your dog's fur to remove dirt and grime. It might not be something to use too often, however, as it can cause residue to build up on their fur.'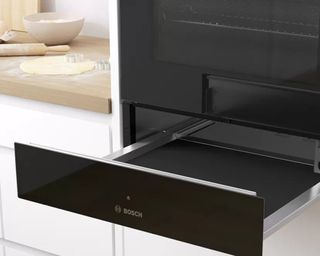 9. The bottom drawer of your oven isn't for storage
Do you know the drawer under your oven? The one where you've been sticking all your baking sheets and trays that can't seem to be stored anywhere else? It wasn't actually designed for that. Instead, manufacturers made that drawer for keeping food warm until you're ready to serve it.
The best ovens actually have really roomy drawers so if you have big get-togethers you can keep lots of dishes warm at once. Nifty.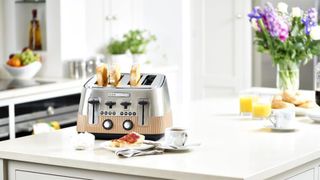 10. Your toaster can toast more than bread
Believe it or not, there are tons of things you can make in the best toasters that you never would have guessed, and it's just about as easy as it gets. From grilled cheese sandwiches, veggie burgers, and garlic bread, to waffles, paninis, and reheated pizza, this is what cooking should be about.
And if you're worried about the mess these options might create, bag yourself some toaster bags at Amazon.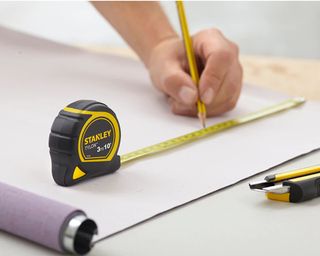 11. Measuring tape secret features
You'd think a measuring tape is pretty self-explanatory but… Nope. This must-have DIY tool's metal tab you use to pull it along a surface actually has two extra purposes: the wide hole in the metal piece is the perfect size to hook over a nail head to keep your markings steady when measuring something. It also has an edge on one side that you can use to gently press and mark a surface.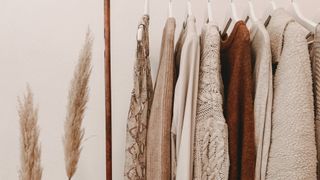 12. Choose wood hangers over plastic
Did you know wooden coat hangers are for more than just looking nice in your wardrobe? They're usually made from cedar wood, which helps repel bugs and are a secret weapon when figuring out how to get rid of clothes moths.
They also have a nice scent and are great for heavy pieces of clothing like jackets and/or garments that are susceptible to damage like wool, linen, and silk.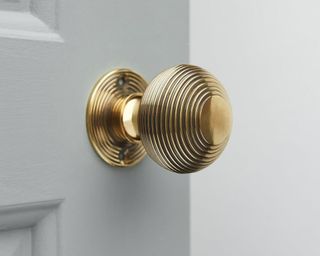 13. Choose brass doorknobs for a germ free home
You might not have really thought about doorknobs too deeply. But it turns out, that a lot of doorknobs are made out of brass because it destroys bacteria.
Great if you have young kids or simply aren't a fan of germs, brass actually has antibacterial properties, meaning they can kill a wide range of microbes in a matter of hours.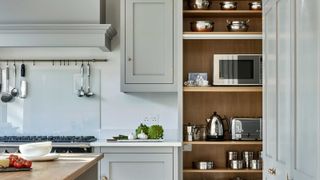 14. You can silence your microwave
If you really want that leftover pizza at 2 am but don't want to wake up the whole house, did you know that most microwaves have a hidden feature that helps you silence their sounds? Typically, if you hold down a single button on the microwave for a few seconds (try the 0 or 1 button or the button that says 'stop'*), it will activate silent mode, and you can now use your microwave, free from beeping.
* No two microwaves are the same so the best way to switch off the beeping on your microwave is to check the instructions. Plus, most of the best microwaves actually have a mute button.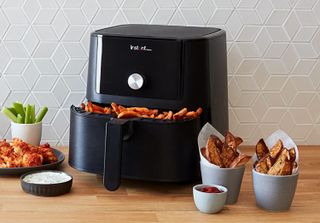 15. An instant pot hack
Want another reason to buy an Instant Pot over another of the best pressure cookers? Melanie Musson, culinary expert with Clearsurance.com has a handy hack for you.
'With an Instant Pot, the handles on the lid fit into the handles on the body. So, your Instant Pot has a built-in lid holder. All you have to do is set the lid perpendicular to the body, and the lid handle will slide into the body handle. This hack works with Instant Pot but not other brands of pressure cookers.'