Whether you have a super modern coffee table, a glass dining table, or glass shower doors, you may have more glass around your home than you realize... But even so, knowing exactly how to polish up and remove scratches from glass to have yours looking like new isn't always so clear.
And unfortunately, it doesn't take much at all to damage glass in the first place. One abrasive cleaning tool, terracotta plant pot, awkwardly placed coaster or an over-excited child (you know what we mean) later and your glass features are toast. There is hope however, as you can use a few select household ingredients and products – from toothpaste, to trusty baking soda and even nail polish – to clean up your glass items, removing surface marks and scratches with ease. So much so that you won't need to replace them at all… huzza!
Always start with clean glass because you don't want any fine dust or debris making the scratched area worse. Of course, if you're dealing with large gouges of missing glass, that calls for a replacement (and a professional). But if you're wanting to shiny up your glass features around the home, or even just your reading glasses, and have a little time to spare, read on.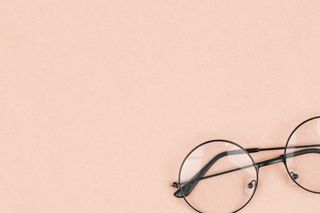 Many use newspaper to dry off and polish glass with, however Melissa Maker creator of the brilliant Clean My Space shares a word of caution 'Back in the day, newspaper print was made using carbon black, or lamp black – that was the part of the newspaper which was responsible for actually polishing glass surfaces (and also why using a newspaper was SO effective) – however, now latex is used, and this will just smear the soap on your glass.. 🙂'
The Real Homes team recommends, 'Always store any vision glasses in their box with the cloth when not in use and keep coasters on glass table tops to avoid surface marks.'
How to remove scratches from glass with baking soda
We often use baking soda as a means of polishing glass around the home because not only does it work on both smooth and tempered glass surfaces, but it's also natural and an unaggressive cleaning agent – ideal if you have kids around. In essence, you're going to make a baking soda paste which will act as your glass polish. Simply mix equal parts (about 1/2 cup) baking soda and water in a small bowl until you get a thickish paste (similar to toothpaste). Then take a microfiber cloth, ensure your surface is clean and dry, then start working a little into the scratched area. Buff this in for a few minutes, using circular motions and then wipe off any residue with a damp cloth and dry it.
How to remove scratches from glass with toothpaste
For surface scratches on a glass table top or other feature, a non-gel toothpaste works a treat. And, if you can find some with baking soda in it, like Arm and Hammer, even better. You'll need a lint-free soft cloth, and a clean, dry surface to start with of course. Begin by applying a small amount of the toothpaste to a corner of your cloth, then buff this into the scratched area. Use circular motions and do this for a couple of minutes before wiping off the residue with a dampened, clean area of your cloth. Dry and repeat if needed.
How to remove scratches from glass with nail polish
This is a less natural approach, and a slightly lengthier process but it actually fares really well in removing scratches, especially in mirror glass.
You'll need a clear nail polish and a nail polish remover also. Start by painting the polish using the bottle's brush, onto the scratch and let it set. This needs about an hour so that it fills the scratch. When done, apply some of your nail polish remover to a microfibre cloth and use this to wipe down the area until you can see the excess nail polish and remover removed. Ta-Da!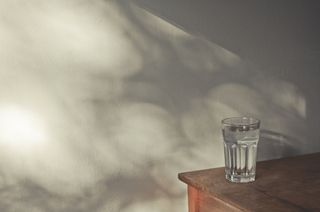 Best glass polishing products
If you'd like to invest in a commercial product for polishing glass and removing scratches or stains, we would recommend a Fine Grade Glass Polishing Compound product. Some swear by Brasso...
Scratch-free and polished to perfection 👌