The best oven is an essential for your household as it will ensure that meal times, and snack times, are cooked to perfection. If you're planning a kitchen refit or your old oven has given up the ghost, now good be a really good time to invest – but getting the right oven it's no easy feat. Believe us: we know!
If you invest in the best you can afford though, a good oven, although perhaps not the most glamorous of appliances, can stick with you for years. So it's important to do your research, to ensure you get your new oven for the best price possible.
So we've done the due diligence and complied this extensive guide for you. Whether you're looking for a basic model or something a little smarter, check out our choice of the best ovens.
Looking for something perhaps a little smaller, say a microwave? No worries: head to our best microwaves guide to cook food in a flash, and defrost in minutes. Or, head over to our best hob guide, for something for your worktop.
The best oven buys
Why you can trust Real Homes Our expert reviewers spend hours testing and comparing products and services so you can choose the best for you. Find out more about how we test.
We've trawled through the oven reviews with your favourite retailers, and put our expert knowledge into practice, to bring you 11 of our top oven finds.
Keep scrolling to see options that will suit all manner of kitchens. Your research and trawling end right here...
Best range cookers
We're big fans of range cookers here at Real Homes, and it's easy to see why. Suited to a variety of culinary styles with plenty of space to pack plenty in, a range cooker gives the kitchen a statement centrepiece. Available in electric, gas or dual-fuel, a range cooker could be one of the best investments you make. Keep scrolling to see our top picks.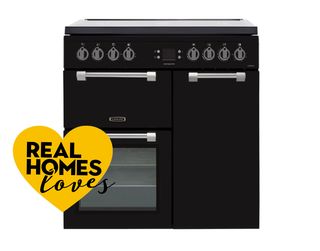 Reviewers love this model as it's easy to use, good value for money, looks good and has excellent build quality, so we think you'll be pretty fond of it too.
Dual fuel
In a stunning silver finish, it gives you three cavities to cook in – a main electric fan oven, second fan oven and a third conventional oven/grill along with a five-burner gas hob, complete with wok burner for high-heat stir fries and paella.
Useful features
The glass splashback can be lowered to cover the gas hob when not in use, providing a handy extra workspace. And stay-clean catalytic liners help with cleaning the inside, too.
---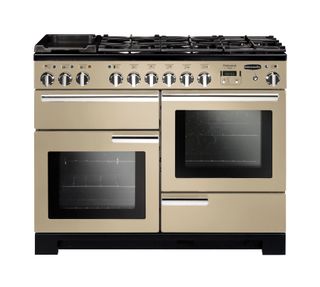 A close runner up, this is the very best range cooker for those who frequently cook for lots of people.
Style and substance
There are four cavities, as it's wider than some designs so you get two gas ovens, a grill and storage compartment that you can use for baking trays or keeping food warm. It's ideal for cooking a Sunday roast or entertaining at Christmas, as there's space for the turkey, vegetables and all the trimmings, as well as pudding, too.
Quality design
Buyers rave about the speedy heat-up times as well as its build quality and value for money. Also available in black, cranberry or stainless steel, this model creates instant wow factor in any kitchen.
Best freestanding (electric) ovens
The best freestanding ovens are some of the most versatile types of oven you can get. Many of them now have fancy features, they cost less than range, have many of the fancy features of cooker or integrated ovens, are easier to install, and are portable, making them perfect for people who rent. So, whether you're looking for a basic model or something a little smarter, check out our choice of the best freestanding ovens.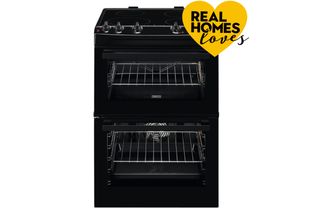 This oven from Zanussi gets our vote for the best electric cooker, and for good reason too.
Capacity
The main fan oven has a generous capacity of 77 litres, plus there's an interior light and a right-hinged door. The second conventional oven has a 39-litre capacity and a grill feature with a drop down door.
This model also comes with an extra large baking tray, perfect for family meals, as well as a grill pan.
Energy rating
Both are A rated for energy and have triple glazed doors to ensure heat stays in; they also have an enamel coating inside for easy maintenance.
The hob
The energy-efficient, fast-heating induction hob has four rings and a hot hob indicator to prevent accidents.
---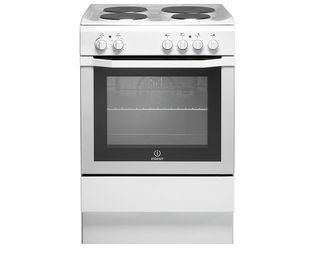 If you're looking for an oven with no-frills but that cooks well, the this electric cooker from Indesit is for you.
Capacity
This model has a main electric fan oven which has a capacity of 62L which, although not the largest on our list, is ideal for for batch baking, as it circulates heat, so food cooks evenly on every shelf.
It also comes with a handy grill which is perfect for preparing quick snacks in a flash.
Good to know
When you've finished cooking, the grease-proof enamel coating makes oven cleaning easy. It's also A energy-rated so it'll be easy on the wallet, and environment, too.
The hob
The electric hob has four zones.
Best gas cookers
In general, a gas cooker heats up quicker than an electric oven and they offer more cooking options with the exposed flames on the hob. If you do not have a gas supply to your home currently, then it would be worth investigating to see if it is possible to install, and reassessing your budget.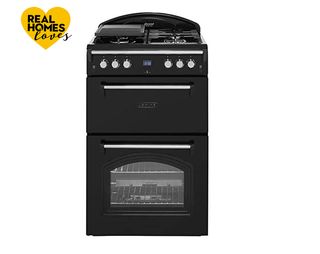 A great high street equivalent to the classic AGA, this retro-style cooker from Leisure gets our vote for the best freestanding gas cooker.
Capacity
The main oven capacity of 78 litres and a second oven capacity of 34 litres.
Oven functions
The two ovens are conventional, although the main oven has a slow-cook function, perfect for winter recipes, and the top oven has a grill function for quick crisping.
The hob
The four-zone gas hob supports cast iron pans and gives instant heat, as well as ample space for pots and pans.
---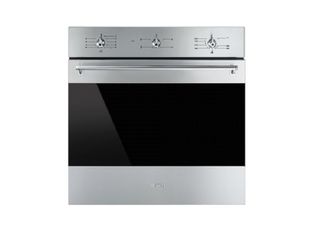 If you prefer to cook with gas, need a built-in option and are a fan of Smeg's stylish appliances, then this could well be the oven you have been looking for.
Cook your way to perfection
Complete with eight functions including fan, grill and rotisserie options, you'll be able to choose between the programmes, to opt for the one which is most suitable. The automatic ignition will quickly get the oven fired up so it's ready to cook when you are.
Boasting four cooking levels, you'll be able to feed the family with ease along with a choice of using an extra deep tray, roasting pan and grill mesh.
Design
Yep, this oven looks very nice. And the functions that come with it are good, too. Animated interactive controls make it a seamless affair to switch between the programmes. The NeroVista glass panels illuminate when in use, and give your oven a clean, streamlined look when switched off. And the smooth enamel makes keeping the oven clean a doddle.
Best steam ovens
The ability to steam in an oven is a function which has made a big impact on the oven market. With more and more brands now offering it as part of their range, especially in their integrated models, you'll need to also consider energy ratings, and the look and feel of the options available before buying.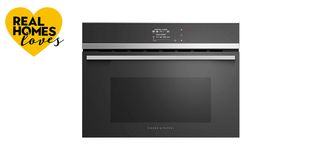 Our pick of the best steam oven is this built-in combination steam oven from Fisher & Paykel. It's featured as the best on our best steam oven guide for it's compact size, ease of use and ease of installation, too.
Nine functions
This model boasts nine functions, so you can choose from a variety of pre-set temperatures including Roast, Pastry Bake and Fan grill, introducing a sense of ease into the kitchen.
What's more, it's easy to navigate through each of these functions when using the intuitive display. This shows the time, plus useful information about functions along with a refill alert.
Suitably sized
This compact oven can be placed pretty much anywhere in your kitchen. It's just 60cm wide so it can sit alongside companion products at a convenient height, to create a cooking space which works for you.
---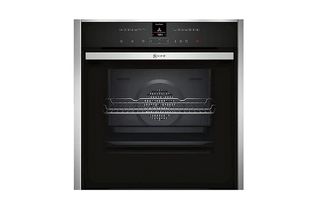 If you're looking for the best built-in oven then this one should fit the bill. It comes stacked with useful functions and functionalities which will cook your foods to perfection, and it even comes with pyrolytic cleaning programmes so it will clean up after itself.
Slide&Hide door

A design unique to Neff, the door on this oven provides unrestricted access to the oven interior which eliminates the risk of burning yourself as you go to take food in or out of the oven. There is also the rotating handle, which rotates smoothly for easy handling, and neatly tucks away beneath the oven so it doesn't get in the way.
CircoTherm

This smart hot-air solution provides simultaneous baking and roasting on up to four levels, in one go. This high-speed, targeted airflow means that dishes retain their flavour, yet remain distinctive.
VarioSteam

This model is a fine example of an integrated oven which uses steam to keep foods crisp, yet tender. Simply hit a button and the oven will quickly and evenly release steam. Or, use one of the automatic programmes for convenience.
---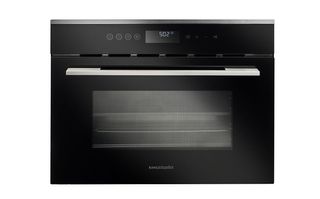 Utilising the latest in premium steam tech, this oven from Rangemaster means that you can have your 'range', built in, and cooking your food to perfection.
Steam power
Tailoring the steam delivery is a forced steam system which will provide the perfect results on any dish. And, an entire meal can be made in a single cooking process with no taste transfer across the three shelves.
Useful functions
It's style with substance on this model. The Rangemaster RMB45SCBL comes with a descaling programme, so it's easy to clean after use. There's also an easy-to-use control panel where you can select from a choice of eight programmes. Better still, a water tank indicator is on hand to automatically let you know when it needs a refill to keep steaming.

Best built-in ovens
Whether you're redesigning the kitchen or replacing an old integrated oven, a built-in oven can blend beautifully with your kitchen decor. Many brands are now offering different finishes to their built-in oven ranges, which gives you more freedom than ever to have an all-singing, all-dancing top spec oven that works well for you.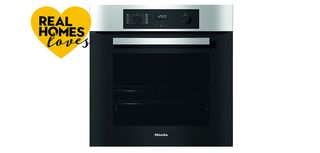 This integrated electric oven has one of the largest capacities of this selection, has all the cooking essentials you need and it comes so reasonably priced (for a Miele), too.
XL oven capacity
Boasting a 76L capacity, you'll be able to cook a meal for the entire family with ease across five levels of carefully thought out oven configuration. Heat will be evenly distributed to all five of these levels, inline with your desired temperature setting.
It will heat up fast, too. With the rapid heat-up programme, the oven will heat up extra quick to 180 degrees within five minutes, so it can cater for those quick meal turnarounds.
Easy to clean
When it comes to cleaning this oven, you can leave pretty much leave it to its own devices. Its unique non-stick coating means that no food residues stick to the surfaces. And even the stainless steel surface of the oven is protected from fingerprints, meaning no cleaning agents are required.
---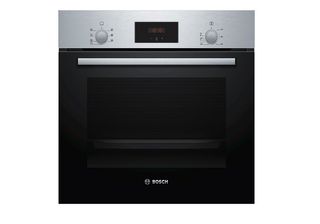 This integrated oven from Bosch offers the best value your money can buy, right now. It has a selection of functionalities to cook your foods to perfection, and it can be fitted as a built-in OR built-under so you have the flexibility to choose where you want this in the kitchen.
3D Hotair
With this great functionality, you'll achieve perfect results thanks to optimal distribution of heat on up to 3 levels simultaneously. This also means that you'll be in a position to cook sweet and savoury dishes at the same time, without losing the distinct flavours and aromas.
Easy to control, and clean
The red LED display control makes controlling this integrated oven easy. It features an electronic clock timer, a panel lock and automatic start.
And when it comes to cleaning, the grey enamel interior is non-stick, which will save you time and effort.
---
How to buy the best oven
As you've seen, there is a wide selection of ovens to choose from when it comes to replacing your old model or starting from scratch. It can be overwhelming, but there are few key elements which are worth considering before you part with your cash:
Size and capacity
First of all, consider the size oven you want and the space available in your kitchen. All ovens on our list are 60cm wide or less, and have a main oven capacity ranging from 60 litres to around 80 litres. For larger freestanding ovens, see our selection of the best range cookers.
Hob types
As with other cookers, freestanding ovens come with a range of hob types, with reactive induction and gas designs more desirable than basic electric hobs. Consider installation when picking your oven's hob type: gas fitting from scratch will likely be trickier than providing power for an induction hob, although both will almost certainly require the services of a qualified professional to be fitted.
Special features
Freestanding ovens can come with a range of special features, including fast heating, slow-cook, or a hot hob indicator.
So, what is the best oven?
To recap...if you're after our top pick for an oven, we wouldn't hesitate to recommend the Leisure ChefMaster CC90F531S Dual Fuel Range Cooker. It's an electric and gas combination which is easy to use, has an excellent build quality and a not-so-hefty price tag, too. It has some useful features, such as a glass splashback, which will make cooking (and cleaning) all the more enjoyable during demanding meal times.
Looking for an integrated option? Then we can recommend you buy the Neff B57VR22N0B Built-In Oven. It's brimming with useful functions and functionalities which will cook your foods to perfection, and it even comes with pyrolytic cleaning programmes so it will clean up after itself.
How long do ovens last?
A new oven is a big ticket item, so of course you will be wondering 'how long do ovens last?' before parting with your cash. After all, if you can stretch to a premium item and it lasts many many years, the cost per use will actually be very reasonable.
It is not unusual for the lifespan of an oven to be as many as 20 years, though the average life expectancies are up to 15 years for gas and slightly less – 10 to 13 years – for electric models. Of course, it all comes down to how often you use it. Those using an oven everyday will be wearing out components much faster than someone who uses theirs about twice a week or less. So, it is certainly worth the initial outlay if you are someone who cooks in an oven a lot.