I'm never one to rush spooky season, but the Anthropologie Christmas collection definitely put me in a festive state of mind. For a moment, I'd almost forgotten that I hadn't even picked out a Halloween costume yet.
The retailer joined forces with Pinterest in Brownstone Brooklyn to showcase its latest releases. I fell in love with the Anthropologie Holiday Collection immediately upon entry into the spectacular home, as expected. Festive, feminine, and a tad retro, the adorable pieces and impressive decorating made me want to curl up with a cup of cocoa and a warm blanket. (It happened to be fairly mild in New York on the day of my visit, but that's beside the point.)
Needless to say, I'm now noodling on Christmas decorating ideas for my own space, and, of course, I made a wishlist. See what I'm going to stock up on from Anthro this holiday season.
Anthropologie decor inspo
What'd we tell you? The Anthropologie x Pinterest Holiday House is utter perfection. Attendees ventured through three floors of coziness, Christmas trees, verdant dried floral garlands, velvet pillows, and outstanding tableware. There was a lot to love, and all those walking through had the same reaction, myself included: "Oh my god, I have to text this to my mom."
"With the holiday season upon us, we felt it was the perfect time to showcase the latest furniture and seasonal decor so that our customers will have the inspiration and required resources to thoughtfully curate their personal sanctuaries," Aaron Mutscheller, president of Anthropologie Living and Terrain, said in a statement.
Given that we have some old-school flair present in the collection, it made sense to opt for a brownstone built in 1899. When visitors first stepped in, they were welcomed in with an intricately set table and winter-white living room. A few steps back was a gorgeous kitchen with dark cabinetry up to the ceiling (reminiscent of Victoria and David Beckham's London kitchen). Upstairs was a cozy bedroom, while a restful den beckoned attendees to the basement level.
Anthropologie holiday collection buys
In a perfect world, I'd likely stock up on everything, but here's what I'm realistically eyeing from Anthro ahead of December.
Anthropologie drinking glasses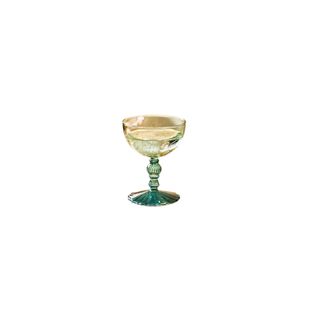 Mixed Set of 4
Price: $56
Capacity: 8.76 oz.
Material: Borosilicate glass
Available in a deep red, peach, sage green, and gold, these vintage-inspired handblown borosilicate glasses are perfect when serving appetizers during your holiday dinner party.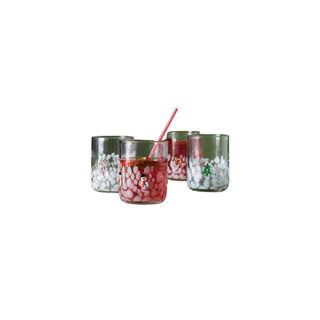 Glass bead detail
2. Festive Icon Juice Glass
Price: $16 (each)
Capacity: 17.3 oz
Material: Glass
Adorned with a Christmas tree, candy cane, snowman, and gingerbread man, Anthro's snowy-inspired juice glasses (or grownup juice glasses for the 21+ crowd) will adorably accent any table on December 25.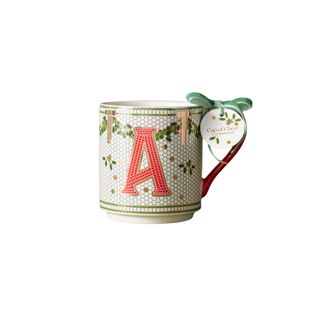 Personalized gift idea
3. Festive Bistro Tile Monogram Mug
Price: $14
Capacity: 13.2 oz
Material: Glazed stoneware
Everyone has some sort of monogrammed Anthro mug in their cabinet (including yours truly), but the festive hues and gold accents make this particular kitchen item a no-brainer for stockings everywhere.
Anthropologie Christmas ornaments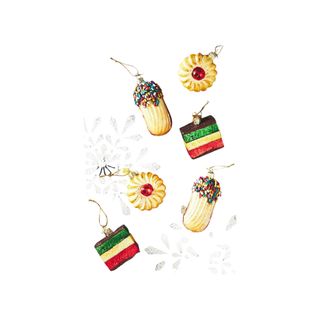 Italian-inspired
4. Italian Cookies Ornaments
Price: $68
Material: Glass
An ode to my grandmother's Christmas dessert table, these Italian cookies deserve a spot on the tree and on a serving platter. Santa wouldn't expect anything less!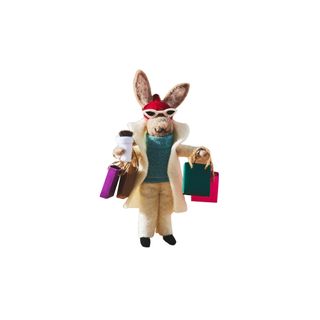 Various options
5. Busy Bunnies Felt Ornament
Price: $20-24
Material: Felted wool and polyester
A New York City icon if ever there was one, this adorbs felt bunny — with a cup of Joe and shopping bags at paw — is the essence of every Manhattanite shopping during the holidays.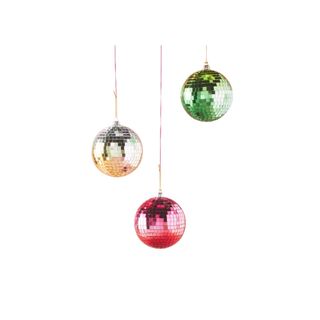 Brighten a small space
Price: $13 (each)
Material: Glass
We don't know about you, but this festive and glittery ornament makes us feel like busting one loose à la Tony Manero.
Anthropologie home decor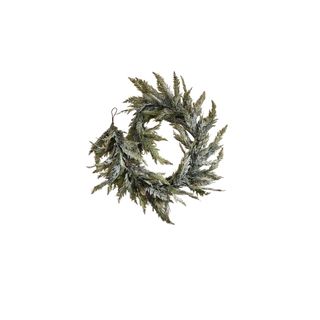 Easy to maintain
Price: $78
Size (in): 78"
Material: Plastic, PVC, and iron
A (faux) snow-kissed cedar garland is a wonderful wintry accent to any table, mantle, or shelf. We never say no to greenery.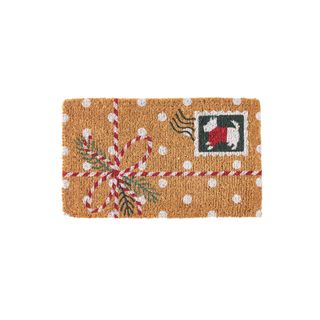 Under $50
Price: $48
Size (in.): H18 x 30
Material: Coconut fiber
In the event Santa wants to bypass the chimney this year, we have a feeling he'll give the stamp of approval to this adorable package doormat.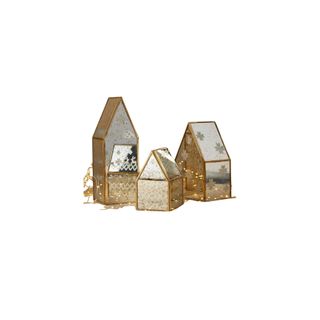 Available in three sizes
Price: $58–$78
Size (in.): H10 x W4.5 x L5.75
Material: Glass and metal
A mantle staple throughout the holiday house, these quaint and retro glass houses pair perfectly next to an Anthro candle.
FAQs
How long is the Anthropologie Holiday House open for?
A brief pop-up in Brooklyn, the Anthropologie x Pinterest Holiday House ran showings on Friday, October 13 through Sunday, October 15. However, you can have a look at the home collection and holiday goodies displayed throughout the Brownstone on Anthropologie's Pinterest page.
What's included in the Anthropologie Holiday collection?
In Anthro's 2023 holiday collection, you can find a little bit of everything: tree ornaments, mugs, plates, garlands, and other home decor items. Shop the collection on the Anthropologie website.
---
Feeling festive? We are, too! Check out all of the Christmas decorating mistakes to avoid before decking the halls, according to designers.