Don't make these small kitchen design mistakes the next time you're redecorating your space. The smaller the space, the more these common mistakes stick out.
While it's always exciting when moving into your own space and putting your design ideas to life, if you're moving into a one-bedroom or studio apartment you may have to make do with a tiny kitchen.
I spoke to some design experts to find the most common design elements you should be avoiding when redecorating. These small kitchen ideas will surely save your small set-up.
8 small kitchen design mistakes
Interior Designer Kunal Trehan provided us with the top 5 design mistakes to try avoiding when it comes to your living space's small kitchen. Trust me, these expert tips for designing a small kitchen really come in handy.
1. Cutlery drawer placement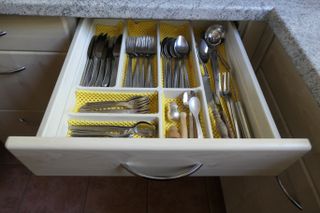 "In a small space where there is more than one person in the kitchen, movement may be limited," said Trehan. "In this case, placing the cutlery drawer under the stove is a big no-no."
Not only will you get frustrated when the drawer is needed when you are cooking but you are also unnecessarily bumping into others. The solution is to keep utensils here that can be easily accessed during cooking but to place other items that are only needed for serving elsewhere. A divider like this utensil drawer organizer available on Amazon can be really helpful in keeping things neat and tidy. That way you can avoid bumping into others.
2. Keeping everything on display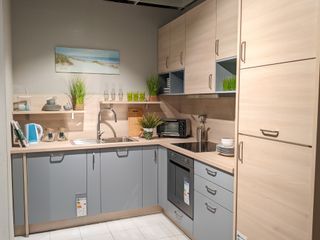 In larger kitchens putting things on display like your pots and pans and accessories can certainly provide a homely feel but in a smaller space, this will just close you in. Keep the clutter to a minimum and design your kitchen to hide everything away.
"If possible hide the toaster and use hidden trash can storage, like this sliding trash can available on Amazon, and voila you have more surface area to use and more space to move around in," he said.
3. Ground floor laundry room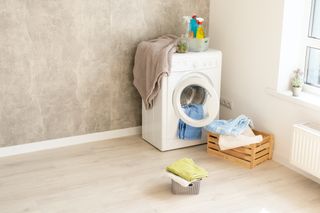 Keeping the utility downstairs for laundry is such an outdated tradition. You bring the laundry downstairs, to then take it back upstairs.
He said, "Although we all need to get our steps in where possible, forgoing the cardio on this task is one I can certainly live with."
"If possible, I always ensure I design laundry rooms away from the ground floor kitchen-linked utility space," continued Trehan. "If space permits elsewhere, then re-locate your laundry, ideally upstairs, and use the utility space to extend your kitchen space."
4. Wasted storage space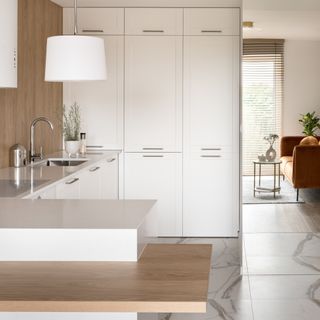 Spaces limited by square footage are not always limited by volume. If you have high ceilings, then don't just stop your wall cabinetry at the standard height.
Install floor-to-ceiling cabinets and use this extra space for extra storage which can then be accessed by a ladder system or a pull-down mechanism like this cabinet organizer available on Amazon if budget permits.
5. Dark cabinetry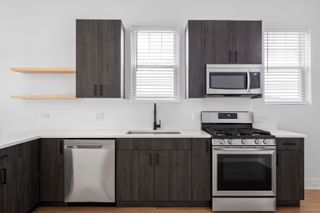 Think light and not dark when designing a small kitchen. A small space can naturally feel claustrophobic and adding darkness into its overall feel could make it even more enclosed.
Trehan suggests using a lighter color palette such as Benjamin Moore's Linen White, which will bounce the light rather than absorb it.
6. Not applying the kitchen work triangle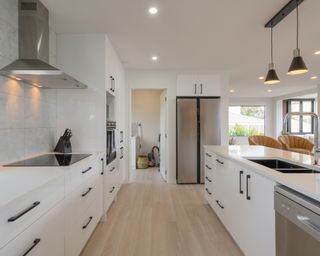 The kitchen work triangle ensures that the layout of your kitchen is efficient. It focuses on the three main workspaces: the stove, the sink, and the fridge.
If you were to draw a line from each of these spaces connecting them, the perfect working space would form a triangle. In a small space, this can ensure that you have plenty of leftover workspace and that you're not bumping into others whilst cooking.
Start with the biggest items — decide where to put your fridge — then go from there with your other appliances.
7. Having one central light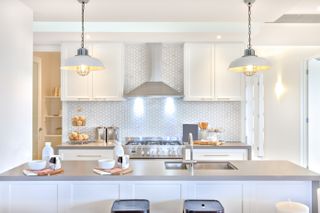 Having one central light or multiple hanging lights in a small kitchen will make it look even smaller, not to mention it is highly impractical. Mood lighting can double your space and will also elevate its aesthetic.
Use a mixture of high-level or recessed central lighting such as these recessed light dimmable airtight slim panels from Wayfair, task lighting, hidden LED lighting for under the cabinets, or hidden handle lighting to make your kitchen appear larger than it is.
"Installing cabinet lighting will also enhance the look to a designer level," he said.
8. Adding too much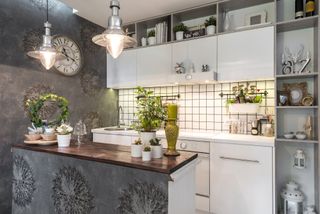 "If you don't need the wine fridge or wine rack, then please don't have one," said Trehan. "It's a common misconception that to have the perfect kitchen, you need oversized appliances and all the extras."
If you won't use the small kitchen appliances to their full capacity then focus on using the saved space to maximize the areas you need more. Use a smaller fridge such as this kitchen appliance refrigerator package from Wayfair, which can give you more cabinet space and will in return ensure that you avoid cluttering a small space and therefore maximize organized efficiency.
Meet the expert
FAQs
What is the biggest mistake I can make in a small kitchen?
Cluttering your kitchen with too many items is the number one to avoid as it hurts the look and functionality of your space. If you're feeling too cramped, start decluttering your home, ASAP.
Do always have to avoid these mistakes?
While some design elements can have an effect on the functionality of your kitchen, the look and feel is totally up to you. In fact, there are some outdated design rules you can ignore while decorating your space.
---
I, myself, began spending time in the kitchen again and am super relieved to have gained awareness of these small kitchen design mistakes! Instead, look for small kitchen trends you can incorporate that will make your space feel fresh and modern.