What's your fave room in the house? Mine is the bedroom. It's where I spend most of my time, but boy oh boy does it seem to get cluttered real quick. It's also especially tricky to organize, because it's super small.

Whether you're living in a dorm, crammed in at your 'rents, or just have a teeny tiny rental, having a small bedroom can be both a blessing and a curse. Yes, it's cute and cozy, but where exactly are you supposed to put everything? Well, I've searched through Insta to find the answers.

I've rounded up a range of different bedroom storage ideas that will help you keep everything cleared away. Because there's nothing worse than going in your bedroom for a nap, and then getting too stressy to doze off because everything is messy.

Scroll on down for some beaut small bedroom storage inspo…
10 small bedroom storage ideas to help you tidy up your space
From storage hacks to useful furniture, I've rounded up a host of gorgeous images and designs. I've also put together some buys, so you can shop the look and get your bedroom organized stat.

The prices below were correct at the time of publishing this article.
1. Try out wall shelving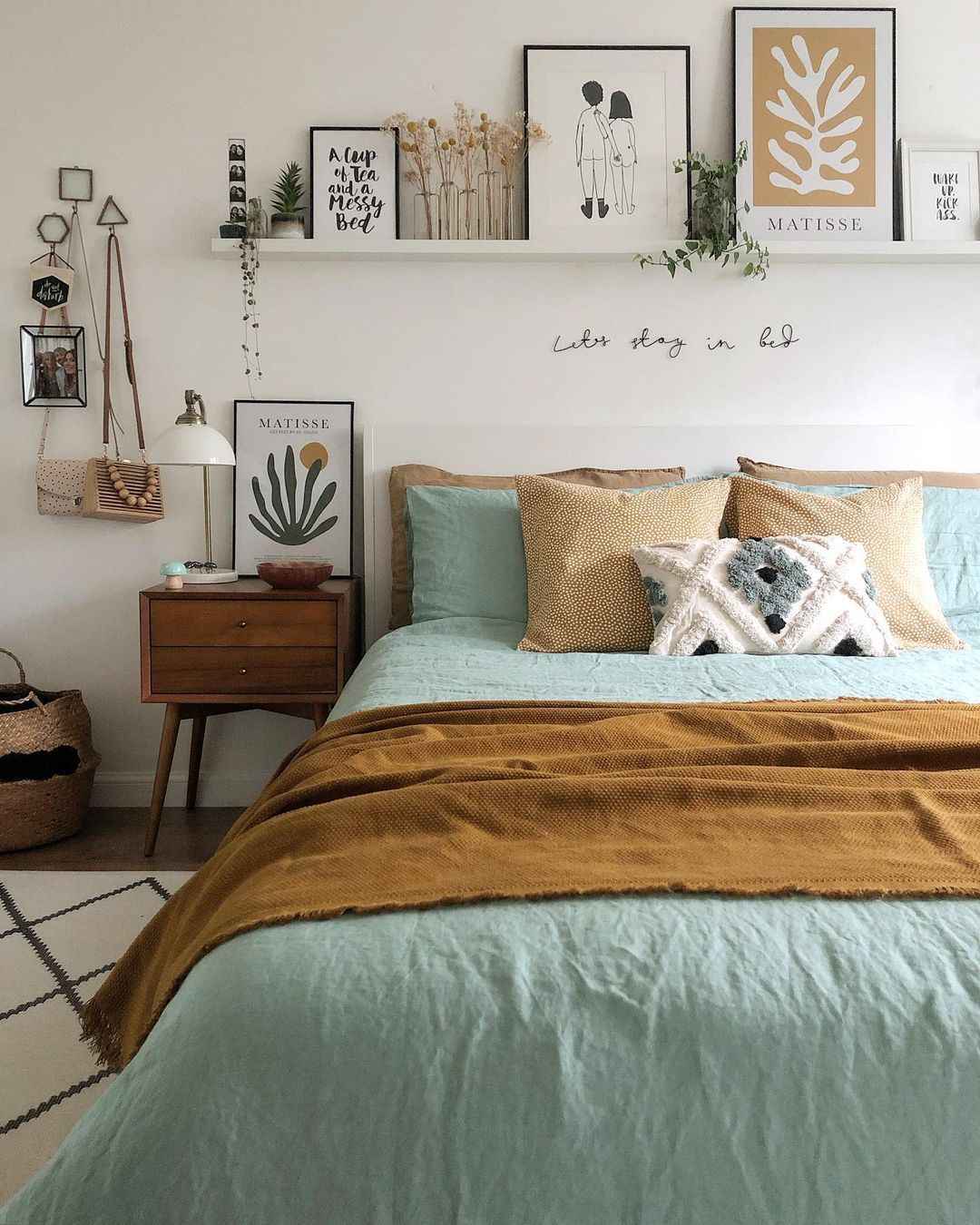 When you have no room horizontally, you've got to look vertically. Using wall space is an easy way to add storage to your room, without having to buy any massive pieces of furniture. @nest_number_9 has put art prints and plants on hers which look really pretty, but you could always place books and photo frames on yours too. If you aren't sure if you can hang wall shelving, just double check with your landlord if you're all good to install them.
2. Hold your purses
Some people are shoe people, some people are jewelry people. Me? I'm a bag gal. I have a bajillion different purses, and struggle to organize them all properly. I love how @inlineorganizing has used acrylic holders to divide up her purses, which make them look part of the decor. They also fit really neatly into smaller shelving units. So basically, no more scrambling around trying to find that bag you need to go with your outfit.
3. Go for a nightstand with drawers
When you live in a small space, every bit of possible storage space counts, people. This is why it's important to choose a nightstand that doubles as storage space, like @linenandpinehome. She's actually used her chest of drawers as a nightstand, which is a totally genius way of getting the most out of the furniture item. You could do this too, or opt for a smaller nightstand with drawers.
4. ...Or use shelving as a nightstand
We stan versatile queens, and lowdown shelving units like storage benches and bookshelves are def some of the most versatile home items out there. By using these as a nightstand, you can store larger items like shoes, plants, and books on the lower layer, and then use the top layer for any nightstand essentials. I love how @brighteyesanddreamyspaces has styled hers with cute decor pieces, as well as using it functionally to store her storage basket.
5. Store smaller items with dividers
I find that smaller items get lost really easily when living in a small space, and can make the space super untidy if they aren't stored properly too. Luckily, I've got the solution: Drawer organizers and dividers. With these, you can clearly see what you have, without them cluttering up your drawers and taking up space being piled up. I'm obsessed with how @riorganize has used these to display her jewelry, which looks amazingly aesthetic. They can also be used for socks and undies too, BTW.
6. Bag a tall shelf (or two)
Whether you have gorgeous decor like @moveovermagnolia that needs to shine or have garments that need a home, tall shelving units with lots of little shelves are perfect for creating a big amount of storage in smaller spaces. She has cleverly placed her two shelving units together to complement each other, but by having two small ones rather than one big one, she's also given herself the option to move them around in future. This is especially useful to do if you know you're gonna be moving eventually, or if you just like switching up your bedroom layout every now and then.
7. Spin 'round makeup and toiletries
I always do my makeup in my bedroom, which means I like to keep all my pieces in one place there. That being said, they do take up a load of room. Lazy Susans and spinning makeup organizers are smart ways to store them, as you can keep them all contained in one zone, rather than having them spread out all over the table or room. From here, you can then move them around easily to find what you want. These also work well for keeping toiletries tidy in your room too (AKA if you have a shared bathroom and don't want anyone using your Olaplex).
8. Look for beds with built-in storage
Let's face it — beds take up a hell of a lot of space in the bedroom. However, you could be using this space to its full potential like @hilaryscolourfulhome has, by opting for a bed with built-in storage. This way, you can keep all your clothes and clutter here, which is ideal if you don't have space for bigger units. If you have a bed that you ain't looking to change, under bed storage solutions are also a brilliant way to use that big ol' amount of space.
9. Use a clothes rack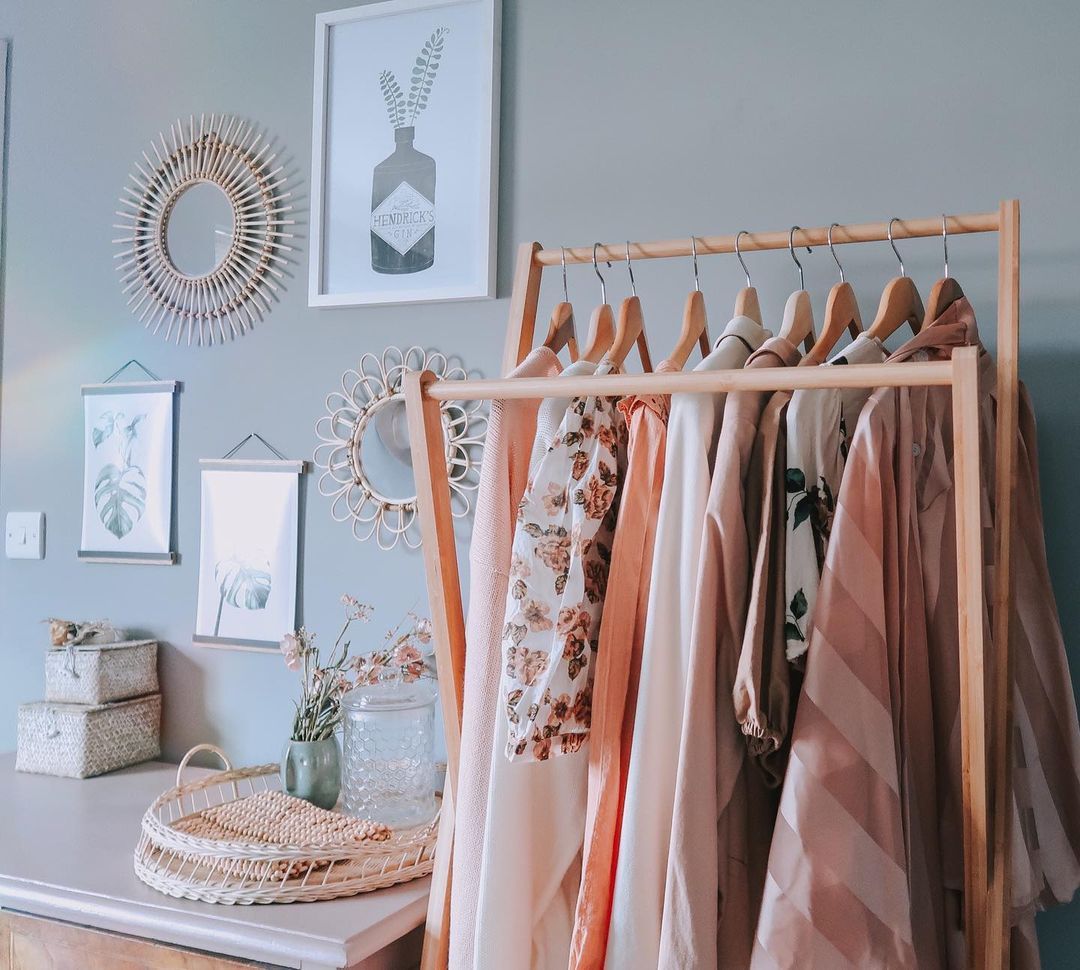 Now, I'm not saying to use a clothes rack as your number one clothes storage option. But hanging up your clothes is a much better option than dumping all your clothes on the floor because you know you're gonna wear them again soon (I'm so guilty of this, TBH). Clothes racks are also a fab option for storing chunky coats and jackets that don't quite fit in the wardrobe, as well as organizing outfits for the week. Stylish and functional? Yes please.
10. Make the most out of accent chairs
This one is a li'l random, but the logic absolutely makes sense. If you have a really teeny bedroom that doesn't have space for extra shelving units, you can pop storage crates and boxes onto your accent chair instead. This is much better than cluttering the floor with them, and can even serve as a cute decor feature, like @home_n_tidy_with_heidi has created with her pretty pink chair and basket.
Up next: How to organize a bedroom, in just seven easy steps