Bedside tables tend to have reputation for being a bit of a hot mess. Full of batteries, pill packets, air pods, charging wires, and whatever else, they're pretty much a dumping ground for anything that doesn't have a home in your house. Honestly, before I got my life in order, I'd warn anyone against opening the drawer to my nightstand.
If yours is in neat condition, then I congratulate you. The #nightstand table trend hit a huge 598M views on TikTok, with content creators showing before and after organizing their besides to perfection. Getting (and keeping) your nightstand in order can be tasking, it's true — I certainly won't ask whether inside the drawer is as aesthetic.
So to help you sort your sh*t out, too, I worked with interior designer and head of brand at Piglet in Bed Rhiannon Johns to put together a small list of five essentials that'll have your bedside lookin' beaut, including lamps obvi, an alarm clock, and a teeny trinket dish to keep all of those odd items you don't know what to do with.
1. A lamp
Why you can trust Real Homes Our expert reviewers spend hours testing and comparing products and services so you can choose the best for you. Find out more about how we test.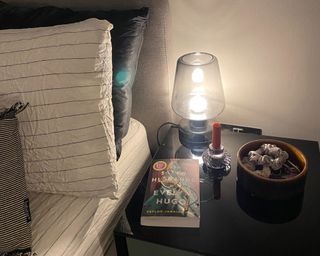 Who doesn't have a lamp next to their bed? I know. But as someone who reads every night, a great bedside table lamp is a must. Johns says "a warm, soft light can help create a relaxing atmosphere before bed, providing you with enough light to read without dazzling you." And of course, the lamp you choose has to match the rest of your room. Mine is a mushroom lamp dupe (if you didn't already know).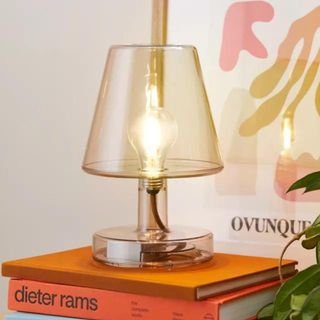 $139
Fatboy Transloetje Wireless Table Lamp
The translucent lamp I have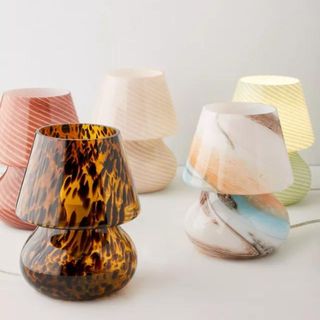 $99
Anyone else obsessed with these?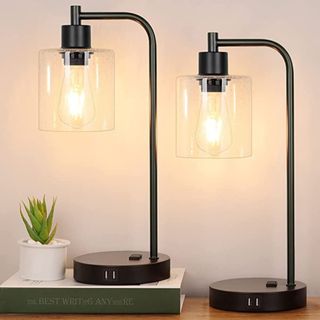 $49.99
Industrial Touch Control Table Lamps Set of 2
One for both sides of the bed
2. An alarm clock
Confession: I am not a morning person. As much as I would love to be able to wake up at the crack of dawn and take in everything early rising has to offer, I would be asleep all day if I didn't have an alarm. It's true most people use their phones now (I can hear the dreaded iPhone alarm in my head RN), but having a backup in case you forget to charge or want a little less screen time is a lifesaver. Did you know, you can even get a coffee maker alarm clock? "Opt for an alarm clock with a large, easy-to-read display and a backlit feature for nighttime visibility, and keep ahead of schedule with ease," says Johns.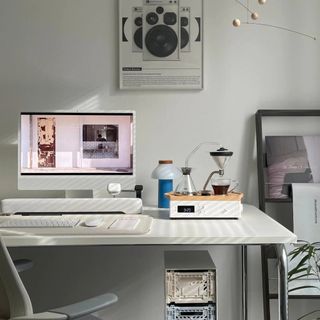 $395
Barisieur Coffee Alarm Clock Coffee Maker
For the people who can't start their day without coffee (it's me, I'm people)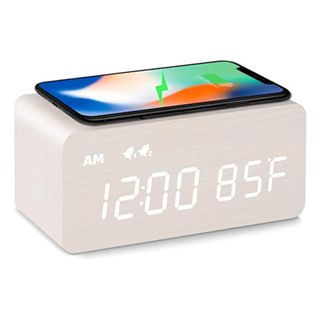 $29.99
Mosito Digital Wooden Alarm Clock with Wireless Charging
So you never forget to charge up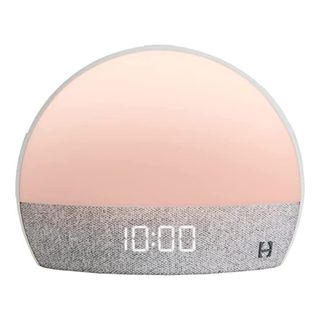 $129
Hatch Restore Sunrise Alarm Clock
3. Soothing scents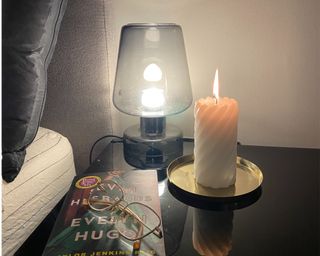 Homebodies, you know that lighting a candle and getting into bed (before 9 pm) with a cup of hot cocoa and a good book is about as good as it gets. And while pretty much any candle or essential oil diffuser will do, there are certain scents that make it easier to relax before bed. In fact, a lavender or chamomile candle is one of my sleep-editor must-haves for better rest. Some cool-shaped candles or a stylish diffuser can make your nightstand look pretty luxe, too.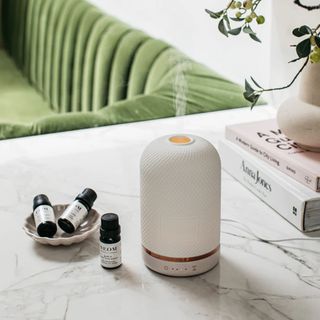 $99
Get the Scent to Sleep oil and thank me later.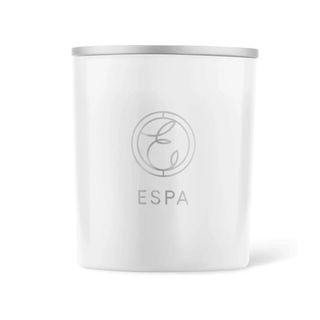 $79
Espa Positivity Candle, White
Not overpowering or totally perfume-y
4. A tray for all your fave things
We can't ignore the fact your nightstand is probably the place you put your jewelry on, store your hair scrunchies, and empty literally anything you had in your pockets before you get into bed. While we'd all love an empty beside with only your book on top, you need somewhere to place these odds and ends. There are lots of cute trinket trays and dishes to style your nightstand. A top tip from Johns: "Lay out your key sleep products like an eye mask, hand cream, and vaseline to finish off your nighttime routine."