If you're struggling to find small bedroom lighting ideas that work with your space, we've got a round up for you.
Bedroom lighting ideas can be tricky to get right at the best of times but if you're struggling with a cramped box room or awkward layout, it might seem near darn impossible. Don't fret, though, as we've called upon trusty lighting experts to make lighting ideas for small bedrooms a breeze to design.
Maybe you're redesigning your bedroom from scratch or searching lots of small bedroom ideas to make an existing scheme work better, our round up of clever tips and tricks will help you light up your small bedroom effectively.
Small bedroom lighting ideas to light up little spaces
'One of the most important factors we consider when it comes to lighting is not only how it changes the mood of a space, but also what function it delivers.'
'Use a mix of ambient, task and accent lighting in a bedroom to define separate spaces for sleeping, relaxing, reading and working.'
'Switching to a table lamp with low luminosity can help you wind down at the end of a long day, or opt for sconce lighting to free up valuable floor space,' explains Tom Sullivan, Lighting Designer at Habitat.
1. Suspend pendant lights as bedside lights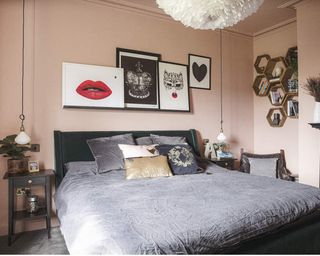 Don't have room for bedside tables? No worries. Why not take a leaf out of this bedroom's book and hang pendant lights at your bedside?
If you have a low ceiling bedside pendant lighting will give the illusion of height. However, do take into consideration the extra work that installing pendant lighting entails over the staple plug-in bedside table lamp.
2. Integrate wall lights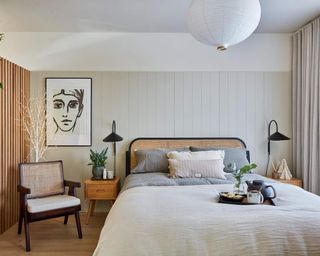 Another space-saving small bedroom lighting idea is to wire lighting from the wall to replace bedside table lamps.
Bedroom wall lighting ideas take a little extra thought and work to install but the results are worth it. Make the job a little less tricky by creating a false wall with wall paneling behind your bed to wire the lighting through, like in this bedroom.
3. Use slimline floor lamps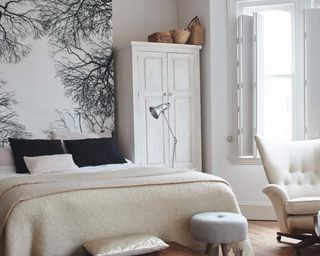 Wall light installation seeming impossible? A strategically placed slimline floor lamp like this Anglepoise-style version will mean you're maximizing on limited floor space and means you can move it around the room wherever needed.
For a similar look to this one pictured and have cash to splash choose the Anglepoise type 75 floor lamp from Lumens, or you'll find a stylish green floor lamp in a similar style at IKEA.
4. Go for mismatched lighting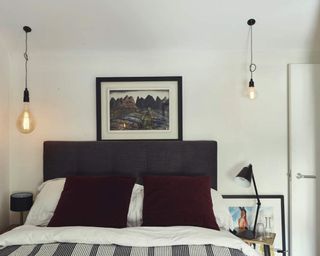 When figuring out how to decorate a bedroom, who said you have to be matchy-matchy? Not us. Mix things up a little by playing with various sizes of the same style of light like in this bedroom.
Or why not make a bold statement by displaying mismatched lighting in the same colorway or select the same type of lighting but in two different finishes or hues.
5. Opt for flush lighting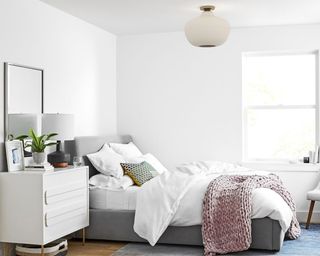 If ceiling height is a little on the low side or your bedroom's situated in a loft conversion, ceiling lighting might be a challenge to get or look right.
Luckily, there's a lot of stylish flush mount lighting that designed for this exact situation. This West Elm fluted glass light is compact enough for small bedrooms but oozes with elegance.
6. Add task lighting to your bedside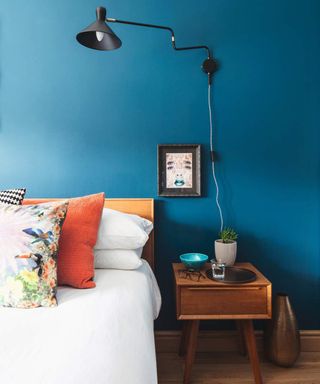 Need a good book to fall asleep to? You'll need a handy reading light at your bedside. With a lot of small bedrooms, there's not a lot of space to add roomy bedside tables so you've got to be a little more strategic when it comes to lighting.
Make like this owner's bedroom and opt for a bedside wall light and a reading light in one so you can swivel and pivot where you need it. You can find the exact angular swing wall light on Made.com or for a more classic look, opt for this IKEA version.
7. Create the illusion of more light with mirrors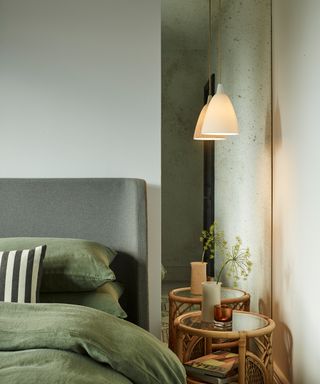 The challenge with small bedrooms is, well, space to add them... if you have a dark or cramped room, it's worth looking at ways to create the illusion of more space and light if nothing else.
A clever trick for how to make a small bedroom look bigger is to add mirrored walls strategically placed by a light to bounce more light into the room. This bedroom is a fine example of how well it works.
8. Layer lighting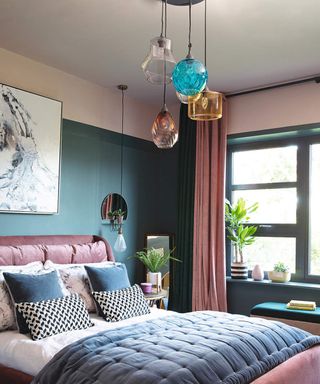 Want a statement bedroom ceiling light idea and bedside pendant lights? Why not? This small bedroom shows it is possible while not overwhelming the room.
Each light has a distinct purpose and that's the secret to a slick small bedroom scheme. Choose a main ceiling light for dressing and replace it with bedside ambient lighting for a calm atmosphere before lights out.
9. Ditch the main light altogether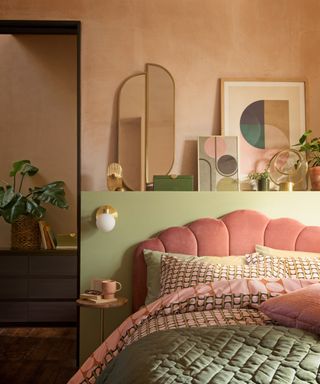 Is it really necessary to have a ceiling light in a small bedroom? This bedroom proves you don't. Bedrooms are all about mood and ambience so do without the overhead lighting altogether.
Instead, opt for task lighting where needed if you have a home office, a reading corner or just for getting dressed. And add soft ambient lighting to create a calming environment for bedtime, like these Rede Glass wall lights from Habitat.
10. Combine accent lighting and table lamps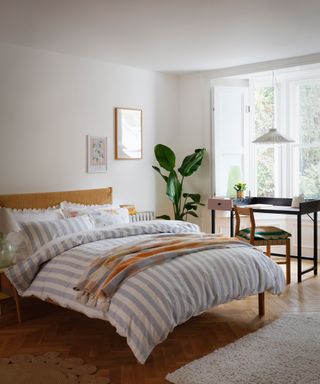 If you're working from home and have set up a makeshift small home office in your bedroom, it's important to try your best to clearly zone the areas for work and rest.
A good strategy is to add accent lighting to specific areas that you can turn off when you're not using, and then switch on softer table lamps when it's time to kick back and relax.
11. Maximise natural light opportunities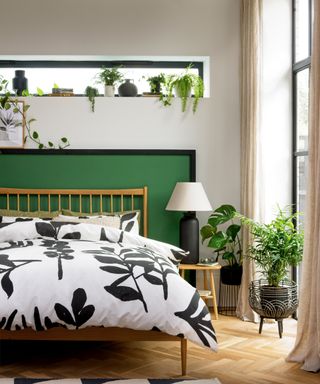 'Bright lighting is key to creating an inviting space and there's no better light to take advantage of than sunlight. However, for those living in studio apartments, natural lighting isn't always an option. But, not to worry, as there are ways you can create the illusion of more natural light in your room - from mirrors to houseplants,' explains Nick Woodward, Founder of Essential Living.
'First, ensure that any of the windows you do have aren't obstructed, whether it be picture frames on the window sill or furniture blocking the way. Try letting in as much natural light as you can.'
'Then, think about adding some mirrors to your space, as adding them to your wall will help bounce the light around a room.'
'You can also experiment with artificial lighting, by adding full-spectrum light bulbs like these from Amazon that are actually designed to simulate daylight! This will help with the light fixtures in your space.'
12. Keep lighting symmetrical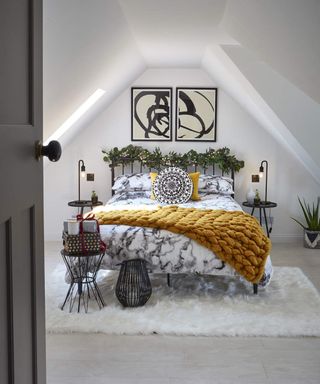 Use lighting in a small bedroom to accentuate the symmetry or to highlight distinct features in a room.
In this simple yet stylish loft bedroom, the bedside lighting is in perfect symmetry with the eaves and artwork creating an Instagram-worthy small bedroom scheme.
Note, there's no need for overhead lighting when walls are whitewashed and natural light floods in through roof skylights.
How can I improve the lighting in my small bedroom?
Jamie Moxey, Design Consultant at Dusk Lighting says, 'If you do not want to move any of your electrics, opt for smart lamps to go into your current fixtures, which will allow you to change the mood of the bedroom by selecting from an array of colors and brightness level for each fixture.'
'You can even use the lighting to help you wake up in the morning by setting it up so that your desired lights gently illuminate throughout the morning to mimic the sunrise - particularly effective in the winter or if you have blackout blinds.'
'If you can move some of your electrics, then get rid of the standard central ceiling light. Instead, choose lighting to surround the room, this illuminates the wall more and makes the room look bigger.'
Where should lights be placed in a bedroom?
'Similar to above but I would suggest having pendant lights on each side of the bed. These both provide a concentrated light by the bed which can be used for reading, and also add a great style element to the bedroom by framing the bed,' explains Moxley.
'Also, try to create different lighting zones that can be controlled separately. Sometimes we want brighter lights in our bedrooms for functionality when getting dressed for example, however when you want to create a cozy atmosphere in the evening you may want to use just the lights with a dimming option to create a soft glow within the room for sleep.'
How many lights should be in a bedroom?
Moxley says 'you can never have too many lights in a room, just as long as they are not controlled by one switch so that you can still use different lighting combinations for various purposes, such as setting a relaxed atmosphere for socialising.'
'In a smaller space, you may opt for less lighting that would take up floor/surface space and instead choose wall or ceiling fixtures that blend with their surroundings so as to not make the space feel crowded and smaller.'