Fun fact: In all the places I've lived in, I've only had a patio to play with. No grass, no nothing. Just pure slabs of concrete. These aren't that inspiring, am I right? Well, when you have a blank canvas like this, there's only one thing you can do. I'm talking about decorating, obvi! From outdoor furniture to throw pillows, there are plenty of ways to transform your space.
As I always do when looking for decor inspo, I've searched the internet for gorgeous pics and ideas that are easy to replicate in rentals. That means no messy paint or tile changes here, peeps. After all, upsetting your landlord just ain't worth it.
If you're looking to turn your outdoor area into an al fresco dream, I've totally got you. None of these ideas need to cost you too much, either — in fact, I've rounded up some budget-friendly buys that will help you get the look.
It's time to change up your backyard — keep on scrolling for some seriously beautiful inspo.
7 budget backyard ideas to bougie up your space
The prices below were correct at the time of publishing this article.
1. Decorate with planters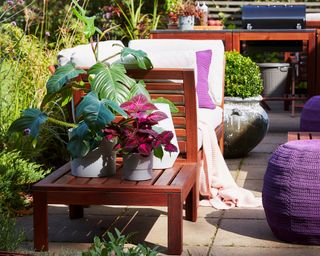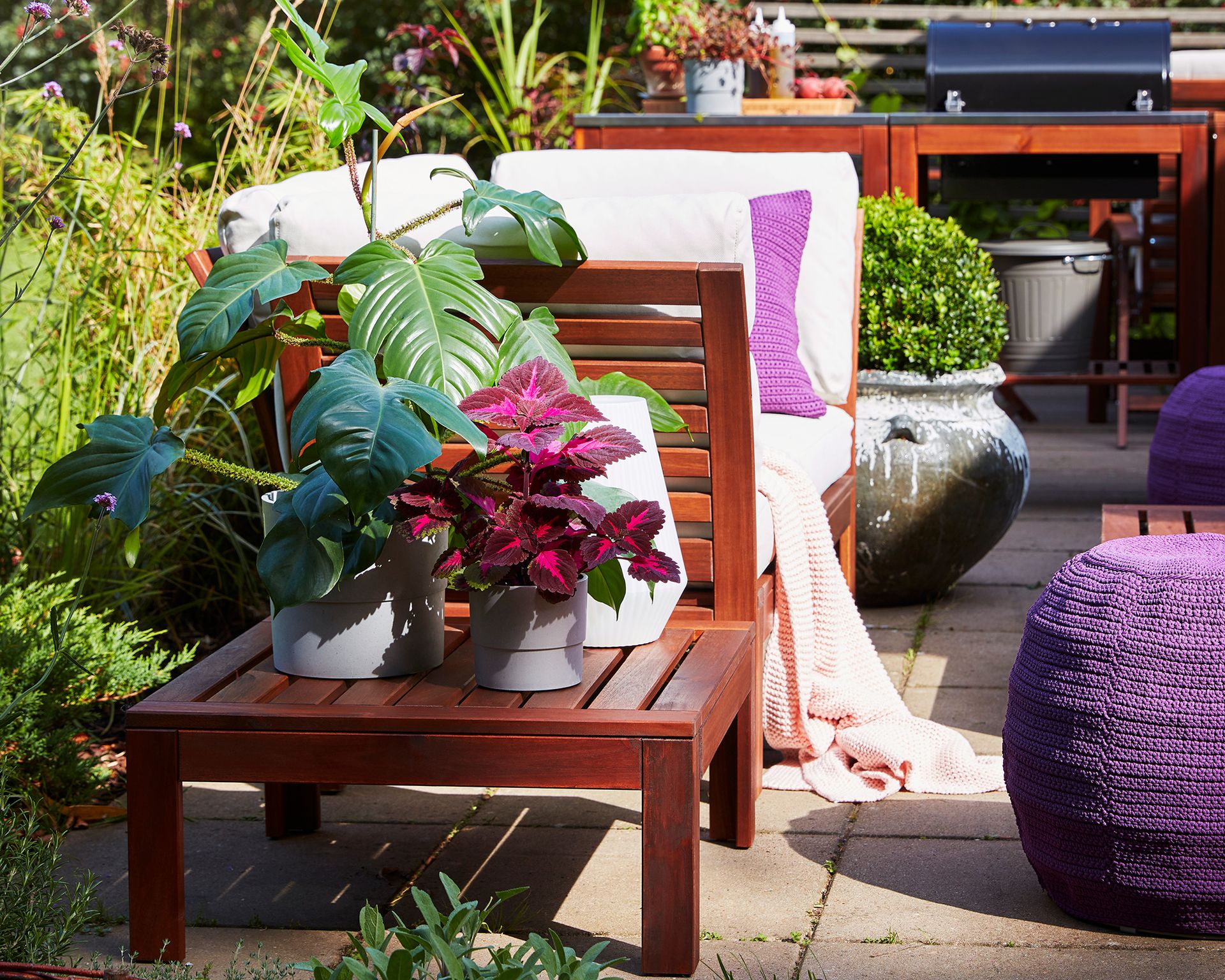 Even if you don't have grass, you can still add nature to your slabbed space. Potted plants and flowers will add lots of color and interest, livening up any gray areas. If you CBA with the terracotta planters plants normally come in, consider removing your foliage from these containers and rehoming them in super cute planters instead. BTW, you can upcycle practically anything as an alternative planter idea if it can withstand rain, heat, moisture, and humidity.
2. DIY your own furniture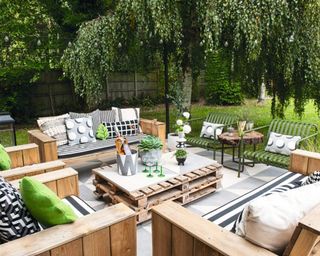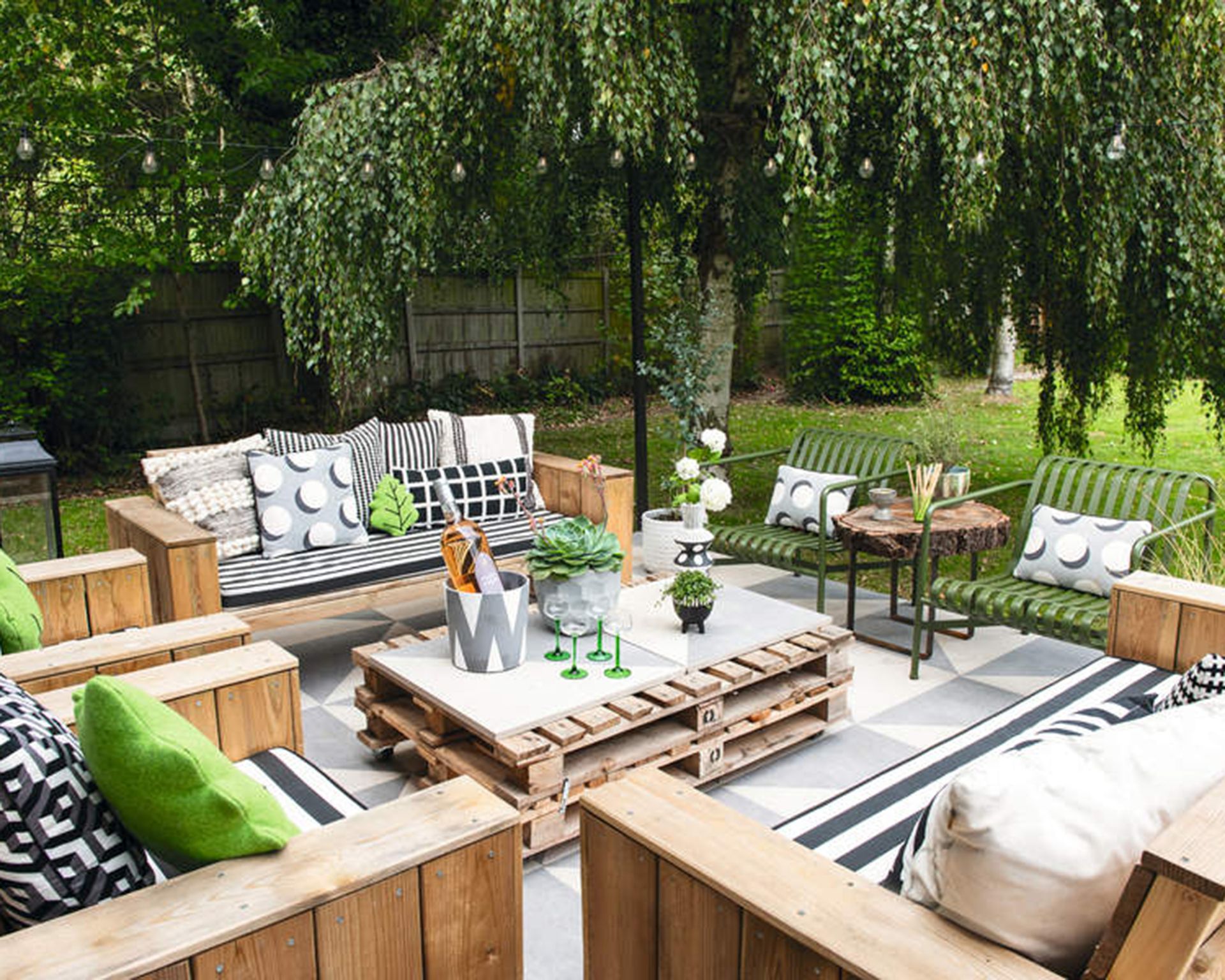 Let's face it, there are loads of stylish stores to pick from when choosing patio tables, chairs, and other goodies. But if you want to keep more of your dollars, consider making your own pallet furniture, which is a super cool, personalized patio idea. And, if you get the wood cut to size, you won't need to buy or rent any expensive equipment like an electric saw either.
3. Look for multifunctional furniture to save $$$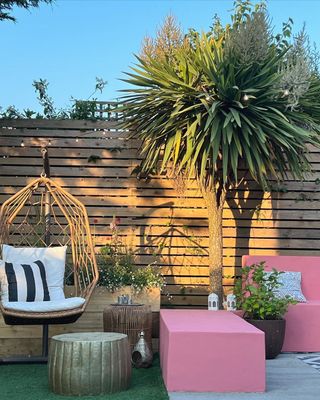 When choosing outdoor furniture pieces, be sure to look out for pieces that are multi-purpose. Benches, sectional sofas, poufs, and stools are all very versatile when it comes to decorating a patio. One minute they're a seat, and the next they can be transformed into a place to put your drink, book, or sunscreen.
4. Create a private dining area with area rugs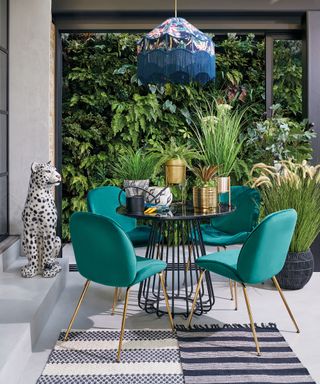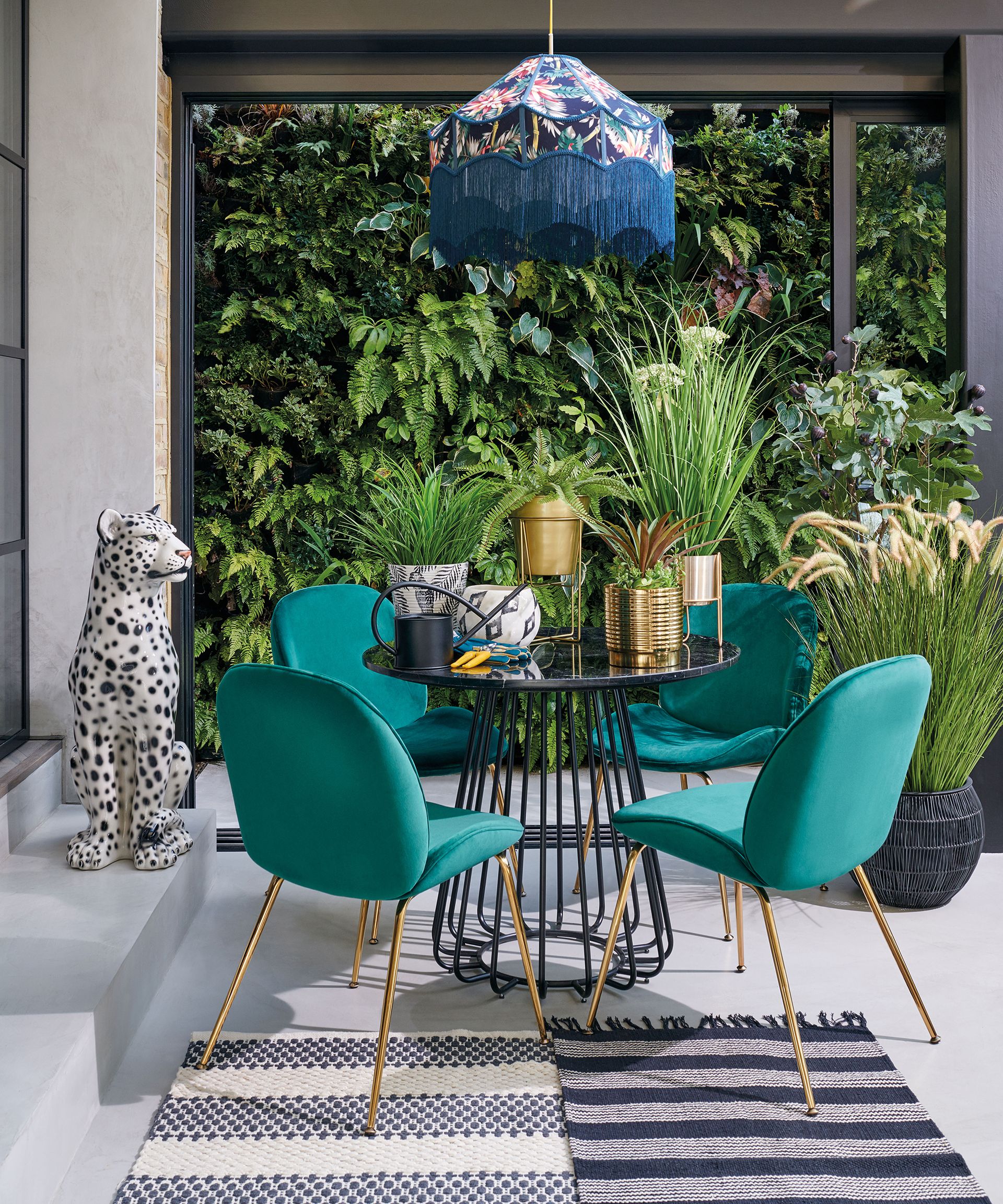 FYI: Staying in-in is the new going out when it comes to socializing with friends. That doesn't mean that you can't make a grand entrance and lay out the red carpet for your guests, though. To copy this look, position two runner rugs near your furniture, and voila — you have a VIP dining area that costs very little to style. If you have a smaller space, just one rug is still enough to make an impact.
5. Add color and texture with outdoor pillows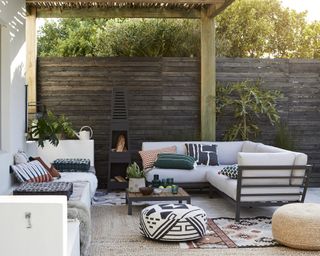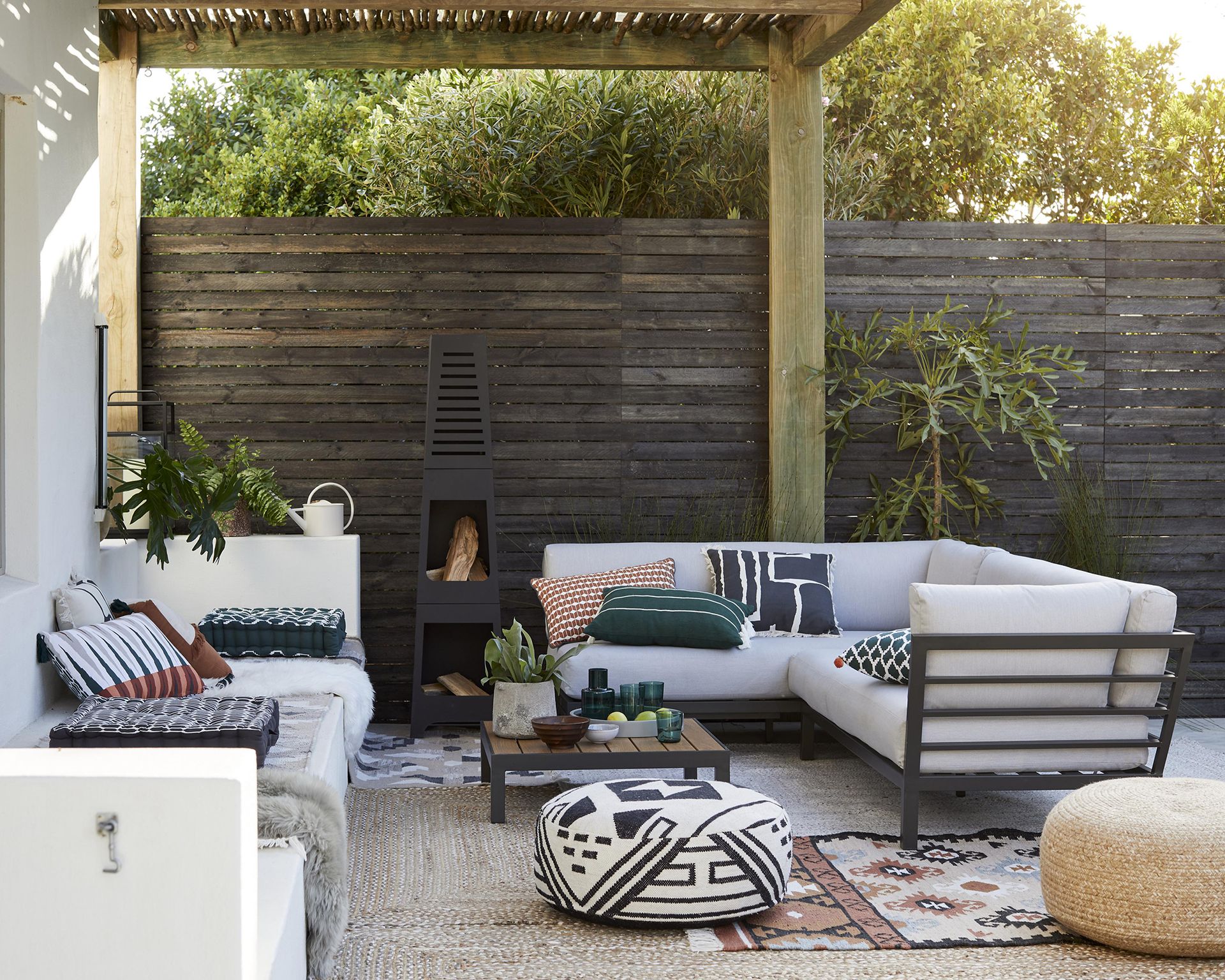 Happy with your outdoor furniture set-up, but feel like it could use a li'l zhuzhing up? Adding throw pillows is such a quick way to create a cozy vibe. I like rotating mine with the seasons, going for bright oranges and yellows in warmer months, and blacks and purples in cooler months. Be sure to go for ones that are durable AF, so you get as much bang for your buck as poss.
6. Create a romantic setup with lighting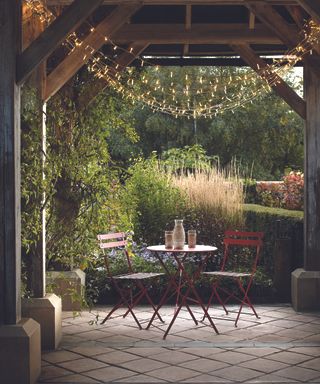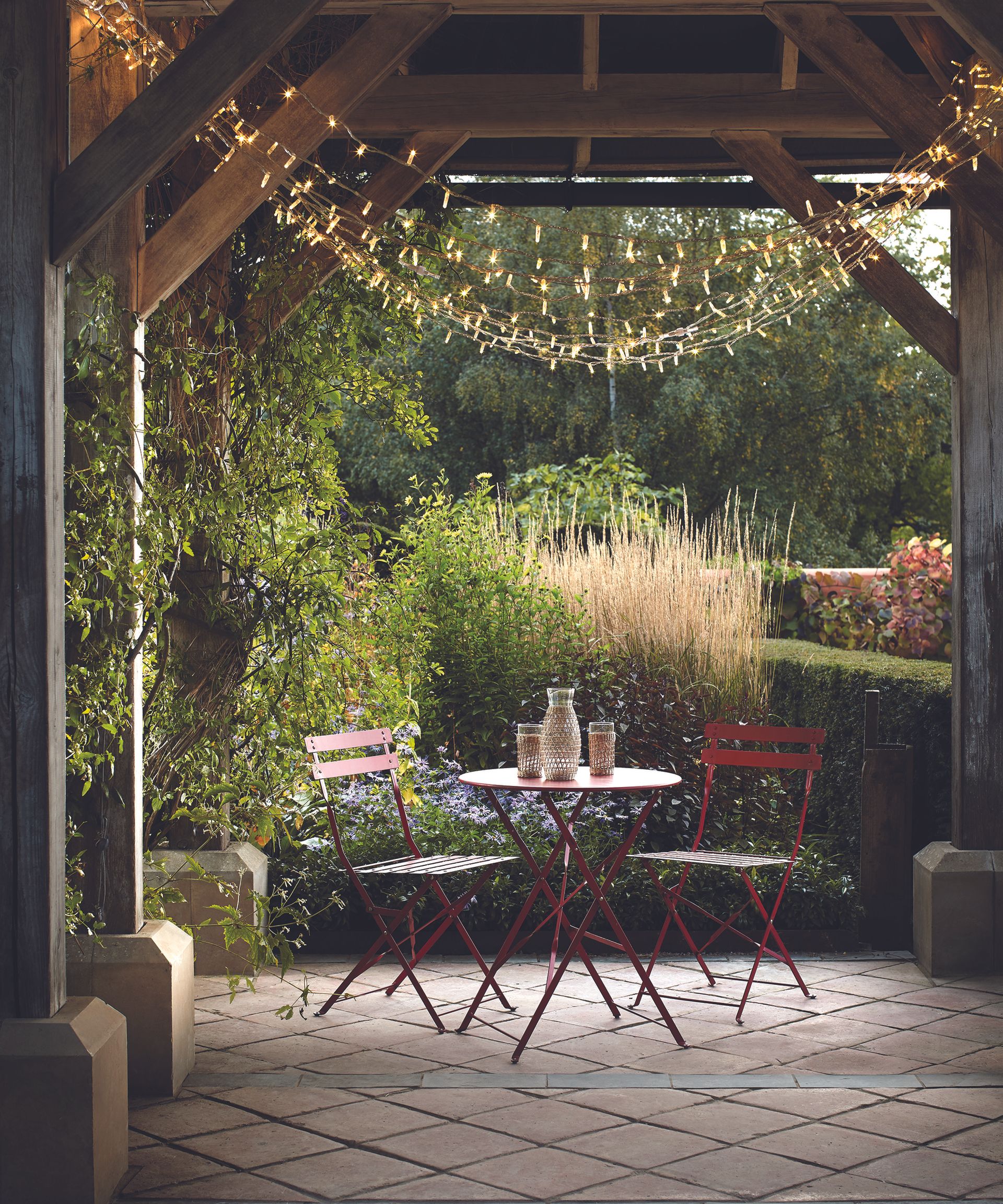 We can't all afford those Instagrammable restaurants with cute courtyards. And even if we could, we'd be majorly hungry by the time our name got to the top of the waiting list because of their exclusivity. So, why not create an intimate dinner spot in your backyard instead? All it takes is a bistro set and some outdoor lights to create a warm and inviting place for you and your besties to get the good vibes going.
7. Dot some (stylish) mosquito repellents around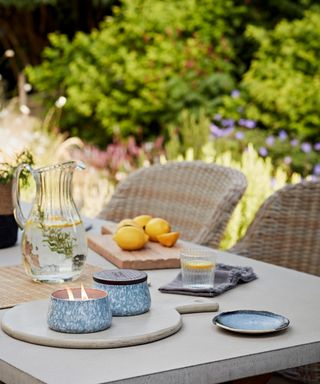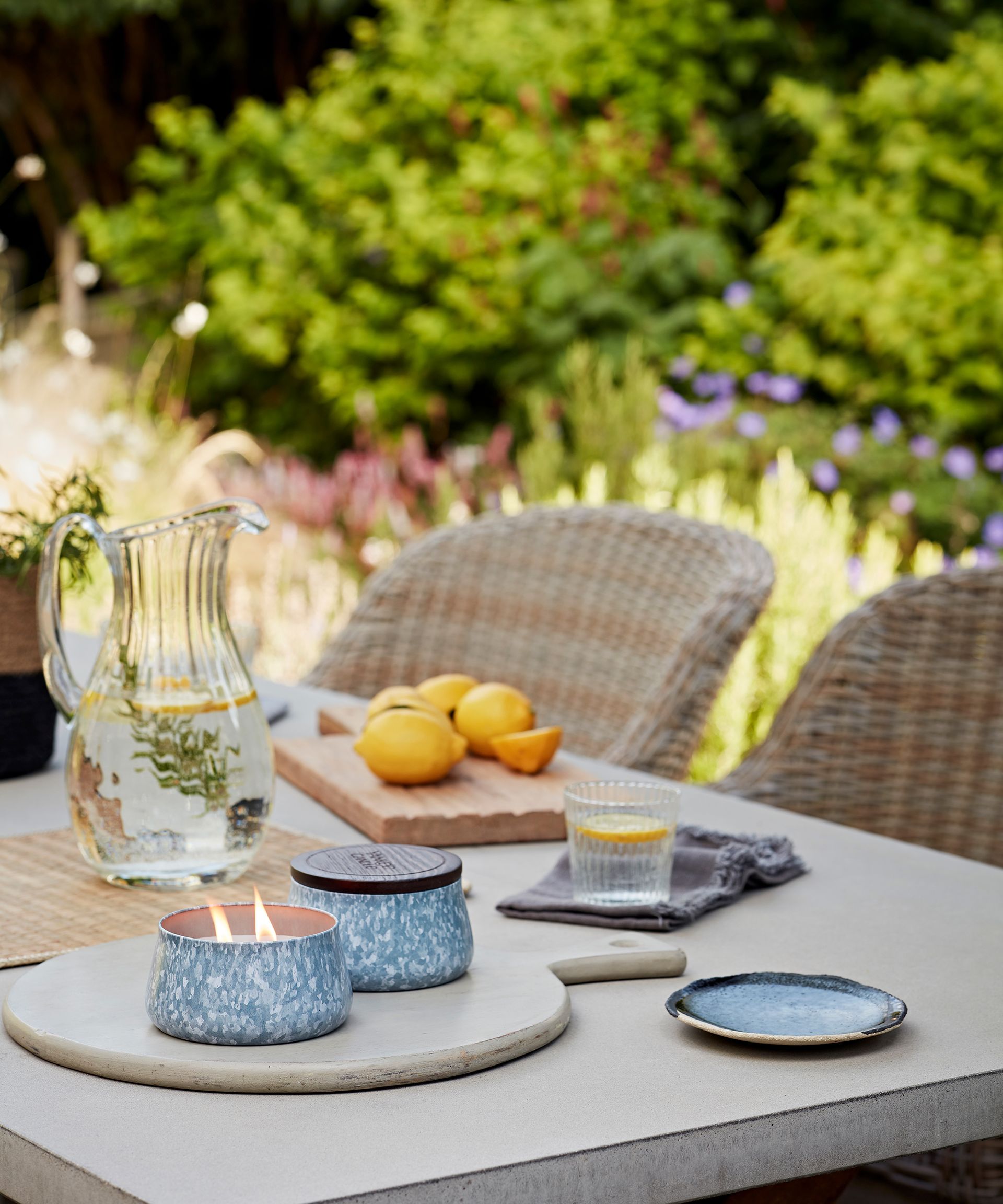 IMO, a patio is the most idyllic place for summer dining. But there's nothing more annoying than swatting flies away from your food and getting eaten alive by mozzies. Ew. But did you know that you can deter mosquitoes from your yard and create ambiance all in one go? Just light a candle containing citronella, and you won't have insects crashing your garden party.
Up next: 10 budget backyard ideas that will transform your small outdoor space