Grey has been a big love in our interior lives for many years now, and it's easy to see why grey tile ideas for bathrooms sit high on our wishlist of inspiration also.
For starters grey comes in a huge array of shades which makes it amazingly versatile – from barely there to charcoal – the spectrum is wide. It's the perfect neutral too as it works with pretty much every other color, and it looks awesome when textured.
Sure you'll find a touch of grey in most rooms, but trust us when we say it works a chic treat in this very important space and will take all bathroom tile ideas to the next level.
Grey bathroom tile ideas that you won't want to miss
Stephanie Lindsey, RID, NCIDQ, ASID, principal designer at Etch Design Group shares how grey tiles shouldn't just be reserved for a totally grey bathroom space:
'If you want a neutral palette, gray is the way to go. If you like pops of color, the gray tiles can set the foundation for the bathroom and then you can add easy-to-change pops such as a colorful wall color, wallpaper, or art'
1. Team small scale grey tiles with white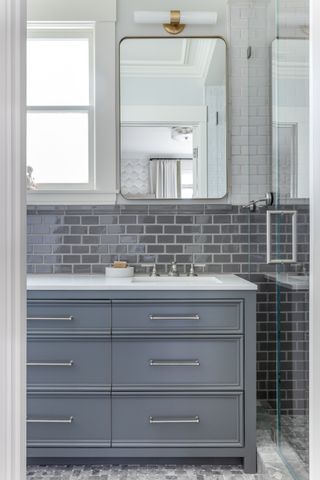 'Working with gray tiles in a bathroom can be a chic and sophisticated choice. In order to create a warm and inviting feel, we like to use smaller scale tiles, perhaps with a contrast grout color that can break up a wall of gray,' says Caitlin Jones Ghajar, principal designer at Caitlin Jones Design.
2. Opt for a patterned grey floor tile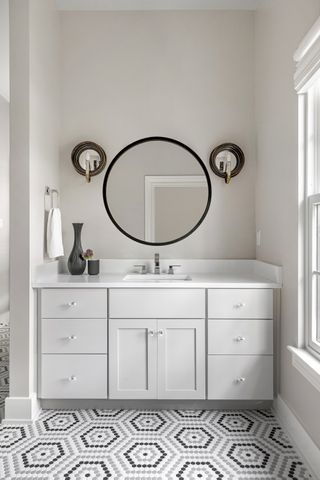 This calming bathroom has subtle shades of grey in warming tones that prevent the space from appearing too cold. The grey tiled floor adds a fun element and the pattern contrasts really well against the smooth matte walls. Notice how it flows around the corner – continuity is key for creating a cohesive look.
3. Use mini marble wall tiles for a decorative touch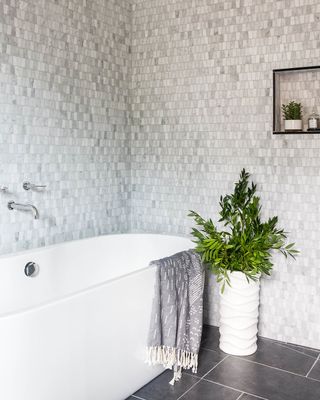 'Whether we like to talk about it or not, the time we spend in the bathroom is precious. It's where some of our most intimate moments take place. This master bath was designed for optimal comfort and function, yet with luxurious materials like marble tile and freestanding tub for a modern spa-like experience. Gray tiles are a great way to get that crisp clean look, which always pairs nicely with white,' says Leslie Murphy owner and creative director of Murphy Maude Interiors.
4. Go square for a sleek contemporary bathroom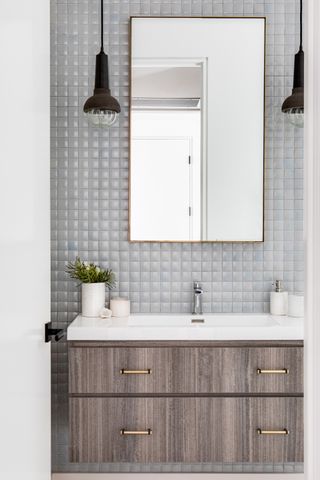 'In this powder bath, we used a fun textured grey tile and carried it all the way from floor to ceiling,' says Lindye Galloway, founder and chief creative officer at Lindye Galloway Studio and Shop.
The square tiles almost give a padded feeling visually which makes this bathroom really stand out in a contemporary way.
5. Splash out a little on a marble accent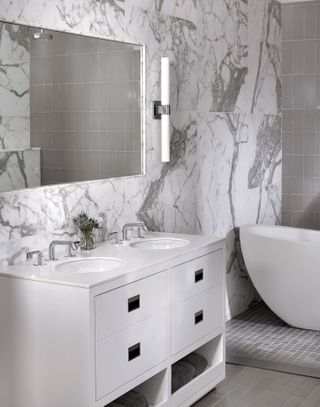 You can't go wrong with marble, but it is of course more expensive so make this your one splurge. If you really can't stretch your budget, then consider marble effect instead. It's the tile to use if you want to create a hotel spa look – the ultimate in luxury the gray veining creates a wonderful decorative wall.
There are two other grey tile designs within this bathroom space, with the tub having its only special mini-square zone.
6. Mix it with a little lime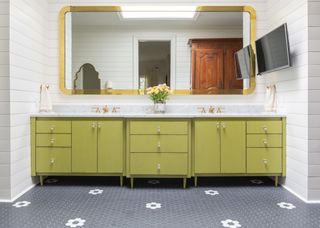 The beauty of using tiles is that you can have a little fun with how you lay them out. This charcoal hex tile flooring could be all the same, but instead, there are what you could call flowers dotted about within it, giving it that something special.
These white 'flowers' pick up the white painted shiplap and tie the look together, and the lime vanity looks great as grey is one of the best natural bathroom colors to complement it.
7. Subtly style grey into the background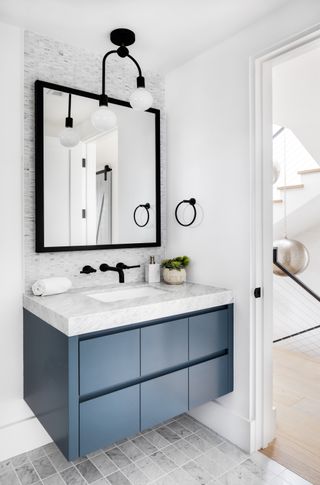 The blue vanity here is the focal point of the bathroom, but it wouldn't be so glorious if not for the subtle wall and floor tiles – which tie in perfectly with the marble countertop. Often less is more and this is a great example of how paler grey mosaics used as the bathroom backsplash offer a restful decorative view.
8. Barely there star-shaped tiles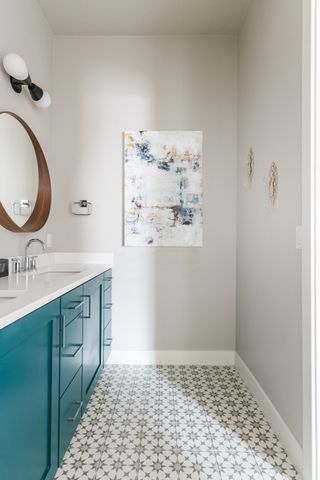 This fresh bathroom with its teal vanity shows how to use grey to bring a scheme together. With the palest yet elegant shade on the walls, the floor was the obvious spot to go all out with pattern. These grey bathroom floor tiles create a star pattern within the design in two shades. The result is a space that's contemporary without being stark.
9. Create stripes by using a mid grey mosaic tile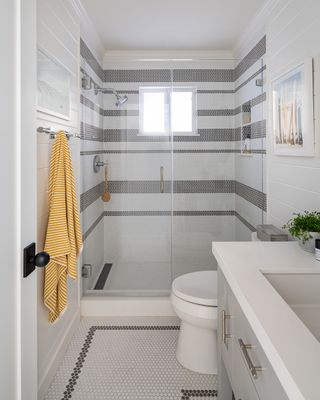 'I love using grey tiles – white pairs beautifully as well as black or even yellow,' advises Kriste Michelini, owner and founder of Kriste Michelini Interiors.
We love this idea, so simple yet so effective – these round mosaic tiles are extremely versatile as you can see, and if you get the designer bug who knows what patterns you could come up with!
10. Use grey tiles to define areas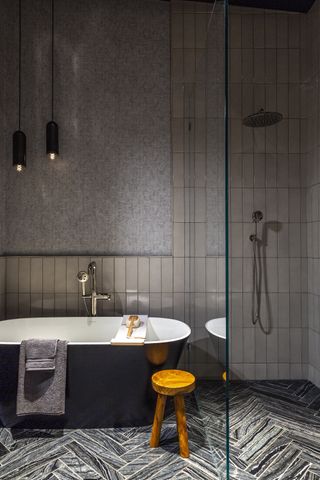 We mentioned before how the color grey covers a large spectrum of shades, this modern bathroom features a grey hue that has a hint of taupe which gives it a spot of warmth. The tile defines the bathing area, from the backsplash around the tub to the shower on the right.
Of course we can't not mention the striking floor tiles – those dark flecks of grey tie in beautifully with the dark tub and guess what – the grout is the same color as the wall tiles which works like a charm to create a sophisticated vibe.
11. Choose 3D grey tiles for a backsplash that pops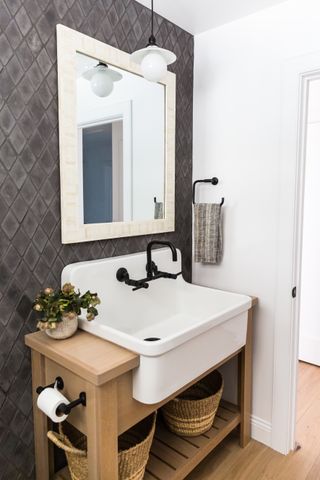 'A backsplash tile is the perfect way to make a small powder pop! We choose our tile selections with three key "ingredients" in mind: weight, interest, and texture. Since there were so many shades of milky whites throughout the space, we went for a darker tile to ground the space and add contrast against all the other elements,' says Lindye Galloway, founder and chief creative officer at Lindye Galloway Studio and Shop.
12. Large format tiles give an all-encompassing look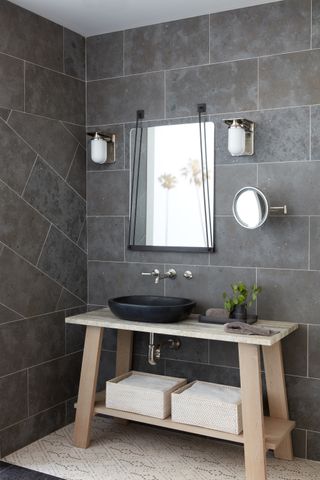 Floor to ceiling large format tiles will give your bathroom space an enveloping, cozy and dramatic feel – in all the best ways. Going big will actually create the illusion of space, as will less grout lines, so this look works well in smaller bathrooms. You can still have a section where the gray tiles are laid differently also, for added interest. The pale wood trestle vanity gives a Scandi style to this smart gray bathroom.
Are grey tiles good for a bathroom?
'As long as the tone is warm gray. …yes. Warm gray colors are soothing and calming. Warm gray tiles also pair beautifully with the subtle colorations of natural limestone and marble. This ability to pair successfully with natural materials allows for endless color combinations and style directions to be achieved,' says Todd Prince, designer at Todd Prince Design.
What color goes with grey tiles in a bathroom?
'Warm whites, or soft blues work well. However, shades of gray can be combined together to create a sophisticated monochromatic palette,' says Todd Prince, designer at Todd Prince Design.
This is the great thing about grey; you can pair most colors with it as most shades have undertones of other colors. For best success, pick your favorite grey tile first and then see the potential for other color matches. You'll instantly be able to tell if the grey has a cool blue undertone, yellow undertone, purple undertone and so on. If it's hard to tell, get multiple gray tiles from different manufacturers because with them side-by-side you'll see the difference in undertones,' says Stephanie Lindsey, RID, NCIDQ, ASID, principal designer at Etch Design Group.