If you're a sea lover like me, coastal Christmas decor may be the way to go this year. You might not think that sandy vibes and snow vibes go together — but trust me, they're as great a pairing as.
I'm spending my Christmas this year by the coast, which I'm super excited about. That mixture of brisk sea air, matched with cozy fireplaces and hot cocoa, is going to be so gorgeous. Do you know what'll make it even more fabulous? Pretty decorations. As the interiors writer of the family, I know I'm the one who's going to be responsible for decking the halls.
If you want to mix up your Christmas decorations this year and think coastal decor could be the way to go — I'm here for you. I've spoken to design experts to find out how to decorate with it, plus rounded up some pretty buys I'm adding to my cart. Think seashells, draped netting, starfish, and glam clams. Whether you've got the coast on your doorstep or want to soften your city abode — the interior world is your oyster!
How to decorate with coastal Christmas decor
If you like neutral Christmas decor and coastal decor, you're going to love coastal Christmas decor. Here's how to bring it into your home.
1. Put up a flocked Christmas tree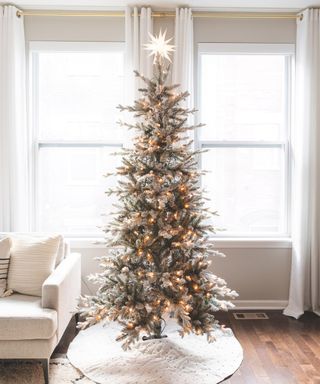 Opting for a flocked Christmas tree, rather than one with a fully green base, will allow you to incorporate beachy colors into your festive decor. "This is a great way to introduce a subtle blue-green color, which gives it more of a neutral foundation compared to other regular green trees," says Vivianne Chow, interior designer and owner at Viv and Tim Home. If you have a Christmas tree that you want to flock yourself, you can use a DIY snow spray.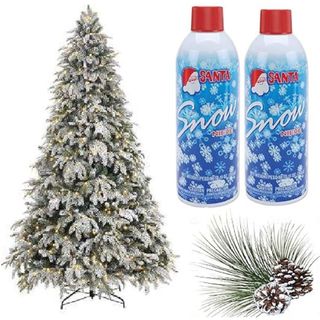 Easy to remove
Prextex Winter Textured Snow Spray
Price: $12.99
Decorate the tips of evergreen branches on trees, wreaths, centerpieces, windows, mirrors, and any other winter decorations with a frost of snow this holiday season using this artificial snow spray kit.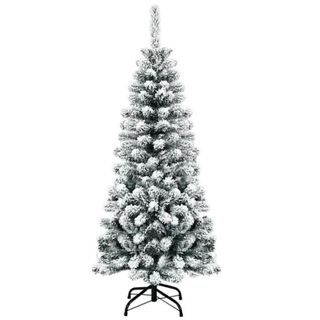 Pencil design
4.5' H Flocked Pine Frosted Christmas Tree
Price: Was $49 Now $45.99 (save $3.01 at Wayfair)
Though Way Day has been and gone, you can still pick up this flocked tree for under $50. With 242 high-quality PVC branch tips, and a foldable metal stand included this provides excellent value for money if you're after full-bodied foliage.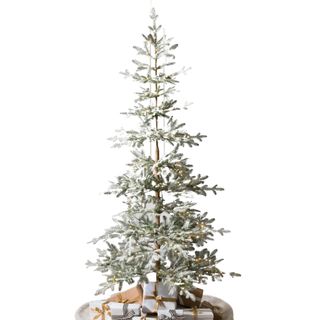 Slim design
Frosted Alpine Balsam Fir® Tree
Price: From $349
Balsam Hill is one of the best-in-market for real and faux trees. This sparse tree is exceptionally lifelike trees, and is designed with an organic silhouettes to highlight your coastal baubles and decorations.
Vivianne Chow is an interior stylist and founder of the home decor blog, VivandTimHome.com. She's passionate about sharing the best modern home decor to buy and recently built a dream custom home with her husband Tim. Together, they're tackling decorating room by room and sharing design tips and ideas along the way.
2. Incorporate Christmas elements with beachy twists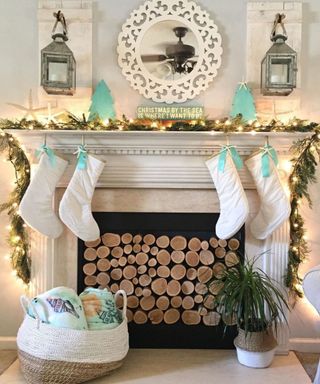 This decor style is all about marrying beachy shapes and colors with classic Christmas finishing touches. For example, you could do this with driftwood, seashells, and starfish within your decorations. "A driftwood garland or a Christmas wreath adorned with seashells can make for a charming entrance," says Artem Kropovinsky, interior designer and founder of Arsight. "Also, consider rope-wrapped candleholders or a nautical star atop your Christmas tree."
Got candleholders that you want to DIY decorate yourself? This Hdviai macrame cord on Amazon is so pretty and nautical.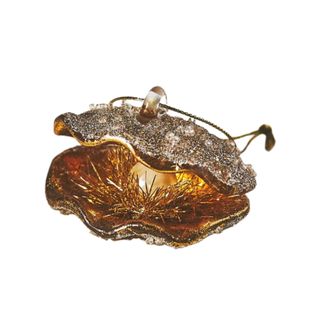 Vintage vibes
Gold Christmas Clam Ornament
Price: $20
I've been looking for a special bauble to gift each of my family members, so they can always remember the time we spent by the coast together — and I think I've found a winner, thanks to Anthropologie's Christmas range. With its hidden pearl, golden material, and glittery finish, it's super eye-catching and elegant.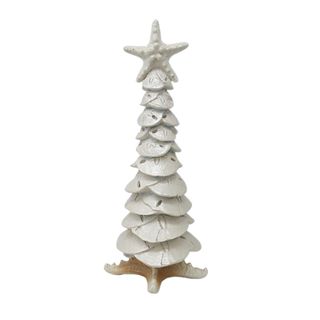 High-quality resin
Needzo Sand Dollar and Starfish Christmas Tree
Price: $29.88
I think a whole Christmas tree made from shells might be a little bit extra — hence why I'm opting for this little tree instead. The neutral colors will work with any color scheme, while the elegant shape will make it shine anywhere. It measures 12 inches tall, making it just the right size for mantelpieces, small bookshelves, and coffee tables.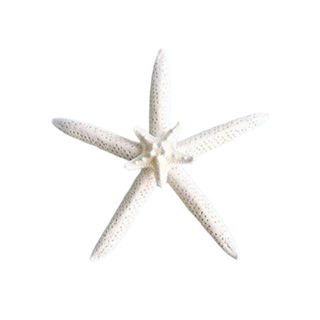 One of a kind
Seashell Collection Starfish Topper
Price: $33
When given the choice between an angel and a star for the top of the tree, I always go for a star. They just look more chic in my opinion, and they go with lots of Christmas tree decor styles, too. Of course, I had to find a starfish to match the coastal vibe, and I'm officially in love. Amazon reviewers say it looks fantastic and isn't too heavy. And, because it's a natural product, no two are the same.
Artem Kropovinsky is an interior design expert and founder of Arsight, an award-winning interior design studio based in New York.
3. Get creative with classic coastal pieces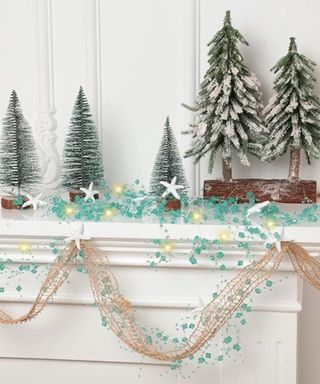 You can also get creative with materials that are used around the coast. "Tangling a heavy tow rope with your banister garland will instantly make you feel like you're at the beach," says Emily Piepenbrink, Christmas designer and owner of Made Merry. "You can also drape netting in small swags around your Christmas tree." This will add a marine theme to your holidays instantly.
The netting pictured above can be bought on Amazon, and would look especially festive when layered with fairy lights.
After working for interior designers to decorate clients' homes for Christmas, having holiday designs and photoshoots published in magazines, Emily Piepenbrink started Made Merry to share her passion for Christmas decor.
4. Go for minimalistic decor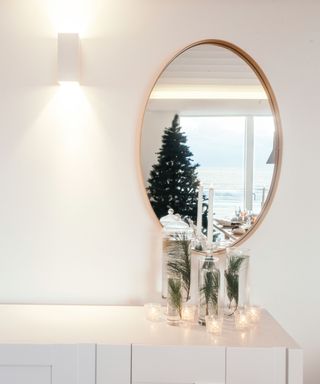 Yes, I know — it can be easy to throw everything glittery and sparkly into your home for the holidays. But, in order to achieve a coastal look, you need to go for minimalistic Christmas decor." Avoid overcrowding your space — instead, opt for key decorative pieces that evoke the seaside charm, ensuring the decor feels light and airy," explains Kropovinsky.
5. Be thoughtful with your color palette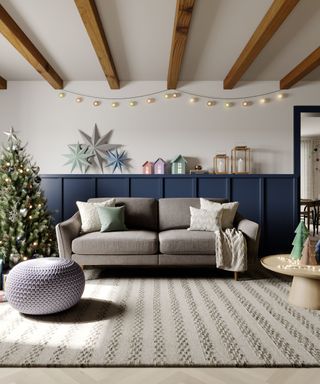 Blues and greens are popular colors for coastal Christmas decorating, are but far from being the only ones. "If you love a neutral Christmas palette, a seaside look is perfect," says Piepenbrink. She suggests adding pale sand dollars and starfish to your tree of whites, creams, and metallics. "A bowl of mercury glass ornaments and oysters looks seasonal and whimsical," she adds. This set of Wondershop Christmas ornaments on Target would pair well with any beachy elements.
Adding white coral and silver ornaments to a tray of white candles also makes for a seaside-inspired centerpiece.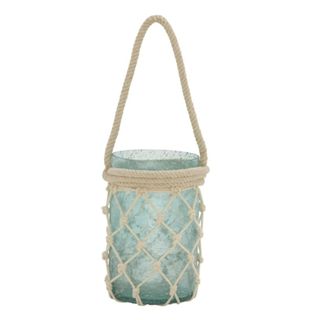 Blown glass
DecMode Blue Decorative Candle Lantern
Price: $24.96
If you don't want to make your own rope-covered candle, this Walmart glass jar is a gorgeous alternative. You could place a candle within it to bring a festive glow to your interior or even just have it unlit in your entryway to add a subtle nautical touch. It also comes in teal and clear, so you could grab a few and mix and match them.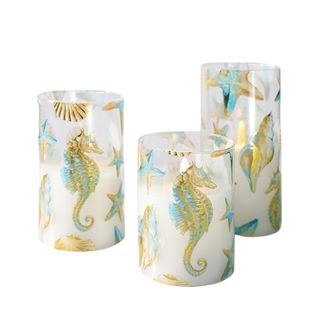 Remote controlled
Petristrike Flickering Flameless Candles
Price: $29.97
I love a wax candle as much as the next person, but flameless ones are so much better for decorating with, as you can put them anywhere without worrying about them catching on anything. I think that the iridescent gold and blue color add the glam factor, while the shell, star, and seahorse illustrations are seriously mermaidcore.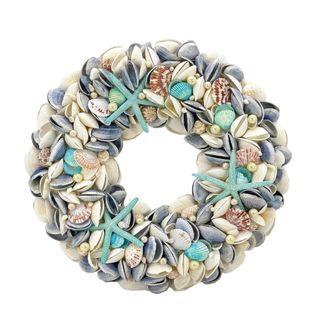 Real shells
Galt International Nautical Seashell Wreath
Price: $89.99
Beaches aren't exactly known for pine trees and holly berries, which is why I'm leaning towards this shell Christmas wreath as a coastal alternative. It has plenty of dimension thanks to its mixture of different-shaped seashells, so it will stand out wonderfully on your door. This is an investment, but if you know you're in love with coastal Christmas decor, it will last you years.
More coastal Christmas buys
Most of us will be entertaining inside this Christmas, so bring the beachy vibes inside with a multi-sensory vibe. Salty room fragrances will instantly transport you to the sea and don't forget to pair that olive-brined Martini with a coastal-inspired coaster for that social-worthy aesthetic. I've trawled the net for some shoppable items, but you could use a metallic pen (like this trio of Sharpie permanent markers on Amazon) to decorate cleaned oyster shells to use in place of placards.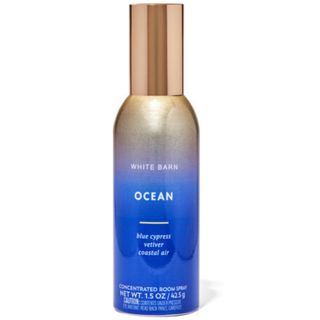 Coastal air
Ocean Concentrated Room Spray
Price: $8.95
Bath & Body Works' concentrated room sprays prove that the best things can come in small packages. Our social editor Nishaa is obsessed with the throw of this blue cypress and vetiver spritz, and how you can scent your space in a budget-friendly way with just one pump.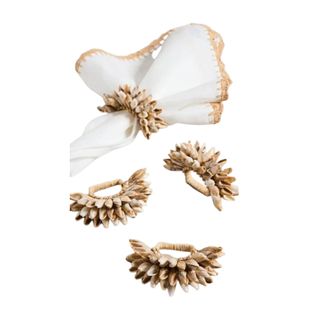 Wipe clean
Shell Fringe Napkin Rings
Price: $72 for four
These Raffia-wrapped rings with beaded wood embellishments are the perfect accessories to add some pizzazz to your dining table. Consider them the scrunchie to your napkin. Because Swan and fan folds are so last Christmas.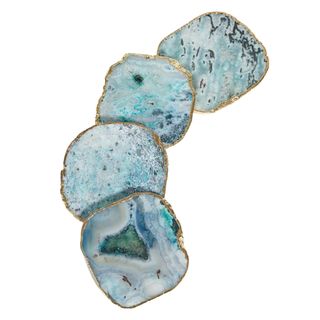 Unique
Shiraleah Agate Coaster Set
Price: $80 for four
Available in blue or purple, these vivid agate, metallic-edged, coasters are one-of-a-kind and make a great resting place (and Instagram-worthy setting) for Christmas cocktails. Each one is different, so they can double as gifts for your friends to take home after the festivities. We love how the design mimics crashing waves and coastal landscapes.
FAQs
What is coastal Christmas decor?
Coastal Christmas is about integrating all of the magic and tradition of Christmas with the wonderfully unique lifestyle of waterfront living. "Basically, imagine if Santa and Mrs Claus spent their off days in a lakeside cabin or an ocean front villa," says Piepenbrink. "It's all festive fishes, snowflakes and seashells, and a palette the color of sea glass."
How to decorate with coastal Christmas decor?
Whether you're lucky enough to live with a view of the water or not, anyone can add coastal Christmas decor to their space. "Integrate your Christmas decorations with the treasures and textures of the sea," says Piepenbrink.
---
Now you know how to decorate your home for the holidays with nautical Christmas decor, you might be wondering what other coastal styles you can incorporate into your home. Coastal grandmother is a stylish trend that matches timeless touches with beachy elements.