Bay windows are beautiful features that you'll usually find in historic homes. They consist of three separate window panels that protrude from the inner room creating more space, architectural interest and bringing more natural light into the space also – be that a living room, kitchen or bedroom.
Bay windows were mostly present in Victorian times, particularly in the British Isles, and what's so wonderful about them is that they offer a world of opportunity in terms of design. Their unique shape means that you'll have to get creative with different window treatment ideas as a standard curtain rail will not necessarily cut it. And, if you do want curtains all the way across, you'll need to invest in made-to-measure options that work around those bends.
From dressing your bay to decorating the surrounding area, there are lots of ways to fill that additional space underneath the window itself also, to ensure that it's put to best use. 'These elegant windows are often the centerpiece of a room. Drapery panels are a graceful addition to a bay window and work well on their own or paired with shades or blinds. For the latter, plantation-style shutters pack a visual punch. Outside-mounted window coverings are often an ideal choice for bay windows in order to preserve their clean lines.' According to blinds and shades specialists at Stoneside.
What do bay windows do?
Lucy Askew, spokesperson for home interior experts Hillarys says, 'Bay windows increase the flow of natural light into your home and give you views of the outside that you wouldn't get with an ordinary window.' It's important to choose the best types of window treatment to suit and enhance the functionality of your bay windows. 'To emphasise this, pick out lightweight Rollers or sheer Pleated blinds, which create a lovely ambience by allowing sunlight to gently filter into your room.'
'Outside-mounted window coverings are often an ideal choice for bay windows in order to preserve their clean lines.' Suggests Stoneside.
1. Space-enhancing patterned roller blinds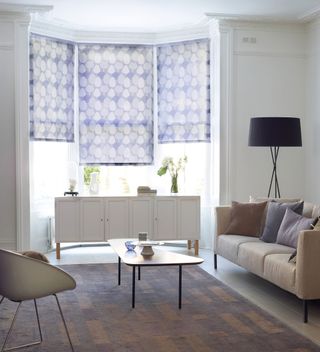 'Roller blinds in a sheer fabric are a good choice for bay windows, as they also offer enhanced levels of daytime privacy while still allowing lovely diffuse sunlight to fill a room.' Notes Askew. Using this spot also to place a neutral-colored cabinet makes for one of the most functional bay window ideas also for added living room storage.
2. Bespoke options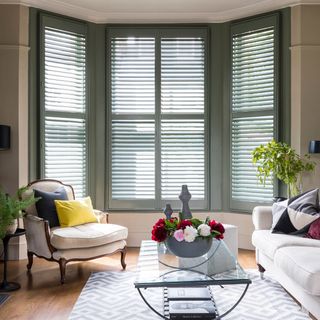 Shutters pack a visual punch, especially if you like a modern design factor and custom-made fittings will help make the most of the bay window's shape. 'Because there are many different types of bay windows – from angled bay to multifaceted bay and bow windows – and the shape of each is unique, it is important to select a bespoke window covering that will fit perfectly.' Says Askew. 'Our Shutters range is perfect for homes with uniquely shaped windows. For a start, choosing made-to-measure shutters means each panel is designed to fit each section of the window. The result is something tailored to your home and very special.'
3. Tier-on-tier for a layered approach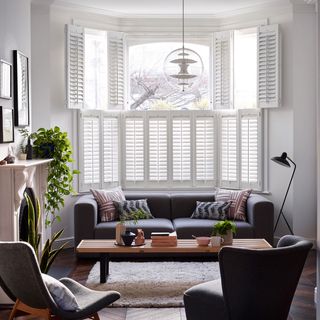 Bright and functional, a layered shutter look will add structure to even the coziest of living room spaces. 'Tier-on-Tier shutters are a versatile option, as the top and bottom halves of the shutters open independently of each other, so you can throw open the top set to let some sunlight in while keeping the bottom set closed for a little more privacy.' Adds Askew.
3. Clever sofa positioning
Elizabeth of @victorianhouse1986 added her sofa to the small spot between the bay window panels – an option that some steer away from. Though, you can see by how beautiful it looks and how useful it is, that it is one to try. 'I chose to put a sofa in my bay window as the opposite side (where the photo has been taken from in the first picture) has previously been knocked through into the dining room and is therefore open. The sofa here allows you a full front to back view of the house. With the addition of an arched lamp and some throws, it's a cozy spot especially in winter.'
4. Enhancing the architecture with paneling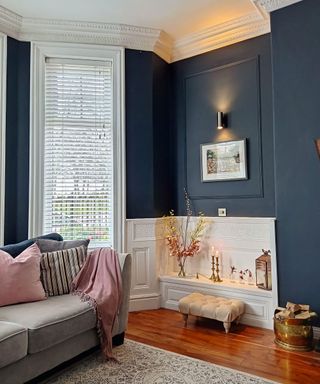 Wall paneling around the bay window enhances its naturally beautiful design, in-keeping with the home's era and adding a little modern character also. Elizabeth used every inch of the surrounding space also for trinkets to add more design personality.
5. An opportunity for elaborate furniture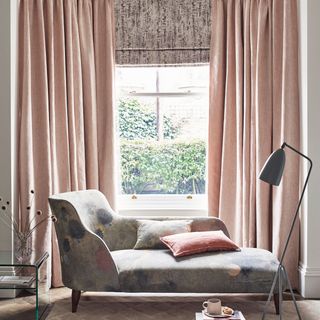 Hillary's shows how you can find interestingly shaped seating and other types of furniture like this fabric chaise longue to fill the seemingly awkward gap between the outer two window panels. The perfect viewing spot for a morning coffee or to place to relax with an evening read. The romantic drapes and blinds softer the look furthermore. 'Roman blinds offer a gorgeous, soft fabric option, which can be set at different heights to create an interesting look, but also sit neatly within your window recess for a neat and streamlined finish.' Says Askew. Layer them with curtains either side for an even more opulent finish.
6. Highlighting the bones of your bay window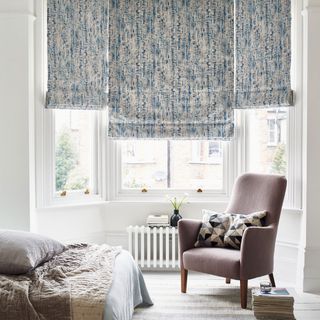 'You can beautifully highlight the bones of a bay window with Roman shades crafted from a rich fabric.' Adds Stoneside experts. The watercolor pattern here adds an artistic finish to this bedroom space. Note also how the small radiator cleverly doubles up as a shelf for decor.
7. A bedroom bay window seat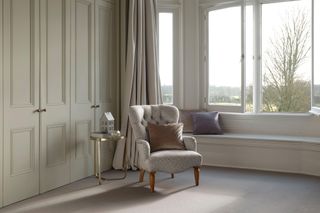 Adding a built-in seat to a bedroom bay window is a classic, failsafe look that makes great use of the space. Functional and decorative, add a selection of cushions to complement the curtains and you will enhance your bedroom decor instantly.
Natural light pouring into a bedroom is a magical feeling of course, but to ensure your bay window functions just as good as it looks, nod to black out bedroom curtain ideas. The latest designs means that you'll enjoy a stylish look that doesn't appear too heavy.
8. Letting all the light through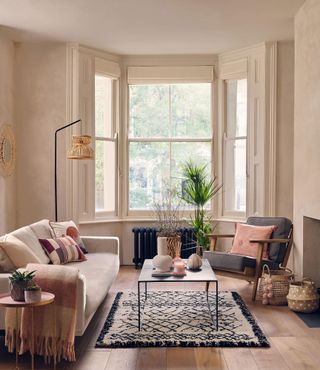 To let in as much light as possible and to complement the natural moldings of the bay window frames, choosing simple soft roman shades in the same color as the paintwork will create a seamless and open finish. Highlighting the rest of the room's finer decor features further.
9. Floor to ceiling curtains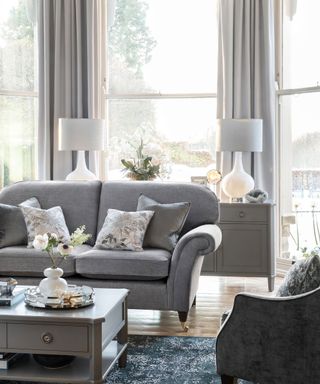 Adding drama and a little luxury via your living room curtains is a quick win in the design world. 'Fully-lined curtains are perfect for creating a sophisticated finish, floor-to-ceiling drama and a warm and cozy ambience. And as bay windows use more glass than a normal window, there is a small chance of further heat escaping from them. If you are worried about getting chilly, you can create an extra cozy feel by choosing thermal linings for your curtains and even layering curtains over your Roman blinds.' Adds Askew.
10. Frosted film for an element of privacy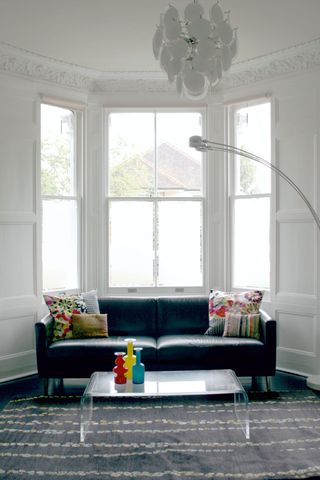 Frosted film is a grand idea for those renting especially or, those undecided about what to dress their bay windows with. Adding a subtle element of privacy and letting all the light in, it's a very modern way to let your bay window's personality shine through to the rest of your space.
How do you modernize a bay window?
Rest assured that bay window ideas are very much on-trend. Askew adds, 'Although they are usually associated with period properties, bay windows can be found in contemporary homes too. Therefore, if you are lucky enough to have one in your home, it is vital to make the most of it.'