Buying her parents' home was a neat solution for Danielle Lisle and husband Andy after their daughter, Alice, was born. The couple had been living in a four-bedroom new-build townhouse in Blyth, Northumberland, but with a new baby Danielle was spending a lot of time with her mum in Gateshead. 'My parents wanted to downsize and I wanted to move back to where I grew up, so the timing was perfect,' she says.
Danielle's parents had bought their four-storey townhouse off-plan 16 years prior on a development overlooking the river Tyne. 'I was 15 when they bought the house so I'm back in my teenage bedroom,' she says. 'As I hadn't lived in it for a while it didn't feel too weird, but I wanted to put my own stamp on it. I like a modern Scandi look with white walls and light wooden floors.'
Want to makeover your home and put your own stamp on it? We have masses of ideas and helpful advice on what to do and where to start in our house renovation feature. For more real home transformations, head to our hub page.
Profile
The owners Danielle Lisle, a civil servant, her husband, Andy, an office manager, and their daughter, Alice
The property A four-bedroom four-storey townhouse in Gateshead, Tyne & Wear
Project cost £11,000
After selling their house in just nine days, the family moved in July 2018 and quickly set about revamping the open-plan kitchen-diner and family snug on the basement floor to create a safe place for Alice while she was still crawling. 'Our previous house was also a new-build where we had no say in the kitchen,' says Danielle. 'So we were keen to rip out the wood laminate units and dark grey worktops that had been installed when it was built.' As the existing L-shaped layout worked well, the couple kept it the same but made the appliances integral and added a breakfast bar. They settled on a white gloss Howdens kitchen that proved the best option budget-wise.
The couple also revamped the snug next to it, originally a separate utility room that had been opened up by Danielle's parents. 'It's an awkward space as the room narrows at the top,' says Danielle. 'We felt a modular corner sofa would be a family-friendly option. It's one of the most used rooms in the house now. Alice plays with her toys while I grab a cuppa and sit down.'
Choosing different lighting and flooring has given each area its own identity. 'We went for spotlights in the kitchen, a huge spider light from Made over the Barker & Stonehouse dining table and two smaller globes in the snug where the ceiling is lower,' explains Danielle. 'Previously the kitchen-diner had black slate-effect floor tiles but we picked a light grey tile-effect laminate as it's more hardwearing and lightens up the space. We also swapped the carpet in the snug for a lighter oak-style laminate.'
One of Danielle's favourite aspects of the house is the connection to the garden, so she was keen to make the most of the existing decking area. 'Andy fitted a gate to make it safe as there's a drop behind and we added a metal pergola to make it another living space where we can add fairy lights,' she says.
For lovely garden ideas check out our feature.
The next priority was Alice's bedroom on the top floor. 'We had a mountain mural in her previous nursery, but here we've layered up the pink and grey shades rather than making them very geometric and separate,' explains Danielle. 'She loves playing in here and putting her dollies to bed, but unfortunately you can't get her to sleep in here.'
Keen to be next door to Alice, the couple chose Danielle's old bedroom as their master. 'It's an oddly shaped space that used to be two rooms,' she says. 'As a teenager, I had one end as a sitting room and the other as a bedroom, but we've flipped them around. The key was removing the dated beech-coloured floor-to-ceiling wardrobes and blocking up one of the entranceways to free up more space for the bed.'
Find your favourite bedroom ideas in our inspirational roundup of looks.
Eventually, the couple plan to move down a floor to Danielle's parents' former bedroom, which is larger and has views down the River Tyne. For now, though, it's a luxurious guest bedroom with a botanical wallpaper mural and new light oak laminate flooring. 'Everyone always says it's like a boutique hotel,' Danielle adds.
The pair plan to do more decorating and revamping of other rooms as their budget allows. 'It's a big house with lots of rooms so I've made use of Facebook Marketplace, Gumtree, HomeSense and upcycling Ikea,' says Danielle. 'The money we've saved by doing the painting and flooring ourselves has probably paid for decorating an entire room. Eventually I'd love an older property I could completely gut and reconfigure, but this house is a great size in a good location. I'm sure we'll be here for a good while longer.'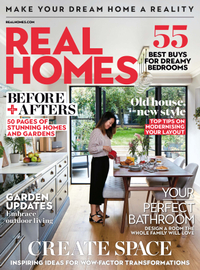 (opens in new tab)
Subscribe to Real Homes magazine (opens in new tab)
Want even more great ideas for your home from the expert team at Real Homes magazine? Subscribe to Real Homes magazine and get great content delivered straight to your door. From inspiring completed projects to the latest decorating trends and expert advice, you'll find everything you need to create your dream home inside each issue.
More reading