Located in a quiet Warwickshire village, the roomy farmhouse was perfect for a growing family.
'I love colour,' Annabel admits, as if sharing a secret, but take a look at her paintings and, indeed, her home as a whole, and it's clear she really does have an exceptional eye for colour.   Stooped doorways, wonky beams and vast inglenook fireplaces fill Annabel Playfair's 18th-century home with character, and there's a sense of history at every turn.
Inspired to tackle your own project? We have masses of ideas and helpful advice on what to do and where to start in our feature on house renovation. For more real home transformations, head to our hub page.
The story
Owner: Artist Annabel Playfair lives here with her children, triplets George, Henry and Tilly, 19, and Max, 24
Property: An 18th-century Grade II-listed, eight-bedroom home in Warwickshire, set in 10 acres of grounds
What she did: Kitchen and living room extensions were built in 2001, a garden room and loggia (right) in 2010. Annabel recently converted the stables into an art studio
Still, there's a contemporary twist to its light-filled rooms with wide views across a sweep of lawn to the rolling hills behind. One-off pieces of furniture are part of a collection built over the years, displayed alongside Annabel's own oil paintings, which range from dramatic seascapes to tumbling bowls of tulips, and those landscapes stretching from the doorstep.
Annabel's four children soon discovered their new home's quirky period features: a hidden salt store in the inglenook fireplace in the oldest part of the house, where the precious substance would have been kept locked away from servants; and behind generations of wallpaper in the attic, the name of the plasterer, John Perkins, and the date, 1793, signed in plaster with his own finger.
Beneath it, added 100 years later, two further signatures and the intriguing words: 'We come up here, with candles lit, but do not need them, not a bit'. 

While the home had retained its charm, it was also beginning to show its age. Annabel wanted to breathe new life into it, using her creative talents to adapt the living spaces for modern family life.
While the house was cosy and characterful, there was no large living space, and the kitchen was small and dark. 'I'd always dreamed of creating a large eat-in, live-in kitchen where our friends and family could all gather,' says Annabel.
An oak-frame extension completed in 2001 gave her exactly that. With a huge table in the middle and a cosy seating area it serves every purpose. A similar-size extension added space to the living room, and moving the main staircase opened up the hallways and brought more light into the central heart of the house. 
'Light became a preoccupation over the next decade,' says Annabel. 'Not one room truly made the most of the southerly views of the garden and countryside beyond.' However, four small children, two dogs and several horses left no time for further home improvements, so it wasn't until 2010 that she embarked on a second project.
A spacious garden room was added at the back of the house with windows all round and topped with a roof lantern. Next came Annabel's most inspired home improvement yet: a covered loggia accessed through French doors from the kitchen.

Here, among climbing roses and pots of sweet peas, are sofas, hammocks and a large dining table, with an open fire for chilly evenings. 'I love it out here,' says Annabel. 'It's one of my favourite places to paint.'

In the inspiring surroundings of her transformed home, Annabel's painting has taken off and she recently converted the stables into a studio.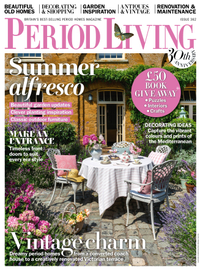 Subscribe to Period Living for more inspiration
A subscription to Period Living provides you with all you need to know about caring for and improving a traditional garden – and also how to decorate, renovate and maintain a period home.
More inspiring farmhouse renovations: