Let Ann Ellway's renovation of her Georgian farm inspire you to embark on your own project. And then browse more real home transformations...
THE STORY
Owner: Ann Ellway, a retired radiographer, lives here. She has two grown-up daughters, Kate and Ruth
Property: A detached, four-bedroom Georgian farmhouse in Yorkshire. Parts of the property date bath to the 17th century, and it has six acres of land including one acre of garden
What she did: Ann and her late husband Peter renovated the house, replacing windows and updating electrics and plumbing. They tried to reinstate some of its character, as many of the original features had been stripped out
When Ann and late husband Peter bought the house in the 1990s it still contained fittings from the '60s and '70s and was in need of modernisation, but they had no concerns about taking it on.
Peter had built their bungalow and his practical approach came in handy when they started to strip the house back to a shell.
'We lived in it as we renovated it with the help of a builder friend,' explains Ann. 'He came to see it before we bought it and said "don't touch it", but we bought it anyway! A lot of the original features had been taken out, so we reinstated its character where we could and brought it up to date taking an ad hoc approach – there was no grand plan.'
The couple fitted new windows, as the old sashes were rotten and couldn't be saved, and some new wiring and plumbing. The walls were taken back to bare brick and new floors laid over existing Victorian terracotta floor tiles, which were badly damaged.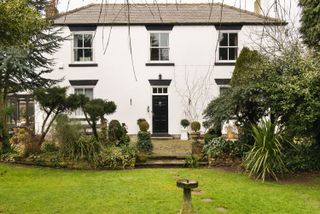 Ann has gradually landscaped the garden over the years. It was originally rough farmland that surrounded the house. Ann and her late husband Peter loved the elegant proportions and balance of the Georgian property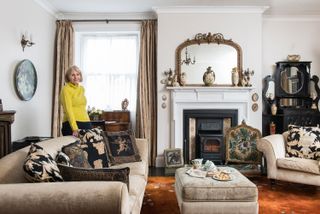 In the living room, Ann has mixed old and new to great effect, with sofas from Sofa.com and a fire surround from a reclamation yard near Batley. The cushions, fireguard and kneeler all came from an antiques shop, while the ornate dresser was bought at the John Walsh auction house. The beautiful writing desk was left to Ann by a close friend and fits perfectly in the square Georgian window
'These houses had no foundations: they were built on bare earth, yet they are incredibly solid,' says Ann. 'The only real structural work we did was to build a supporting wall in the cellar, which had been blocked up. We wanted to make it safe so we could use it.'
The walls were replastered with Limelite – specifically for old buildings – and original beams that had been covered up were exposed and painted. 'The bungalow had been very modern and we brought the furniture with us, so it had a different look then to the way it looks now,' she recalls.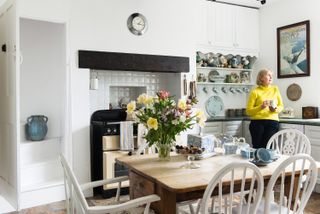 Ann, in the kitchen with some of her favourite finds
'It started with a piece of beadwork and a light fitting I found at an antiques fair and put up in the bedroom. Gradually we began replacing the G-Plan furniture with older things to suit the house.'
Ann rarely goes shopping with specific items in mind. She would rather spend hours browsing until she finds something that really appeals to her – whether it's a miniature poetry book with a tiny inscription inside the cover, a piece of tapestry, a plump eiderdown or a large piece of furniture.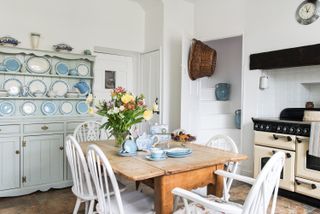 The kitchen dresser, drop-leaf table and chairs all came with the house and create a relaxed, country style that complements Ann's collection of antique kitchnenalia, including 100 pieces of Wedgwood crockery bought for just £100. She replaced an old oven with a cooker from Rangemaster, added a tiled splashback, and painted the dresser in Johnstone's Amador and the walls white. The old servants' stairs in the corner lead up to a bedroom
Ann is happy to mix old and new and admits she's not a purist: 'I buy what I like and I don't spend a fortune. For example, I bought 100 pieces of Wedgwood crockery for £100. I love discovering things that have provenance and history – things that have been treasured by someone who lived more than 100 years ago. It's fascinating to think about what kind of life they might have led.'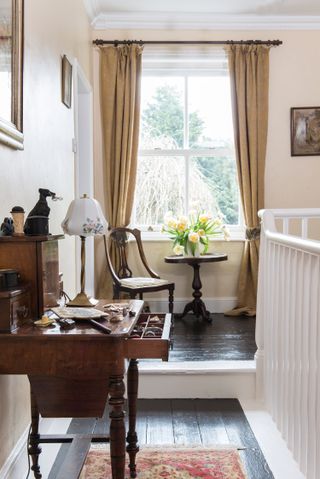 The landing, with original dark floorboards and windows, lends itself to antique furniture, such as this sewing table from David Riley Antiques and ornate Pre-Raphelite chair, from Newark Antiques Fair
Nothing goes to waste. Ann is always finding new uses for things: she stacks up old suitcases one on top of the other to create extra storage for out-of-season clothes or bedding; recycles pretty curtain fabrics; fills her bookshelves with literary treasures; and puts antique sewing paraphernalia to practical use.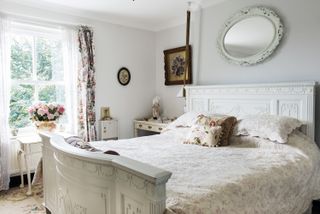 In the main bedroom, the bed is dressed with an antique bedspread and silk cushions sourced by daughter Kate. The curtains are made from Woburn fabric, bought years ago. The mirror was originally gilt but Ann painted it white to complement the room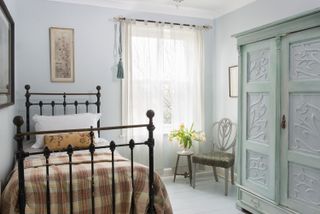 The furniture in the guest room is from Tennants Auctioneers
Every so often the kitchen cupboards are updated with a fresh coat of paint, and her treasure trove of kitchenalia – including wooden potato mashers, old crockery, weighing scales and storage jars – is used on a daily basis.
'I don't believe in buying things and then hiding them away in a cupboard,' says Ann. 'Everything is useful or lovely to look at. I get great pleasure from creating a new use for old things and respecting something that was once someone else's treasured possession. In a way, it brings life full circle.'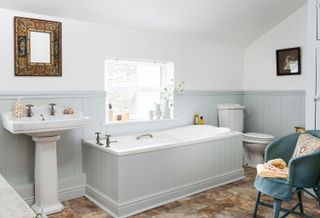 Tongue-and-groove panelling, fitted by Peter, is painted in Johnstone's Amador and teamed with white walls to create a tranquil atmosphere in the family bathroom. The tones in the practical vinyl flooring are picked out in the mirror frame, which was bought at a car boot sale. Most of the sanitaryware is from Victoria Plum, and the shutters are from Delta Blinds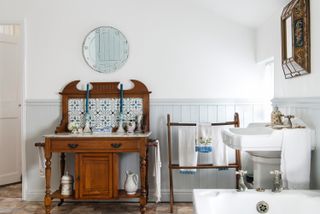 The small window by the sink was moved to allow for an en suite shower room on the other side of the wall. The washstand and towel rail came from Doncaster Antiques Fair while the round mirror, inherited from Peter's mother, completes the combination of period furniture and more recent accessories