Opting to rent for a while, to allow themselves time to find the right property to buy, Jeannie and Ross prepared themselves for a long wait. They knew that finding their ideal family home in the Cotswolds could take them months or even years.
'You don't mind making compromises with a rental house, because it's not for ever,' says Jeannie, 'but when I saw the manor farmhouse for rent, I just couldn't believe my eyes. I had always wanted to live in a period house and, for me, it was like discovering my very own Howard's End.'
Inspired to tackle your own project? We have masses of ideas and helpful advice on what to do and where to start in our feature on house renovation. For more real home transformations, head to our hub page.
THE STORY
Owners Jeannie, a managing director of
a photography company, lives here with her husband Ross Aldridge, who is a lawyer, and their golden retriever, Hobson
Property A six-bedroom, 17th-century, Grade II-listed manor farmhouse with a 1920s extension, in Woodmancote, Gloucestershire
What they did The couple converted the loft into a guest bedroom with en suite. They fitted a new kitchen and updated the bathrooms, redecorating the interior throughout
In spite of numerous property viewings during the two years they were renting, the couple never found a house to match the farmhouse that they now considered their home.
'We tried not to get too attached to the house, but it was impossible not to as it pulled on my heartstrings and had such charm,' says Jeannie. 'So when we heard the news that it was going up for sale, we snapped it up.'
Although the interior was in good order, Jeannie set to work changing the colour scheme to one that reflected the styles she and Ross preferred. 'I didn't want an entirely traditional feel, and I'd been inspired by a visit to friends in Long Island,' says Jeannie. 'Their home had quite a colonial style, which I liked, and Ross and I had some beautiful furniture handed down that I wanted to include.'
In the early years, the couple converted a boot room into a more practical utility and installed plantation-style shutters in many of the rooms, as well as having bespoke fitted wardrobes built for the bedrooms, 'In our en suite, we removed a wardrobe to expose the original beams,' says Jeannie. 'We also installed a wood-burning stove in the living room, because the open fire smoked so badly that we'd be forced to leave the room.'
Of all the changes they made to the farmhouse, by far the most important for Jeannie was having a new kitchen. 'My must-have item was a large island that we could huddle round with family and friends, with solid units in a traditional style that would look at ease within a period house,' says Jeannie. 'I wanted to recreate a dresser-style unit, so we used tongue-and-groove panelling to connect the wall and floor units.' The finishing touches in the kitchen were the granite and teak worktops.
Jeannie turned to her interior designer friend Jane for colour inspiration, 'She encouraged me to be more confident and we chose bold colour tones in key areas throughout the house to give each room a statement accent,' says Jeannie. 'Ross is colour blind, so he left everything to me. If it was up to him, he'd choose Monet-style interiors in a definitive blue, green or yellow. I humour him by adding bold splashes here and there.'
Another key room was the large drawing room, where Jeannie was keen to create a classic English look, but with a contemporary twist. 'I didn't want this to be the room we never used, so it couldn't be too formal and I didn't want all the furnishings to match slavishly either,' she says. 'I tried to approach the room with confidence, but there was a bit of trial and error, too. I would group things together, moving them around until they looked right, and added the odd cushion in an unexpected and exciting fabric. Redecorating this house has made me a lot braver in my design choices.'
An attic conversion created a luxurious guest suite with a master bedroom and bathroom. Jeannie has allowed the exposed eaves beams to do the talking by stripping them back to their natural tone and painting the sloped ceilings white. 'I really wanted the guest suite to look uncluttered and fresh,' she says. 'The bathroom exemplifies this simple approach and is the reason a Lloyd Loom chair can look at ease next to a giant faux cactus!'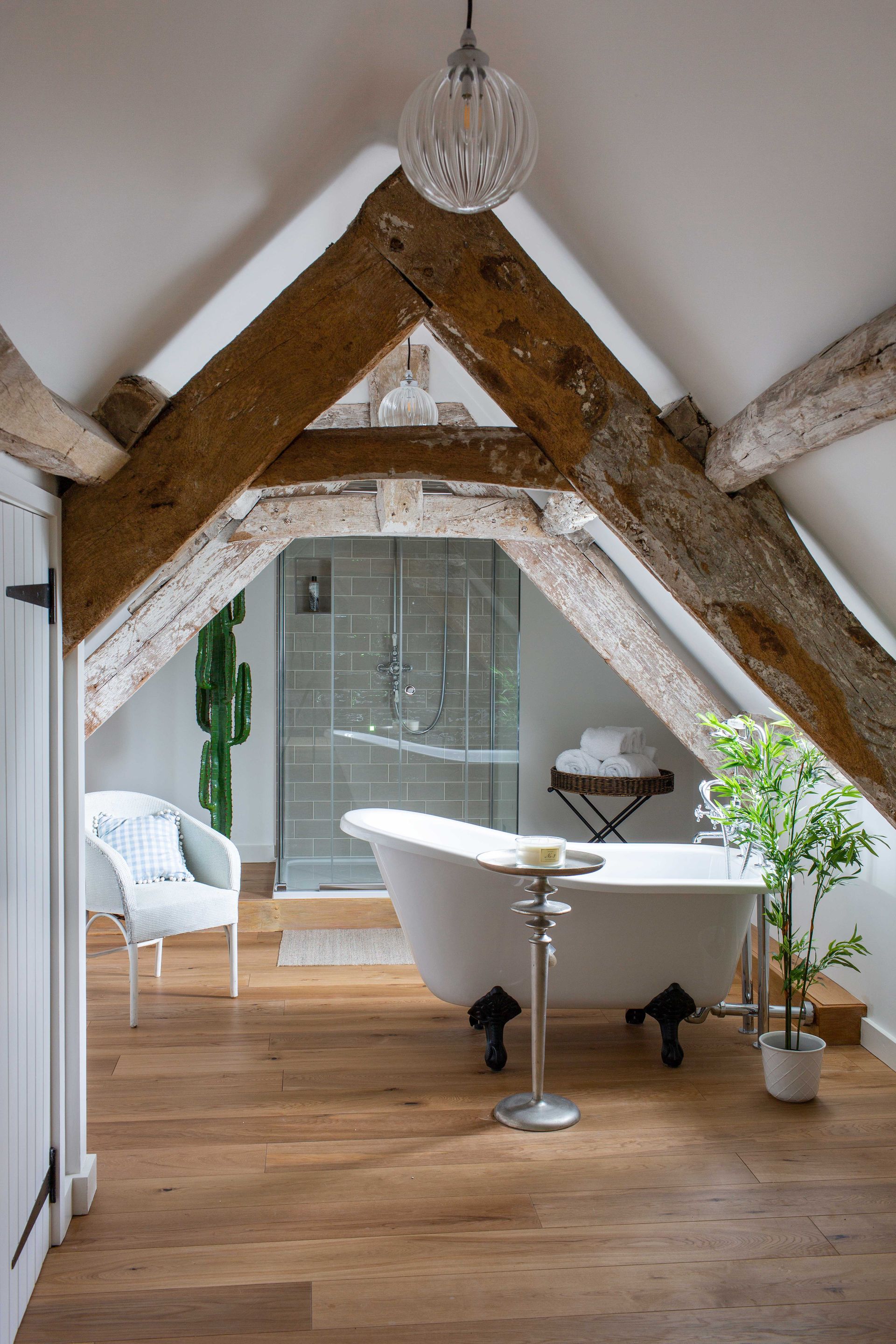 In tackling such a large refurbishment, Jeannie has not been afraid to experiment or to mix and match different styles. 'I must have painted the dining room a dozen times before I finally arrived at the wonderful rich red finish that we have today,' says Jeannie. 'I never wanted a stereotypical country house, or anything too grand. I wanted my children to look back and think of this house as home. With eight grandchildren who often visit, it wouldn't suit us to have a precious interior.'
Having refurbished the farmhouse from top to toe, Jeannie says: 'You never finish working on a period house. They require constant attention, but I can't imagine living anywhere else,' and adds, 'We occasionally rent it out as a holiday let, decamping temporarily to the small cottage in the garden. One day we may downsize, but I love our home so much that I think I will have to be carried out.'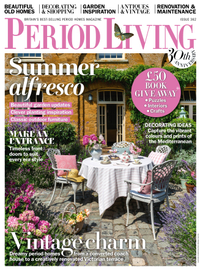 Subscribe to Period Living for more inspiration
A subscription to Period Living provides you with all you need to know about caring for and improving a traditional garden – and also how to decorate, renovate and maintain a period home.
More inspiring farmhouse renovations: