Ninja Blast Portable Blender Review: Quick Menu
The Ninja Blast portable blender is great for busy people like me. I'm absolutely guilty of not giving myself enough time in the morning — or the afternoon, or before a workout class, or, really, anytime. So it's not unusual that I'm running out the door without breakfast or the snack I swore I'd make before heading out for the day.
Even a quick smoothie is something I don't have time for. Sure, I can probably throw a few ingredients in the blender vessel, but do I have time to actually blend them and then make sure I have the right to-go cup? No way. Those are precious seconds that I just don't have, particularly when I've said I'm 5 minutes away — and I haven't even walked out the front door.
Enter the best blender to ever exist in my lifetime. I didn't even know such a thing as a portable blender existed before I received this petite package in the mail. But it is very much a thing — and an incredibly convenient thing. With no cord and an attached motor, this baby blends up your smoothies and protein shakes in seconds.
The Ninja Blast has quickly become a staple in my daily routine. I throw ingredients in the morning or afternoon, whenever I have a few free minutes, knowing that I can blend it on the go, whether that means heading out for an afternoon walk or just walking from the kitchen to my office (hey, when I'm rushing to jump on a call, those minutes matter!).
This lightweight, small kitchen appliance is a game changer if you find yourself short on time or space, and, while it's not going to have the power of a full-size blender, it gets the job done for everyday smoothies and other drinks. Now let's whip up a few more details about the Ninja Blast (okay, maybe that pun didn't work, but you know where we're going with this!).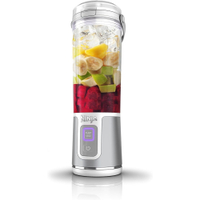 Ninja BC151WH Blast Portable Blender | Was $59.99 Now $49.99 (save $10 at Amazon)
Eating healthily can be expensive, so when looking for small kitchen appliances, we're all about saving the Benjamins wherever possible. Right now, both Amazon and Target have blitzed 17% off — making it the lowest-ever price it's been!
What I thought of the Ninja Blast Portable Blender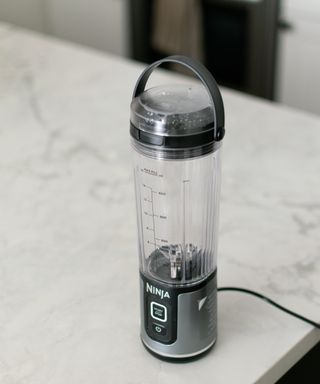 When you're buying a personal-size blender, you want something affordable. At just under $60, the Ninja Blast fits the bill, especially considering it can tackle smoothies, protein shakes, and frozen drinks. It's not a one-use niche appliance. This is something that can become part of your daily routine.
Given its portability and branding, the Ninja Blast is definitely geared toward the on-the-go crowd. This blender is designed for people who are looking to make a smoothie on the way to work or once they sit down at their desk. It's for people who want a protein shake at the ready when they finish their workout. Hey, it's even for those who want to make frozen margaritas on a beautiful day at the park. This is all about efficiency, lightweight design, and accessibility. The Ninja Blast wants to make it easy for you to blend a drink no matter where you are — and they've succeeded.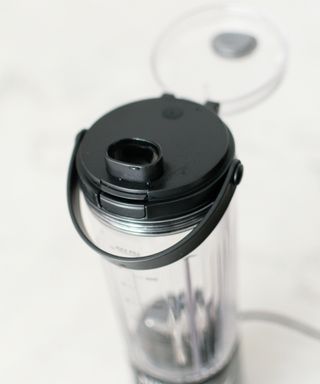 The 18 oz. drinking vessel is the perfect size for a beverage for one. It fits most cup holders, and the one-handed sip lid is just like any water bottle lid you're used to. This isn't a blender that included a sipping feature as an afterthought — this was built to function as a to-go cup. Plus, there's a hinged carry handle, making it super easy to tote along on all your adventures.
However, this blender doesn't do everything. I found it frustrating while I was getting to know the blender that the dreaded orange flashing light would come on regularly. I'd take a spoon, stir the ingredients around, shake it up, maybe take some solids out, or pour more liquids in. Eventually, we'd be back in business, but it felt like I was encountering blocks with the blades more often than not. Once you have the hang of it, blending does become easier, but it's never going to function like a full-size blender. I also didn't love carrying it with the motor on, but that's part of the whole portability function. If you blend on the go, you need to have the blades on the go.
Testing the Ninja Blast portable blender
Hey, I'm Heather, a lifestyle and commerce writer based in Washington, DC. This blender was sent to me by Ninja, and I tested it out daily for several weeks before writing this review, eagerly trying out my favorite smoothie recipes. I've continued to use the machine and will keep this updated if my thoughts or opinions on this appliance changes.
Ninja Blast specifications
Model name: Ninja Blast Portable Blender
Dimensions (in.): H10.709 x W3.543 x L3.543
Weight of machine: 1.74 lbs.
Capacity: 18 fl. oz.
Voltage: 7.4 volts
Unboxing and assembling the Ninja Blast Portable Blender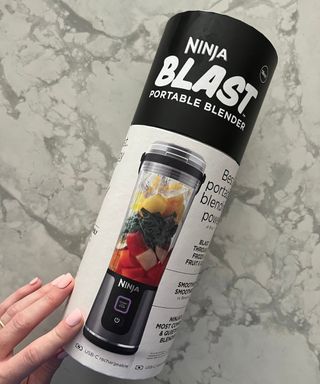 The Ninja Blast Portable Blender comes in a cylindrical package, which is perhaps the most efficient packaging I've ever encountered. The blender, including the 7.4V USB-C rechargeable motor base, BPA-free easy-open sip lid, and 18 oz. BPA-free drinking vessels are tucked securely inside, with all the pieces and parts already assembled, and the guide inside. As someone who tends to throw ingredients into a blender without thinking twice, I appreciated that there was a visual guide included that told me exactly how I should stack ingredients within the blender.
The Ninja Blast uses a USB-C charging cable, which is included. This plugs right into an Apple iPhone port. After giving the blender a quick wash with warm soapy water and letting it air dry, I plugged it in to start its first two-hour full charge.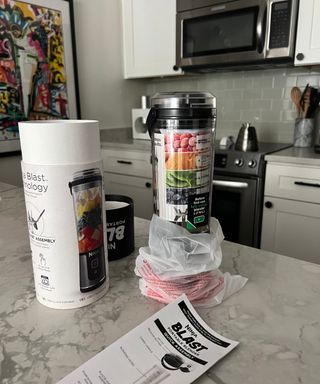 How to use the Ninja Blast portable blender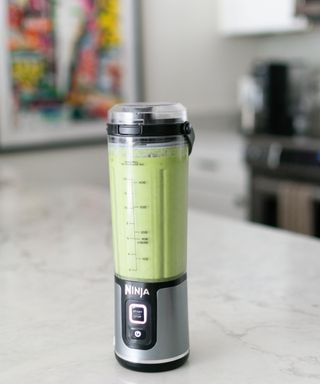 Once the Ninja Blast is fully charged, you're ready to go! There are just two buttons, making things super simple. You either turn the blender on or off, or you start or stop a blend. There are zero fancy controls to worry about. However, there is one fancy thing — the LED light that surrounds the start/stop button lights up to tell you when you can blend and when there are issues.
You'll kick things off by adding ingredients, taking care not to go past the fill line, making sure the liquid hits the minimum liquid line. Then, it's time to screw on the lid and power the blender on. If the LED light is purple, you're ready to blend. Press start and a 30-second blend cycle will begin. Things may go smoothly, and you'll be ready to sip after one cycle, or you may need to shake up the vessel to get the stainless steel BlastBlade Assembly back in action. Ideally, the ribbed vessel will create a vortex effect that draws all the ingredients down towards the blades. If the blender's LED light starts blinking orange, that means the blender is stuck, and you'll need to stir up the ingredients, take some solid ingredients out, or add more liquid. Another 30-second cycle or two may be necessary, but, ideally, you'll end up with a smooth liquid. Once you have the ideal consistency, turn the blender off.
Take a moment to note that there is no bottom on the vessel — the motor base is the bottom (I did not note this the first time…and you can guess how that went). Leave the vessel on the base, then click open the easy-open sip lid, and enjoy! Smoothies on the go are the new little luxury if you ask me.
How to clean the Ninja Blast Portable Blender
Before you clean the Ninja Blast, make sure you've turned it off off. Run a cycle with warm, soapy water or use mild dish soap to wash the cup, lid, and blade assembly, being careful not to submerge the motor base while washing the blade assembly (while the motor base can get wet, I wish it could be removed completely to make cleaning a little easier!). Let the parts air dry.
Need a deeper clean after a few smoothies? You can run the cup and lid through the dishwasher on the top rack, but don't run a heated dry cycle.
Is the Ninja Blast Portable Blender right for you?
If your morning routine involves grabbing a smoothie on the way out the door or you like to have a smoothie before or after you hit the gym, then the Ninja Blast is going to be a game changer. You can load it ahead of time with the ingredients you want to use, then blend them while you're on the go. This lightweight, compact, and affordable model is perfect for fruit, veggie, and protein smoothies.
I would skip the Ninja Blast if you are looking for a personal blender that can double as an all-purpose blender. This small blender can't handle hot ingredients or thicker formulas. It's easy to use, efficient, and lightweight, but it's not going to be your blending workhorse.
If the Ninja Blast portable blender isn't for you, here are some alternatives: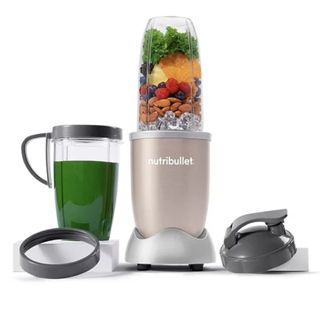 Our favorite
Price: $99.99
Capacity: 3 fl oz
The NutriBullet Pro 900 is the brand's most powerful bullet blender, and it really did the trick when we used it to make smoothies. From frozen fruit to tough kale stems, it's up to the task of making even the trickiest smoothies. The design is simple and easy to use, simply press the blending cup down onto the base after screwing on the blending lid and twist.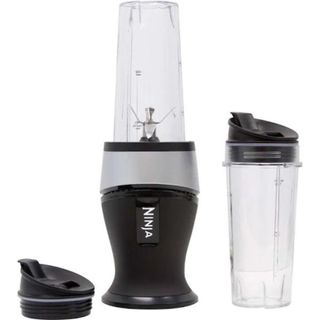 A basic alternative
2. Ninja Fit Compact Personal Blender
Price: $59.99
Capacity: 16 fl. oz
A slightly smaller and stubbier Ninja blender, this blitzer is intended for individual, on-the-go use, and also comes in at sub-$60. The drinking vessel fits in a car cupholder, making it an idyllic choice for gym-goers, commuters, and moms on the school run in need of liquid nourishment.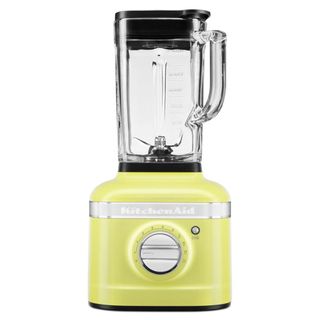 Blends hot ingredients
3. KitchenAid K400 Artisan blender
Price: $289.99
Capacity: 54 fl oz.
Thanks to the Intelli-Speed control feature built into this blender, the speed will automatically adjust to suit the texture of your food. Accidents = avoided. With a 54 fl. oz capacity, it'll be able to make enough servings for the entire family, and you may even have some leftovers. Also has a hot setting for soups.
Read our full KitchenAid K400 Artisan blender review.
Good to know
Instructions
The Ninja Blast Portable Blender comes with a quick start guide with a 5-recipe inspiration guide and instruction booklet, though the box itself is also helpful in figuring it out.
Warranty
A one-year warranty from the date of purchase is included with the Ninja Blast Portable Blender.
Where to buy the Ninja Blast Portable Blender
The Ninja Blast Portable Blender is available to buy via the Ninja website, Amazon, or Target. It's available in Black, Passion Fruit, Cranberry, Denim Blue, White, and Forest Green.
About this review — and the reviewer
We have a set process for our reviews at Real Homes. As is the case with all products we review, we match the reviewer with the blender.
The Ninja Blast Portable Blender was sent to me by Ninja, and I tested it out several weeks before writing this review, trying fruit smoothie recipes, protein smoothies, and, my personal favorite, coffee smoothies. I tried various ingredients including ice, nuts, frozen fruit, and other smoothie goodies. I tested it for speed, efficiency, and how well it blends across food textures and thicknesses, as well as its convenience for taking it on the go.