In a world of smart phones, you may think that having a landline is a thing of the past. However, having a house phone is still incredibly common in many households, and can actually be a cheaper and easier way to have those all important conversations. If you're a business owner or your area has dodgy signal, then investing in a landline will make sure you are always reachable, too. Plus, the majority of broadband deals come with line rental, including fibre broadband and BT deals, so if it's free, why wouldn't you have one?
Features to look out for
Long gone are the days of corded, rotary dial phones (unless you're looking to go retro); instead, modern house phones are incredibly sleek and smart, and can be packed full of features. DECT (Digital Enhanced Cordless Telecommunications) or (to you and I) cordless phones can usually range up to around 300m from their base, so you still get almost as much flexibility as you would with a mobile at home, and you can choose to have more than one handset in the house, upstairs and downstairs.
And not forgetting about your other cordless phone, of course – here are our best wireless chargers for mobile phones
Enjoy cordless technology at its best with our pick of the best lightweight, non-tethering cordless vacuum cleaners
Some of the best house phones can even sync up to your mobile so you'll never miss a call when you're out, but if you'd rather not be bothered when not at home, then pretty much all house phones come with an integrated answering machine for important messages.
Many modern house phones come with a large touch screen, although simple keypads are available too.
If you use your home phone a lot, you might want to look out for handsets that offer speed dial and contact storage – some phones even allow you to set a different ringtone for different people to avoid the element of surprise.
Check out our list of some of the best house phone handsets on the market.
1. PANASONIC PREMIUM DESIGN SERIES KX-PRS120
A sleek design on a landline which ticks all the boxes
Specifications
Best for: Best all-rounder
Range: Up to 300m
Standby time: 150hrs
Talk time: 12hrs
Phonebook memory: 300 contacts
Reasons to buy
+Call blocking+Display is easy to read+Sleek design
Reasons to avoid
-Holds fewer contacts than others (but who really has over 300 friends?)
Panasonic's premium design landline has all of the features you need in your next home phone. Whether you're a landline newbie or are considering replacing an older model to keep up with the times, this sleek phone will fit into your home perfectly while including features such as a speaker phone, caller ID, an answering machine and 40 different ringtones. It's also very easy to use so would suit just about anyone, from large families with younger children who like to call their friends or even someone who struggles to use technology.
2. PANASONIC KX-TGK222EW
Never worry about your landline sticking out like a sore thumb again with this stylish model
Specifications
Best for: Style
Range: Up to 300m (outdoor)/ Up to 50m (indoor)
Standby time: 200hrs
Talk time: 18hrs
Phonebook memory: 120 contacts
Reasons to buy
+Very stylish design+Call blocker feature+Long standby time
Reasons to avoid
-Phonebook memory smaller than others
A landline phone we certainly wouldn't mind having on display in our house, this cordless beauty does everything a basic house phone needs to do, while blending in with your home's decor. It has a Do Not Disturb mode for when the kids are asleep and you really don't want them to wake up, as well as a talk time of 18 hours, a standby time of a huge 200 hours and the ability to block calls. Our only complaint? The interface isn't as friendly as it could be. However, if you're after a phone to simply make and receive a few calls a week, then this is a good bet.
3. IDECT ECLIPSE PLUS
A futuristic looking phone for modern interiors
Specifications
Best for: Unique look
Range: 300m
Standby time: 230hrs
Talk time: 13hrs
Phonebook memory: 200 contacts
Reasons to buy
+ Looks cool + Loud volume
Reasons to avoid
- Earpiece can be a little uncomfortable
The IDECT Eclipse Plus house phone looks super modern and could easily be mistaken for an ornament or piece of modern art. It's not just all about looks though. This phone is feature packed and allows you to make quick and easy calls at the touch of a button to your contacts list; the volume can be turned up much louder than other house phones, too. For those looking for something a little extraordinary, you can expect this phone to be the centre of many a conversation (quite literally), but users did note that when talking on this phone for a while the earpiece can become a little uncomfortable due to its shape.
4. BT HALO
This home phone has tons of storage which is ideal for businesses
Specifications
Best for: Business
Range: 300m
Standby time: 240hrs
Talk time: 21hrs
Phonebook memory: 1000 contacts
Reasons to buy
+ Premium call blocker + Connect to your smartphone
Reasons to avoid
- Buttons a bit fiddly
Those who work from home or want to get a landline phone for their business should consider the BT Halo. This phone has all the great features of the previous BT phone in our list, including a premium call blocker, but it's a lot smarter. You can also connect it to your smartphone via Bluetooth to make and receive mobile calls from your landline, which can save you mobile costs and allow you to multi-task. Users found this phone to be incredibly reliable, and with space for up to 1,000 contacts, you can keep all of your customers, clients and colleagues at the touch of a button.
5. GIGASET SL450A GO
A high-quality DECT home phone
Specifications
Best for: Digital cordless
Range: 300m
Standby time: 200hrs
Talk time: 12hrs
Phonebook memory: 500 contacts
Reasons to buy
+ Bluetooth connectivity + Large digital colour display
Reasons to avoid
- Ring not very loud- Not the best looking
For those who never got around to upgrading to cordless, there is now no excuse thanks to this high-quality DECT phone. It has a large digital screen display and a range of 300m so you can roam freely around the house when on a call. The quality of the connection is said to be excellent, with clear and crisp sound from both ends of the line. The ring isn't as loud as we would hope, which could make it hard to hear if you're far away from the phone, but there is a choice of ringtones so you can pick one you are most likely to recognise. You can save up to 500 contacts in this phone, and users have all agreed this phone has very good battery life. For those who need a house phone for business, this one can be quite handy as it has a Bluetooth function that allows you to connect it to a headset or computer device.
6. PANASONIC KX-TGK320E
A contemporary DECT phone which has unmissable features
Specifications
Best for: Message forwarding
Range: 300m
Standby time: 200hrs
Talk time: 16hrs
Phonebook memory: 120 contacts
Reasons to buy
+Stylish design+Message forwarding+Nuisance call block
Reasons to avoid
-Contact book isn't as large as others-Answerphone recording time is limited -Bulky
Sleek yet most certainly worth it in our eyes, this attractive Panasonic landline phone is available in black or white to fit in with your colour scheme. Not only is it ideal for those who require call block and Do Not Disturb on their next model, it also has a whopping 16 hours of talk time so you can chat the day away. With a blue LED light between the base station and handset to alert you when there's an incoming call, you can change the ring tone between 40 different tunes and it has an answering machine of 30 minutes' recording time. Our favourite feature? You can forward messages to your mobile so if you're out of the house, whether it be at work or on holiday, you can pick up your missed messages instantly.
7. Siemens Gigaset C530A
A sleek pair of house phones with a colour screen
Specifications
Best for: Ease of use
Range: 300m
Standby time: 320hrs
Talk time: 14hrs
Phonebook memory: 200 contacts
Reasons to buy
+ Up to 30 minutes record time + Integrated answer machine
Reasons to avoid
- Small display
This house phone by Siemens almost looks like a (granted, very old) mobile phone. With a digital colour display, it's packed with features including the ability to record calls, store contacts and have up to 14 hours cordless talk time. Users have said the phone's interface is very intuitive and it has a choice of ringtones that aren't annoying like some phones have. Similarly to the BT phone, you'll get dual handsets and there's a call blocking function to stop unwanted calls from filtering through. The only complaint some users had was the size of the screen which can be a little small for those who are long-sighted.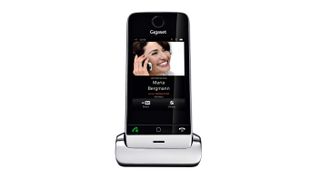 8. Gigaset SL910A DECT
Mobile looks with home-phone capabilities
Specifications
Best for: Multitasking
Range: 300m
Standby time: 200hrs
Talk time: 14hrs
Phonebook memory: 500 contacts
Reasons to buy
+Gorgeous mobile-like design+Huge phonebook memory
Reasons to avoid
-Touch screen may not be the best for some
The Gigaset SL910A is possibly the closest you'll get to a mobile phone while shopping for a home phone, with its large touchscreen, intuitive interface and a decent range that makes it very much... well, mobile. It's easy to operate and to see, and its lucid, high-quality screen offers a much more comfortable experience than faded numerals on an orange or blue backlit screen for short-sighted users. Commended its high-quality design, the phone itself feels considerable and well-built, a far cry from some of the more flimsy-feeling plastic handsets.
9. Panasonic KX-PRS120
A smart house phone that makes a great second handset for your mobile
Specifications
Best for: Second handset
Range: 300m
Standby time: 150hrs
Talk time: 12hrs
Phonebook memory: 300
Reasons to buy
+ Connect to your smartphone + Easy to set up
Reasons to avoid
- Drains mobile battery
If you want to make it easier to take calls at home, this Panasonic house phone acts as a second handset for your mobile or other smart device. You can connect via Wi-Fi which makes it great for business as you can transfer calls between devices and set up conference calls. Those who have used it say it's very easy to set up and works extremely well, but for those who have iPhones, it was said to drain their battery quite quickly. This phone is also designed to help reduce any background noise or static when on calls, which users have found make the line much clearer from both ends.
10. BT 8600
Twin handsets which are great for chatty households
Specifications
Best for: Blocking cold calls
Range: 300m
Standby time: 310hrs
Talk time: 21hrs
Phonebook memory: 200 contacts
Reasons to buy
+ Twin pack of handsets + Easy call blocking function+ Inexpensive
Reasons to avoid
- Line not always the best - Not the best looking
For households that are constantly plagued with cold callers, this BT phone has been regarded a life saver. Many who have invested in this phone said that the call blocking function works a charm and since getting this house phone they have received no spam calls at all. The handset itself is slim and easy to use, with a whopping 21 hours' talk time which is perfect for those who often find themselves gossiping to their mates all evening, or those who often work from home and make calls from their landline. A few people have experienced issues with the line being crackly in some areas of the home, but this all depends on your location, which is made much easier to resolve when you have two hand sets in the home.
Read more: