With the best orange juicers you can extract every last drop from fresh oranges as well as lemons, limes and grapefruit – because there's nothing quite like a fresh glass of orange juice to get your day off to a great start.
Whether you want a simple squeeze for a recipe, or are looking at juicing as a way to get your five a day, we have checked out a range of options for every home. It could be that you are hoping to gift one to someone who is looking to make their juice habit more sustainable, by avoiding pre-packaged drinks from the supermarket? Whoever you're buying for, we have beautiful choices for everyone.
Below, we have looked at everything from manual juice presses, to orange juicer machines that juice and pulp the whole fruit – but if you know you want a whole fruit option for sure, check out our best juicers first.
Cyber Monday and Black Friday orange juicer deals
Why you can trust Real Homes Our expert reviewers spend hours testing and comparing products and services so you can choose the best for you. Find out more about how we test.
This Black Friday, the retailers have squeezed the price of their orange-juicing gadgets. We've listed all of our best-rated orange juicers that are on sale, just below. These OJ appliances are listed by price, from low to high.
US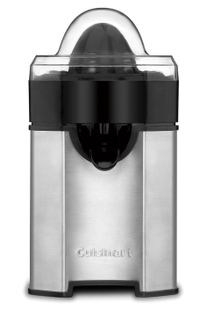 (opens in new tab)
1. Cuisinart CCJ-500P1 Pulp Control Citrus Juicer | Was $29.95 now $15.74 (get 25 per cent off your entire purchase with coupon) at Bed, bath & Beyond (opens in new tab)
If you haven't got your hands on an orange juicer... it's bitter late than never. This sleek brushed stainless steel will look so cool on your countertop, and ooze #healthgoals. The final-spin feature extracts more juice from pulp so that you won't be left with any wet mush — the dry puree is great for adding extra healthy fiber into soups, stews, and loaf cakes.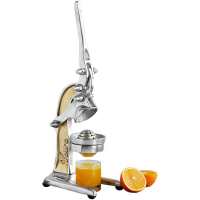 (opens in new tab)
2. Verve Culture 13.5" Manual Citrus Juicer |$98 at Neiman Marcus (opens in new tab)
Vamos Vamos! If you want a Mexican-style manual citrus juicer for under $100, you've got to be quick. Available in red or gold this traditional extractor is great for cocktail-making. The hardest decision after choosing a colorway? Whether to make a limey Margarita or orange-based Mimosa!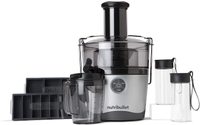 (opens in new tab)
3. NutriBullet Juicer Pro Centrifugal Juicer Machine | Was $159.99 now $99.99 (save $60) (opens in new tab)
Save a sweet 38 per cent on this all-singing, all-dancing juicer from a leading brand. With three precision speeds and a non-drip spout, you can efficiency extract juice without chaos in the kitchen. This one comes with freezer trays to save your pulp and glass bottles for on-the-go enjoyment. Juices a cocktail of our fruits, fast so don't be afraid to mix it up to get your five-a-day.
UK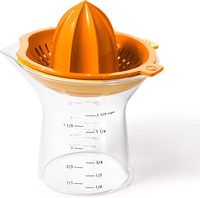 (opens in new tab)
1. OXO Good Grips 2-In-1 Citrus Juicer | Was £16 now £12.80 (save £3.20) at Amazon (opens in new tab)
Get to grips with this citrus juicer from OXO. It may look basic, but this dishwasher-safe appliance can yield up to 350ml of juice. We like the clear, BPA-free beaker with measurements with a drip-pour spout for easy transfer to another container. Comes with a small and large reamer for all sorts of citrus.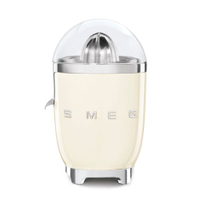 (opens in new tab)
2. SMEG 50's Retro Style CJF01CRUK Citrus Juicer in Cream or pink | Was £149 Now £129 (save £20) at Curry's (opens in new tab)
Squeeze a nostalgic vibe into your kitchen with this iconic Italian design. There's a few pence of discrepancy here and there between the retailers, but Currys look like they have the most consistent stock levels of everyone. If you're after the pastel blue colourway, try Robert Dyas as it's £10 cheaper than the Currys price.

---
The best orange juicers
Professing to juice everything from the tiny lime to the extra-large grapefruit all the way down to the rind, this Breville Citrus Press Pro is our best citrus press. If you're in the UK, it's called the Sage Citrus Press Pro.
The 'quadrafin cone' is designed to get more juice out of your fruit, the triple-hinged handle to exert even pressure across the fruit, no matter the size or shape, for a thorough squeezing.
Then there's the fruit holding cup, which means no sticky or waxy fingers from having to hold the orange in-situ. Everything has been thought of in this simple but effective, and undeniably attractive machine, making it our all-round favorite.
We love the Smeg Citrus Juicer. It looks made of powder-coated die-cast aluminum, and the reamer is stainless steel and very durable. The removable parts are dishwasher-safe, and the tritan lid means you can display the juicer without any dust getting on the juicing cup.
You will need to press your halved fruit down onto the reamer, which will cause it to spin and remove the juice and pulp down into the juicing cup. From there, just press the spout down to release the juice into a glass. We were left with totally dry spin, but keep in mind there's no lever to do the juicing.
The Smeg juicer comes in a range of colors, so it's also a lovely addition to your kitchen counters. Pair it with the best toasters from Smeg for a complete set.
The BLACK+DECKER 32oz Citrus Juicer is petite powerhouse that keeps going and going. Reviewers have raved about its performance for everything from consistently powerful juicing, effective filtering, and ease of cleaning, with the removable bits only requiring a rinse under the tap after each use, and the odd spritz in the dishwasher.
You can choose between a small and a large reamer with the BLACK+DECKER 32oz Citrus Juicer, which makes it perfect for both limes and grapefruits. The pulp strainer is removable, so you can opt for pulp-free or full pulp juices.
The NutriBullet NBJ50200 Juicer Pro is a brilliant centrifugal juicer. It's a little different to most citrus juicers because it's not designed for oranges and lemons specifically. Instead, you can peel your fruit and put it into the feeding chute to extract juice without whole pulp.
This leads to more froth but less pulp overall, and while we prefer the taste of juice when it's from a peeled orange, you can also put your oranges in whole. The skin will be shredded and juiced as well, which has a more zesty flavor.
You can also use the NutriBullet NBJ50200 Juicer Pro to juice everything from apples and oranges to spinach and ginger. It's a real all-rounder.
This heavy duty, industrial-style juicer is just the thing to make your kitchen countertop feel as if it's actually the back bar of a bustling cocktail bar. It's made of recycled stainless steel, with a handmade Mexican design. That and the manual operation means it's designed to last, and it will be a real feature in your kitchen for years to come.
It's second-to-none for longevity, and this is backed up in practice by happy reviewers, who say that it beats the competition with its battleship-like build quality.
Users found it strained out pips and larger bits of flesh, but that if you want a pulpless orange juice, you'll have to strain it further. However for authentic juice with easy cleaning – the stainless steel business parts are removable and dishwasher safe – it's a winner. In our opinion, this is the best orange juicer for heavy-duty use.
You might like the idea of a stationary manual press, but not have the worktop space to accommodate one – if so, this handheld orange squeezer is a great compromise.
By their very nature hand squeezers tend not to be ideal for those who have trouble with their wrists or hands. However, reviewers of this model noted that they didn't have to apply very much pressure to get a decent result, and Chef'n say the gear mechanism is designed to reduce hand fatigue.
Users commended the quality feel and strength of the metal parts, and loved how much juice (and how few pips) made it through – which is why it's one of our best orange juicer choices.
This juicer does require you to press down on the orange half you're using to get the maximum amount of juice, so if you want a fully automated experience you might want to look at something like the NutriBullet juicer above.
But, for a simple and surprisingly fully-featured juicing option, this seems to hit the mark admirably. If you're big on no waste and want to ensure you get every last drop of juice from your oranges, this is the best orange juicer for maximum juice extraction.
This inexpensive citrus press is already more economical than a few weeks of buying separate bottles of juice from the store. With a measuring cup for easy use in cooking and baking measurements, it's simple to use it in your kitchen.
Its big seller is the selection of reamer sizes. It's easy to clean too, with a dishwasher-safe design that will work on citrus fruits of all types.
---
What to consider when buying the best orange juicer?
Depending on how much elbow grease you're happy to spend on your morning juice, you can choose between two different types of juicer: manual or electric. It's a given that electric juicers are more expensive thanks to all that complex circuitry, but if you usually find yourself in a rush, the convenience they offer can transcend the initial annoyance of spending more. The lower level of exertion they require also makes them better for juicing enthusiasts with mobility issues or arthritis, as some manual juicers require you to really put your back into it.
When looking for an electric juicer, consider the capacity of the inner reservoir, if it has one, and whether it corresponds with the amount of juice you'll be needing to press in one go. You also might want to consider the capacity of the motor to handle large orders – that is, will it start to run out of steam or give out a suspicious burning smell after a few minutes of constant operation?
If you're planning on reserving your juicing for the weekend, or time's not an issue, a manual orange juicer may cut it. We've included a selection of manual juicers that forego the traditional reamer (that's the cone onto which you'd squish the fruit) and opt instead for sturdy steampunk-look stand presses, or even handheld models that can be stowed in the drawer.
Is a citrus juicer worth it?
If you drink a lot of orange or grapefruit juice, a juicer will soon earn its worth. Even the most expensive juicers on our list cost less than continually purchasing lots of liter-sized bottles from a premium juice brand. With the cheaper buys on our list, you would make your money back with the equivalent of ten bottles, even when you add in the cost of the oranges. You also get fresher juice that is additive free and can make as much or as little as you need, to avoid waste.
Those who use a lot of citrus juice in cooking won't need an electric juicer but can make do with a hand press that will make it quicker and easier to squeeze half a lemon, lime or orange into your recipe.