Fun fact: my fave Disney movie when I was little was Beauty and the Beast. This wasn't because of all the magical talking furniture (although that would be so cool IRL). No, it was because of Belle's love of books. That opening scene of her looking through the bookshelf on a ladder? Iconic.

Now I'm an adult, I can actually buy my own books and create a dreamy bookshelf that Belle would be proud of. Okay, I might not have as much room as she does (I mean, that library is straight fire), but I'm still determined to make it work.

I've spent ages scrolling on Insta to find living room bookshelf ideas that are perfect for small spaces. From clever bookshelves to styling inspo, I've rounded up gorgeous pics aplenty.

Want to turn your living room into a beaut book haven? Be my guest and scroll on down for my fave ideas…
8 living room bookshelf ideas that I'm absolutely living for
Whether you want to switch up how you store your books or make your books stand out even more, these ideas cover a range of different needs. I've also picked out some buys to help you get started.

The prices below were correct at the time of publishing this article.
1. Fill the whole wall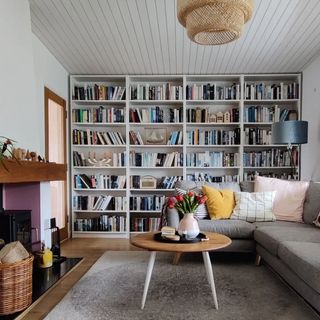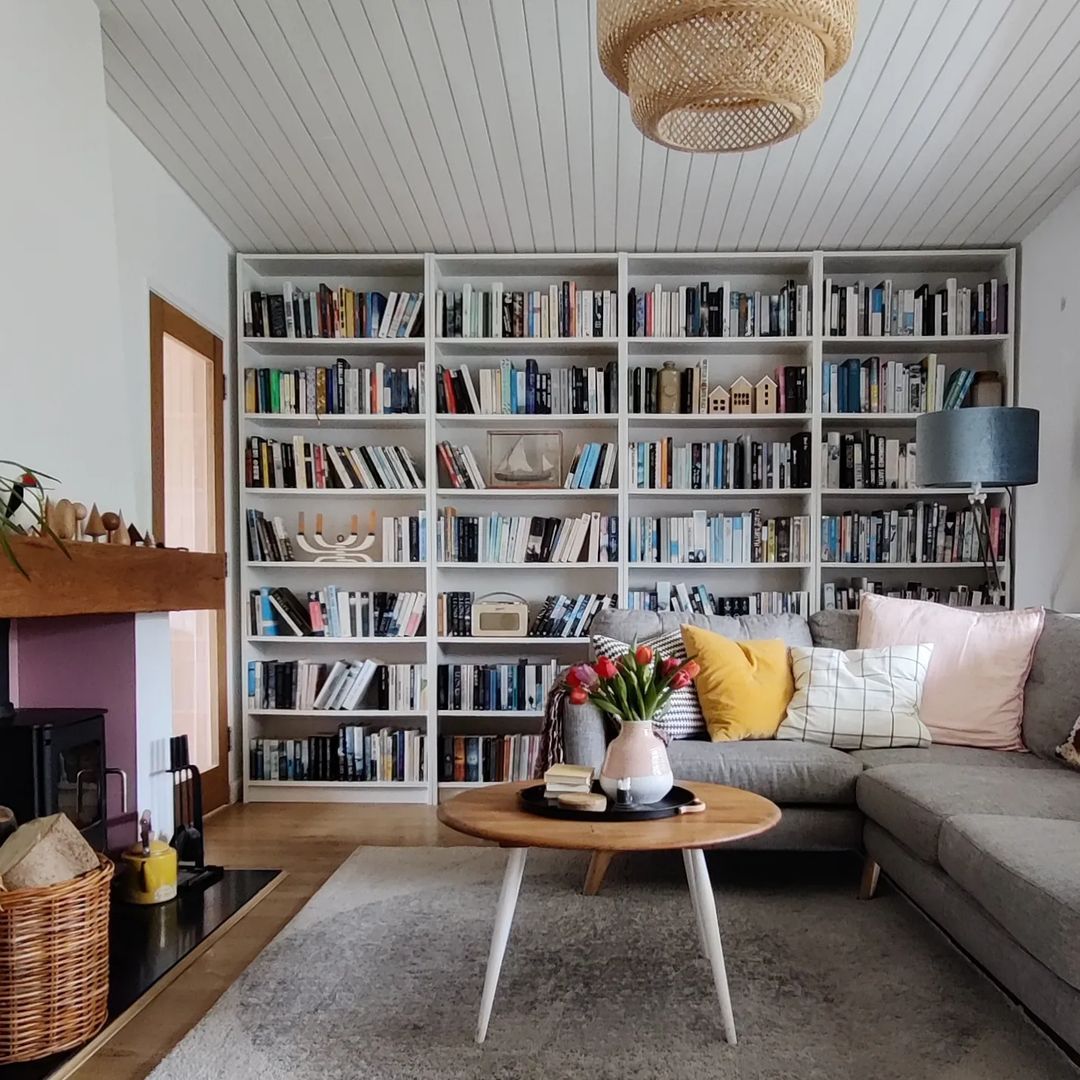 Got a rental with boring white walls that need filling, but not sure where to start? I've got the answer for you: fill it with books, baby. This is especially handy to do if you aren't allowed to hang wall art, but still want to create a bold AF statement. White shelves like @gillian_roe_'s look super fresh and classic, and will go with most decor styles — perfect if you end up moving in future. Or, you could always opt for wooden bookshelves, for a more natural vibe.
2. Make a rainbow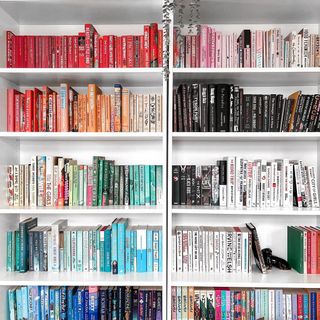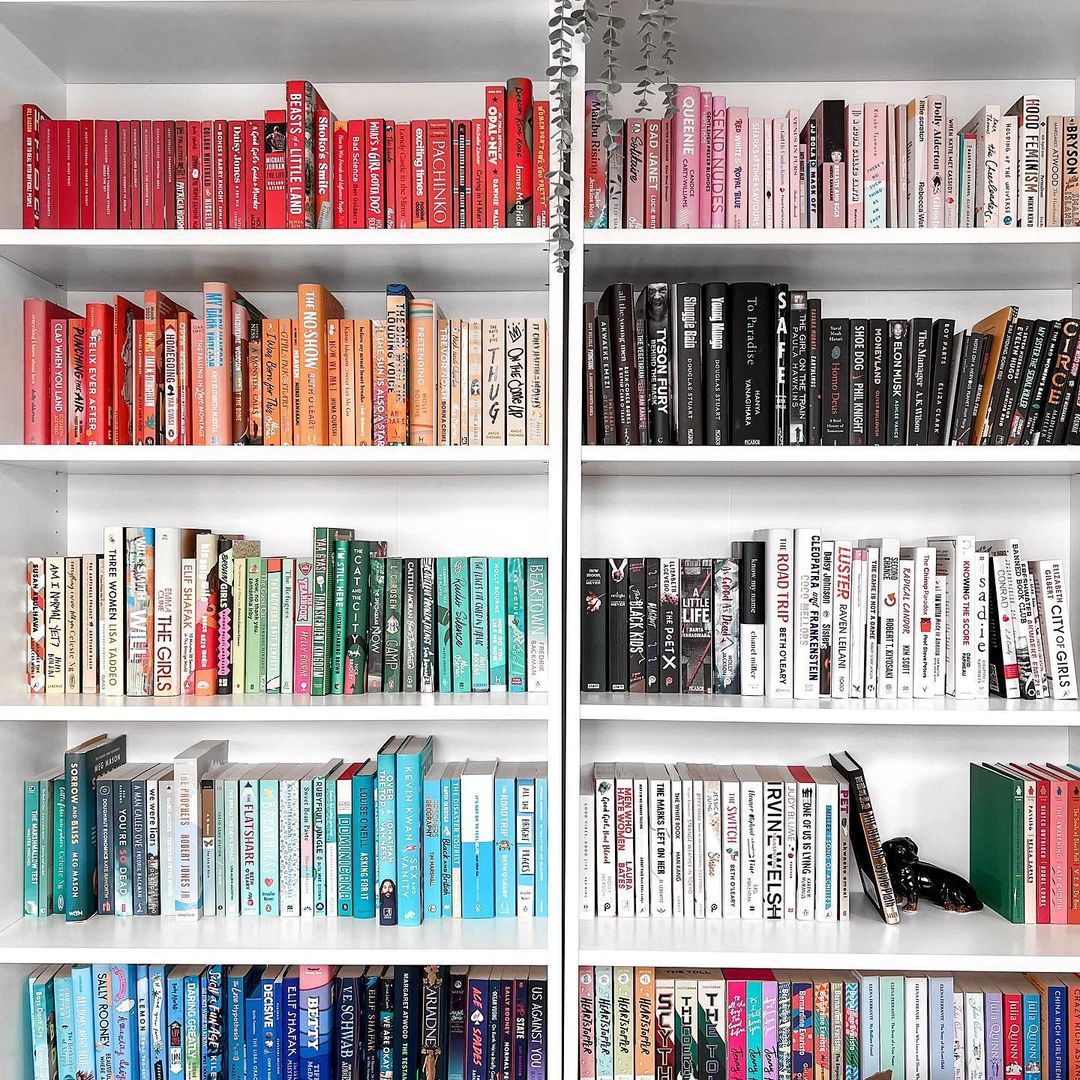 I'm so obsessed with organizing books by rainbow order. It just looks gorgeous, adding a beautiful bright strip of color in the living room. To create your own rainbow shelf, simply organize the books into the different color piles (you can organize your pile by color shade if you're overly picky like me), and then place back on the shelf. BTW, I recommend doing this with existing books that you have, rather than buying a load of new ones.
3. Add a touch of greenery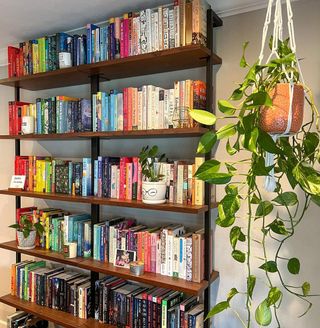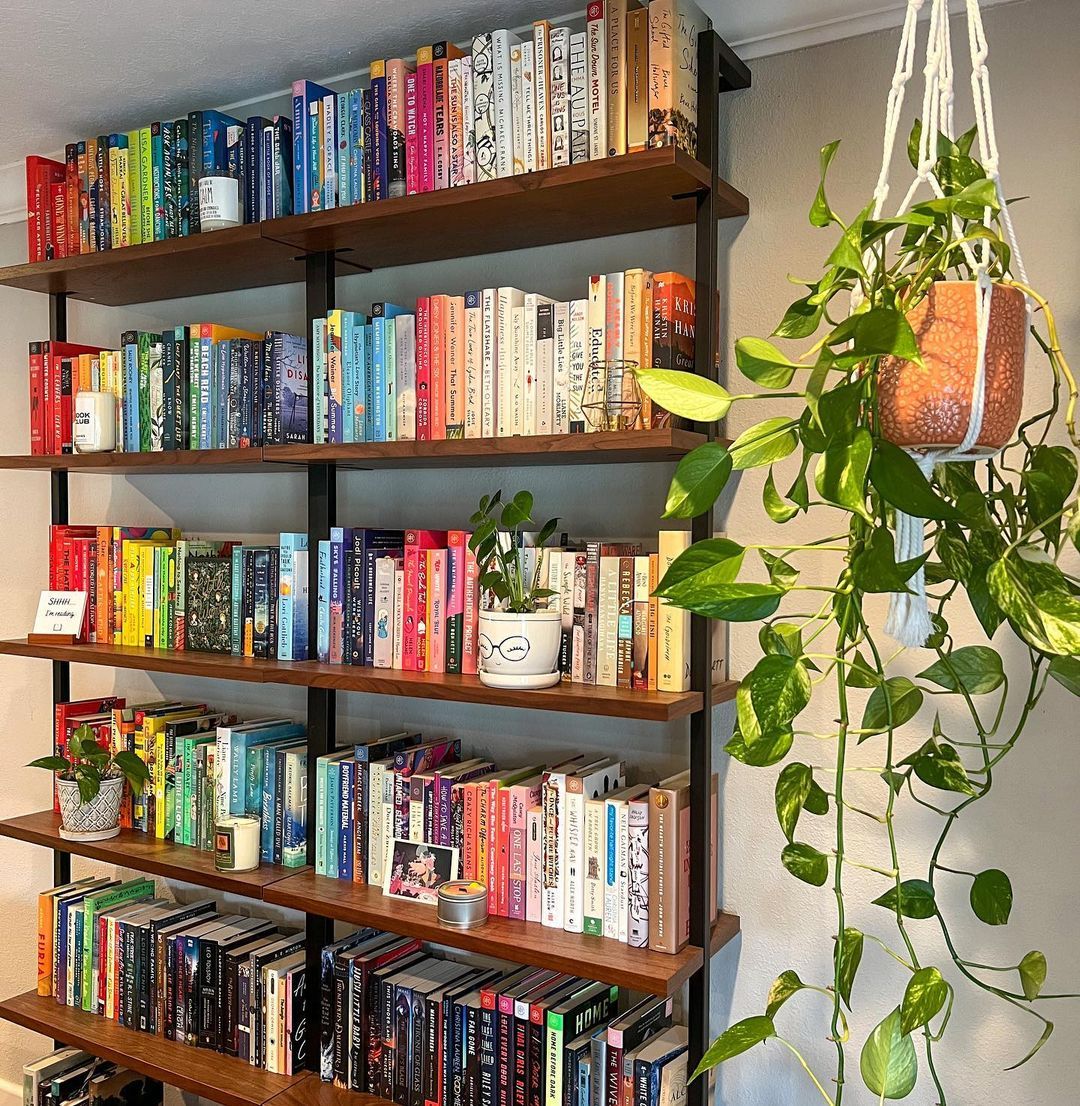 Bookshelves aren't just great for displaying, y'know, books. They can actually make a lovely li'l home for plants too. Green leaves and even flowers can contrast beautifully with the books on display, adding a pop of lush color and texture. It also adds a cozy, forestcore kinda vibe, which is just so cute. I really like how @readswithrosie has used smaller plants on the shelf, and then framed the shelf with a larger hanging plant.
4. Don't be afraid to clutter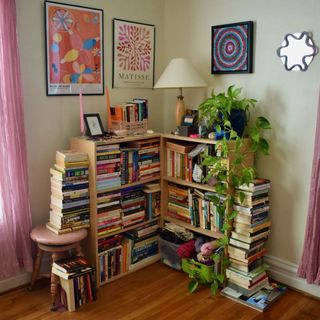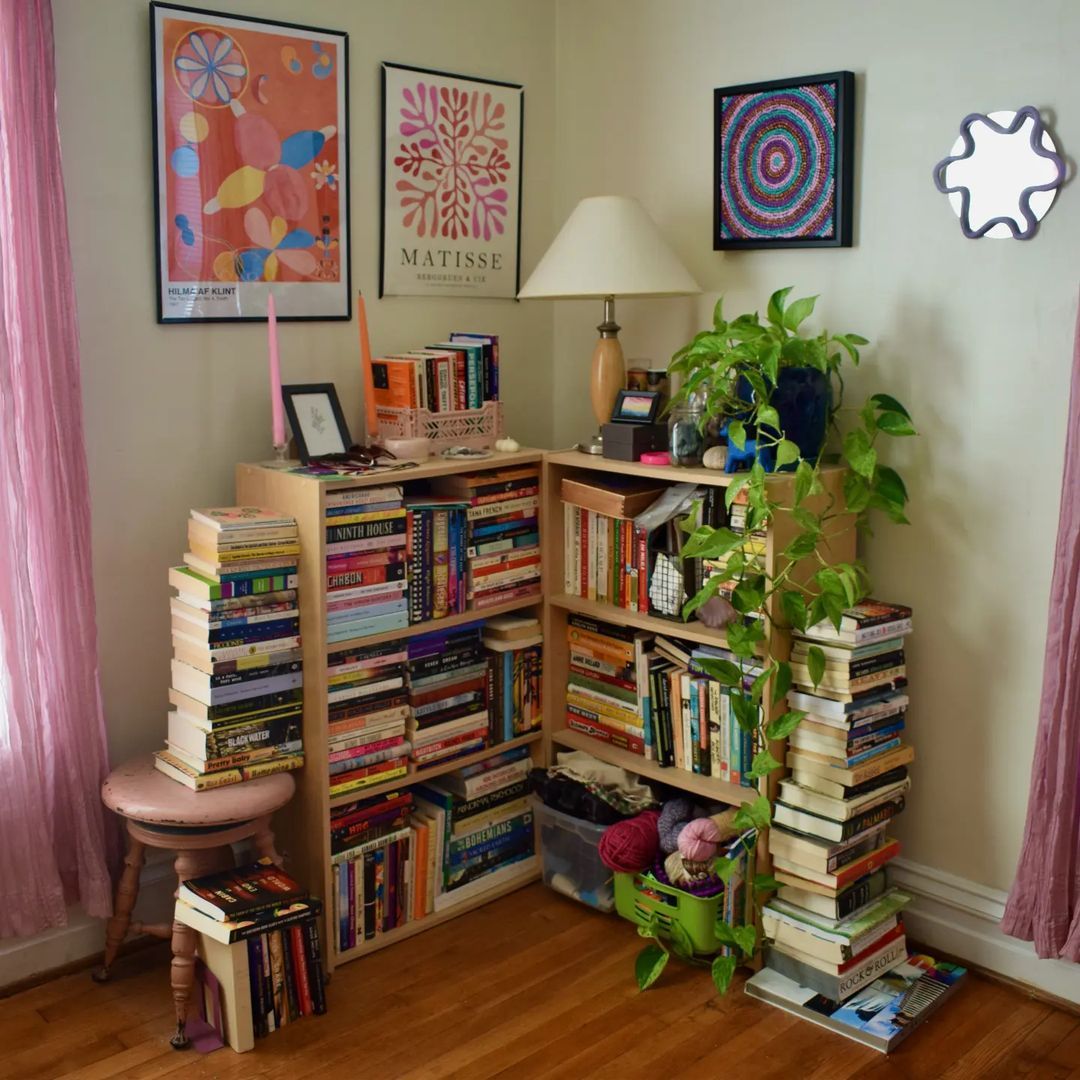 I can see you rolling your eyes a li'l bit here. Aren't you always telling us to declutter, Eve? Well guys, decluttering unaesthetic things you don't need is def good to do. But when you have adorable books you don't have shelf room for, I officially give you permission to clutter. Or more so, artfully place them around. You can do this by leaning books against the shelf, or popping a stack on a stool like @savvylit has. By doing this, they will stylishly fit around the space without looking too messy.
5. Use a storage trolley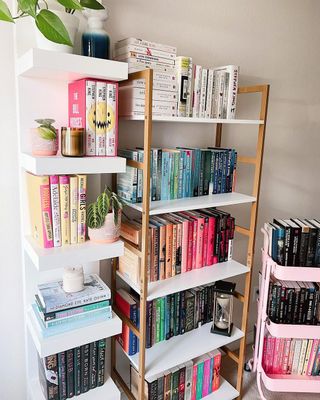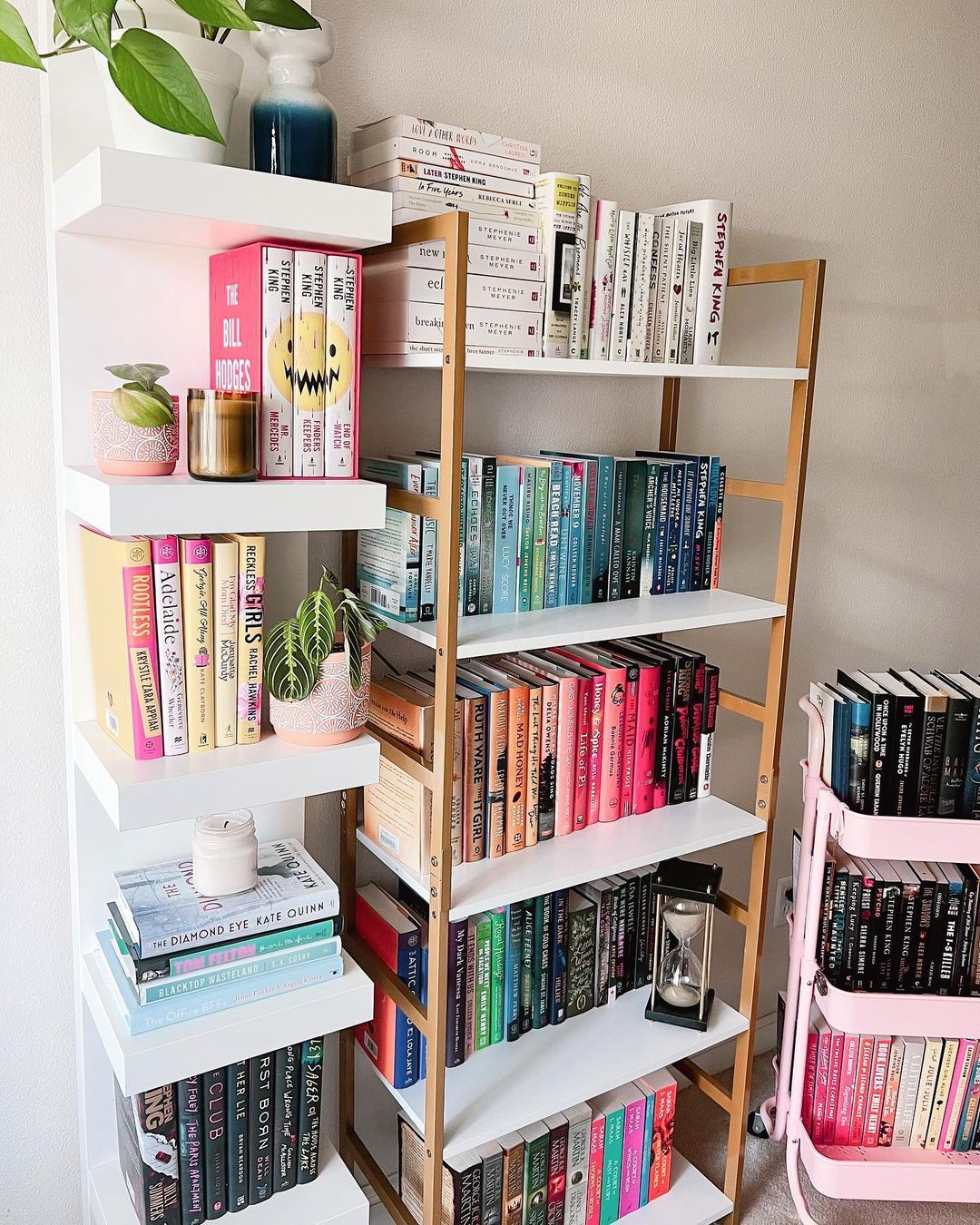 Okay, I'm totally in love with @erinreadss' whole set up, but what really caught my eye was the storage trolley bookshelf. Trolleys are one of my fave ways to create storage space when you haven't got that much room to play with. From holding groceries to doubling as a nightstand, they really can do it all. They're also just the right size for holding books, with their spacious shelves and layers. Plus, you can use them to wheel around your books between rooms, so you can channel your inner librarian.
6. Create a reading nook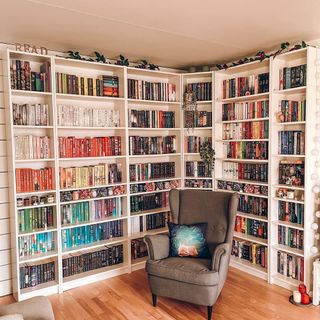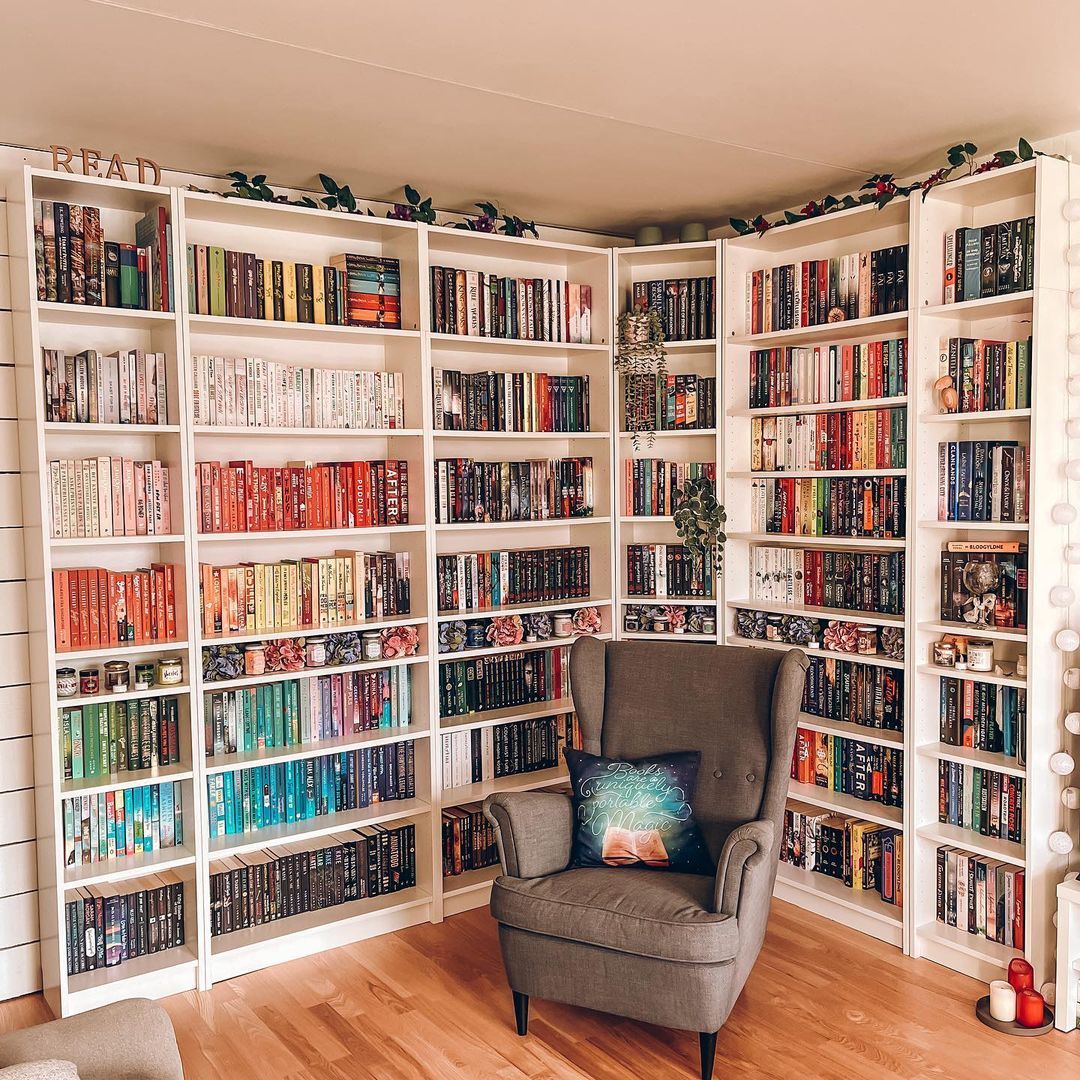 My idea of a good time is tucking myself up into a corner filled with books and delving into a hell of a good read. So, this pic by @thebookchatter is my dream set up. Using a mixture of wider and narrower bookshelves, she has cleverly filled her whole corner with bookshelves. This is a really smart way of maximizing wall space, as well as creating a different zone to relax in the living room. Oh, and the cozy chair to finish it off is a total chef's kiss.
7. Go up high with floating wall shelves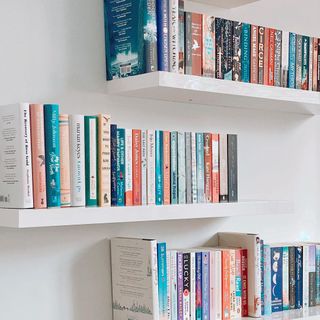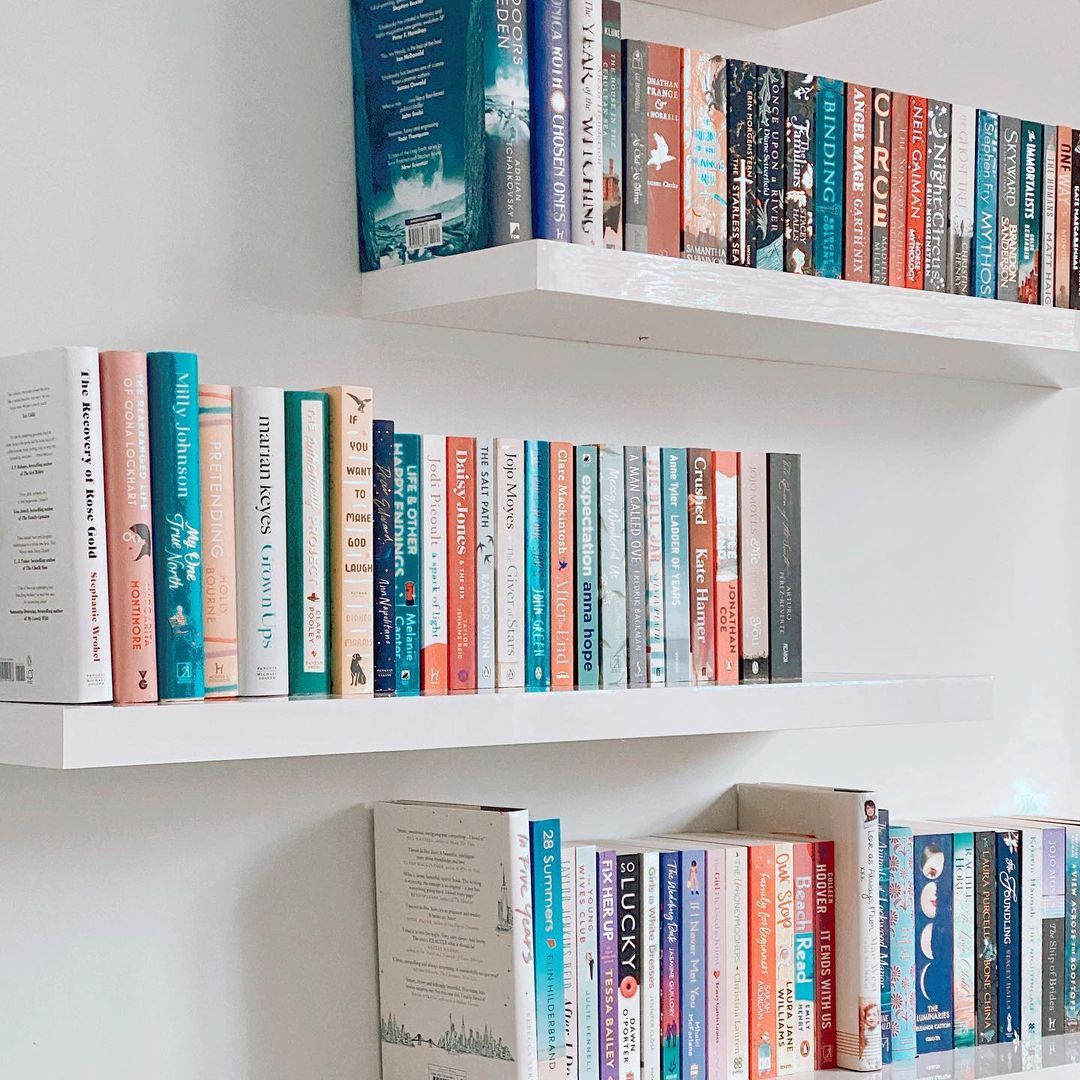 If you're living in a rental with existing wall shelves or you have a landlord that's all good with you hanging shelves, they're a great way to display books. @readingtorelax has arranged her shelves with varying heights, which is a fun way to draw the eye to different parts of the wall. You could go for a minimalist wall shelving to make your books shine, or go for something more artistic, such as ones with metallic brackets.
8. Bring out your book's (and your) personality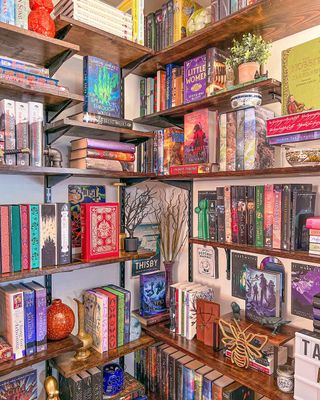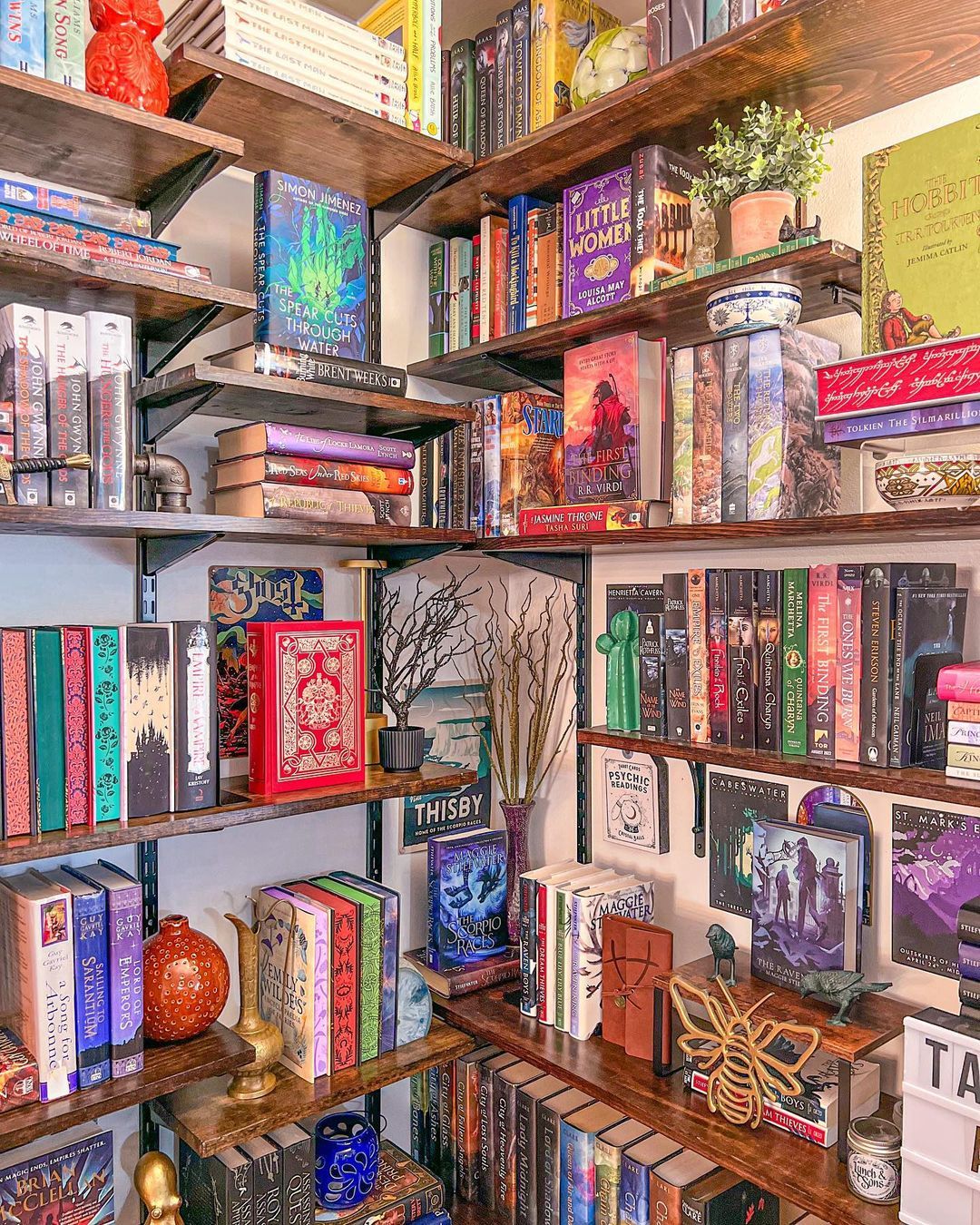 One of the best ways to make your interior come to life is to add pops of personality along with your fave stylish pieces. I'm really into this idea of showing off your book genre taste by matching the shelf decorations to it. @shannasaurus_rex_reads has made her fantasy-themed bookshelf look even more fantastical through picking complementary pieces, such as the metallic birds, gnarled branches, and printed wall art. If you're loving this idea too, have a flick through your books, and see if there are any themes you could bring out in decor form.