Unless you can physically take the covers off of your furniture, the likelihood that it'll ever get properly cleaned is minimal. Even if you could take the covers off of your fabric, there's no point paying to take them to the dry cleaners when there's only a mark here and there that needs lifting. With that the case, spot cleaning has become an ever popular way to keep furniture clean, so we've put together this list of upholstery cleaners to help you choose the right one.
Whether your upholstery is traditional or modern, you'll need a good upholstery cleaner to help you keep your furnishings fresh and hygienic. While your favourite armchair may look clean from a distance, over time, dirt can become embedded in the fibres, so a good upholstery cleaner will work its way deep into the fabric to give it a complete refresh. Leather upholstery, too, can be easily become discoloured or marked over time, so using the right upholstery cleaner is essential to bringing it back to its former glory.
Before you use any upholstery cleaner, you'll need to make sure you read the label (or the paperwork) that came with your furniture so you can ensure that you're using the right one – some furniture will require a water-based cleaner, while others require water-free products and others may advise against using upholstery cleaner altogether. In our list of the best upholstery cleaners, we've provided you with a combination of shampoos, sprays and aerosols so you can choose the best method for you. Before you buy, make sure you double check the ingredients, and test it out on a hidden part of your furniture first to make sure that there are no adverse effects.
When looking for the best upholstery cleaner, Amazon is a good place to start, as you can often get bigger bottles at a more cost-effective price. They're also incredibly accessible for those who prefer to head to the supermarket shelves, or need an upholstery cleaner pronto!
1. Hoover Platinum Collection Carpet & Upholstery Detergent
Make easy work out of tough stains with this hard-core upholstery cleaner
Specifications
Best for: Tough stains
Type: Detergent
Brush included: No
Size: 1478 ml
Reasons to buy
+ Professional strength + Approved by the Carpet and Rug Institute
Reasons to avoid
- Too tough for some fabrics
Hoover promises that this upholstery detergent can tackle the likes of grass stains, blood, vomit and the implications of unavoidable accidents from pets and children. Professional strength, it's a tough one, so you'll need to make sure that your fabric can handle it before you use it by reading the label and making sure to test in a hidden area first. Hoover recommend that you use this upholstery detergent alongside its spot cleaner, so it could be a fairly big investment if you haven't already bought the device. Hoover, and existing users, certainly make it out to be a worthwhile investment, though.
2. BISSELL Carpet and Upholstery Aerosol
An easy to use upholstery cleaner with a built in brush
Specifications
Best for: Easy to use
Type: Aerosol
Brush included: Yes
Size: 353 ml
Reasons to buy
+ Use on fabrics that require a foam or water-based cleaning agent + All-in-one cleaner and brush
Reasons to avoid
- Not the most cost-effective
If you're willing to sacrifice cost-effectiveness for convenience, then you can't really go wrong with this upholstery cleaner. For use on fabrics that require a foam or water-based cleaner, you only need to squirt a little bit on and use the brush to dislodge the dirt before blotting away with a damp cloth – easy peasy if you don't have the time to extensively clean your furniture. Small in size, it's not the most cost-effective, but should fare well as an essential go-to in the event of an accident or an inexplicable mark appearing.
3. Vanish Pet Expert Carpet Care
A convenient foam spray for an instant stain solution
Specifications
Best for: Pet stains
Type: Spray
Brush included: No
Size: 500 ml
Reasons to buy
+ Spray and blot + Easy to get hold of
Reasons to avoid
- Most effective on new stains
While some embedded stains require a tough cleaner to dissolve them, newer stains, such as a spillage or a pet accident should be easy to remove with this carpet/upholstery spray. It's incredibly easy to use – just spray and blot – and it can be bought in any supermarket. It doesn't require a cleaning device, or diluting, making it the ideal go-to for those who don't have the time to mess around with excessive cleaning.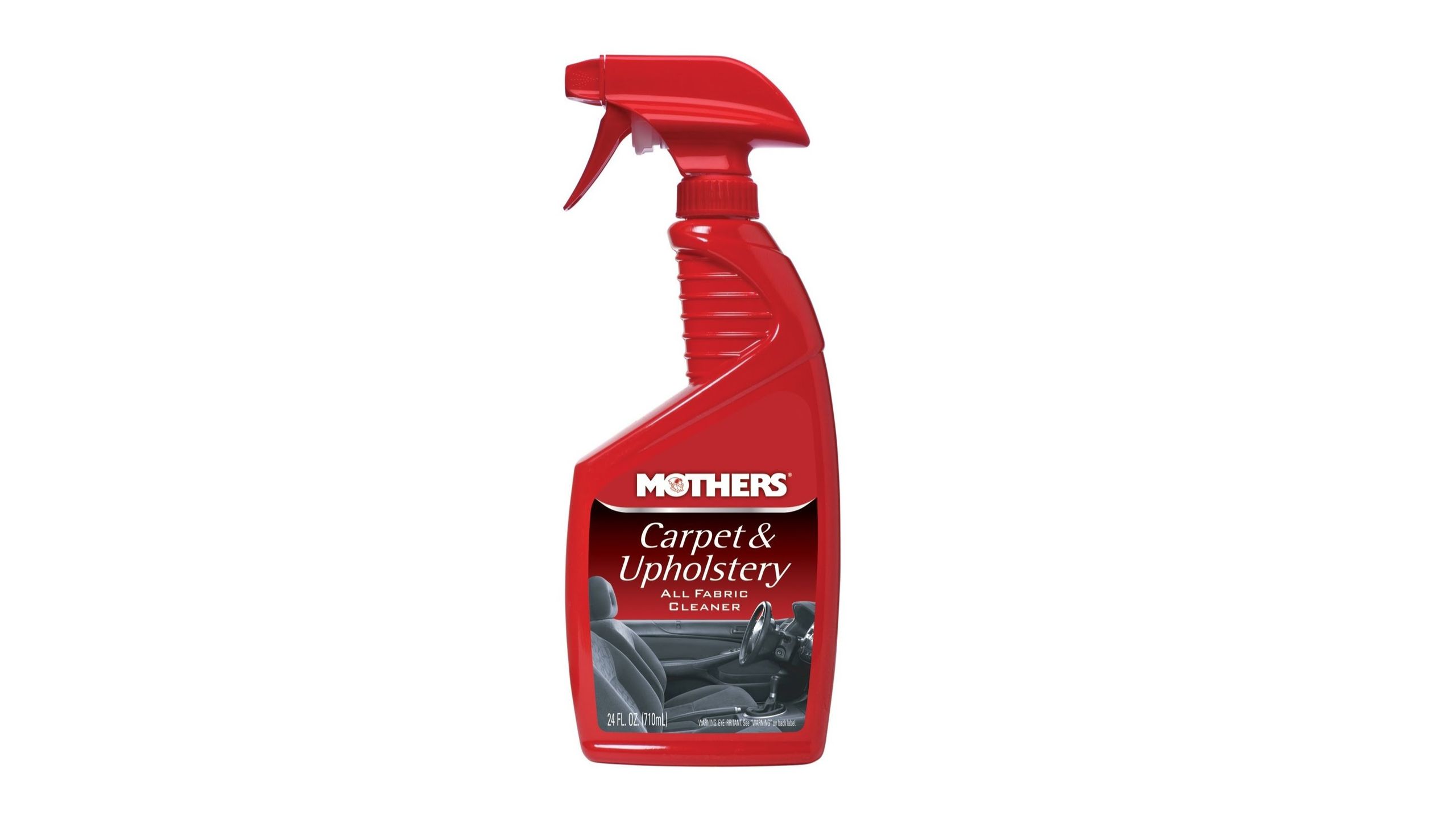 4. Mothers Car Carpet & Upholstery Cleaner
Don't forget about your car interior – keep that clean, too, with this car cleaner
Specifications
Best for: Multi-purpose
Type: Spray
Brush included: No
Size: 710 ml
Reasons to buy
+ Use on multiple surfaces + Easy to use
Reasons to avoid
- Not as strong as other cleaners
While marketed as a car cleaner, this carpet and upholstery cleaner is actually okay to use on the likes of vinyl, velour, cloth, carpet and even sheepskin, thanks to its pH balanced formula – although make sure you check the label of bottle before use, and use in a hidden area first. Okay to use in the car and at home, this is a fairly good all-rounder, although not as strong as others, which means tough stains take a while to come out.
5. Armor All Carpet and Seat Foaming Cleaner
Especially formulated for car parts, this cleaner is primed for removing dirt and grease
Specifications
Best for: Car cleaning
Type: Foam
Brush included: No
Size: 500ml
Reasons to buy
+ Effective at removing ground in dirt and grease + Also use on vinyl, rubber and plastic
Reasons to avoid
- Not particularly cost effective
Muddy shoes, grubby hands, leaking shopping bags - it's no wonder your car interior seriously discolours over the years. Whether you're looking to give your car a spring clean or want to make sure its in pristine condition to sell, this product from Armor should help you to bring your car interior back to its former glory; from seats, mats and even your steering wheel (as long as it's not leather), it should remove marks and stains without fading the material or leaving it dry.