On the hunt for some creative shed paint ideas to spruce up that tired looking wood? Whether your 'shed' is a garden room, studio, office, wooden Wendy house for the kids or simply is a man-shed, now's the time to give it a lick of paint.
There's no excuse for sheds to stay in their rustic wood shade anymore – there's a huge array of shed paint colours to choose from these days! And you can match them to your furniture – we've found our fave combos for you to copy below. Pick a colour, choose a warm sunny day and transform your shed into a thing of beauty.
For more great garden ideas, don't miss our gorgeous design gallery.
1. Go for a classic green shed paint
Renowned for their stunning garden rooms, Marston & Langinger have developed an outdoor paint range as part of their Alitex Collection and this lovely Passiflora 101 shade is part of it. This beautiful deep green will allow your shed to blend into its surrounding whilst protecting the wood from the rain and wind that will no doubt appear in autumn! There are 14 other colours to inspire your shed paint ideas, all perfectly complement each other.
For more of the best exterior wood paint head to our buying guide.
2. Pick an uplifting sky blue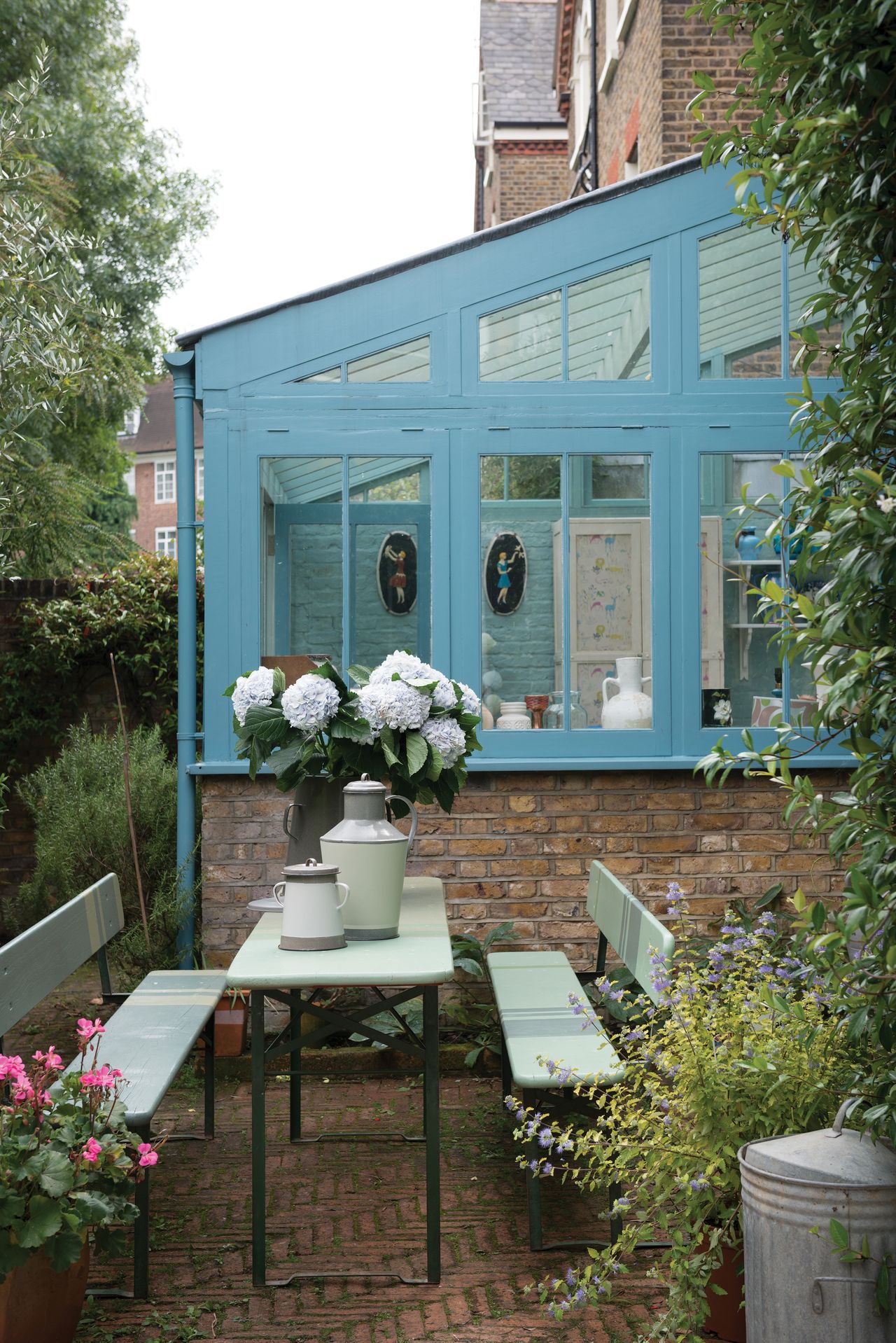 As we can't rely on seeing blue sky during the summer months, why not create your own instead with this gorgeous shed paint idea? Don't restrict yourself by thinking that wooden window frames have to stay white – they look stunning painted and we love how this blue has transformed this space. You can copy this look by choosing Farrow & Ball's Stone Blue No. 86 exterior eggshell, it will be long lasting and you can paint it both inside and outside as shown here.
For more tips on how to use paint to brighten up your garden, head over to our feature.
3. Paint your shed all white for clean look
There's nothing fresher than pure white is there? It looks clean, has a Scandi element and is ideal if you love minimalism – and if you change your mind next summer you only have white to paint over! This pure brilliant white from Sandtex has a soft satin finish and is very quick drying which is a bonus with our unpredictable weather! There's six other shades to choose that are all easy-on-the-eye.
4. Make a statement with bright contrasting colours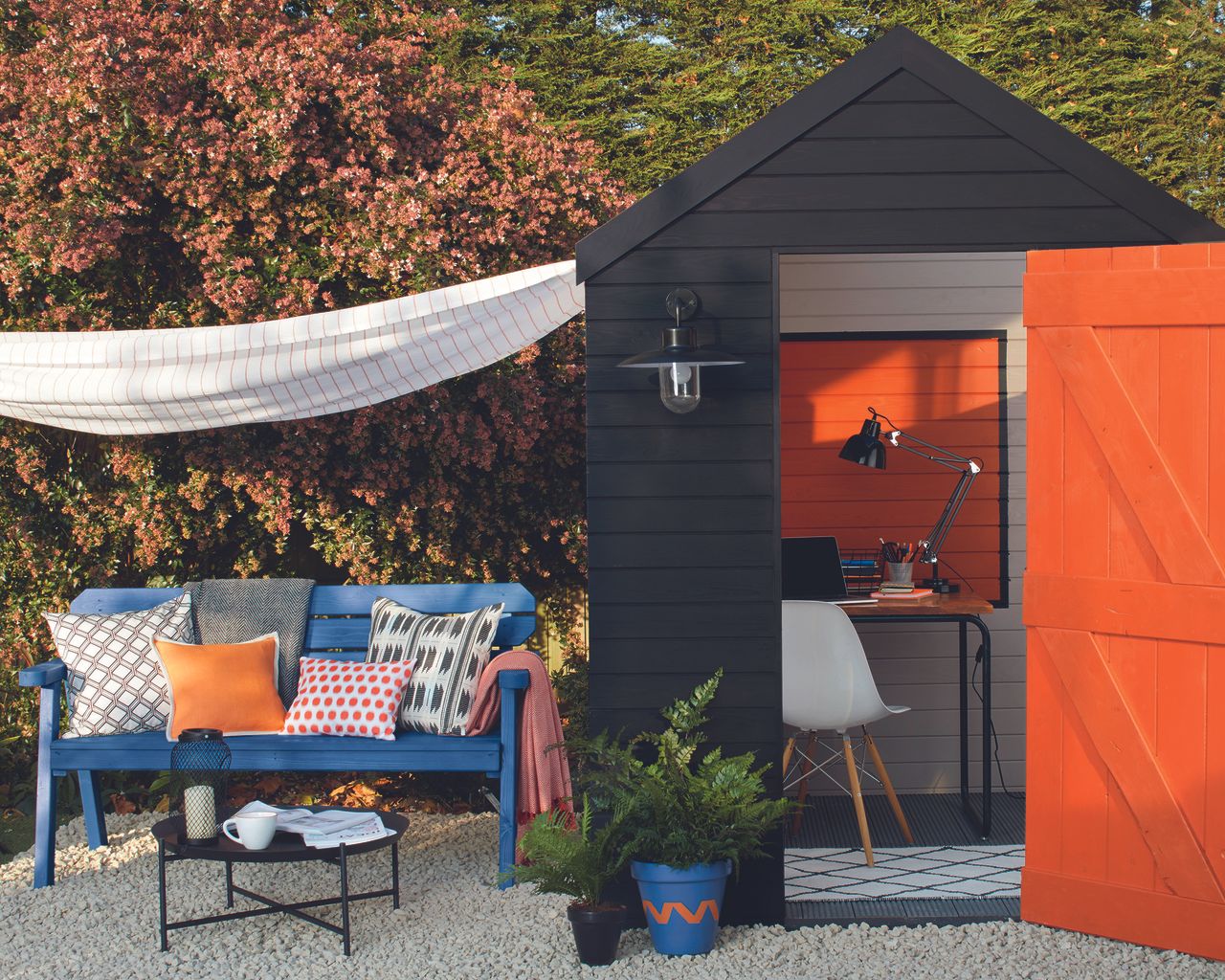 Why not be adventurous with your shed paint ideas and go for two colours? We love how the inside of the door is painted orange and the interior has two colours - be bold and make it an extension of your home – especially if it is your office and you're working in it daily, you need to love being in there. Both shades are from Cuprinol - Black Ash and Honey Mango and are designed to protect sheds, fences and garden wood - you could paint your furniture to match!
5. Upcycle a shed with pink and grey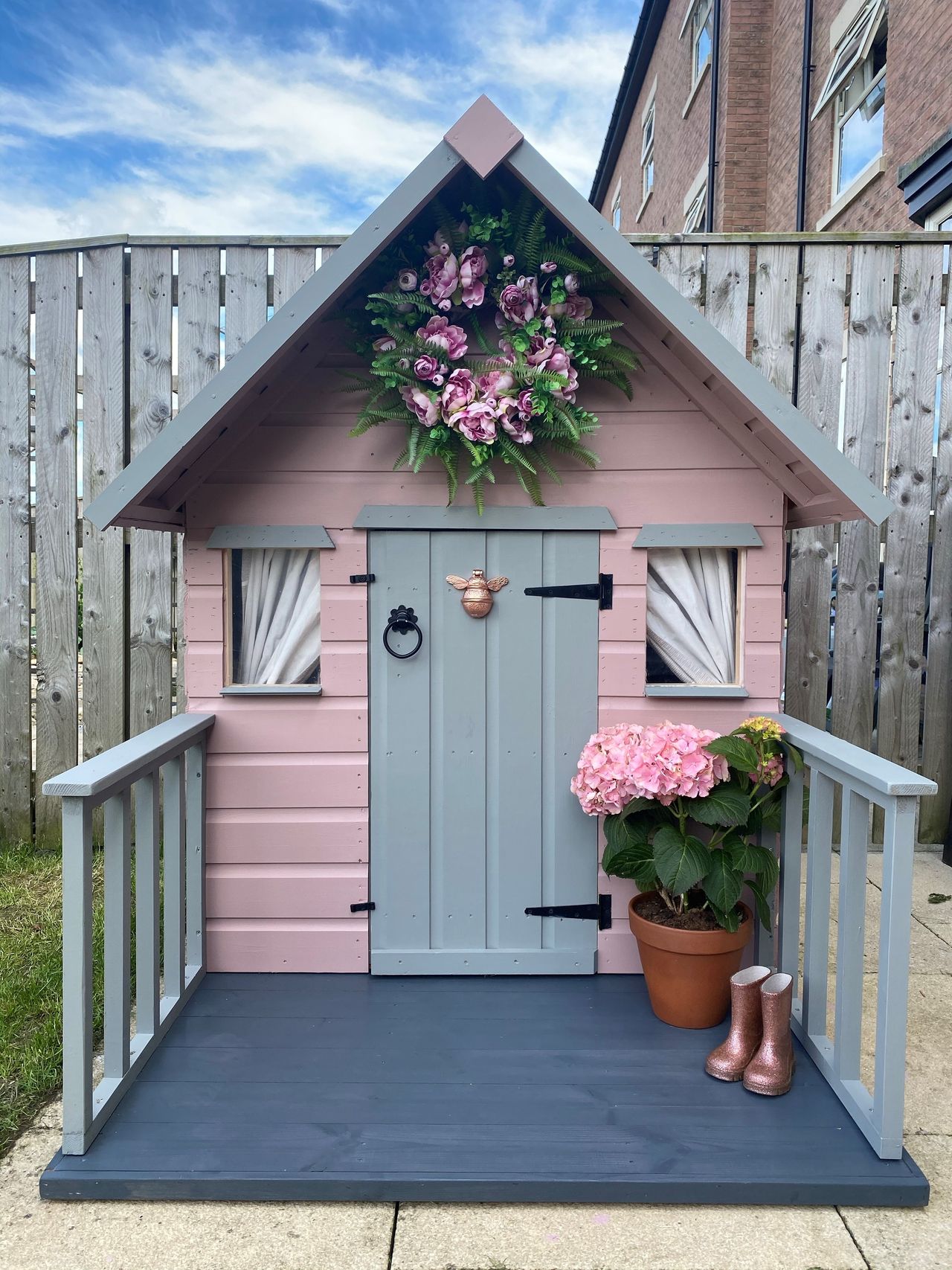 It's not only sheds that can be painted - look at this beautiful Wendy house that Victoria from @brass_bee painted for her daughter. She used Greyhound and Dusky Blush which look great together because they both have the same tone - that's key to creating a harmonious duo of colours.
6. Create a beach house shed with blue and white
This fab beach house shed is one of the favourites in this year's Shed of the Year competition run by Cuprinol. Staycation in your shed? Why not, if it's as pretty as this one, by Pat Crook, who decorated it to give her dad, who has dementia, days out at the seaside. He loves to sit in it and listen to music from when he was young – and Pat even says they pack sandwiches to eat down there for a real day at the beach (despite the fact they're slap bang in the middle of Yorkshire. We LOVE the nautical motifs and the bright blue colours.
7. Paint it black to show off planting
Painting a shed black is a brilliant way to make a modern outbuilding look like it's always been there – perfect for a period property – and it's ideal for highlighting greenery that sits in front of it. Love this look? Extend it to your fencing, too.
Read more: