Looking for feature wall ideas that will bring style, color and personality into your space? It can be as simple as popping up a patterned wallpaper, painting a mural (if you are skilled enough) or simply painting one all in a different color. There's no right or wrong, the only rule is to have fun and enjoy it. Have a look at our five ideas below for some inspiration and head to our feature wall ideas gallery for more looks to copy. 
1. Make use of what you already have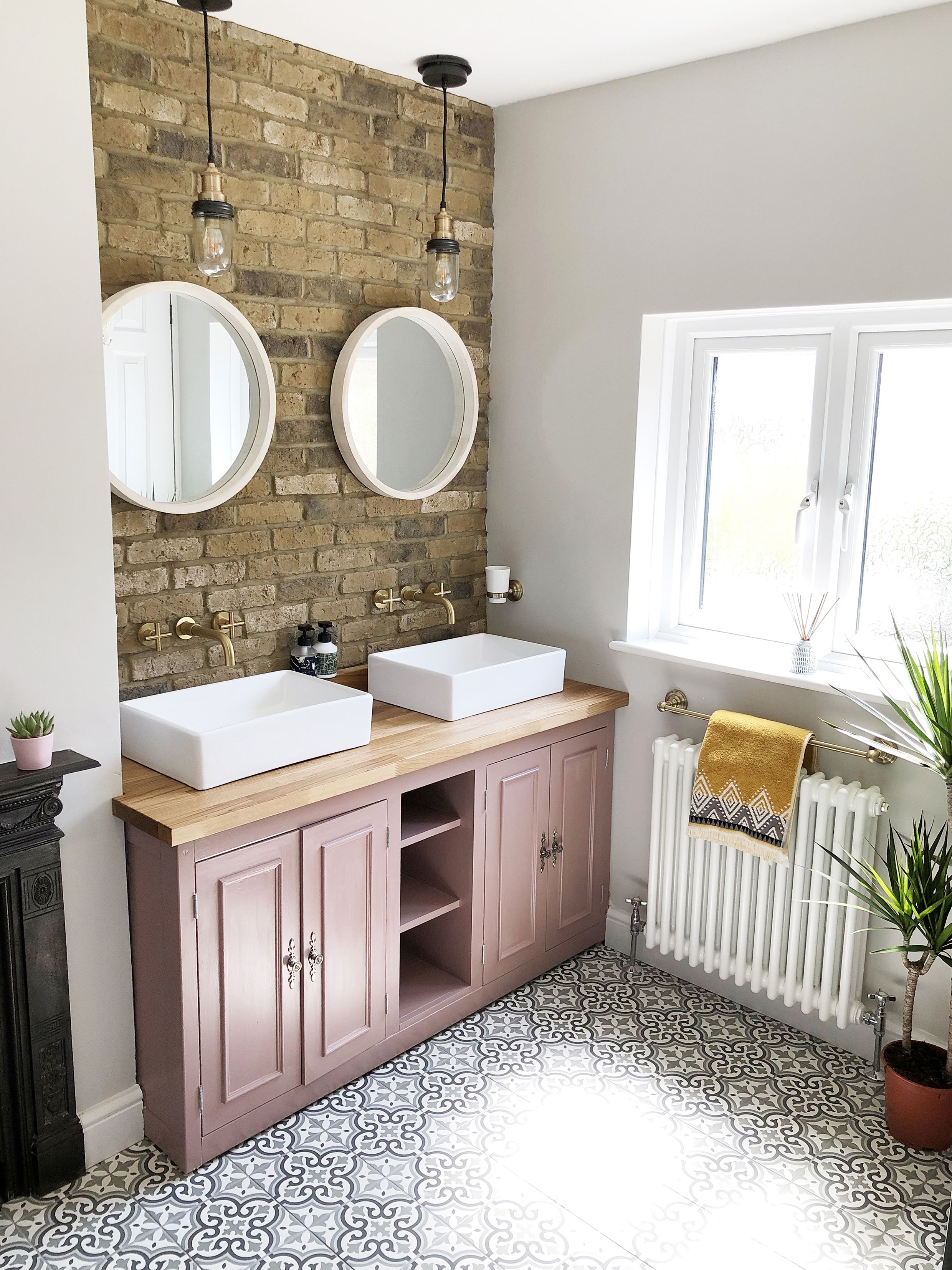 Sometimes we have a feature wall already, but maybe we can't see that it's right in front of us, especially if you are in the middle of a renovation. Take this brick wall for example - there are wallpapers that have an image repeated for a classic brick wall, and if you want to create an industrial feel in your space then instead of plastering it over keep it exposed instead. By painting the other walls you create a feature by leaving it alone and often, simple is best.
For more exposed brick wall ideas check out our full feature. 
2. Create an easy feature wall with paint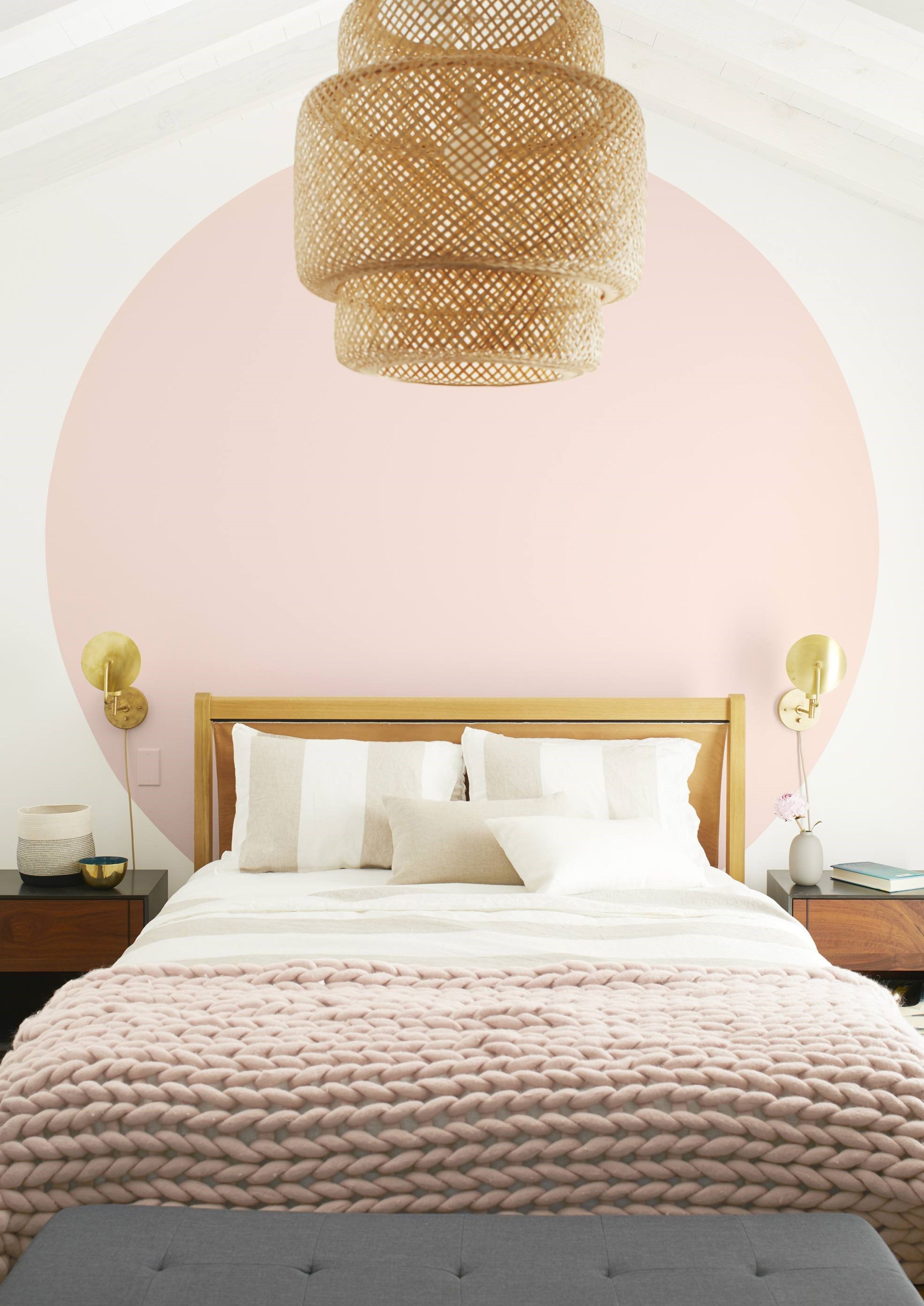 Creating shapes with different colors is a big trend this year and one we believe will grow more as we reach 2021. It's eye-catching and can be as subtle or bold as you like. To create a circular shape like this, you need to put a pin or nail in the middle with some string attached to it measured to the width you want to go - and a pencil tied to the other end. Then you 'draw' a circle leaving the pencil mark on the wall. Paint your circle in your chosen color and you then paint the rest of the wall in another or leave it white like this bedroom. 
3. Go for a big floral print for a dramatic look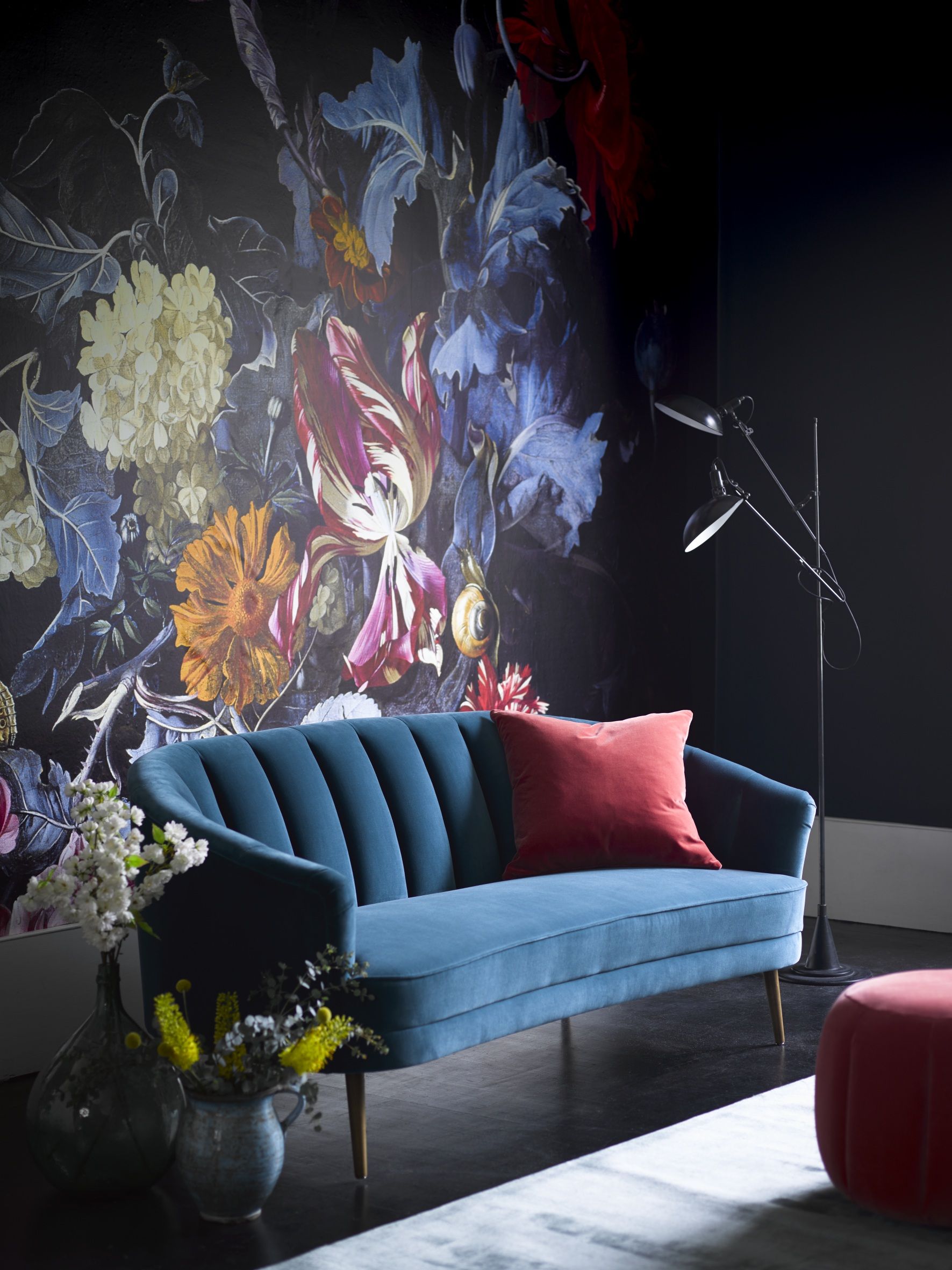 This really is the ultimate feature wall isn't it? Stunning big blousy floral mural panels that create a dark and dramatic feel whilst adding a burst of color simultaneously. This is a bold look so to make it work you need balance, keep the walls plain but in a color picked out from the mural and accessorize with a beautiful texture like velvet. Add in a pale rug for a spot of contrast to prevent it from all looking too moody if you want to lift the scheme a little.
4. Pick a striking wallpaper as a feature wall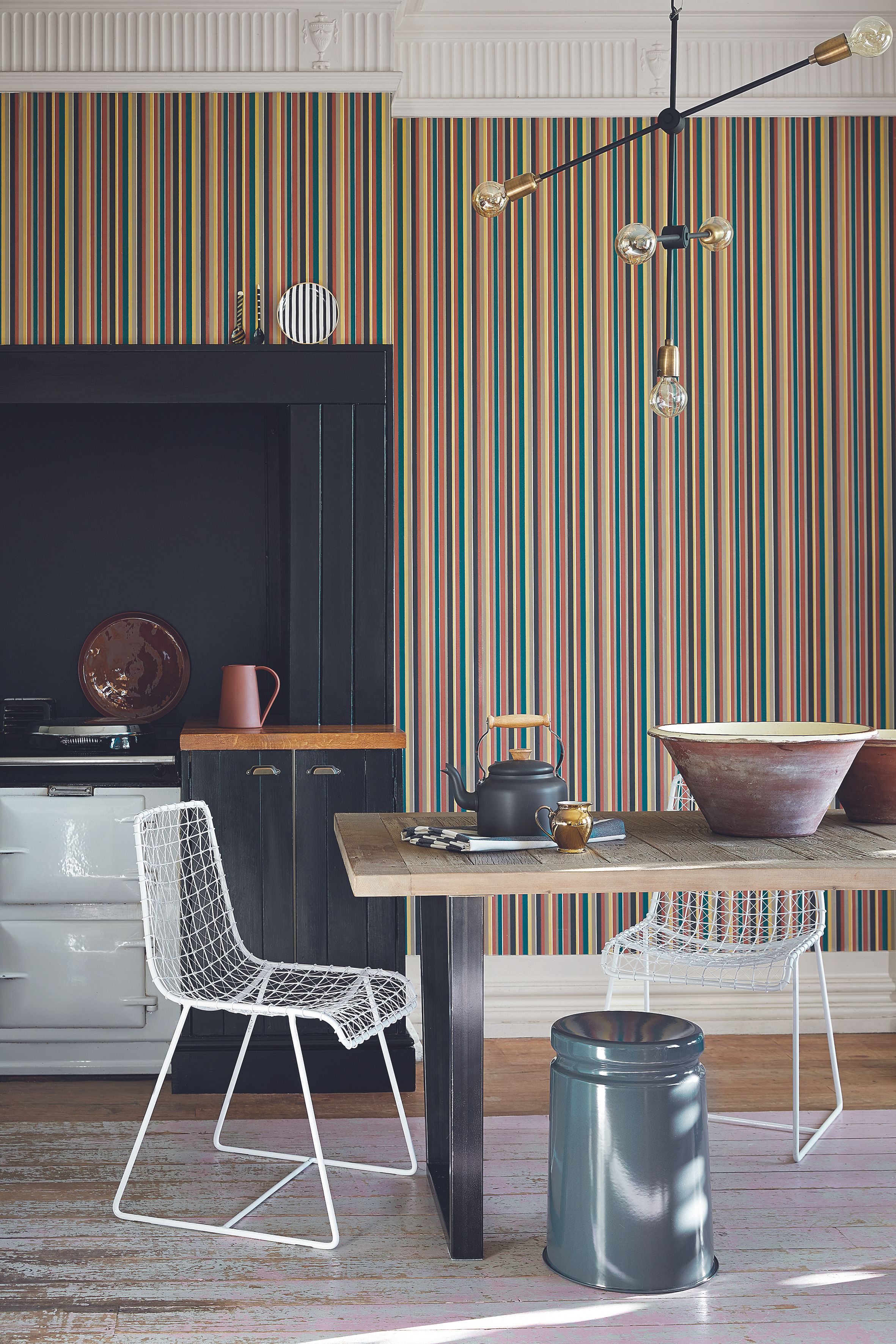 Gone are the days of believing we need to paper every single wall in the room, in actual fact, less is always more and you can create an eye-catching feature by only papering one wall, or one side of a room. This kitchen shows you how to make it work successfully and stripes also give the illusion of height so a double win if you pick this design! The black painted surround is a strong look that helps to create the overall statement wall and the white Aga, woodwork and chairs add balance.
For more kitchen ideas head over to our feature. 
5. Create a feature wall that's unique to you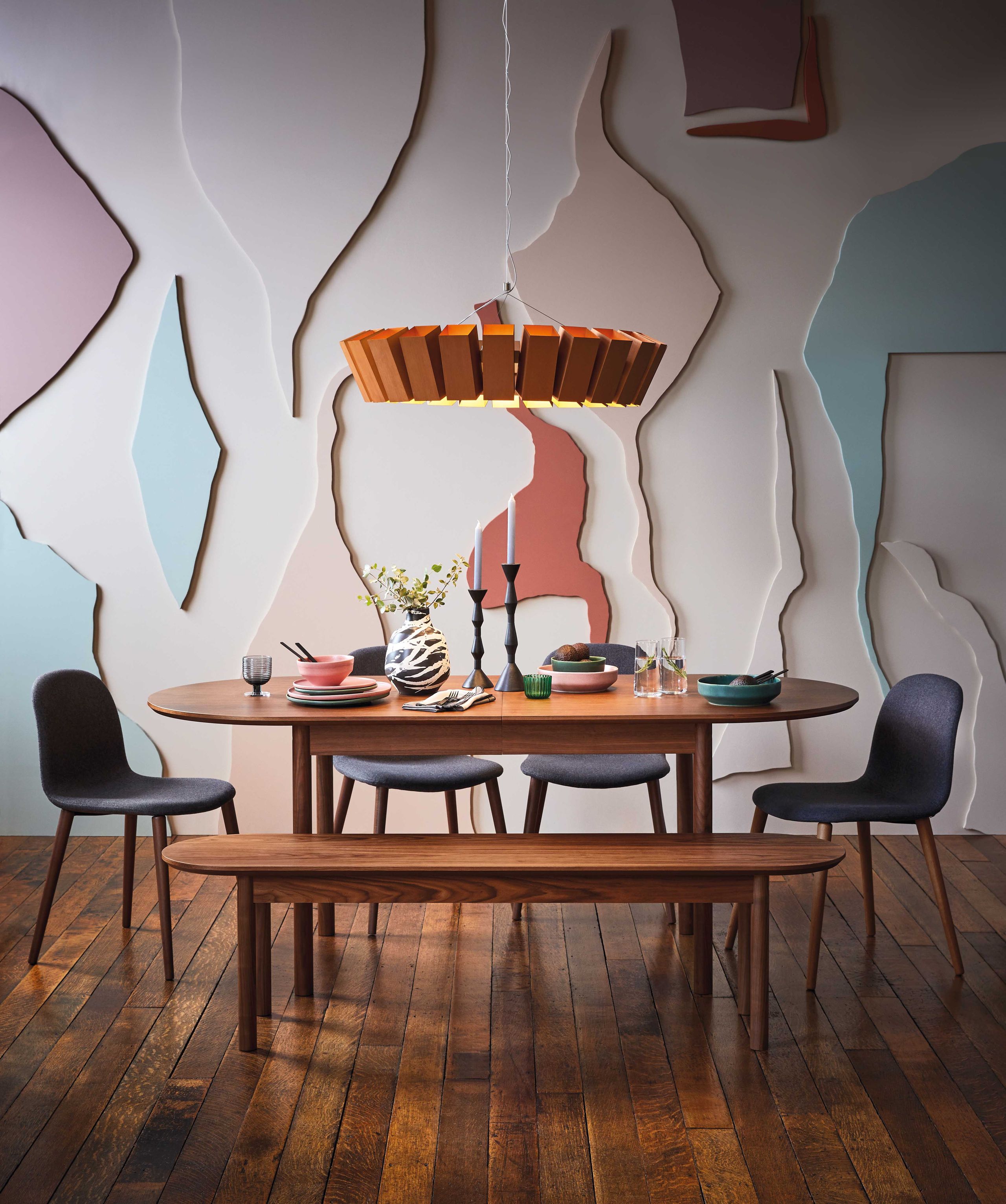 Okay, so this is a pre-designed wall that possibly involves painted MDF in different shapes, however, it shows how to create a spectacular backdrop in this dining room. And one you could create yourself with two or three paint colors and a bit of freehand painting because as we say above, shapes are IN so be brave and have a go – this wall shows you how they can be irregular and still look marvelous. 
Check out our dining room ideas gallery for more stylish looks. 
Read more: