Apple green, bottle green, acid bright or barely there? There are so many green shades to choose from and each will have a different effect on your bathroom and mood. The shade you pick can make a room feel cozy and intimate or vibrant and energetic, so opt for one that best suits your personality and style for your bathroom – it is a room to relax in after all!
1. Paint your bath in shades of green
Bathroom wallpaper is a great way to add an expanse of color and pattern to a space so let it be the star of the show! Then, you can pull out a couple of the key colors to paint your bath. The flat matt color matches that of the wallpaper - no shiny shiny here! You could have the floor in a plain green or if you're feeling brave then choosing a square design in various shades to complement the wallpaper.
2. Add pops of green
If you're a color lover of many shades then team green with your other favourite hues. This bathroom is a great example of how to make it work – small pockets of color that are of the same tone working harmoniously together. Then tie them together visually with accessories in the various shades. Towels, vases, and a plant or two will do the trick.
3. Explore all the shades
As with all colors, there are literally hundreds of different hues within the spectrum of green, this means you can really dig deep and discover a shade that suits you but may sit close to another color. Take this bathroom for example, the green has a hint of grey in it that gives it a sophisticated feel. It looks great with jet black and other tones of grey from the slate like tops to the concrete style floor tiles.
4. Go for a tropical green splashback
This rather striking metro tile splashback is a stylish addition to this bathroom. The bold color looks great with the pale green wall and sky blue unit, which incidentally work because they are of the same tone – this is key to creating a cohesive scheme. The white grouting adds a decorative aspect and creates a punchy feel, we love the pop of the yellow jug too!
5. Make the most of a small bathroom
Small bathrooms are a great place to experiment in from a design point of view. Why? Because of their size it means you can buy those lush green tiles you've yearned for over the years that would cost a bomb in the family bathroom - yet in the teeny room they become reasonably priced! It's also a fab way to create a statement - these tiles are so eye-catching that you can forgive the space for being so small.
6. Or make a large bathroom feel cozy
Painting one color from floor to ceiling can make a big space feel more intimate which is exactly what you want to achieve in a bathroom. It's best to choose a muted shade of green that will add relaxation rather than a vibrant shade which could have the opposite effect. You can add contrast with a pure white bath and vintage pieces and check out that wet look floor - it works beautifully with the matt walls!
7. Choose green tiles
Tiles offer a practical aspect in a bathroom that you don't quite get with painted walls. Easy to wipe down and they can be placed to create a decorative aspect, bathroom tiles add instant color to a scheme. This bright shade looks super fresh with white - we love the taps and worktop! The sandstone style basin adds warmth to the bathroom and you could choose towels to match.
8. Wallpaper your ceiling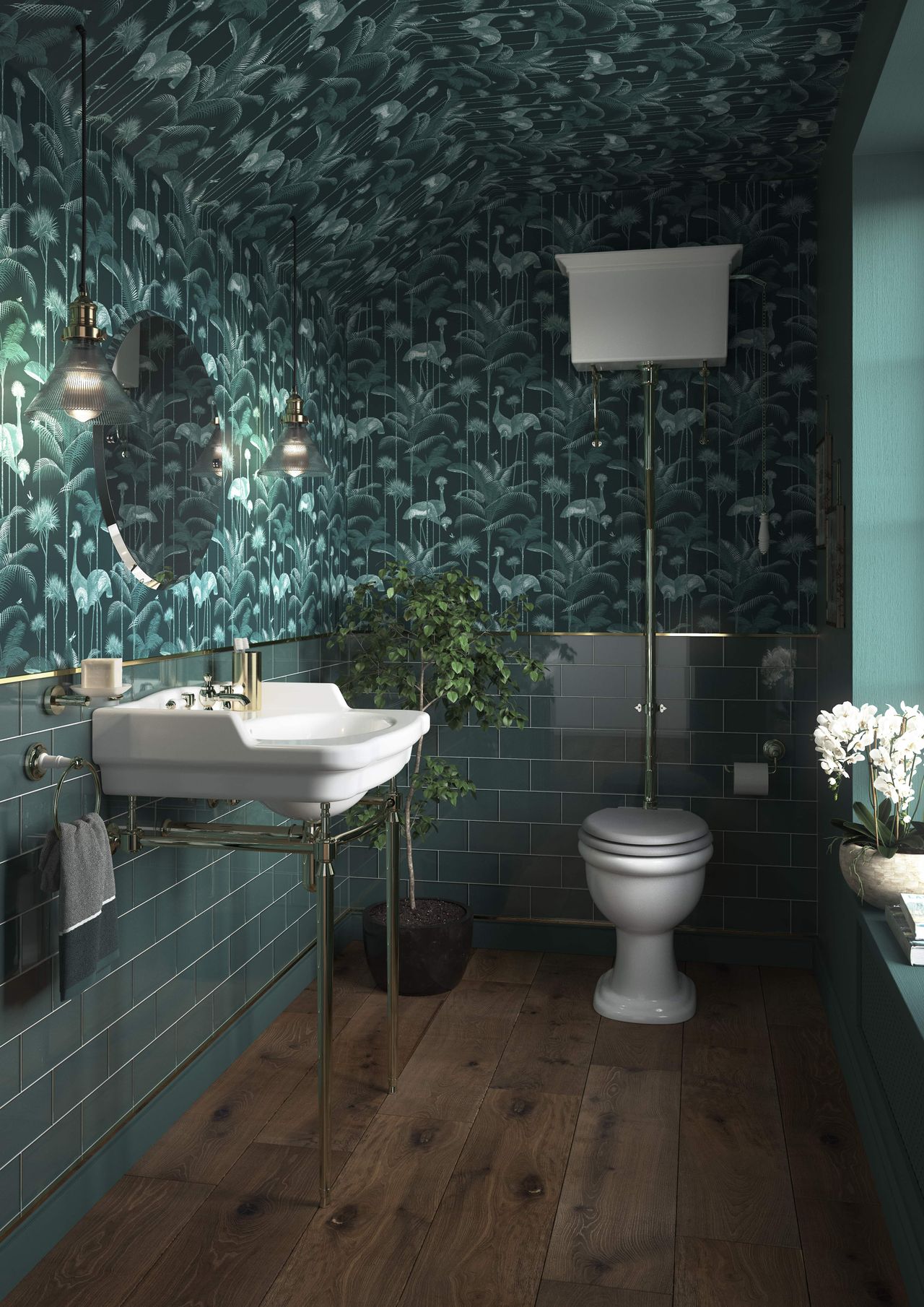 For an all encompassing green bathroom why not mix tiles, wallpaper and paint? This stylish space is reminiscent of a traditional bathroom but with a modern twist - the wallpapered ceiling is a clever aspect that makes the bathroom stand out and the brass fixtures and fittings add a luxurious feel. Add a few plants as they always add life to a room whilst providing a textural element.
9. Add a squeeze of lime
For a zesty feel opt for this bright and breezy shade! Green comes in a huge array of tones so the world really is your oyster when it comes to colours to pick from. This fresh color is like a breath of fresh air and looks fabulous with this black painted bath and limed flooring. It works well with pale pink too so use that as an accent color.
10. Go two tone with a twist
For a modern rustic feel opt for a vintage style sink with painted tongue and groove walls. This style combines trad aspects with contemporary design ideas – we love the bold patterned cubist floor tiles combined with the two tone green walls and pops of white. Use black to accessorize with as it gives the overall bathroom a bold edge.
11. Add texture with green marble
Want to create a dramatic statement? Consider a marble wall or two in the colours of the Mediterranean sea. This stunning bathroom gives you all the holiday feels with its fabulous texture. To balance this out have a matt paint finish on your bath and walls so they don't compete with the marble. The gold and black towel rail add glamour as do the white marble floor tiles.
12. Use green as an accent bathroom color
You can use green as an accent color, whether you choose an acid green like this walk in shower or a deep bottle green. Pops of color work really well in an all white scheme and you can use other bright shades to link the main colors together, like the scarlet red used here. Add in a textured floor to add interest and you have a bright contemporary scheme!
13. Combine pale green and black
We love contrasts and this is a great combo to consider. Barely there green with jet black creates a modern scheme despite the sanitaryware being classic in style. Take the black through into wall lights and a mirror and don't forget to add a few plants - they are fabulous at purifying the air and there are many varieties that love a bathroom environment.
14. Mix and match styles
These sage colored tiles give this bathroom a contemporary look that's bold and beautiful. They're teamed with shapely trad style sanitary ware that contrasts against the angular nature of the metro tiles. The fluro white mirror is dazzling for all the right reasons and we love the chrome fixtures and fittings. Pink and coral would look great with this green shade if you wanted to add another colour or two.
15. Be bold with your flooring
When we think of adding color to a room our first thoughts are that it will be used on the walls, but actually your bathroom flooring is as good a place as any - and can often look amazing. These mint green hexagonal tiles add a warmth to this otherwise all white scheme that has a Scandi feel to it. They are subtle yet provide a contemporary element in their pale hue and they give a fresh feel against black fixtures and fittings.