Bathroom wallpaper is a thing. Yup, wallpaper isn't just for every other room in the house – bathrooms can also be graced with the beauty of fabulous designs that add character, colour, pattern and punch. We've found some great design ideas below. 
You can use wallpaper in bathrooms and there are specialty designs – they are more wipeable and resistant to steam and splashes than others. However, you can use normal wallpaper too if your bathroom is well ventilated and not suffering from damp – you can paper higher up and have tiles as a splashback for example or paper the wall that sits opposite the sink, bath or shower. 
Scroll for our lovely ideas – and don't miss all our bathroom ideas in our dedicated design gallery.
1. Pick a bold bathroom wallpaper no matter what the size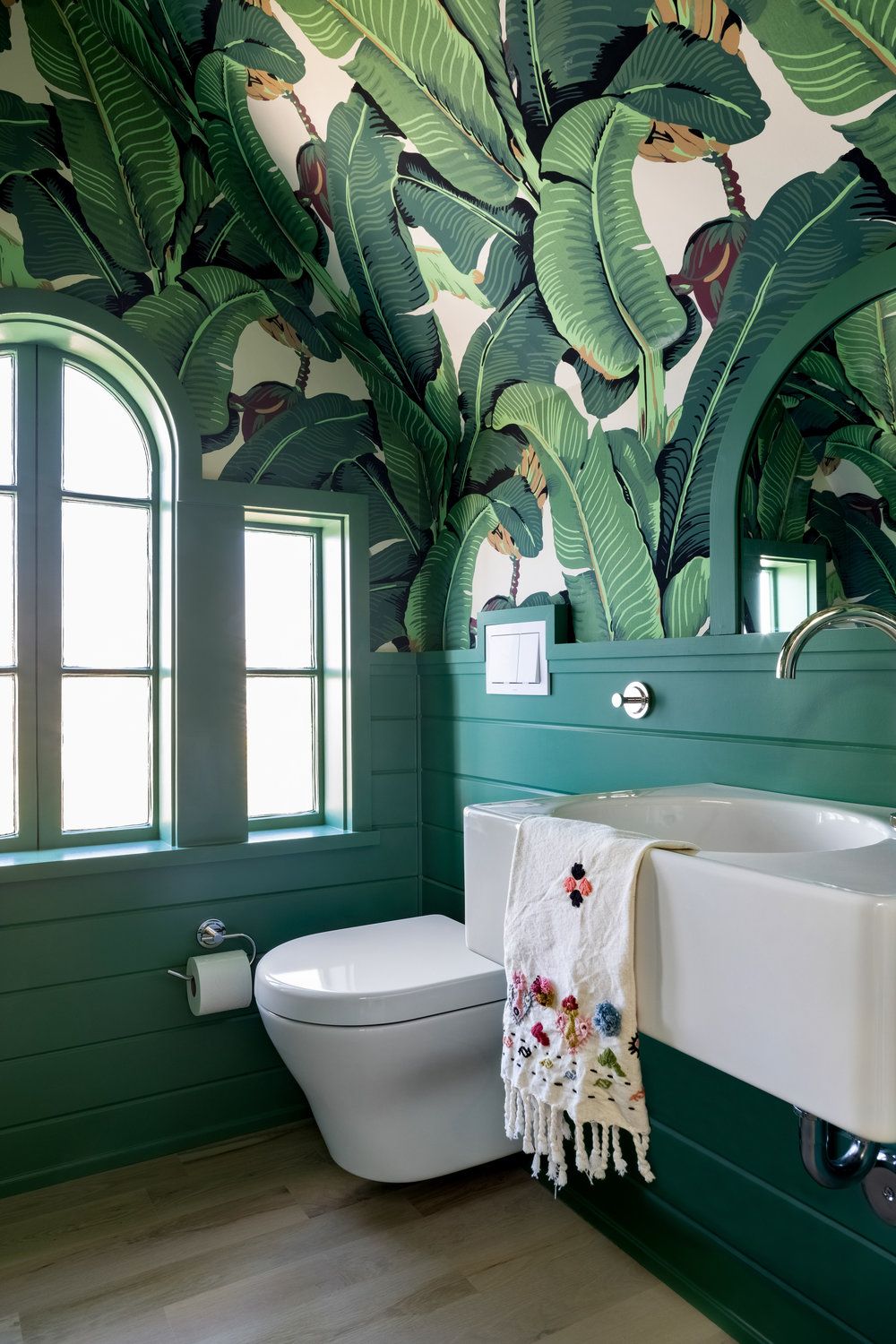 So wallpaper in a bathroom? Really? Yes, it can totally work if your bathroom is well ventilated and if you seal your wallpaper, or use steam-friendly paper and paste. Going for a bold busy print actually works really well in a small bathroom design too because it can blur the lines of the edges of the room. It's a really popular trend in small, downstairs bathrooms, too.
If you like the look of this banana leaf print wallpaper, check out Etsy because they have loads of very similar options. 
2. Pick a fabulous fifties design for subtle kitsch
Isn't this wallpaper as pretty as a picture? Depicting Paris in the '50s this design is a collaboration between Kelling Designs and artist Paul Roberts. They have two other designs: London in the '60s and New York in the '70s which are equally as divine. It is worth investing in a glass or perspex splashback as you can see here to protect the wallpaper from splashes and pick out colours from the design for your towels and other bits and bobs. 
3. Pick a peel and stick bathroom wallpaper for an easy update
Oh how gorgeous and glam is this bathroom wallpaper? And the best part is that it's actually removable! The great thing about peel and stick wallpaper is you can test out really bold prints, without worrying that you will have wasted loads of time and energy hanging it, only to realise it's not for you. 
This crane print is giving us Gucci vibes (yes, Gucci makes gorgeous and extortionate wallpaper), the lovely green colours and the Oriental style print are just so dreamy. It's by Wallpapers4beginners and is £38.65 a roll. 
4. Pick a mural for a dramatic bathroom
Murals in bathrooms make a brilliant backdrop behind a roll top bath – adding to the drama of the bath design and drawing attention to this wall as a focal point. Some murals come sized to suit your space, which means you can get the design spot on. For best effect, choose a design that's simple but with impact, and ideally one that has a pale background to enhance a small space. Finally? Double check it can stand up to splashes or be prepared to put glazed panels over it. Try Murals Wallpaper for plenty of great designs.
5. Get a cohesive look by matching a wallpaper to your bath
We love this sunny yellow bathroom. And, how the hints of yellow work with the bath too, so cute. You can recreate this look with any colour, and if you don't happen to have a colourful roll top bath you can easily paint it yourself – this works if you have a bath with a panel too. We have a guide to how to paint a bath so just have a read through that for plenty of tips. 
6. Pick a bathroom wallpaper design to inspire your scheme
If you've gone for a roll top bath that can be painted, use your wallpaper as a jumping off point for your bathroom decor. Here, this beautiful Aurora wallpaper by Little Greene has inspired a repaint of the bath and new flooring. It's a beaut.
7. Mix wallpaper with tiles for a practical solution
If you are worried about the practicalities of having wallpaper in a bathroom, why not tile half way up your wall to cover the areas that make face a few splashes and then wallpaper above that. This is actually a great trick for a small bathroom too, as it helps create the allusion of height in the space – plus you can get really creative with the tile/wallpaper combination. 
For more small bathroom design ideas, check out our feature. 
8. Pick a bathroom wallpaper that looks like tiles
Why? Bathroom wallpaper is way cheaper than tiles, easy to DIY and if treated right can look good for a long time. It's a great stop-gap if you can't afford tiles or if you want a softer surface and don't need to worry about splashes. Our advice? Marry wallpaper that looks like tiles very carefully with any other tiles within the room – go for a contrast in size and finish rather than attempting a match. This Marble Marquetry wallpaper is at Cult Furniture and under £15 a roll.
9. Pick a soft floral wallpaper for a traditional feel 
We love all Sandberg wallpapers, the colours are so soft and the patterns so detailed. If you like a more traditional vibe in your bathroom definitely check them out. Here the almost wash-out colours and gentle pattern of the bathroom wallpaper, help soften those very white tiles and help them fit with the rustic look that's going on in the rest of the space.