There's no denying that a crackling fire is a domestic delight, but they can be a messy business and neglecting a dirty fireplace can lead to inefficiency, smoke stains and a build-up of creosote (an oily wood-tar by-product found on chimney walls) which can become a safety hazard. So we recommend cleaning your fireplace as regularly as possible. Not sure where to start? Just follow our step-by-step guide for tips to restore your fireplace to its former glory...
If you are after any more cleaning tips and hacks, go and check out our dedicated hub page too. 
 You will need: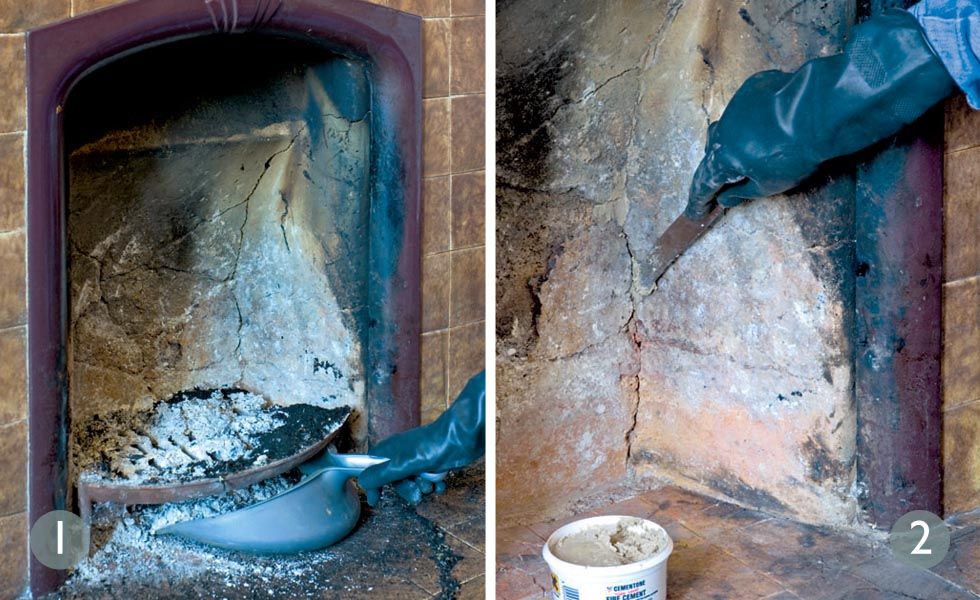 1. Prepare the room and sweep up
Don old clothes and work gloves before starting to clean a fireplace. Move furniture, roll up rugs, and protect floor with dust sheets and newspapers. Next empty ashes and unburnt wood or coal that is still in the hearth into a bucket. Sweep the fireplace clean or use a vacuum cleaner so you can better examine the fireplace beneath.
 2. Repair or replenish fire bricks
Check the insulating firebricks to the back and sides of the hearth. Badly deteriorated bricks will need to be replaced but cracks and chips can be made good with fire cement. The brick must be dry and dust-free – use a knife to push the cement in place. Following a repair you may need to light a fire to cure the cement.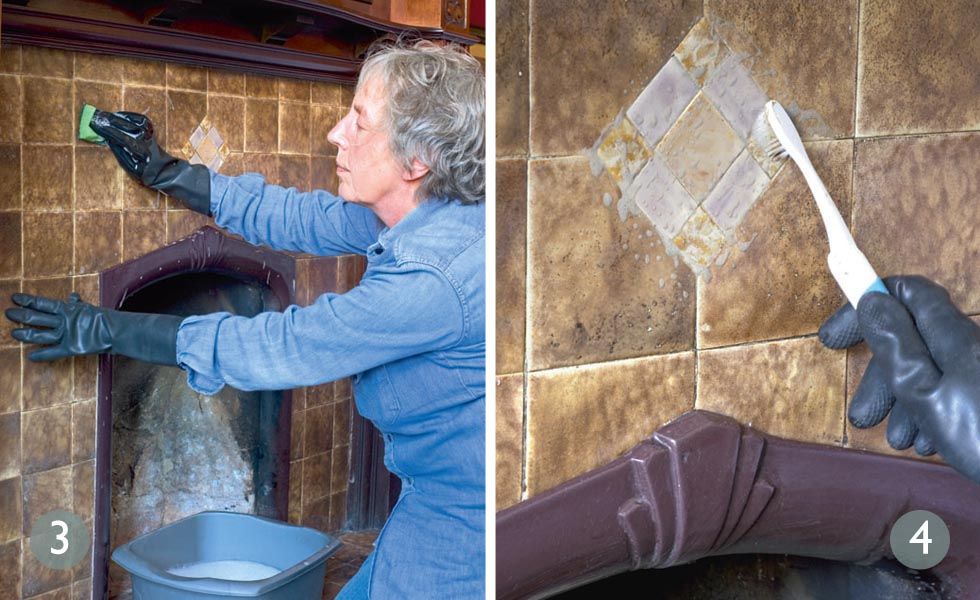 3. Clean the ceramic tile surround
Clean tiles on the surround and hearth with warm soapy water – use a bristle scrubbing brush or nylon scourer. Badly broken tiles can be replaced, although cracked tiles on the hearth, could just be put down to part of the house's history.
 4. Clean and replace grouting
An old toothbrush is useful for cleaning grouting. Missing grouting can be replaced too (have a read through our top tips for choosing tile grout first). Check the new product is suitable for surfaces exposed to high temperatures and press firmly into joints. When partially set, run the end of a pencil along to make a neat finish. Next day clean off surplus grout with a nylon scourer. 
If you are starting completely from scratch, we've got a handy step-by-step guide to tiling a fireplace.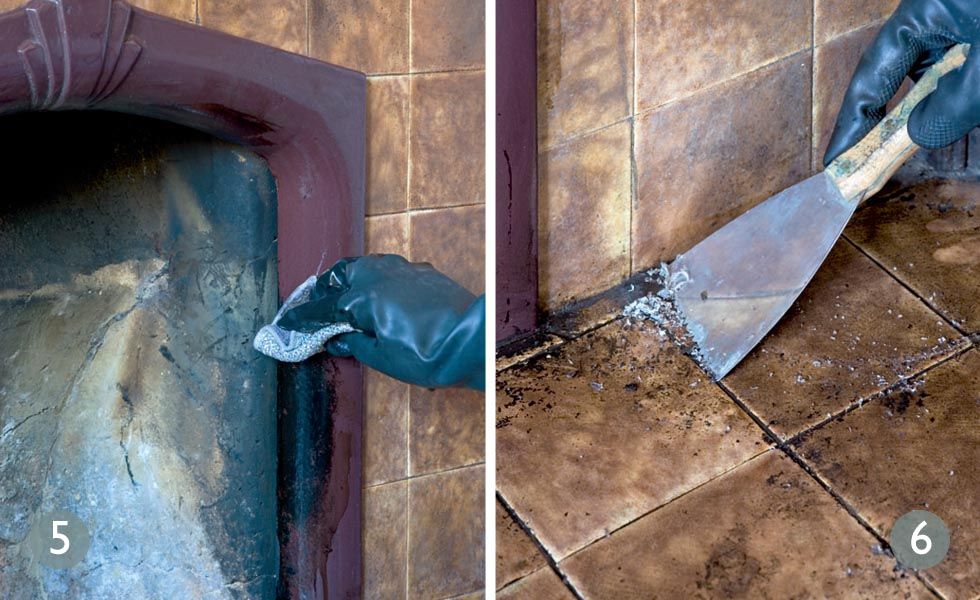 5. Remove really stubborn stains
If after the initial clean stubborn stains remain, apply a proprietary tile cleaner and leave an hour or two to lift the dirt. Scrub again with soapy water and a bristle brush. Wipe down the area with a clean cloth and water. Once completely dry polish with a soft cotton cloth to make the tiles shine.
 6. Remove build up of candle wax
Candles on the hearth can look pretty but avoid heavy build-ups of wax as it could present a fire hazard. Hold a scraper at an acute angle to avoid scratching the tiles, and scrape away the wax. If melted wax has run into the grouting, heat it with a hairdryer and mop the wax up with kitchen roll.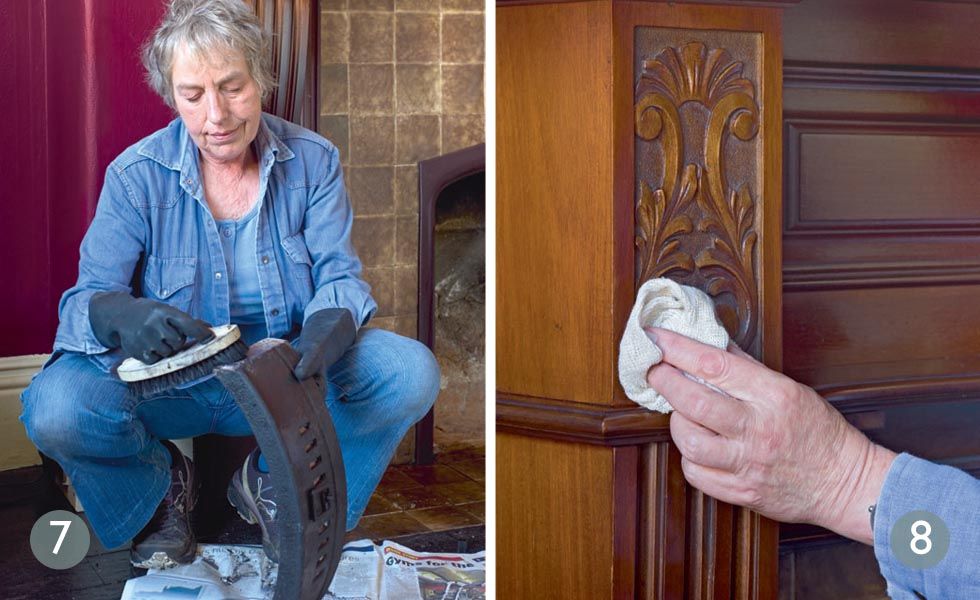 7. Spruce up the metal fire grate
Clean rusty metal with a steel brush. Then apply black grate polish sparingly with a brush. For a shiny finish leave for at least an hour and then polish with a bristle brush. Beware, grate polish easily rubs off on furnishings and clothing so use sparingly. Use stove paint for a longer-lasting finish.
 8. Polish the wooden fire surround
If you have a wooden surround to your fireplace, you might want to give that a clean too. To nourish the wood and protect it from the drying effect of heat, rub in a good quality beeswax polish. Leave to dry and buff up with a soft cotton cloth. To avoid a smeary finish always apply polish sparingly – too much will discolour the wood. 
More cleaning guides: