Love the idea of having an island in your cooking space but not quite sure where to put an island in a small kitchen? Don't write the idea off just yet; when it comes to finding the ideal place to add an island to a small kitchen, we've done some digging and chatted to the experts.
While the idea of adding an island to an already compact kitchen might seem odd, the reality is that the right island positioned in the right way, will offer extra storage, worktop space, and even additional seating. An island is a great multi-purpose addition and even in a small kitchen it can work.
To help make the process of positioning an island easier, we've spoken to the experts for all the small kitchen ideas to make the most of your space.
Where to put an island in a small kitchen
Understanding how to effectively position a kitchen island can be tricky, especially when you're looking to maximize the space that you have. To give you a helping hand, we've rounded up all the best expert-approved tips for where to put an island in a small kitchen.
1. Opt for a central setup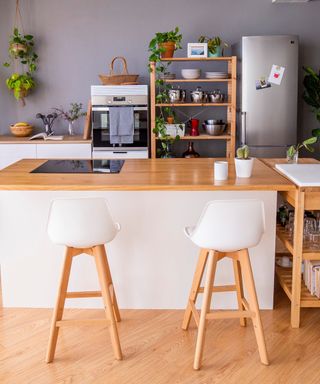 Growing up my uncle and aunt had a kitchen island and I always loved how it looked. Their kitchen wasn't huge but the island, which was in the center of the room, fit perfectly.
Shantae Duckworth, professional organizer and founder of Shantaeize Your Space says: "Placing the island in the center of the room can create an efficient and balanced kitchen design. This works well if you have a square or slightly rectangular kitchen."
An island can look great positioned centrally in a room, just make sure that the design you go for isn't too large. For a smaller space, a more compact design (like this mini island with seating from Wayfair) will work best.
2. Position the island against one wall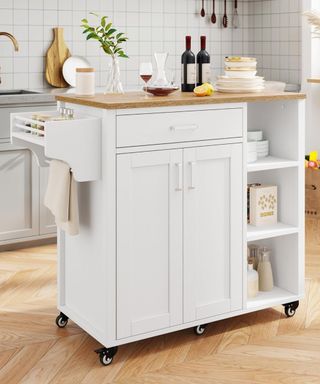 I have a super narrow galley kitchen so the only way I could fit an island would be to pop it against a wall.
Duckworth recommends: "If your kitchen is more on the narrow side, consider positioning the island against one wall. This allows you to maintain a clear walkway through the center of the kitchen while still adding extra counter and storage space. It's a great solution for galley-style kitchens."
If you're lucky enough to have a free wall in your narrow kitchen, positioning a slim line island (like this rolling island from Amazon) against it could be an easy way to make more of the space.
3. Use an island to extend your countertops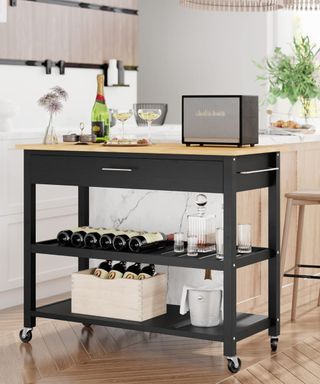 If you've got a countertop that has space beside it, why not position a rolling kitchen island at the end of it to further extend your countertop space?
Duckworth says: "Another option is to have the island extend from your existing countertops. This can create an L-shaped layout with additional workspace. It's particularly useful for kitchens with an open design, as it can help define the kitchen area.
If you like to keep the center of the room clear or feel like the central space isn't large enough for an island (like this wooden island from Walmart), then popping an island next to your countertops could work a treat.
Shantae Duckworth is a professional organizer and founder of Shantaeize Your Space in Seattle, Washington. She is a Member of National Association of Black Professional Organizers, and Member of Black Girls Who Organize Group. She is a public speaker and writer about organization as well.
4. Opt for a slimline island that's on wheels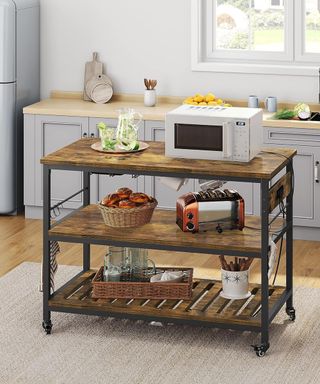 If you're worried that a wide island will take over the space, consider opting for a narrower alternative (like this hardwood topped slim island from Amazon). That way, wherever you place it, it won't feel like it's taking over the space.
Adrian Pedraza, owner of The California Home Buyer says: Go for a skinny island on wheels or sliders that can be moved out of the way when not in use. Gives you the extra prep space when you need it without sacrificing floor area."
There are plenty of narrow kitchen islands available, so finding one that's slim enough to fit your space shouldn't be an issue.
5. Opt for a rounded central pod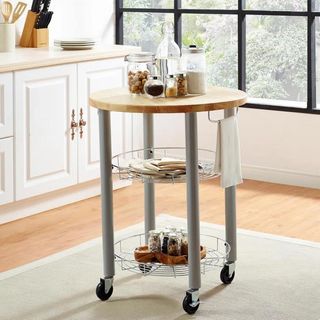 It's easy to assume that kitchen islands have to be rectangular or square, but they can also be rounded (like this one from Amazon). For smaller spaces, a rounded kitchen island can work extremely well.
Pedraza says: "Instead of a square island, a rounded central pod can add a modern flair while still being functional. Easier to navigate around too."
A friend of mine has a mini rounded island in her kitchen and, honestly, I think it looks great. It boasts plenty of storage, offers an extra area to prep food, and provides additional seating. Plus, it really works well in the space.
Adrian Pedraza is the owner of The California Home Buyer, a professional house-flipping company. He is a licensed real estate broker with over 10 years of experience buying, selling, and flipping properties in California. He keeps a close eye on all the changes in the real estate industry and home development. He represents the 6th largest brokerage in California with over 750 transactions closed. He is also a certified home inspector and renovator.
FAQs
Is adding an island to a small kitchen a good idea?
While the idea of adding an island to a compact kitchen might seem like an odd idea, if positioned properly it can offer additional storage space and extra counter space, making your kitchen a more organized and efficient space.
How should I choose an island for my kitchen?
Consider different island sizes and shapes before picking an island for your kitchen. Make sure to pick an island that is the right size and shape for your space, as well as choose an option that offers you all of the additional storage and counter space you need.
---
When it comes to where you position a portable island in a smaller kitchen, ultimately it's down to personal preference and what works best for your space. But, that said, hopefully, the expert-approved tips and tricks above will help you to find the ideal location for your island.