Ever been abroad or gone for a staycation and wondered 'what mattresses do hotels use? Well, guess what - we've only gone and got the answers for you.
Whether you've gone on a price comparison site, had a look at the reviews or saw that your fave celeb has stayed there, the best mattress is ones that are clean, cozy and ones that you can rest a tired head upon.
But, seeing as many of us have professional careers with modest salaries, staying in a hotel can be expensive, so is usually reserved as a special treat or work stay. So if you want to emulate the experience at home, knowing what mattress brands hotels use is a cheaper way to get the luxury accommodation experience.
Though most mattresses are made exclusively for hotels, in most cases you can buy the same spec directly from them. Unlike cheaper products online, there's no need to worry about buying a mattress online if it's one you've slept on before. So you can (quite literally) rest assured that you're buying a good night's sleep.
By practicing good sleep hygiene and investing in a mattress, you can fall asleep fast and sleep better. It's one of the best ways to spend money on your bedroom.
What mattresses do hotels use?
You might be wondering how much does a mattress cost if it's made for a hotel? Thankfully, a lot of luxury hotels have priced up their beds at an affordable cost to the consumer. So if hiring the bed for a couple of nights just isn't enough, you can have your own. Obviously, you'll have to sort out your own room service and luxury amenities.
If you are replacing an existing bed, remember to switch it out sensibly. This might mean recycling a mattress or looking at sustainable mattress disposal. Just don't dump it on the sidewalk, whatever you do. As it might become a hotel for bugs or a restroom for rodents and other pests.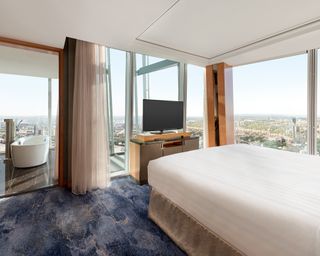 1. Shangri-La, multiple locations
The sky's the limit when it comes to finding the cool hotel to sleep in. But nothing is too much of a tall order for residents staying at the Shangri-La.

For those who can brave sleeping 125 feet high at their Shard location - you're in for a treat. Not only will you sleep inside Western Europe's tallest building, you'll also lay on the exclusive Shangri-La Simmons Beautyrest mattress with the best bed linen from Frette (300 thread count we're told) – so you can really get your beauty sleep.
If that doesn't bringing a new definition to the phrase 'being on cloud nine', we don't know what does!
Shangri-La Simmons Beautyrest mattress specifications
Body-contouring technology
Patented non-flip construction
Simmons patented individual pocketed coil technology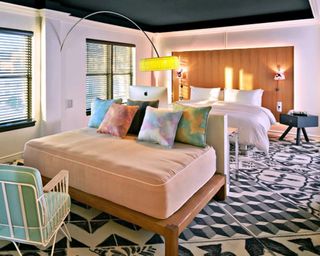 2. Mama Shelter, multiple locations
If you're a cool cat who love a city break, you'll have heard about a hotel chain named Mama Shelter. Founded in 2008, these relatively-new hotels are THE place for rooftop drinks, relaxed and generous dining, movies and vibrant settings in the most cosmopolitan cities including London, LA, Paris and Rome. But does it have the best bed?

'Our Mama mattress is 100% French, designed and manufactured in Normandy, it guarantees optimal firmness for better back support,' says Samantha Samuel, head of marketing and programming, Mama Shelter.
'A deep sleep assured to continue your sweet dreams longer.'
Fab for Francophiles and pretty much anyone who enjoys a good nap, the mattress specs of this French brand make us want to say oh la la. What's more, the Mama mattress is available to buy on their site, along with the full bed (including frame and mattress overlay if you're in the market for one of the best mattress toppers too.)
Mama Shelter mattress specifications
Firm reception, dynamic comfort
Lying independence and precise support thanks to pocket-spring technology.
Reinforced edges for a better sleeping surface. Ideal absorption of movements
Comfortable seat, side support. Reinforced integral fairing
Mattress with four handles for easy handling
Mattress thickness: 25 cm
Hypoallergenic and breathable fabric: 100 percent polyester stretch fabric
Anti-bacterial and mite treatment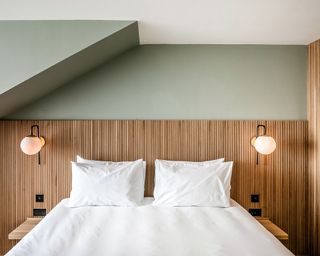 3. Mollie's hotel (a Soho House concept), UK
If you've ever wanted to stay at a Soho House hotel, but budget is a bit tight – there's good news. Influenced by Soho House designers, Mollie's is a budget-luxe motel and diner concept is an affordable way to sleep on the same mattresses that the luxury brand uses.
Mollie's uses handcrafted Hypnos mattresseswhich from an eco-conscious perspective get 10/10 ratings from us. They're a multi-award winning, carbon neutral business who use natural and sustainable mattress filling so you can sleep well knowing they're doing good for the planet.
With a 10 year guarantee, their handmade mattresses are here to stay.
Darren Sweetland, managing director of Mollie's Motel & Diner, Bristol & Oxford says: 'We've partnered with a number of renowned British brands to elevate guests' in-room experience including our super king-size mattresses handcrafted by renowned British firm Hypnos to deliver a restful night's sleep; accompanied with soft premium cotton sheets.'
'We understand the value of a fitful night's sleep, and a good mattress is integral to this. Mollie's mattresses are unique in that they are specially designed for Soho House and handmade by master craftsmen in England by Hypnos.'
'Hypnos is the holder of the Royal Warrant from Her Majesty Queen Elizabeth II for supplying the Royal Family's residences with beds and mattresses. Each mattress has 1,000 individual pocket springs for a medium to firm feel and is traditionally tufted for lifetime stability.'
'Our mattress, by Hypnos, use the very finest natural and sustainable materials to create a breathable, resilient and active sleep system offering supreme comfort and total body support while you sleep.'
So there you have it – if you want to sleep like a queen, these mattresses have the royal seal of approval.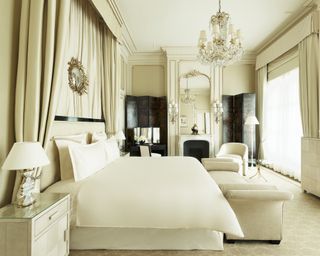 4. Ritz-Carlton, multiple locations
Having been around for almost 40 years, you'd think the Ritz-Carlton hotel would know a thing or two about providing the best mattresses for its guests. And if it was good enough for Coco Chanel to live there for 35 years, and for The Great Gatsby writer, F Scott Fitzgerald to stay, you can bet your bottom dollar, the bedding was stylish too.
The good news is that you don't have to be a Hollywood A-lister to sleep on a five-star hotel bed... because you can buy the mattress and box spring from the Ritz-Carlton shop itself.
'Crafted to our exacting standards and made with the finest materials, The Ritz-Carlton Bed embodies our luxurious approach to living and precise attention to details,' says Jenna Duran, senior marketing manager at The Ritz-Carlton Hotel Company, L.L.C.
'Our custom-designed hotel mattress is designed with an advanced cooling design and the ideal support for all the body's pressure points, providing you with just the right balance of comfort, support and optimal temperature management.'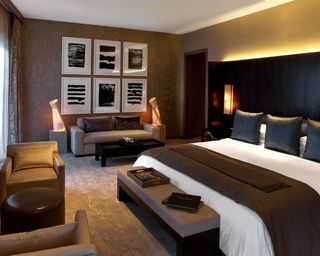 5. Nobu Hotel at Caesar's Palace, Las Vegas
Whether you're a gambling gal or guy (or not), you can be sure to have a good night's sleep at the Nobu Las Vegas.
As well as the delectable food and top-tier service in Nevada, the Japanese-themed hotel use none other than Caesar's Bouvet Island Plus from Simmon's on their beds, so you can bet your last buck you're going to sleep well, even if it claims to be the city that never sleeps.
In a similar fashion to the best cooling mattress pads, the AirCool® technology 'provides an added comfort, while the pocketed coil technology® adds to this plush sleep experience', according to the e-commerce site.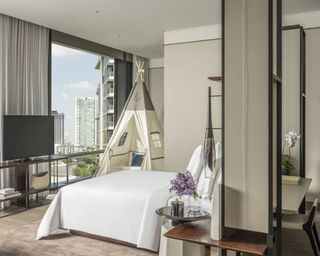 6. Four Seasons hotel, various locations
The Four Seasons hotel is a sophisticated hotel known for its chic decor and celeb residency, so if it's good enough for Bey, then its mattresses are good enough for you and bae. And just like her lyrical hit...you too can have sweet dreams.
But if you can't jet off to one of their exotically-located lairs, get the sanctuary experience right in the heart of your home. Rather than just one mattress to choose from, you can select one of three beds based on your favored level of firmness. Their fully-customized collection includes the Signature, Signature Plush (a softer mattress with gel, memory foam and quilted foam finish) or the Signature Firm (a supportive mattress with AirFeel® foam technology).
If you're feeling extra boujie and want the best bedding, you can add the branded, Duck-down duvet and pillow set to your shopping basket.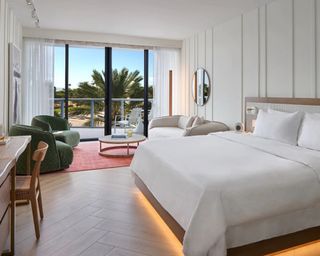 7. W Hotel, various locations
Owned by the Marriott, the W Hotel is the cooler younger sister, and a millennial dream if you're looking to make the most of your vacation. Think statement swimming pools and trendy bars that'll make for the most Instagrammble pics on your grid.
Once you've enjoyed being a cosmopolitan tourist in the likes of beautiful Barcelona, beach-chic Miami, or another one of its 67 locations, you can enjoy some R&R in the aptly-named W bed.
Candice D'Cruz, vice president, luxury brands, Europe, Middle East & Africa, Marriott International says: 'The W bed is designed with all comforts for our guests in mind. Whether it's for the crucial hours of sleep in between busy schedules or a comfortable lie-in with your partner on holiday, the same signature W bed in each hotel gives guests the same level in comfort in individually-designed rooms inspired by the destination.'
You can shop the W hotel mattress, alongside plush pillows and bedding, on their dedicated site.