Hot sleeper? Sweaty sleeper? We know why you're here: you constantly keep overheating at night. Well, not anymore — thanks to these cooling mattress toppers and pads. What's the difference between a topper and a pad? A mattress topper is designed to add depth and extra comfort to your mattress, while keeping you cool, whereas a mattress pad is super thin so will only keep you cool without adding an extra layer to your mattress.
We've had a bunch of sweaty sleepers do the testing for us to confirm that these three toppers and pads truly are the best of the bunch. So, gone are the days of you having to sleep with one leg out of your covers to sleep at the right temperature.
Quick Menu:
1. The best cooling mattress topper
2. The best cooling mattress pad
3. The best organic cooling mattress topper
4. What to consider
5. FAQs
6. How we test
We've got plenty of recommendations on what to do to help you sleep in the heat, but the one buy that will make a difference is a cooling topper or pad. How come? Adding a temperature-regulating topper to your mattress will make a world of difference in both the winter and the summer. Especially if your mattress isn't very breathable and even more so if you share a bed with someone (human, pet, or both!) and if live in a warm climate.
How does a cooling mattress topper or pad work? Most of these buys are infused with gel, graphite, or some sort of cooling technology to help you dissipate heat throughout the night. Keep scrolling for more...
The best cooling mattress toppers and pads to buy in 2023
Why you can trust Real Homes Our expert reviewers spend hours testing and comparing products and services so you can choose the best for you. Find out more about how we test.
The best cooling mattress topper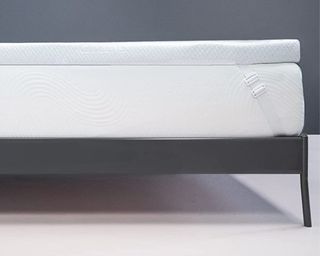 Rated our very best mattress topper for hot sleepers and keeping cool, this affordable pick might just be the answer to all of your bedroom woes. Incredibly cooling and cushioning with a thick memory foam layer, this topper will transform your sweaty sleep experience and it will make your mattress even more comfortable should you need it. Oh, and its ergonomic design is for any body weight, any body type, and any sleeper — your spine will stay perfectly aligned no matter what. You can choose from three thickness levels that influence the softness of the product — the thicker the plusher, typically. But, if you prefer a softer base we'd probably suggest that you avoid it as it's quite firm.
The cool stuff
This memory foam topper has been infused with gel that is ventilated with purpose-made holes. This allows the air to flow and your body to cool as you sleep. The washable bamboo cover is also breathable, helping to keep your body temperature neutral. It fits on your mattress thanks to thick straps that keep it in place.
In review
This Subrtex gel-infused topper helped our tester Alex Shimalla sleep sweat-free. But more so, it gave her super old bed a new lease of life. She found the medium to have the ultimate Goldilocks effect in being not too soft, and not too hard. She noted little to no motion transfer and although she often wakes up sweating most nights, when sleeping on this topper she actually woke up cold (this is definitely not a complaint!). The most impressive thing? The cheap price. Although just an FYI: the warranty is a little confusing.
Read our full Subrtex Memory Foam Mattress Topper review.
The best cooling mattress pad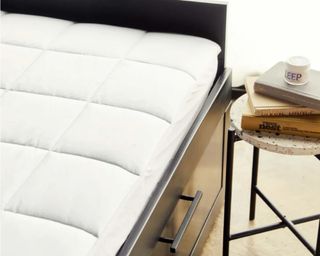 If you'd rather have a mattress pad than a topper because you don't want to add height to your mattress or any extra cushioning to your existing base, then the Slumber Cloud Core Mattress Pad is for you. Even though it's thin, it still takes a proactive approach to temperature control by absorbing and storing excess heat when temperatures are too warm and releasing heat when temperatures are too cold — it's great for all-year-round use. Made with NASA-developed technology originally used to regulate the temperature in space suits, it's rated our best mattress protector for cooling, too. Oh, and its quilted HDPE/polyester blend cover holds a lining treated with Outlast technology — a Certified Space Technology by the Space Foundation.
The cool stuff
Yes, this mattress pad's viscose fabric uses NASA-developed technology designed to keep spacesuits cool. Thousands of reviewers have credited it with reducing or even eliminating their night sweats. And our reviewer Kaitlin can vouch for this. Slumber Cloud explains the material features "thousands of microscopic beads called Thermocules, and each one is set to a specific temperature. This counteracts any temperature fluctuations you might experience during the night. As your temperature increases, the beads absorb and store any excess heat away from your body to keep you cool."
In review
As we've already mentioned, this is a pad, not a topper so it won't add any extra comfort or depth to your mattress. It offers a thin, crinkle-free waterproof barrier between your mattress and you. And our reviewer Katilin really noticed this difference as she didn't overheat once while sleeping on top of hers. It stayed put all night long and she loved that it fits mattresses that are up to 20" deep. The Slumber Cloud cooling pad simply does its job at what it claims to do: cool. The price is justified, in our eyes. But, if your mattress is past its sleep-by date, we would suggest scrolling for a thicker, foam topper option instead.
This product doesn't have a stand-alone review, as it's more of a protector than a topper.
The best organic cooling mattress topper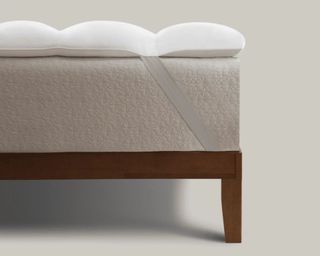 If you're looking for a seriously plush (and deep) mattress topper that's cooling and organic, then stop your search. To be paired with your organic mattress (if you have one), this topper will keep you cool all night long — and it's free from chemicals. If you have a mattress that's too firm for you, this is a great buy. Although a word of warning: though thick, this mattress topper is so plush that it wouldn't be able to rescue a super old and tired mattress.
The cool stuff
This mattress topper is filled with cross-cut memory foam and microfiber blend and it's five inches thick. It offers superior breathability in comparison to solid or shredded memory foam toppers to encourage air to flow as you sleep. The first night may seem a little lumpy, but trust us — after this fancy foam has molded to your body, it'll feel like sleeping on a cloud.
In review
Our tester Louise used this topper on her standard landlord-provided mattress. She's a side sleeper and usually prefers a firmer base to sleep on, but she noticed almost immediately that it made her medium-firm mattress feel a lot softer. The foam adapted to her body to the point to cushion her joints, and she's usually someone a hot sleeper — but she definitely didn't overheat and her mattress felt more breathable than normal. Just an FYI: it only comes in a King or a Queen BUT one of the best things about this topper is that you get a 100-night trial in case it's not your thing (it will be). And a five-year warranty.
Read our full Coop Retreat Mattress Topper review.
What to consider when choosing a cooling mattress topper
Finding the right cooling topper will mainly depend on whether you're needing something to up the comfort levels as well as cool your bed. If you're searching for a cheaper way to upgrade your bed, then see our how to choose a mattress topper guide. Otherwise here are a few things to consider:
Cooling materials Cooling mattress pads are made from materials that absorb body heat and body moisture and regulate your temperature. There is a range of different materials used (some well-guarded secrets), but all aim to increase breathability, which helps cool you down, and reduce sweat. The most breathable materials include cotton, bamboo, open-air, and gel foams.
Extra support: It's worth ensuring the cooling mattress pad you choose is comfortable. Memory foam options combine cooling properties with extra support.
Fit: Most cooling mattress pads simply sit on top of your existing mattress. If you're fidgety, look out for one that has elasticated straps to keep it in place. If not, you'll have to haul it back into position every few days.
Cost: A mattress topper is a much cheaper solution than investing in a brand-new mattress. But if you're seriously overheating, it's worth spending your savings on a breathable mattress with temperature regulation and cooling at its core.
FAQs
Do cooling mattress toppers really cool?
Short answer: Yes! It may seem like a gimmick, but honestly, a great cooling topper uses impressive temperature control technology and naturally breathable materials to create a cool-to-the-touch sleep surface. Take it from me, they do make a difference. Most mattress brands that offer toppers will have sleep trials, warranties, and free returns policies to make the most of anyway, so you can try if you're not yet fully convinced.
How we test cooling mattress toppers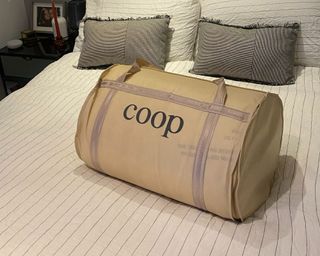 A quick summary of how we test mattresses and toppers: Our expert mattress testers sleep on each featured mattress topper for at least two weeks. All our mattress reviews are based on the real-life experience of using these products at home. Some of our mattress topper reviews are done by members of the Real Homes team, otherwise, we ask our trusted freelancers to sleep on a topper or two for us. All of the cooling toppers and pads featured in this guide have been reviewed, and we've currently got a couple more in review right now. We always consider value for money, construction, comfort, and support, whilst focusing, in this case, particularly on their cooling properties. Whilst not forgetting factors like edge support, motion transfer, and spinal alignment, of course.
Meet our cooling mattress topper reviewers:
Alex S is one of our freelancers at Real Homes and she slept with the Subrtex Memory Foam Mattress Topper for four weeks.
Kaitlin tested all the mattress protectors in our buying guide, including the Slumber Cloud Core Mattress Pad. This meant she got to compare each protector, and the one from Slumber Cloud came out on top for its cooling abilities.
Louise was previously the ecommerce editor at Real Homes covering all bedding content, so you can wind down well. She's currently doing the same role for our sister brand Homes & Gardens. She reviewed the Coop Retreat Topper and has been sleeping on it for four months in total.